This vegan fall harvest sandwich has all sorts of festive goodness snuggled between thick slices of sourdough. A Dr. Praeger's Kale Veggie Burger is topped with roasted sweet potatoes, vegan chèvre, and cranberry-pear compote. The finishing touch? A handful of peppery arugula.

This post is sponsored by Dr. Praeger's. Thank you for supporting the brands that support Blissful Basil.
I got my very first job at the age of 14.
I worked as a sort of pseudo receptionist answering phones and booking appointments for my grandma's business (which she still owns and runs full-time today at the age of 90—talk about inspiring).
The office was home to a small but lively crowd. If memory serves, there were six of us, my grandma included, in the office at any given time. We brought sack lunches most days, but about once a week, we'd splurge on sandwiches and cookies from a local deli. Everyone's favorite sandwich at this particular deli was one that embodied all the flavors of Thanksgiving. Turkey, stuffing, mild cheese, greens, and cranberry sauce piled high on hearty slices of bread.
Prior to having the sandwich myself, I thought the idea of putting sweet cranberry sauce on a savory sandwich was absolute madness. But upon first bite, I immediately understood what all the fuss was about.
Sweet 'n' tangy cranberry sauce was the key to making the other savory flavors in the sandwich sing.
It was that sandwich that inspired me to start pairing cranberry sauce with savory dishes (Exhibit A, Exhibit B), but up until now, I'd never actually created a sandwich recipe that included the ruby-hued sauce.
Without further ado, I give you the vegan fall harvest sandwich...
These sandwiches require a little bit of prep work, but the great thing is that everything can be made ahead of time and assembled as needed.
You'll start by roasting up a tray of thinly sliced sweet potatoes.
These sweet potatoes require little more than a drizzle of olive oil and a bit of salt and pepper. They roast up golden and ultra tender, and make the perfect topping in these festive sandwiches.
While the sweet potatoes roast, you'll whip up a quick cranberry-pear compote.
Simply peel, core, and dice two pears and add them to a pan along with frozen (or fresh) cranberries, a bit of pure maple syrup and filtered water, and a pinch of ground cinnamon.
Bring the mixture to a rapid boil and then reduce the heat and simmer for about 15 minutes, or until the cranberries begin to break down into a sauce.
While the cranberry-pear compote simmers, you'll bake four Dr. Praeger's Kale Veggie Burgers in the oven until crisp and golden.
As I've mentioned before, I'm not one to get wrapped up in the numbers game. In fact, I have strong feelings against it. I am, however, a person who pays attention to ingredients, and I love that Dr. Praeger's keeps things straightforward by using simple, familiar ingredients in all their products.
For instance, these kale veggie burgers are made with kale, quinoa, brown rice, expeller pressed canola oil, millet, onions, carrots, spinach, sweet potatoes, potato flakes, roasted corn, red peppers, water chestnuts, zucchini, broccoli, rice starch, roasted garlic, parsley, sea salt, and black pepper.
That's it—no other ingredients lurking in the list. You get a lot of veggie bang for your buck with these burgers and none of the unwanted funny business.
Plus, they bake up in just 12 minutes flat.
While the veggie burgers bake, round up and prepare the other elements.
Once everything's ready, it's time to assemble these festive sandwiches.
Slather toasted slices of sourdough or multigrain bread with a bit of vegan chèvre (homemade or store-bought both work great).
Then, top with the kale burgers and sweet potatoes.
Finally, finish with a generous spoonful of cranberry-pear compote and a small handful of baby arugula.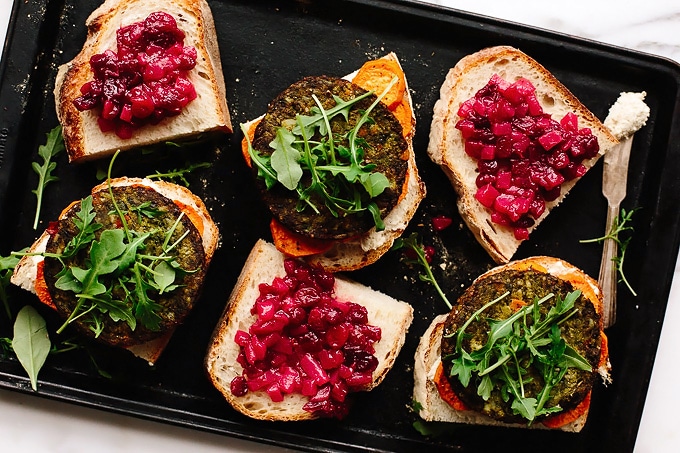 📖 Recipe
Vegan Fall Harvest Sandwich
This vegan fall harvest sandwich has all sorts of festive goodness snuggled between thick slices of sourdough. A Dr. Praeger's Kale Veggie Burger is topped with roasted sweet potatoes, vegan chèvre, and cranberry-pear compote. The finishing touch? A handful of peppery arugula.
Ingredients
Roasted Sweet Potato Rounds
1

medium-large

sweet potato, peeled and sliced into ¼-inch-thick rounds (about ½ a pound)

½

tablespoon

olive oil

Sea salt and black pepper
Cranberry-Pear Compote*
10

ounces

fresh or frozen cranberries

2

ripe Bartlett pears, peeled, cored, and diced

¼

cup

pure maple syrup or to taste

½

cup

filtered water

½

teaspoon

ground cinnamon
Sandwiches
4

Dr. Praeger's Kale Veggie Burgers

8

slices

hearty sourdough or multigrain bread, toasted if desired

Homemade vegan chèvre cheese or store-bought

(optional)**

Baby arugula
Instructions
For the Sweet Potatoes
Preheat the oven to 350F. Line a small baking tray with parchment paper.

Drizzle the sweet potato rounds with the olive oil, season with salt and pepper, and toss to coat. Spread the rounds into a single layer across the lined baking tray.

Bake for 20 to 25 minutes, or until tender and light golden.
For the Cranberry-Pear Compote
Meanwhile, add the cranberries, pears, maple syrup, water, and cinnamon to a large saucepan. Turn the heat on medium-high and bring to a rapid simmer. Then, reduce the heat to low and simmer for 12 to 15 minutes, or until the cranberries burst open and the pears begin to soften, stirring occasionally.

Let cool and transfer to a glass jar until ready to assemble the sandwiches.
For the Sandwiches
Bake the Dr. Praeger's Kale Veggie Burgers according to package instructions.

Slather four slices of bread with vegan chèvre (if using). Top each with a veggie burger patty, a few rounds of sweet potato, a spoonful or two of the compote, and a small handful of arugula.

Top each with the remaining bread slices and serve immediately.
Notes
*Leftover compote can be refrigerated for up to 2 weeks or frozen for up to 1 month.
**The Herbed Vegan Goat Cheese from this recipe works great.