This vegan golden butternut squash bisque is luxuriously silky and positively nourishing. It's overflowing with immune-boosting and anti-inflammtory ingredients—ginger, turmeric, coconut oil, butternut squash—and its bright golden hue will make you feel as if you're gazing into a bowl of sunshine.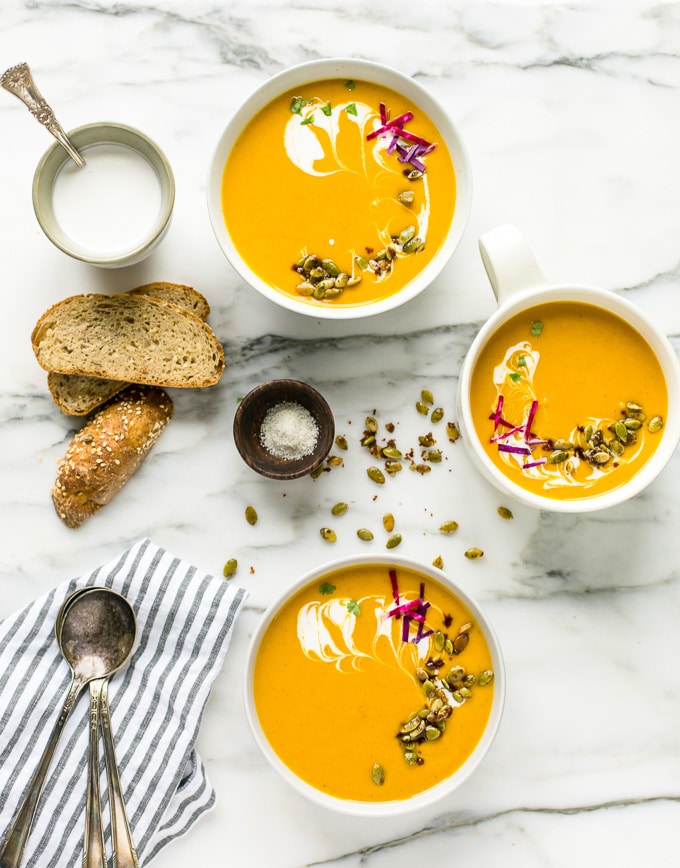 It's been a good while since I've posted. Since May, we've had a lot going on in terms of renovation and construction at our house and, without going into the stressful specifics here, have been unexpectedly displaced from our home due to an issue that came up in the process last week.
I'm currently just four weeks out from my due date and in full nesting mode, so having our home in its current unlivable state isn't exactly a calming experience. And we're unsure when we'll be able to return. I'm just hoping it's at least a week or two before our second little one arrives so that we can get things somewhat settled and in order.
Our original plan was to have all projects completed by the end of August... an idea that's truly laughable at this point. We'll be lucky to have things done by the end of November.
Having said all of this, given the craziness of this year for every human on this planet, there's little if any room to complain. I've certainly been keeping that in mind at moments when it's felt overwhelming and am doing my best to take it all in stride.
Somewhat needless to say though, I haven't been cooking much lately. And when I have (from my parents' kitchen now), pregnancy hormones have led to some clumsy mishaps!
A salt shaker lid fell off and dumped its entire contents into a vegan bolognese I was putting the final seasonings on. A hot bowl of this creamy wild rice soup tipped and poured its lava-hot contents onto my hand. Thankfully only a small area was truly burned!
Clearly I'm in no shape or environment to be testing new recipes at the moment.
Thankfully though, I've had this fit-for-fall recipe in my back pocket for years. It was a recipe I'd developed and photographed for a feature in SHAPE magazine—they were doing a piece on "superfood recipes"—around the time my cookbook came out, but the article ended up not making it into the magazine.
I was reminded of it as I was sifting through old photo files on my computer the other week and figured now was as perfect a time as ever to share it. Not only because it was already fully tested and in ready-to-share form but also because it was designed to be immune-boosting and anti-inflammatory, making it a powerful addition to a fall lineup of cozy meals.
Its glowing orange hue feels extra cheery to me at the moment. Like a bowl of sunshine. ✨☀️
It's a truly simple and straightforward recipe with just a few easy steps. You also have the option to make and add candied pepitas as a garnish. I love the sweet crunch they add, but you can absolutely skip them to keep things simple.
A delicate swirl of coconut milk goes a long way, too.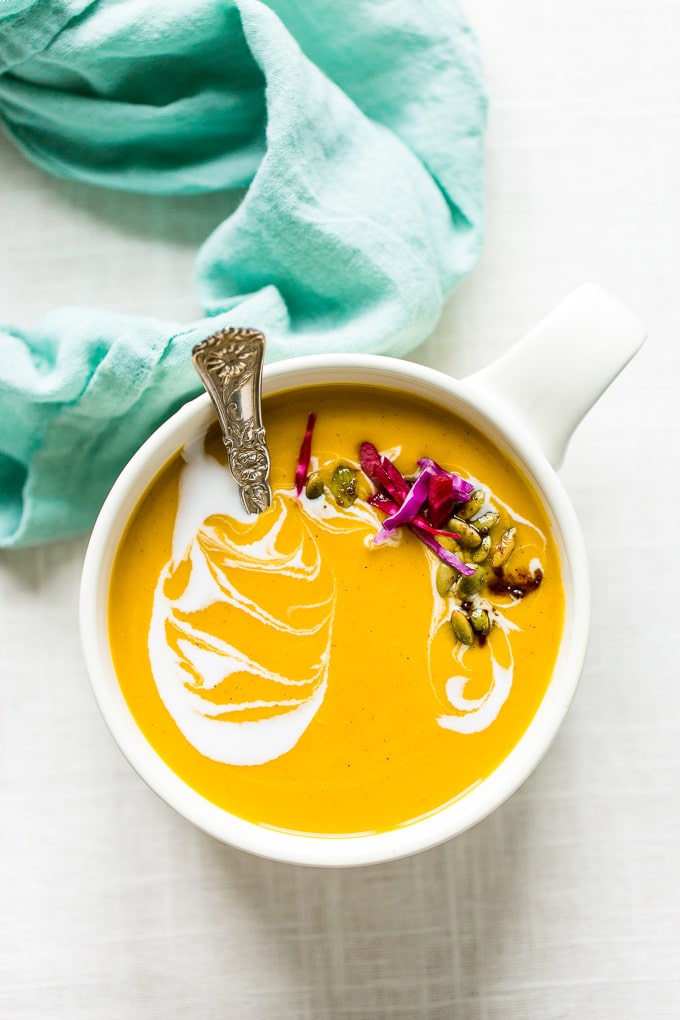 I hope you love this recipe. And I hope to be back again with another recipe for you before this second little lady arrives.
Fingers crossed that things unfold more smoothly from here on out. In the meantime though, you can keep up with me through my posts on my other website and if you'd like to, consider signing up for my bi-weekly newsletter here. It would be an honor to extend this kind community to that space as well. 💗
📖 Recipe
Vegan Golden Butternut Squash Bisque
This soup is luxuriously silky and positively nourishing. It's overflowing with immune-boosting and anti-inflammtory ingredients—ginger, turmeric, coconut oil, butternut squash—and its bright golden hue will make you feel as if you're gazing into a bowl of sunshine.
It's made with a base of butternut squash and green apple. Warming spices are layered one after the other to create a complex flavor profile, and a splash of coconut milk sends the creaminess factor into the stratosphere. I strongly recommend topping this bowl of goodness with candied pepitas. Although they're optional, they add an irresistibly sweet, cinnamony crunch that makes the flavors of this soup dance.
Ingredients
Golden Butternut Squash Soup
1

tablespoon

virgin coconut oil

1

large

yellow onion, diced (about 2 cups)

2

tablespoons

peeled and grated fresh ginger root

2

teaspoons

peeled and grated fresh turmeric root

1 ½

teaspoons

sea salt or to taste

1

teaspoon

ground cinnamon

½

teaspoon

curry powder

Dash

ground nutmeg

1

medium

butternut squash, peeled and cubed (about 6 cups)

1

large

green apple, peeled, cored, and cubed (about 1 ½ cups)

4

cups

low-sodium vegetable broth

½

cup

canned coconut milk, plus more for garnishing

1

tablespoon

plus 1 teaspoon apple cider vinegar
Candied Pepita Topping
½

cup

raw pepitas

1

tablespoon

coconut sugar

½

tablespoon

coconut oil, melted

¼

teaspoon

ground cinnamon

Pinch

sea salt
Instructions
For the Golden Butternut Squash Bisque
Heat the coconut oil in a dutch oven or large stockpot over medium-low heat. Add the onion and cook for 4 minutes, or until just beginning to soften, stirring occasionally. Add the ginger, turmeric, sea salt, cinnamon, curry powder, and nutmeg, and cook for another 1 to 2 minutes, or until the onion is translucent, stirring frequently.

Stir in the butternut squash, apple, and vegetable broth. Increase the heat to high and bring to a boil. Then, reduce the heat to medium, cover, and rapidly simmer for 20 minutes, or until the squash is fork-tender.

Turn off the heat, and use an immersion blender* to purée the soup. Once the soup is mostly smooth, add the coconut milk and apple cider vinegar, and continue to blend until completely smooth. Taste and season with more sea salt, if desired.
For the Candied Pepita Topping
While the soup is simmering, preheat the oven to 275F. Line a small baking sheet with parchment paper.

Add the pepitas, coconut sugar, coconut oil, cinnamon, and sea salt to a small bowl, and toss to coat. Spread the coated pepitas out over the lined baking pan, and bake for 18 to 22 minutes, or until golden and wafting a rich toasted scent.

Remove from the oven and cool completely.
To Serve
Ladle the soup into bowls. Drizzle a bit of coconut milk over the soup and top witht he candied pepitas (if using). Serve immediately.

Refrigerate the leftover soup, covered, for up to 4 days or freeze for up to 1 month. Store the leftover pepitas in an airtight glass jar or container.
Notes
*No immersion blender? 
If you don't have an immersion blender, carefully ladle the soup into a blender in small batches and blend until smooth. Be very careful as the soup will be hot.