Is anyone else completely over this winter? Ugh. I don't think I can take another inch of snow or another day in which reaching double digits is a pleasant surprise compared to the projected forecast. My black car now has a snazzy new paint job which I like to call Salt-Stained-Snow-Dusted Grayish White. Fortunately, it looks like Friday will bring a warm spell: 39º Fahrenheit. There's about 20% sarcasm in that statement and about 80% actual excitement. Thankfully, there are recipes like this one to literally warm us up and conjure up thoughts of faraway and much warmer places.
Just looking at this dish makes me feel a little warmer. The golden-orange butternut squash looks like spots of sunshine in a bowl, doesn't it? This recipe is also bursting with delicious flavors that just make you feel good. The broth is made from coconut milk, onions, garlic, and oodles of bright spices that add heat and layers of flavor. Heaps of butternut squash are then simmered to tender perfection within the broth, and as they cook they soak up tons of flavor from the sweet coconut-curry broth. Cilantro is tossed in towards the end to add a pop of freshness, and the mixture is then poured over a mound of warm brown rice. It really doesn't get much better than this dish, especially when you're in need of a little sunshine amidst all this snow.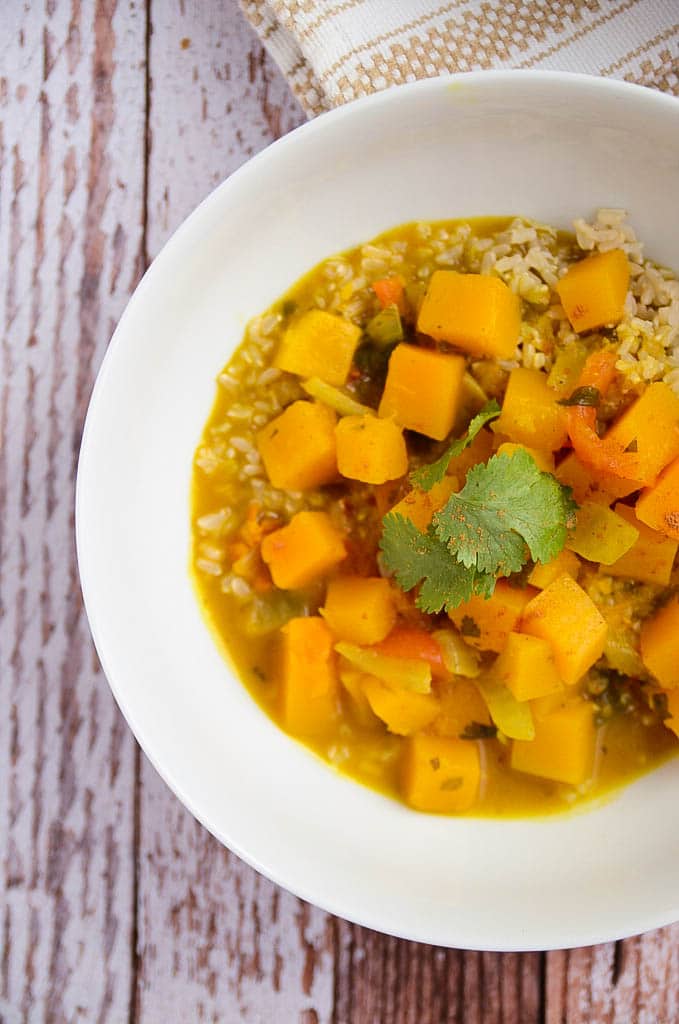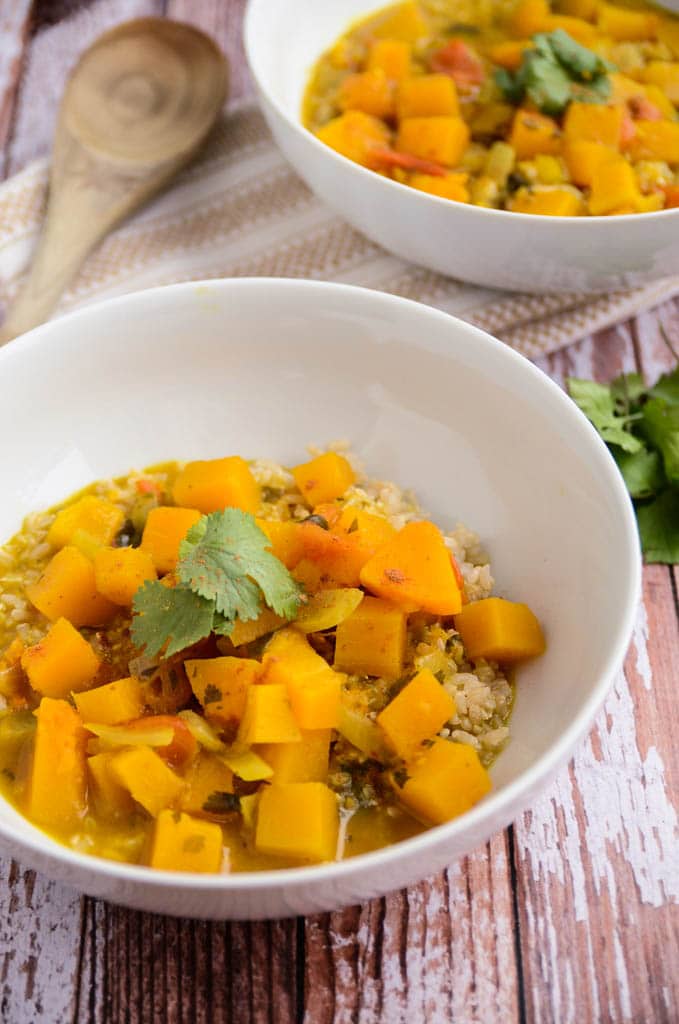 Butternut Squash Coconut Curry
Ingredients
2 tablespoons olive oil
1/2 yellow onion, diced
3 cloves garlic, minced
1 tablespoon curry powder
1/2 teaspoon coriander
1/2 teaspoon turmeric
1/4 teaspoon cinnamon
1/4 teaspoon ground ginger
1/8 teaspoon cayenne pepper
2 teaspoons sea salt or to taste
2 15-ounce cans light coconut milk
1 medium butternut squash, peeled and cut into 1-inch cubes
2 plum tomatoes, cut into 16ths
1/3 cup chopped cilantro
4-6 cups cooked brown rice or quinoa, for serving
Instructions
Heat olive oil in dutch oven or stock pot over medium-low heat. Add in the onion and garlic and cook until tender (approximately 5 minutes).
Add the curry powder, coriander, turmeric, cinnamon, ginger, cayenne pepper, and salt to the pot.
Pour in the coconut milk and whisk to distribute the spices.
Add in the butternut squash and tomatoes and simmer on low for 20-25 minutes or until the butternut squash is fork-tender.
Stir in the chopped cilantro with about 5 minutes left of simmering time.
To increase the thickness, I recommend transferring two ladles of the mixture to a blender, blending for 10-15 seconds and returning the blended mixture to the pot.
Ladle the mixture over heaps of brown rice and serve.