This vegan and gluten-free carrot, lentil & squash soup with walnut croutons exemplifies the late summer to early fall shift. Its bright orange hue, warm spices, and creamy richness are the perfect combination for a time of transition. 
Smooth.
Orange.
Creamy.
Sweet.
Savory.
Dreamy.
Warm.
Comforting.
Snuggle-up-with-a-bowl worthy.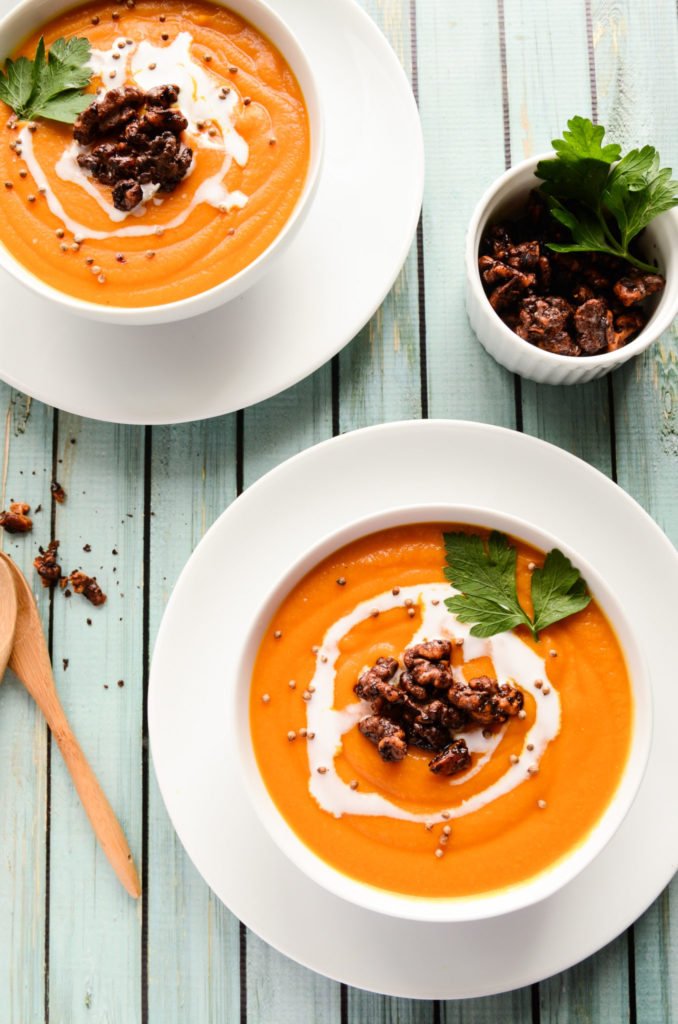 With the end of September just around the corner, it's officially starting to look and feel like fall. That subtle chill in the air, a few trees prematurely turned golden, and a sudden craving for warm, comforting meals that waft sweet fall spices.
This soup exemplifies the late summer to early fall shift. Its bright orange hue, warm spices, and creamy richness are the perfect combination for a time of transition. Carrots, red lentils, and butternut squash are simmered with onions and spices in vegetable broth and puréed to silky smooth bliss. No need for cream in this soup; nature's finest plants get the job done.
Garnishes are usually my favorite part of every dish, and this soup is no exception to my patterns of favoritism. Walnuts are tossed in a mixture of coconut oil, coconut sugar, and cinnamon and baked until they become crispy and caramelized. Although they're technically roasted nuts, we're going to bend the rules and call them croutons. They add sweetness and a dose of healthy fats to this vegetable-laden bowl of goodness.
On an unrelated note, I hope you're all doing well and enjoying the seasonal shift. I love this time of year but am sometimes caught off guard by just how different the vibes of fall feel after experiencing those sunny summer highs. I can never put my finger on what it is exactly, but I remember one of my yoga teachers talking about the same funny feeling last fall, and it confirmed my own annual-fall-funkiness experience.
All I know is that an extra workout or two a few weeks in a row usually knocks the weirds out of me, so I'm preemptively kicking it up a notch. Combating the fall funkies (and the abundance of dessert recipes I've been testing lately) one Vinyasa flow at a time. Anyone else know what I'm talking about or am I sounding a bit crazy? I'll make my exit now and leave you with soupy goodness and thought-provoking (or stifling) strangeness. Hope you all have a wonderful weekend!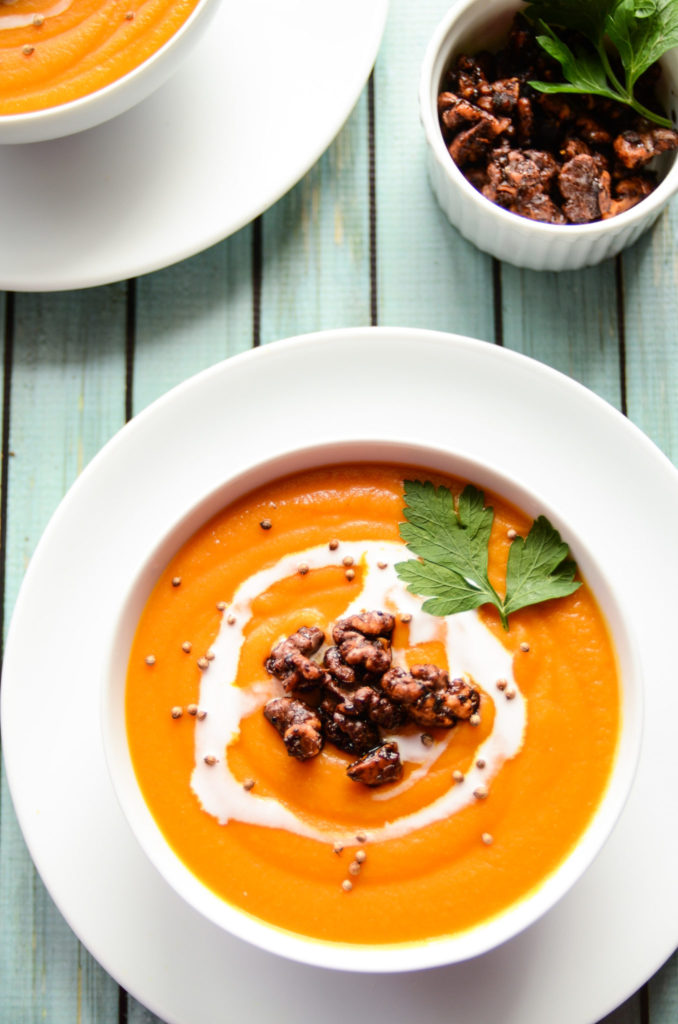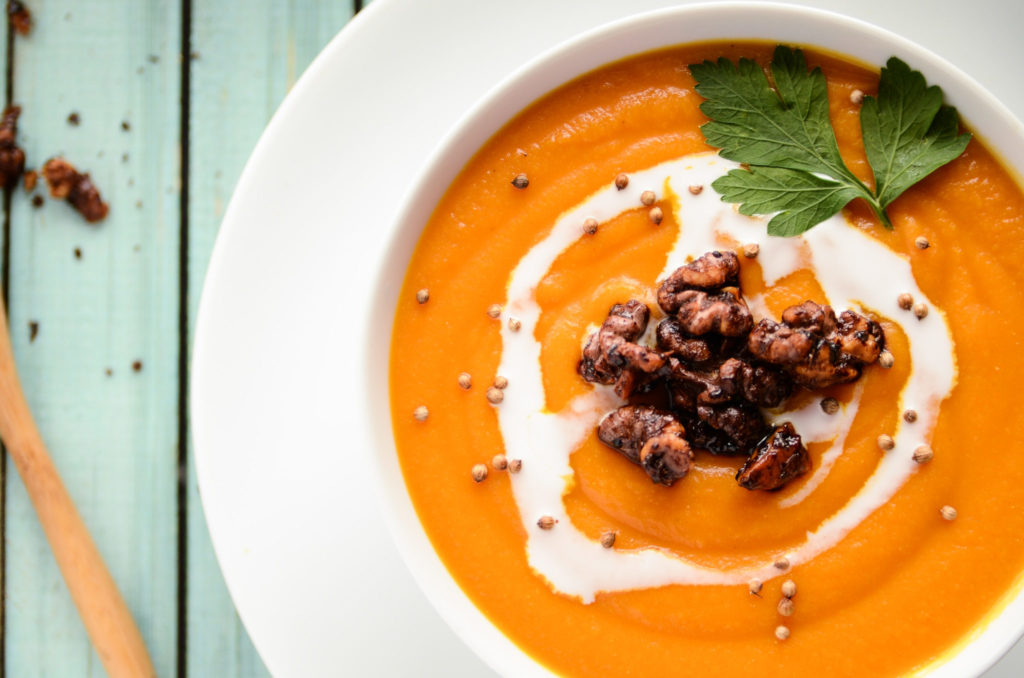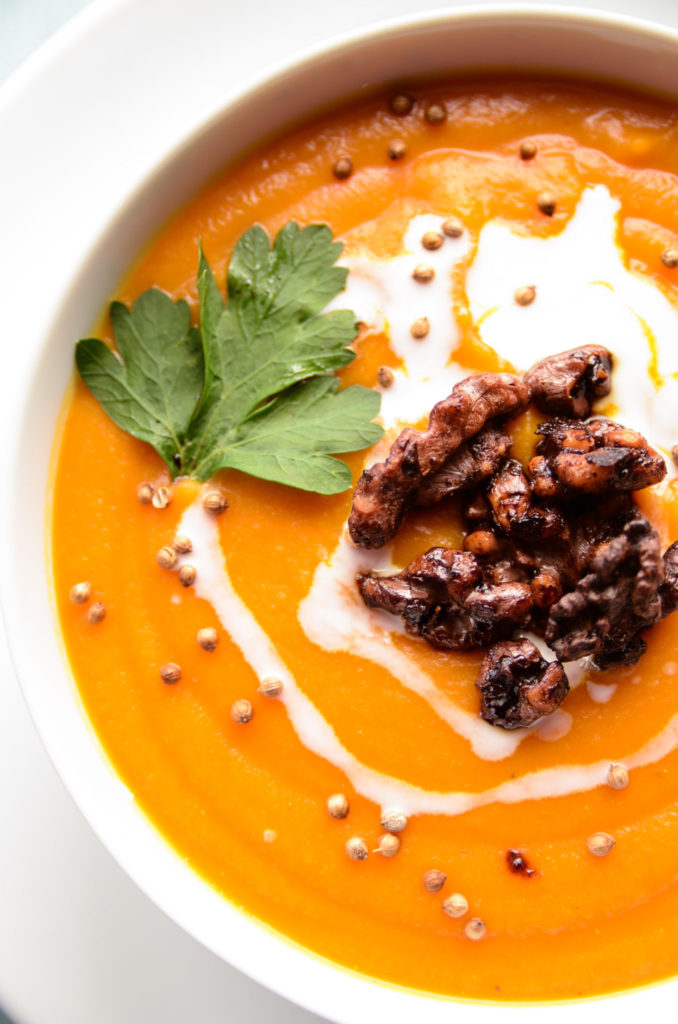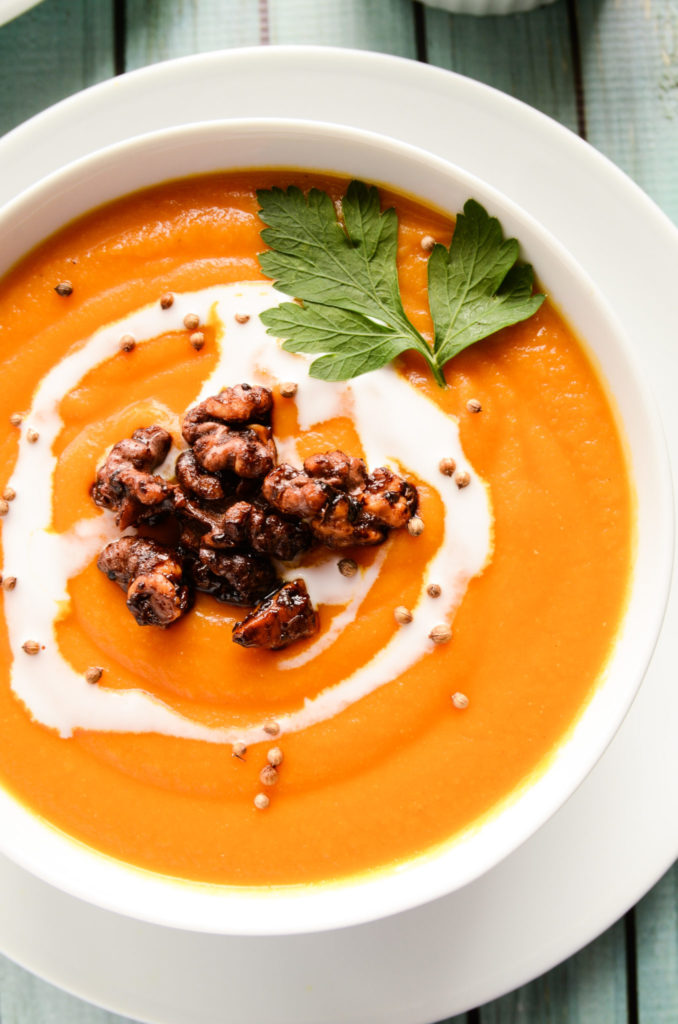 📖 Recipe
Carrot, Lentil & Squash Soup with Walnut Croutons
Ingredients
For the Soup
1

tablespoon

coconut oil

2

cups

diced yellow onion (about 1 medium onion)

4

cups

low-sodium vegetable broth

3

cups

peeled and diced carrots

3

cups

peeled and cubed butternut squash

1

cup

split red lentils

1

teaspoon

smoked paprika

½

teaspoon

cumin

¼

teaspoon

curry powder

2 ½

cups

water or plain almond milk

1

teaspoon

pure maple syrup

1

tablespoon

apple cider vinegar

1 ½ to 2

teaspoons

sea salt or to taste

Dash of cayenne pepper
For the Candied Walnut Croutons
½

cup

raw walnut pieces

1

tablespoon

coconut sugar

½

tablespoon

melted coconut oil

¼

teaspoon

cinnamon

Pinch of sea salt
Optional Garnishes
Parsley leaves

Coriander seeds

Coconut milk
Instructions
To Make the Soup
Add the coconut oil to a large stock pan over medium heat. Add in the onion and cook for 6-8 minutes or until beginning to turn translucent.

Add in the vegetable broth, carrots, butternut squash, lentils, smoked paprika, cumin, and curry powder. Bring to a boil, reduce heat, and simmer for 20-25 minutes, stirring occasionally. About halfway through cooking, cover the soup.

Once the carrots and squash are tender, turn off the heat.

Add in the water or almond milk, maple syrup, apple cider vinegar, sea salt, and cayenne pepper. Stir.

Use an immersion blender to blend the mixture into a smooth and creamy texture. Be patient with this step, as it takes about 5-8 minutes of blending to get it completely smooth.
To Make the Walnut Croutons
Preheat oven to 350 degrees Fahrenheit.

Make the walnut croutons while your soup is simmering.

Add the walnut pieces, coconut sugar, coconut oil, cinnamon, and salt to a bowl. Toss to coat.

Spread the coated walnuts out over a small baking pan that has been lined with parchment paper. Bake for 10-12 minutes. Remove from oven and let cool completely.
To Assemble
Pour a few ladles of soup into a bowl, drizzle with coconut milk (if desired), drop a small handful of walnut croutons in the center, and add in other garnishes if desired. Serve immediately.

Refrigerate leftover soup.