This easy vegan apple cake is packed with crisp, sweet, and nourishing Rave® apples. Made with just 8 ingredients (plus salt + water) and requiring just 15 minutes of active kitchen preparation, it's as easy to make as it is to enjoy.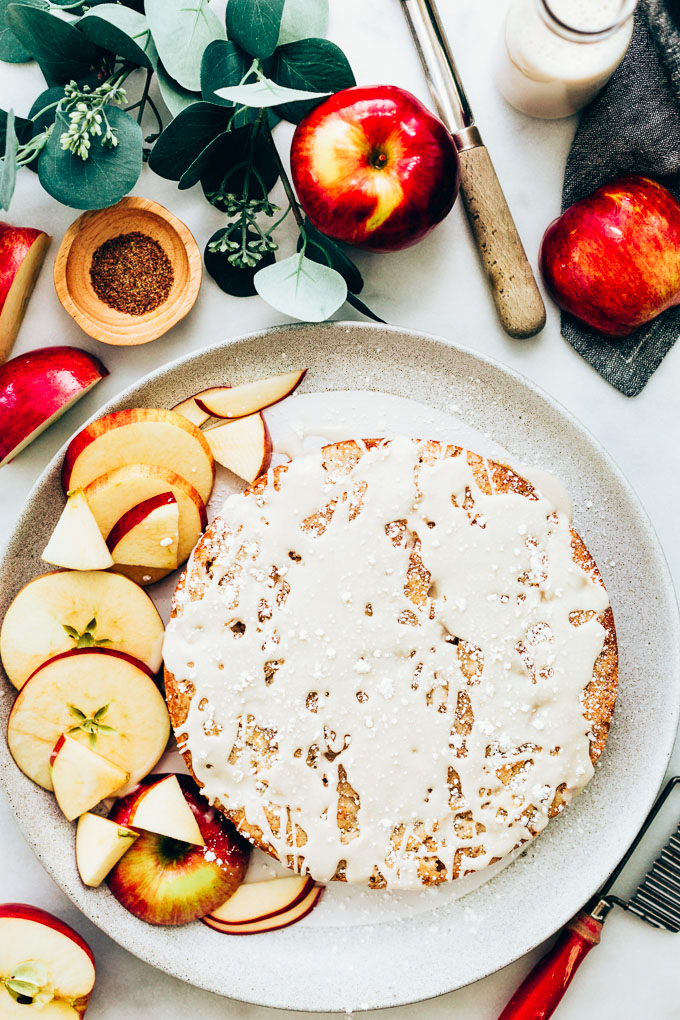 This post is sponsored by Stemilt's Rave® apples. Thanks for supporting the brands that support Blissful Basil!
The heat and humidity may suggest otherwise, but apple season is officially upon us.
Do you have a favorite type of apple? I appreciate a variety and prefer certain apples for cooking/baking, others for straight snacking (with lots of almond butter + cinnamon, of course), and others still for mixing into salads or serving as part of vegan cheese platters.
Having said this, there are certain apples whose taste and texture is undeniably versatile. Apples that can traverse the lands between cooking, baking, snacking, etc. with ease because they're both exceptionally crisp and sweet but not too sweet.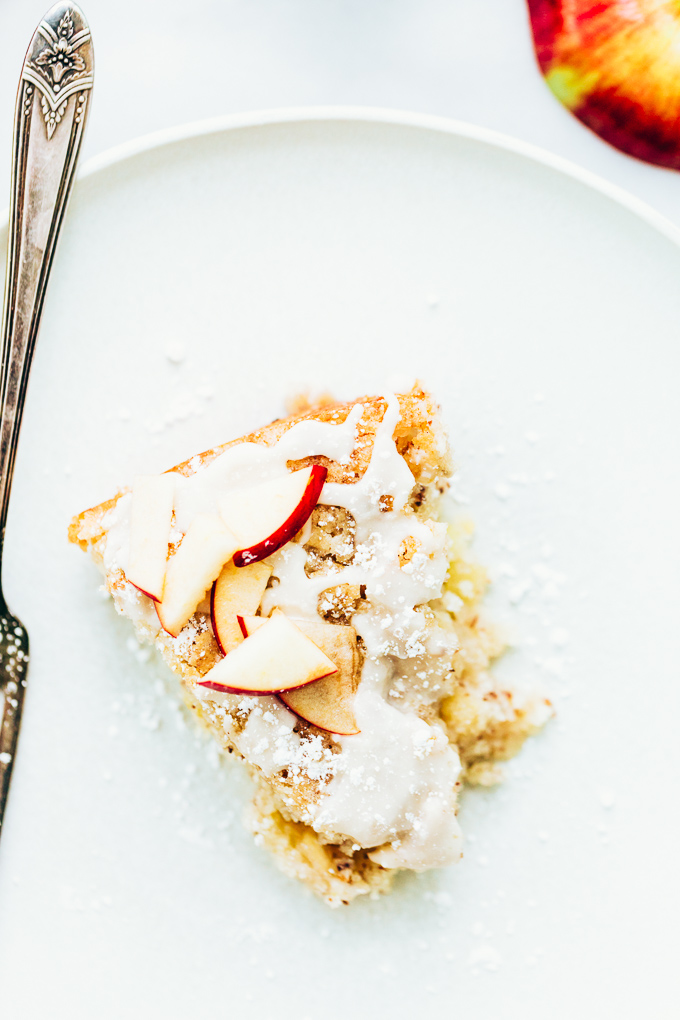 Do you know the type?
In the past, I'd come to trust just two varieties of apple with such a job, but I'm happy to be adding a third to the mix this year.
Have you had the chance to try Rave® apples, yet? They're super crisp and juicy with a beautiful balance of sweet and tart. If I had to pick one word to describe their flavor it would be *bright*. The texture reminds me of a Honeycrisp apple and yet the flavor is even more apple-y and vibrant.
They lead with sweetness and yet the backend of each bite offers a lingering tartness that cleanses the palate and entices yet another nibble. To me, this makes them perfect for both eating raw and incorporating into baked goods, because their brightness plays so well with other flavors.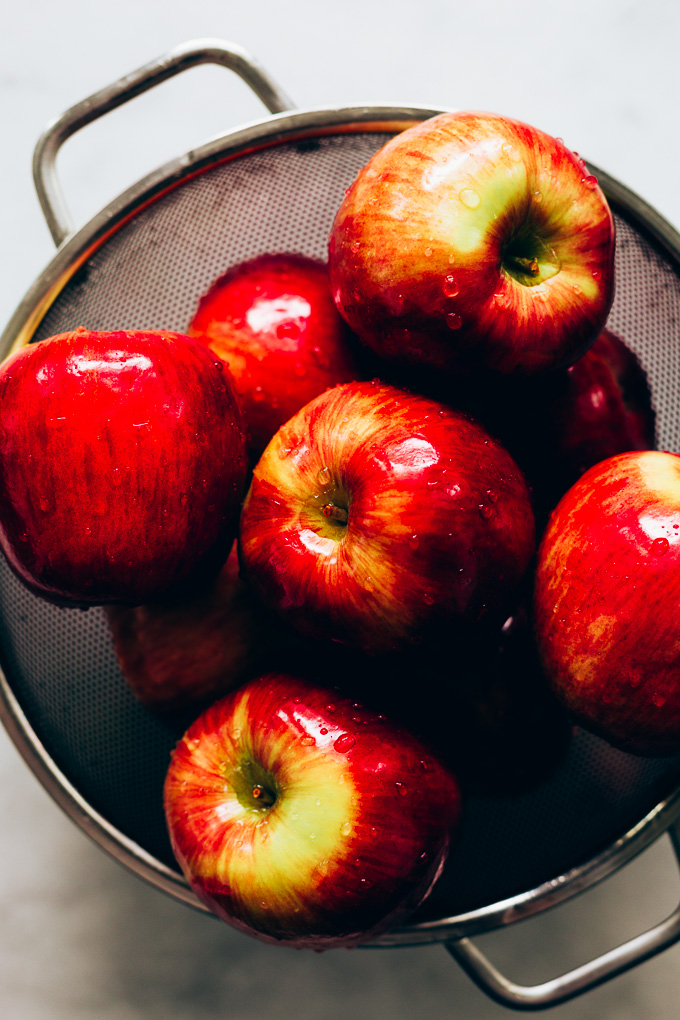 Because no one needs a recipe for how to enjoy an apple raw with some almond butter, I'm bringing you this festive fall recipe for easy vegan apple cake to showcase just how wonderful these apples are.
When I say "easy," I mean easy. We're talking 8 ingredients and about 15 minutes of active kitchen time. Then, pop the cake in the oven to bake for 45 while you have yourself a rest (and maybe an apple-centered snack, too 🍎).
How to Make Vegan Apple Cake
To make this vegan apple cake, you'll start by creaming together vegan butter and organic raw cane sugar. Either a hand mixer or stand mixer will get the job done, so use whichever you have on hand/find to be easiest.
Once the butter and sugar are creamed together, you'll add two flax eggs, a bit of apple cider vinegar (adds both lift and brightness), and a splash of vanilla. Beat the mixture again until all is incorporated.
Then, whisk together all-purpose flour (I have a feeling GF all-purpose will work here too but haven't tested it), baking powder, and sea salt. Beat once more until no flour patches remain.
You'll notice that this batter is thick. This is exactly how it's supposed to be, so don't fret! Because you're adding raw apples to the batter, which will naturally release juices as they bake, a super thick batter is exactly what you want.
To the batter, add 2 ½ cups of peeled and chopped Rave® apples. Fold them in until incorporated, like so...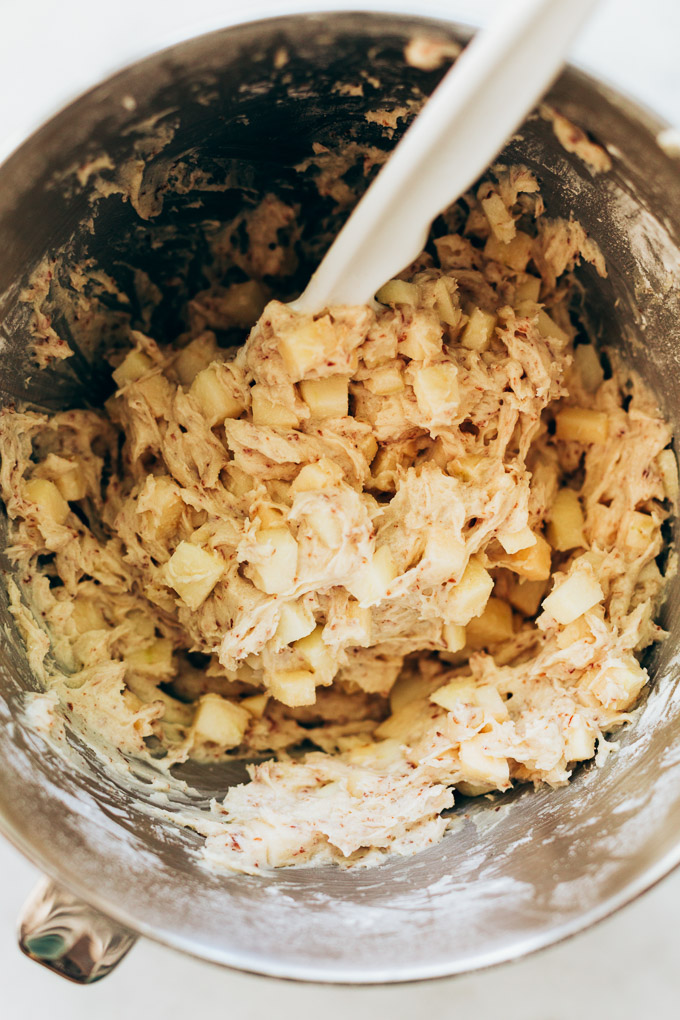 Then, spread the batter into a lined and greased springform pan (or regular cake pan) and sprinkle the surface with a bit more raw cane sugar.
(The sugar topping creates a lovely crunchy crust as the cake bakes.)
Bake the cake for about 45 minutes, or until a toothpick inserted into the center comes out clean.
Now, let that gorgeous apple cake cool.
If you'd like to up the dessert appeal and overall sweetness, you can prepare a simple icing by whisking together powdered sugar and a small amount of water.
Drizzle the icing over the cooled cake like so...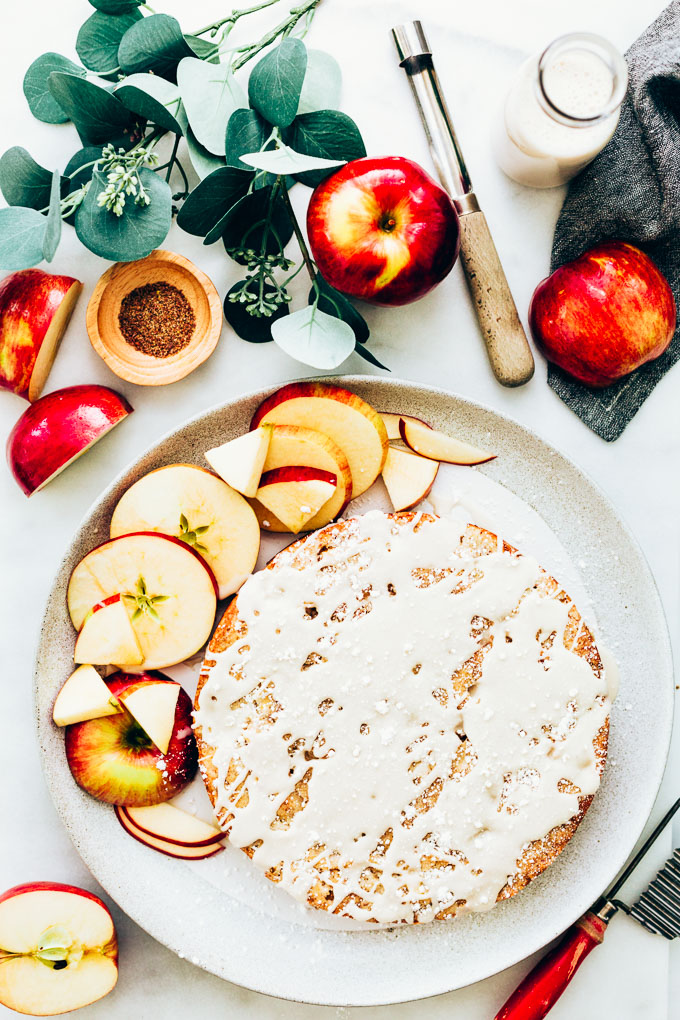 Finally, slice and enjoy.
You'll notice that this isn't the cleanest cake to slice because of all those flavorful Rave® apple pieces. Don't worry. Even if you're serving it to guests at some sort of fancy fall affair, I promise you they'll forget about the look as soon as they take a bite.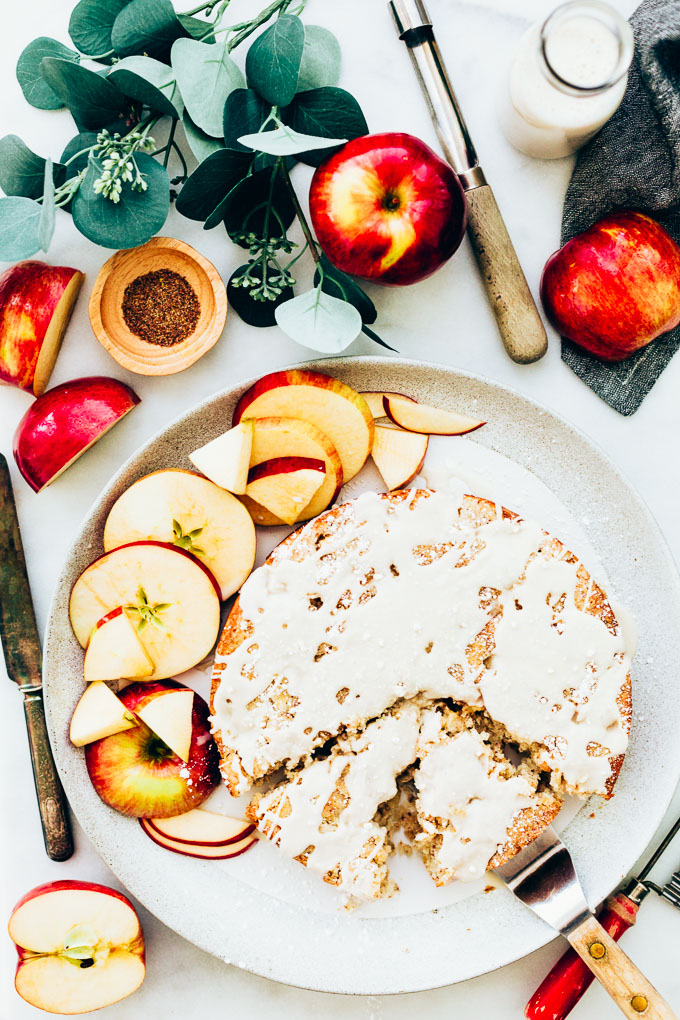 This easy vegan apple cake is brimming with fall flavor.
It's...
Sweet.
Bright.
Tart.
Apple-packed.
Super moist.
Comforting.
Decadent in a totally laid back, down-home sort of way.
It reminds me of the kind of cake I'd ask my mom to prepare when I'd return from college for fall break each year. The essence of home wrapped up in a pretty, apple-infused package.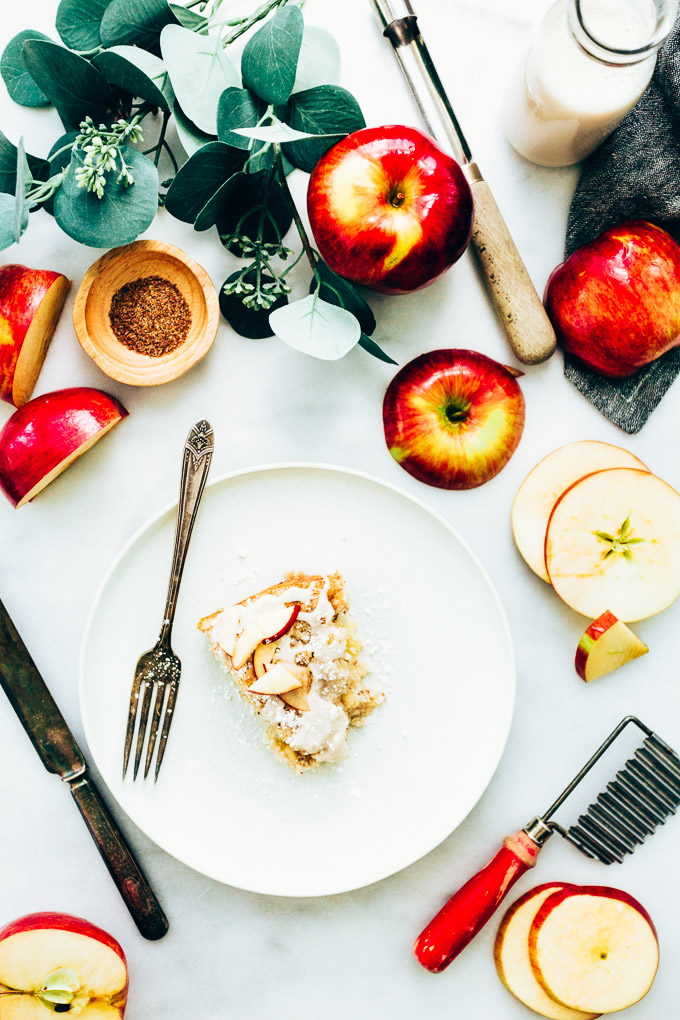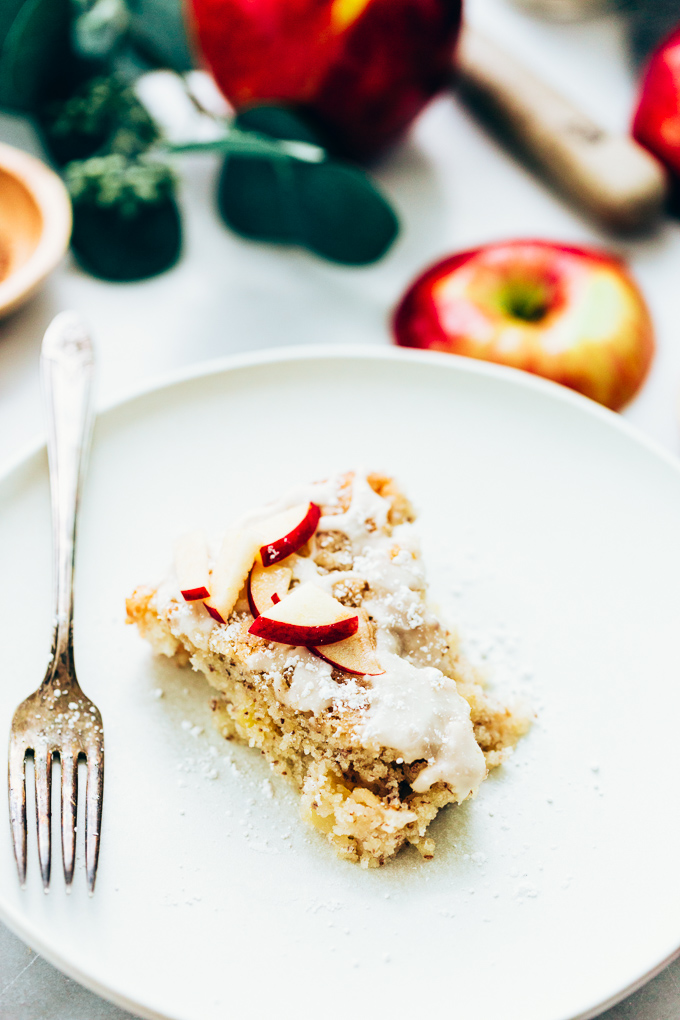 I hope you enjoy this apple cake. If you make it, let me know! Leave a comment, rate the recipe, and don't forget to tag a photo #blissfulbasil on Instagram.
Be sure to checkout @raveapples on Instagram, too. They're using their account to highlight loved ones, community members, and businesses who are inspiring others with their stories of kindness and goodwill. Feel good food, feel good mission. ❤️
📖 Recipe
Easy Vegan Apple Cake
This easy vegan apple cake is packed with crisp, sweet, and nourishing apples. Made with just 8 ingredients (plus salt + water) and requiring just 15 minutes of active kitchen preparation, it's as easy to make as it is to enjoy.
Equipment
9" springform pan or 9" cake pan

Stand mixer or hand mixer
Ingredients
2

tablespoons

ground flaxseed

¼

cup + 2 tablespoons

filtered water

1

stick (½ cup)

vegan butter

1

cup

organic raw cane sugar, plus more for topping

½

tablespoon

apple cider vinegar

1

teaspoon

pure vanilla extract

1 ½

cups

all purpose flour

1 ½

teaspoons

aluminum-free baking powder

¼

teaspoon

fine sea salt

2 ½

cups

peeled, cored, and chopped RaveⓇ apples (about 2 apples)

Powdered sugar (optional for icing)
Instructions
Preheat the oven to 350F. Line the bottom of a 9-inch springform pan with parchment paper and lightly grease the sides. Alternatively, line a regular 9-inch round cake pan with parchment paper. If you're using a springform pan, place it on top of a baking tray (this will catch any drippings in the event that the pan leaks). 

In a small mixing bowl, whisk together the flaxseed meal and the filtered water. Let stand for 5 minutes, or until thickened.

In a large mixing bowl, use a stand mixer or hand mixer to beat together the vegan butter and brown sugar on high for 2 minutes (set a timer). Add the thickened flaxseed mixture, vinegar, and vanilla, and beat again for 30 seconds, or until thoroughly incorporated.

In a medium mixing bowl, whisk together the flour, baking powder, and sea salt. With the mixer off, add the dry ingredients to the butter mixture. Slowly turn the mixer on low, increasing to medium, and beat for 30 seconds, or until thoroughly combined. The batter should be very thick and fluffy.

Fold the chopped RaveⓇ apples into the batter.

Evenly spoon the batter into the prepared pan, using a spatula to smooth. Sprinkle the top with a thin layer of cane sugar.

Bake for 40 to 50 minutes, or until a toothpick inserted into the center of the cake comes out clean.

Transfer the cake pan to a heat-safe cooling rack. If you used a springform pan, release the wall of the pan and remove (this allows the cake to vent steam and expedites the cooling process). Cool completely. 

If you'd like to ice the cake, vigorously whisk together about two cups powdered sugar with a few tablespoons filtered water, adding more powdered sugar as needed to thicken or more water as needed to thin. Drizzle over the cooled cake.

Slice and serve.

Leftovers will keep for up to three days in the refrigerator.