This cinnamon popcorn power snack mix is packed with brain-boosting, mood-supportive, immune-strengthening, and antioxidant-rich foods. It's the perfect snack for little (or big) hands to reach for as they head back to school—whether in person or online. Keep reading to find out all the wonderful benefits of each mindfully selected ingredient.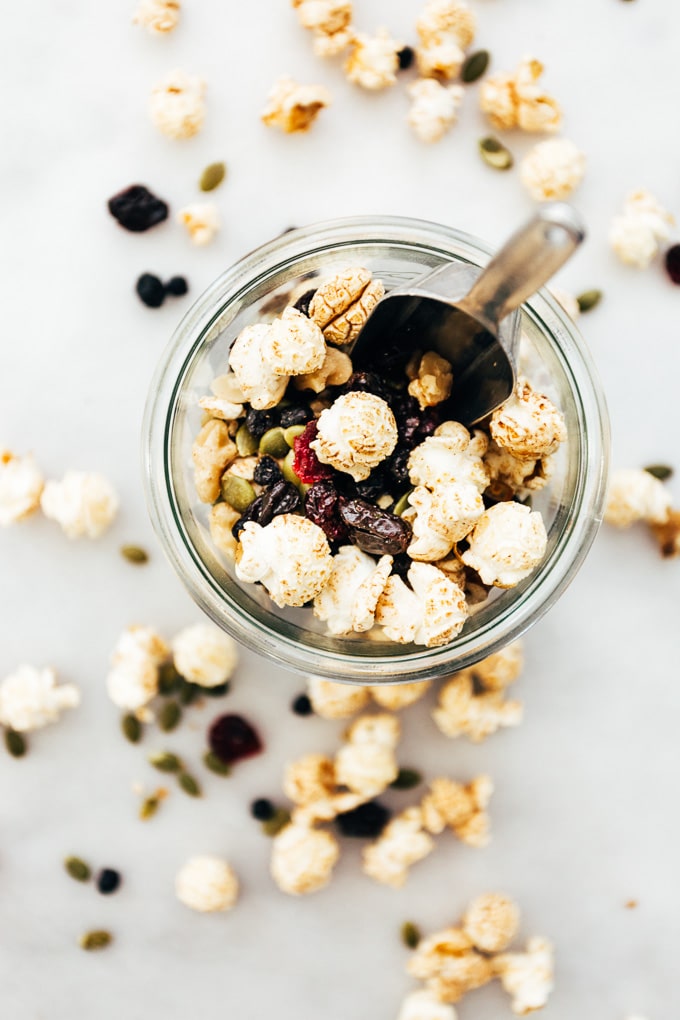 This post is sponsored by Pop Zero Popcorn. Thank you for supporting the brands that support Blissful Basil!
Despite the blanketing warmth and humidity still lingering in the air here in the midwest, we've officially reached the wind-down point of summer. The space between time off and time to start again.
And whether or not our lives continue to be run by the school calendar, there's no denying the energy of newness, fresh starts, and opportunity that emerges each year around this time.
There's also no denying that this back-to-school season looks entirely different than any that have come before it. But nourishing back-to-school snacks are equally as important whether you or your little ones are returning to in-person classes, balancing the back-and-forth nature of a hybrid style program, or going full in on online learning.
In fact, I'd argue that *truly* nutritious snacks are more important now than ever as the collective focus shifts to more keenly observe the way our daily choices affect our physical outcomes.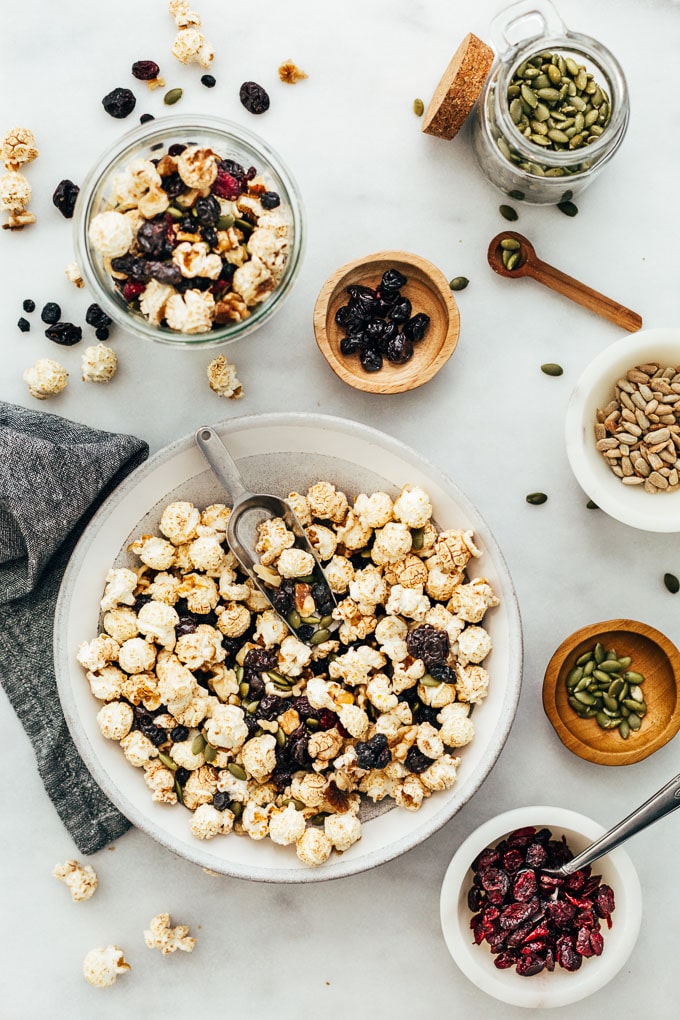 I recently completed an intensive online certification course on the topic of nutritional and integrative medicine for mental health.
Although I'm not actively practicing psychology at the moment, I keep up with continuing education credits to maintain my licensure. And I intentionally select courses that weave together my multifaceted passions for the brain, holistic + spiritual wellness, and nutrition so that I can leverage that information here, albeit in a very informal way.
Without traversing too far into the research-based fray here...
The course solidified so much of what I've come to know through both clinical practice and my own experience: We lay the foundation for well-being with our daily choices. In other words, the small but consistent choices we make each day—most especially when it comes to the foods we consume—are powerful precursors for physical, cognitive, and emotional outcomes.
Feeling well and being well begin with what we eat and ingest (vitamins, minerals, herbs, amino acids, botanicals). And there is no one "right" diet for everyone, but rather each of us should feel empowered to seek the foods that are most supportive of our unique composition (bio-individuality).
With all this in mind, I've become even more intentional than usual with my food choices in recent months. Deliberately choosing simpler meals with fewer ingredients but with each ingredient boasting a wide array of nutritional benefits. More nutritional bang for the ingredient buck.
I'm sure you know where I'm heading with this, but this popcorn snack mix was designed to support mood, cognition, and even immunity with its combination of healthy fats, omega-3s, vitamins, minerals, and antioxidants. It's versatile and easily adapted, so you can mix and match as you please and based on snacking preferences and allergies (nut-free option included).
Brain, Body + Mood Benefits
Here's a look at the nutritional goodness tucked away in each handful of this tasty snack mix:
Pepitas (shelled pumpkin seeds). Antioxidant-packed (anti-inflammatory). High in protein (1 ounce = 7 grams) and healthy fats. Rich in vitamin K, vitamin E, phosphorous, manganese, magnesium, iron, and zinc (1 ounce = 14% RDU). Pumpkin seeds are considered to be one of the best natural sources of magnesium. Magnesium is an anxiolytic (anti-anxiety), anti-stress mineral that supports cognition and healthy mood. Specifically, magnesium improves serotonin synthesis, improves short-term memory (while dampening traumatic memories), maintains the quantity of synaptic connections between brain cells, and reduces inflammation and oxidative stress. Nearly 80% of adults in the United States don't meet the daily requirements for magnesium intake. Zinc is a natural anti-depressant and is known to support cognition in elders.
Sunflower Seeds. High in protein (1 ounce = 5.5 grams) as well as healthy fats that support neuronal communication. Anti-inflammatory. Rich in vitamin E (1 ounce = 37% RDU), niacin, folate, copper (1 ounce = 26% RDU), manganese, and selenium (1 ounce = 32% RDU). Vitamin E supports cognition and is especially important as we age, because it reduces the risk of cognitive decline and Alzheimer's disease. Copper regulates cellular energy production and neurotransmission. Too much or too little copper can contribute to depression, so it's important to seek a balanced amount each day. Selenium is important for immune function. It also elevates mood and reduces inflammation in the body. A small amount of selenium each day is optimal.
Walnuts (omit for nut-free). The ultimate brain food. Is it any wonder given their brain-like shape? Walnuts are one of the only nuts that contain significant amounts of the healthy omega-3 fat alpha-linolenic acid (ALA). ALA is beneficial for heart health, reduces inflammation, and improves the composition of blood fats. Walnuts have been shown to improve brain function in animals, improving memory and even reversing age-related memory impairments due to their antioxidant content and omega-3s. Walnuts also support GABA production in the brain. GABA is a natural anxiolytic (anti-anxiety) and has a calming effect.
Dried wild blueberries. Blueberries are considered to be a highly mood-supportive food. Wild blueberries have twice the antioxidant content of typically cultivated blueberries. They're especially rich in the flavonoid anthocyanin, which contributes to both the berries' deep purple-blue hue and their health-protective properties. Specifically, anthocyanins are hailed for their anti-depressant effects as well as their ability to reduce inflammation throughout the body.
Dried tart cherries. Montmorency cherries, too, are packed with anti-inflammatory anthocyanins. Cherries also stimulate the release of melatonin, which helps support restful sleep and the body's natural circadian rhythm. Improved sleep = improved mood and cognition. Random side perk for those struggling with gout: The antioxidants in tart cherries have been observed to reduce uric acid and therefore the joint pain related to the condition.
Pop Zero Popcorn. This plant-based, vegan, popcorn is made with simple but impactful ingredients. One of extra noteworthy importance is algae oil. Algae oil is packed with vitamin A, vitamin B-12, and iron; and boasts high amounts of brain-boosting DHA- and EPA-rich omega-3 fatty acids. Pop Zero Popcorn is also made with pea protein—a complete protein containing all 9 essential amino acids. Beyond the nutritional perks, I personally love Pop Zero's use of non-GMO mushroom popcorn kernels—they're far more robust and substantial than other types of kernels which makes the popcorn perfect for snack mixes.
I have to say, I was a little hesitant about the algae oil at first. Being pregnant, I can barely stomach the hint of seaweed flavor that comes from swallowing my prenatal vitamins. But seriously, algae oil for the win. This popcorn is SO good and has no algae taste.
Move over, all other store-bought "healthy" popcorn lines. This is my favorite by far. And Dan's, too. I let him try a few of the snack size bags before I got to work on the recipe and nearly had to swat him away with a spatula to keep him from eating his way through the huge box that Pop Zero kindly sent.
Below is a peak at the current flavor options, including Chili Lime, Cinema, Cinnamon, and Sea Salt. All equally delicious. The mushroom kernels make such a difference—so much more enjoyable to eat than standard kernels.
How to Make Cinnamon Popcorn Power Snack Mix
To make this simple snack mix, you'll toss together the following:
Pop Zero Cinnamon Popcorn
Pepitas
Sunflower seeds or walnuts (or a combination of the two)
Dried tart cherries
Dried wild blueberries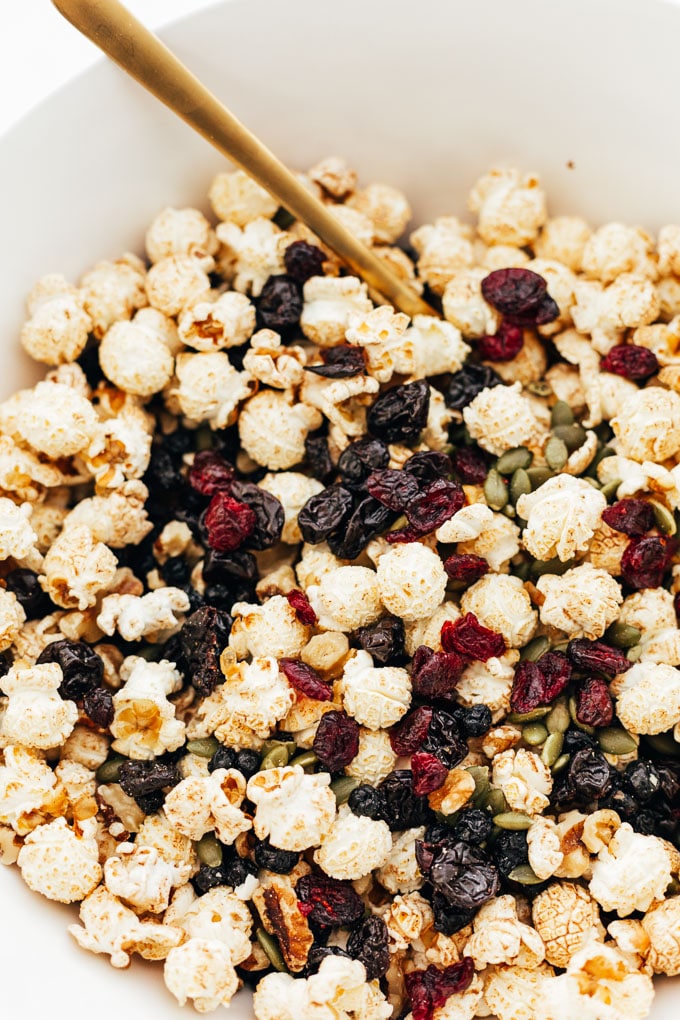 I like to store this cinnamon popcorn power snack mix in individual airtight jars for easy, grab-n-go, single-serve snacking.
I hope you and your loved ones enjoy this back-to-school snack. And I hope the start of the new school year—whether in person or online—goes smoothly for you.
I've learned that in these bizarre times, we can regain our sense of calm by focusing more closely on what we can control (within reason) and peacefully releasing what we can't. Sending love to you all. 💗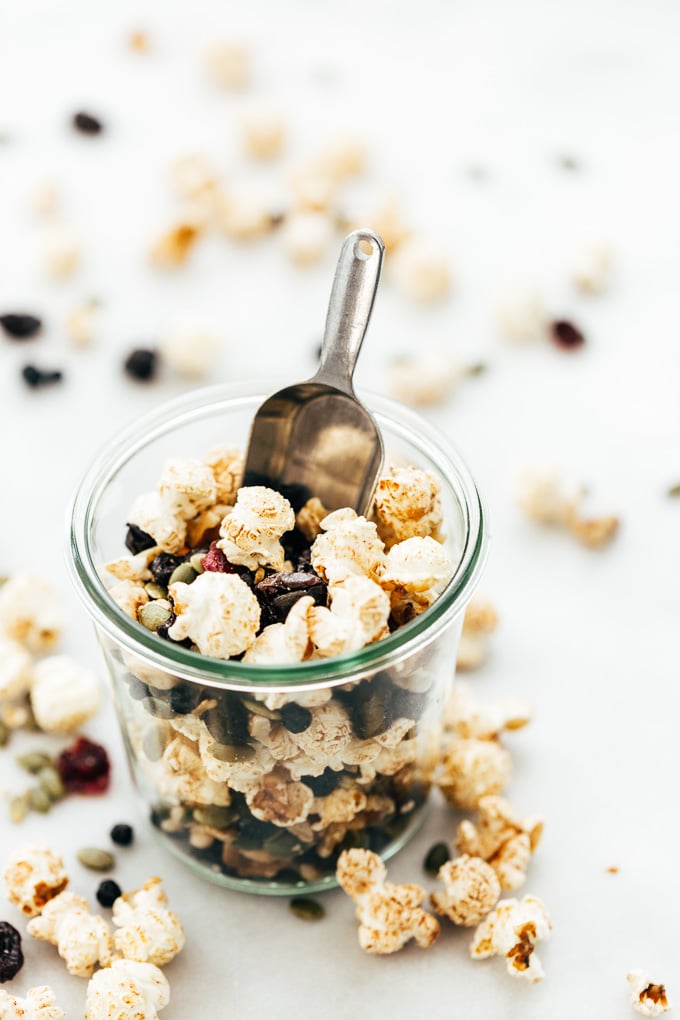 📖 Recipe
Cinnamon Popcorn Power Snack Mix
This cinnamon popcorn power snack mix is packed with brain-boosting, mood-supportive, immune-strengthening, and antioxidant-rich foods. It's the perfect snack for little (or big) hands to reach for as they head back to school—whether in person or online. Keep reading to find out all the wonderful benefits of each mindfully selected ingredient.
Servings
7
cups (approximately)
Ingredients
5

cups

Pop Zero Cinnamon Popcorn

(three 0.7oz bags)

¾

cup

shelled sunflower seeds or roughly chopped walnuts* (or a combination of both)

¾

cup

pepitas

¼ to ½

cup

dried tart cherries or dried cranberries (or a combination of both)

¼ to ½

cup

dried wild blueberries or dried mulberries
Instructions
In a large mixing bowl, stir together the popcorn, pepitas, sunflower seeds/walnuts, dried cherries, and dried blueberries.

Store in airtight jars or containers.
Notes
*No nuts? No problem. Use sunflower seeds to keep this recipe nut-free.
Sources
1. Leslie Korn, PhD, MPH, LMHC, ACS, RPP, NTP, NCBTMB. (2018). Course: Advanced Nutritional and Integrative Medicine for Mental Health Practitioners. 
2. Top 11 Science-Based health Benefits of Pumpkin Seeds. Retrieved from https://www.healthline.com/nutrition/11-benefits-of-pumpkin-seeds
3. Are Sunflower Seeds Good for You? Nutrition, Benefits and More. Retrieved from https://www.healthline.com/nutrition/sunflower-seeds#nutrition
4. Walnuts 101: Nutrition Facts and Health Benefits. Retrieved from https://www.healthline.com/nutrition/foods/walnuts