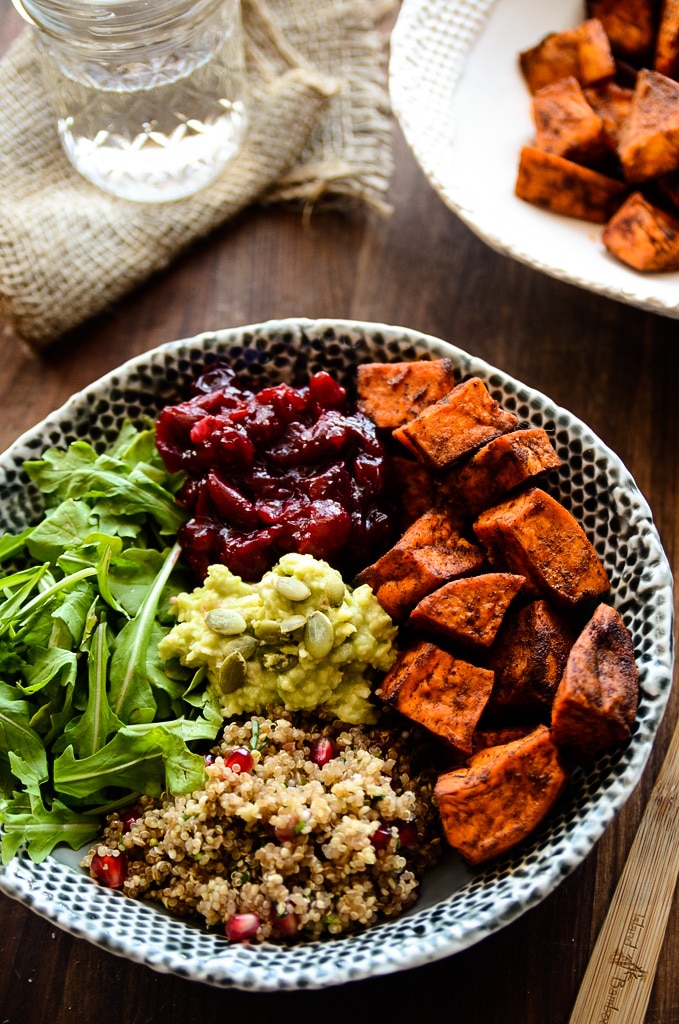 When life becomes busy and chaotic, it's tempting to forget about cooking and healthy eating and give into convenience foods. However, it's the busy times when it's even more important to nourish our bodies with vitamin-rich and vibrant foods so that we can keep ourselves energized and on-point.
With a little preparation and a bit of time set aside on Sunday, you can have a grab-n-go meal to enjoy for lunch or dinner throughout the week. The kicker? This Grab-N-Go Sweet Potato, Cranberry & Quinoa Power Bowl is PACKED with energizing goodness, vitamins, and antioxidants. The best part? It tastes absolutely delicious and has a little bit of everything from sweet, savory, and spiced to creamy and crunchy. Plus, it's all wrapped up in one pretty package.
Each part of this bowl is absolutely delicious on its own, but it's as if the stars align when all of the flavors come together.
To prep this meal for the week, I always start with the sweet potatoes. You'll peel and cut the sweet potatoes, drizzle them generously with olive oil, and toss on a whole lotta ground cinnamon and smoked paprika. After seasoning with a bit of sea salt, you'll pop them in the oven and roast for 20-30 minutes or until they're deliciously tender.
While the potatoes are roasting, you can start on the quinoa (hi, complete protein source #1) by cooking up one cup of white quinoa over the stove. Once the quinoa is cooked, you'll toss in some pomegranate seeds, fresh chives, hemp seeds (hello, complete protein source #2), balsamic vinegar, and tamari and toss to coat.
The last component to prepare ahead of time is an easy and delicious spiced cranberry sauce that you'll make by adding fresh cranberries, pure maple syrup, water, cinnamon, and cardamom (my not-so-secret secret ingredient) to a sauce pan and simmer the mixture until it's broken down into a sauce. It's a sweet, slightly tangy, and spiced cranberry sauce that will have you saying "just one more scoop" down to the very last bit.
For the avocado and arugula, you'll just need about 5 to 10 minutes to prep them in the morning.
Recap | To make this nutrient-giving power bowl, you'll prepare three of the five components ahead of time (i.e., the sweet potatoes, quinoa, and cranberry sauce) and refrigerate each in individual containers. Each morning, you'll toss the prepared items into a container or bowl and whip up two simple + fresh components: mashed avocado and a bit of arugula spritzed with fresh lime juice. After that, you'll have a flavorful and power-packed meal. Piece of cake quinoa.
And because I've completely neglected to include some good kitchen-going tunes in my posts lately, here is one that I'm loving right now. It's a feel-good, bubbly beat with bright vocals and fun punches of sound. Turn it on, hop in your kitchen, and have some fun.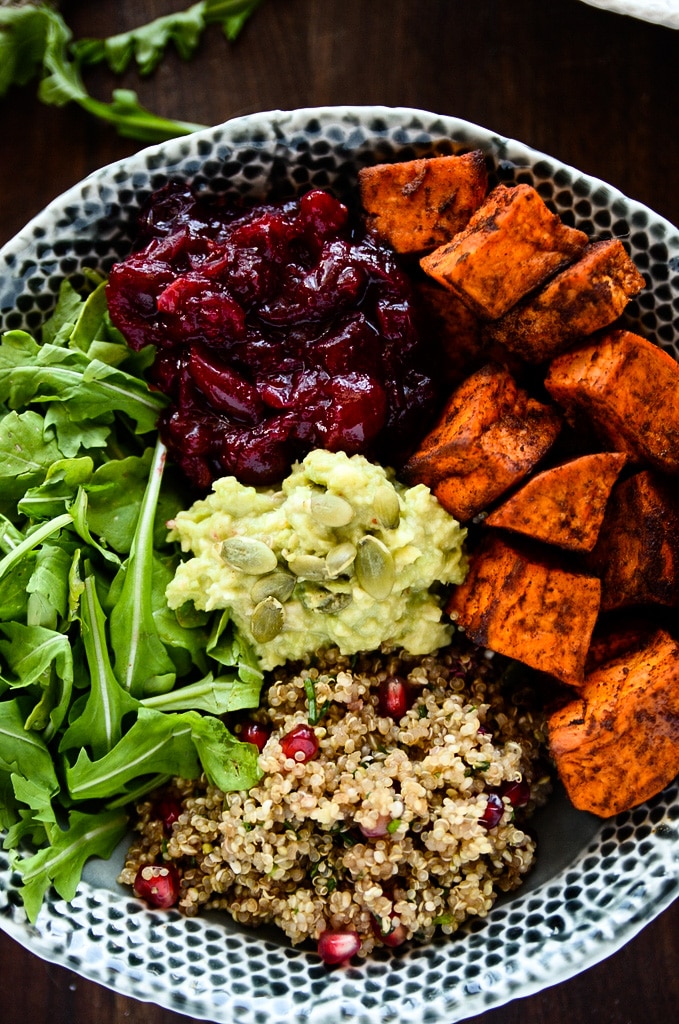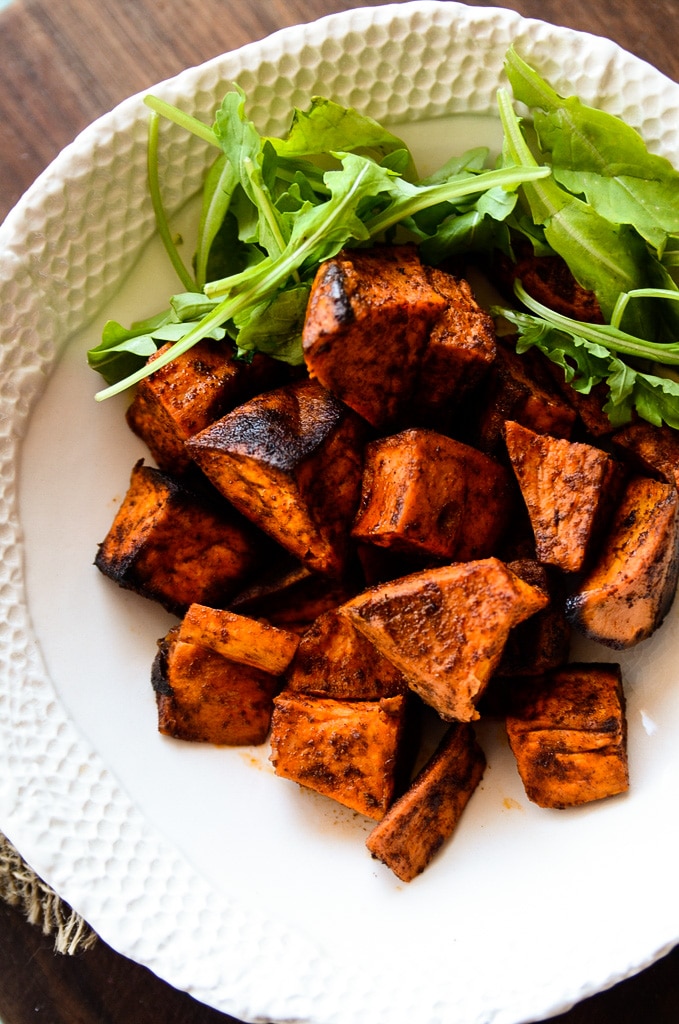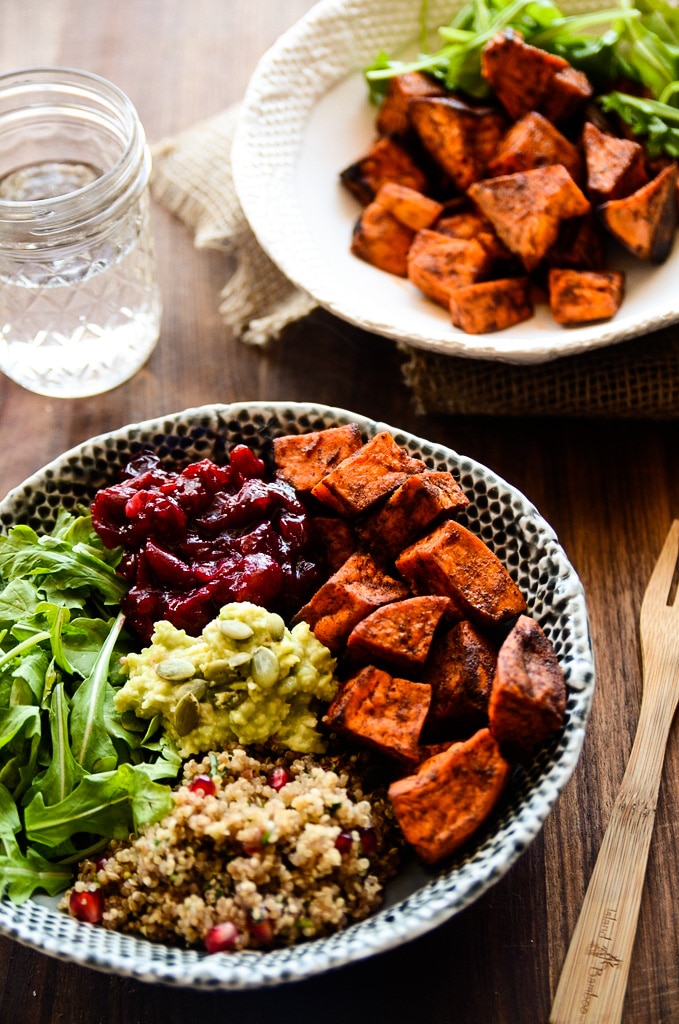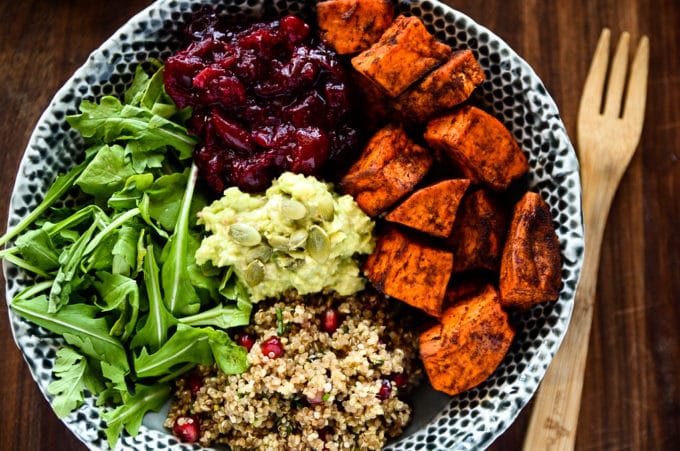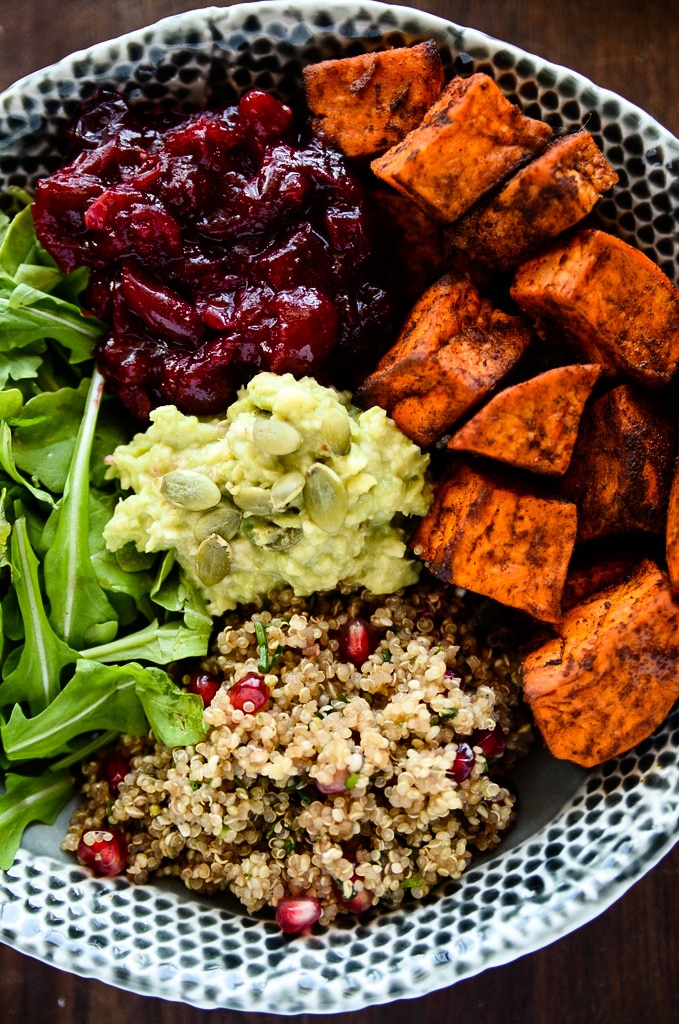 📖 Recipe
Grab-N-Go Sweet Potato, Cranberry & Quinoa Power Bowl
Power bowls are my go-to meal for energy and ease during busy weeks. I set aside time on Sunday to prepare the cooked elements (e.g., roasted vegetables, high-protein grain, sauce), and then spend five minutes in the morning assembling the bowls before I head off to work. This particular power bowl has a bit of holiday flare thanks to the cinnamon-paprika sweet potatoes, spiced cranberry sauce, and red-and-green flecked quinoa. It's packed with complete protein sources, healthy fats, and superfoods to power through the busiest of weeks.
Ingredients
For the Roasted Sweet Potatoes
2

large sweet potatoes, peeled

2-3

tablespoons

extra-virgin olive oil

1

tablespoon

ground cinnamon

1

tablespoon

smoked paprika

Sea salt, to taste
For the Quinoa
1

cup

white quinoa, thoroughly rinsed

2

cups

water

⅓

cup

fresh chives, chopped

¾

cup

pomegranate seeds

¼

cup

shelled hemp seeds

2

tablespoons

balsamic vinegar

1-2

tablespoons

tamari or soy sauce
For the Spiced Cranberry Sauce
12

ounces

fresh cranberries

⅓ to ½

cup

pure maple syrup (I use Grade B)

¼

cup

filtered water

½

teaspoon

ground cinnamon

¼

teaspoon

ground cardamom
For the Mashed Avocado (you'll need these ingredients each morning)
½

avocado, peeled and pitted

½

lime

Sea salt

Chili flakes
For Garnishing
1

cup

fresh baby arugula

Lime wedges

Black pepper
Instructions
To Make the Sweet Potatoes
Preheat your oven to 425F.

Cut your sweet potatoes into equal-size wedges or large cubes and transfer them to a baking sheet that has been lined with parchment paper.

Drizzle on the olive oil and sprinkle on the cinnamon, paprika, and sea salt.

Toss to coat.

Roast for 20-30 minutes or until fork-tender and golden.

Refrigerate in an airtight container until ready to use.
To Make the Quinoa
Add the quinoa and water to a medium sauce pan. Bring the mixture to a boil, reduce heat, and simmer for 10-15 minutes or until the quinoa is translucent and tender.

Drain off excess water and transfer to a bowl.

Add in the chives, pomegranate seeds, hemp seeds, balsamic vinegar, and tamari. Toss to coat.

Refrigerate in an airtight container until ready to use.
To Make the Spiced Cranberry Sauce
Add the cranberries, maple syrup, water, cinnamon, and cardamom to a large sauce pan. Simmer for 15-20 minutes or until the cranberries have burst and broken down into a chunky sauce, stirring occasionally.

Let cool and transfer to a glass jar.

Refrigerate in an airtight container until ready to use.
To Make the Mashed Avocado
Prepare the mashed avocado in the morning just before assembling the power bowl.

Add the flesh of the avocado to a bowl and squeeze the lime juice over top. Sprinkle on some sea salt, and use the back of a fork to mash the avocado. Stir in the chili flakes.
To Assemble the Bowls
In an airtight container or bowl, add in some sweet potatoes, quinoa, fresh arugula, cranberry sauce, and mashed avocado. Garnish with black pepper and a fresh spritz of lime juice.