These easy vegan enchiladas are filling, crowd-pleasing, packed with flavor, and come together in a quick 45 minutes. Hearty enough for a winter gathering and yet fresh and colorful enough to be happily welcomed to your dinner plate the whole year through.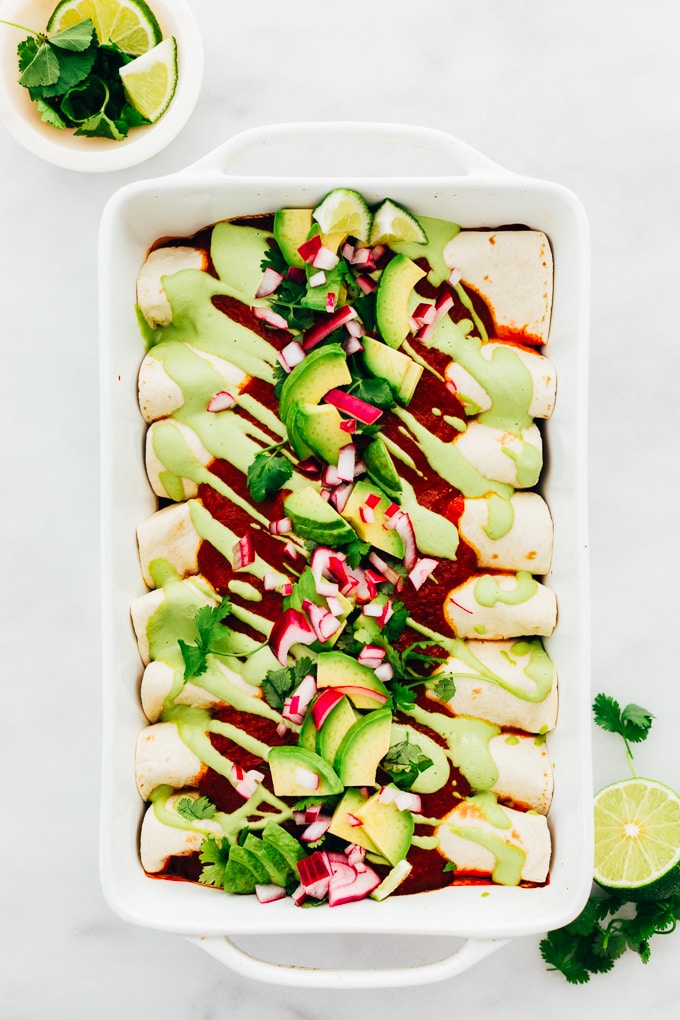 This post is sponsored by Nasoya. Thanks for supporting the brands that support Blissful Basil!
Hello, sweet friends! I've missed you.
Much has happened since my last post including the birth of our second little one Winter Brynne in late October. Settling into life with two has been mostly joyful and easier than I'd anticipated in many ways.
Winter loves to be "worn" which makes getting things done around the house a bit more doable. Sloane was never a fan of anything that felt tight or constraining as a baby (still isn't, actually), so my hands were more occupied with her the first time around.
A reality that would have made testing and photographing these enchiladas quite difficult. However, Winter was happy as could be sleeping in the baby carrier for nearly all of the testing, styling, and photography work you see here.
An exciting fourth trimester win to be able to nurture and create at the same time!
Now let's talk enchiladas...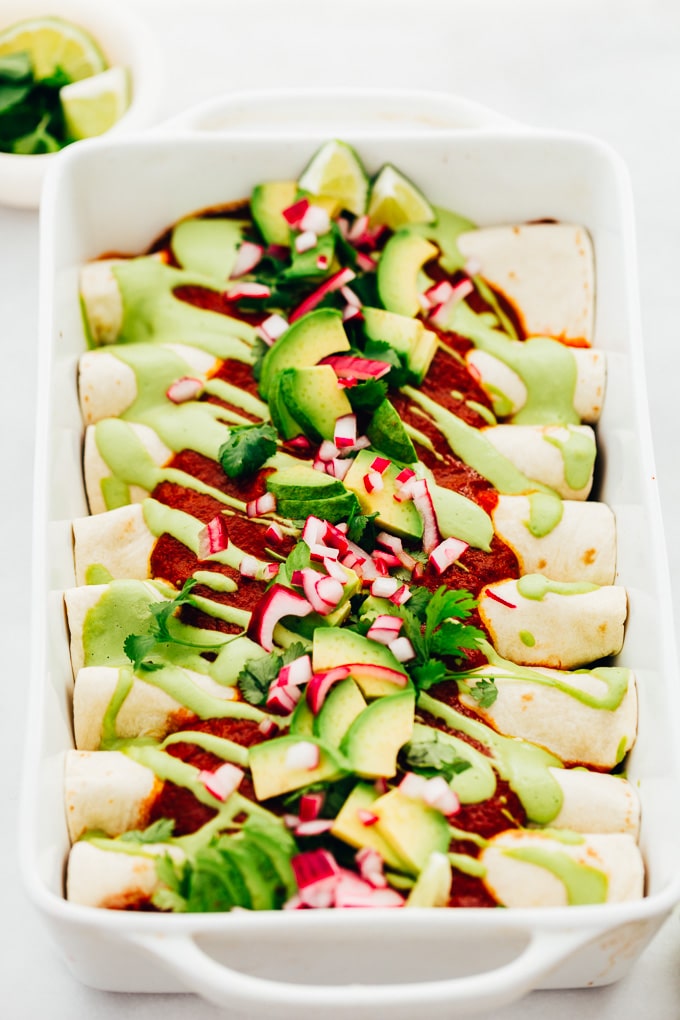 Originating in Mexico, enchiladas are a savory dish of corn tortillas rolled around filling and smothered in sauce. These days, enchilada filling can range from cheese to meat to vegetables, potatoes, tofu, beans, and so on. However, history suggests that the earliest enchilada-like dishes—enjoyed by those living in the lake region of the Valley of Mexico—were stuffed with small fish.
The sauces currently used to top enchiladas are equally varied—mole, cheese sauce, béchamel, salsa roja, etc.
However, the enchilada—as described by the Real Academia Española—is defined as "a rolled maize tortilla stuffed with meat and covered with a tomato and chili sauce." In fact, the word enchilada is the past participle of the Spanish word enchilar which means "to add chili pepper". (Source)
In addition to a savory sauce topping, enchiladas are commonly garnished with things like cheese, sour cream, olives, onions, avocado, salsa, cilantro, etc.
While this vegan version of enchiladas is a far cry from the defining meat-based classic, I'm very happy with how they turned out and I hope you are, too. They're easy to make, packed with flavor, and super satisfying.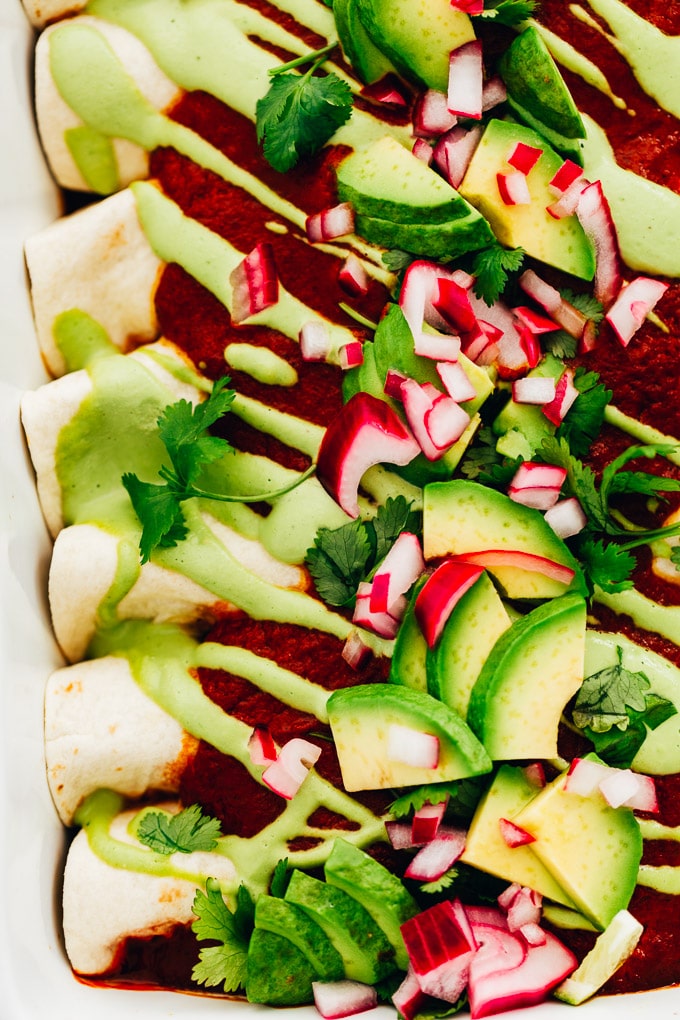 While my hands do feel a bit freer during this second dance with the fourth trimester, cooking lavish, long-winded recipes is a luxury I can't yet participate in with any regularity. So easy, quicker dishes have been defining my kitchen rendezvous as of late.
To keep these enchiladas quick, easy, and nourishing, the filling relies predominantly on Nasoya's Plantspired Zesty Mexican Style Superfood Skillet—a combination of tofu crumbles, veggies, cauliflower rice, and beans. It's flavorful, protein-packed, and requires little more than a quick heat in a skillet, which makes it perfect for enjoying as a meal on its own or as the speedy star in a more homemade dish like this one.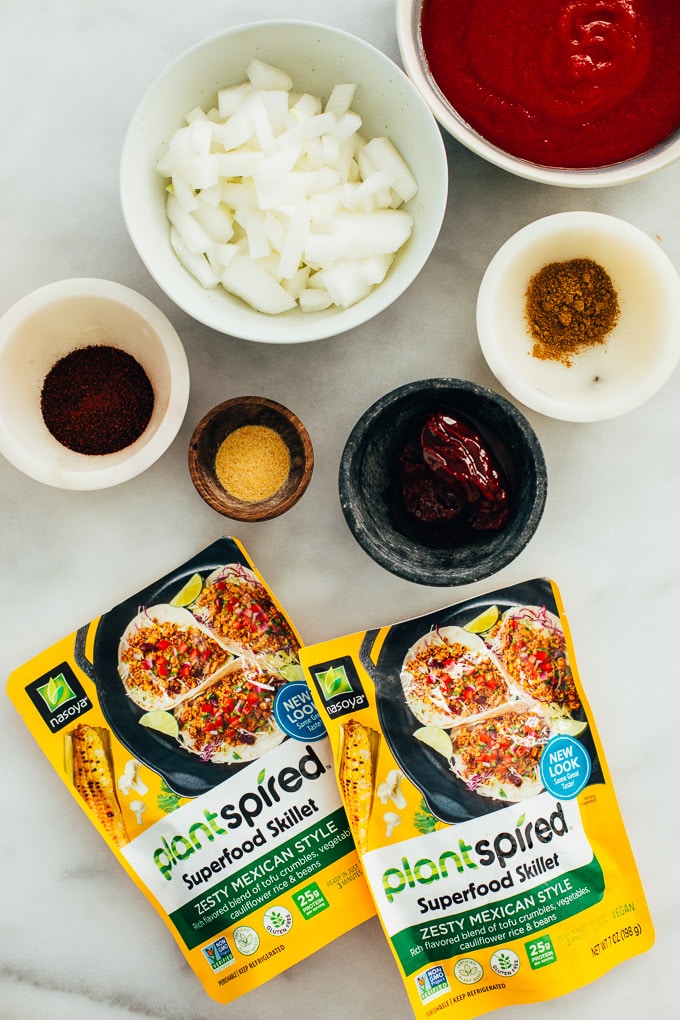 For these enchiladas, I combined the Superfood Skillet with vegetarian refried beans to make enough filling to generously stuff eight tortillas.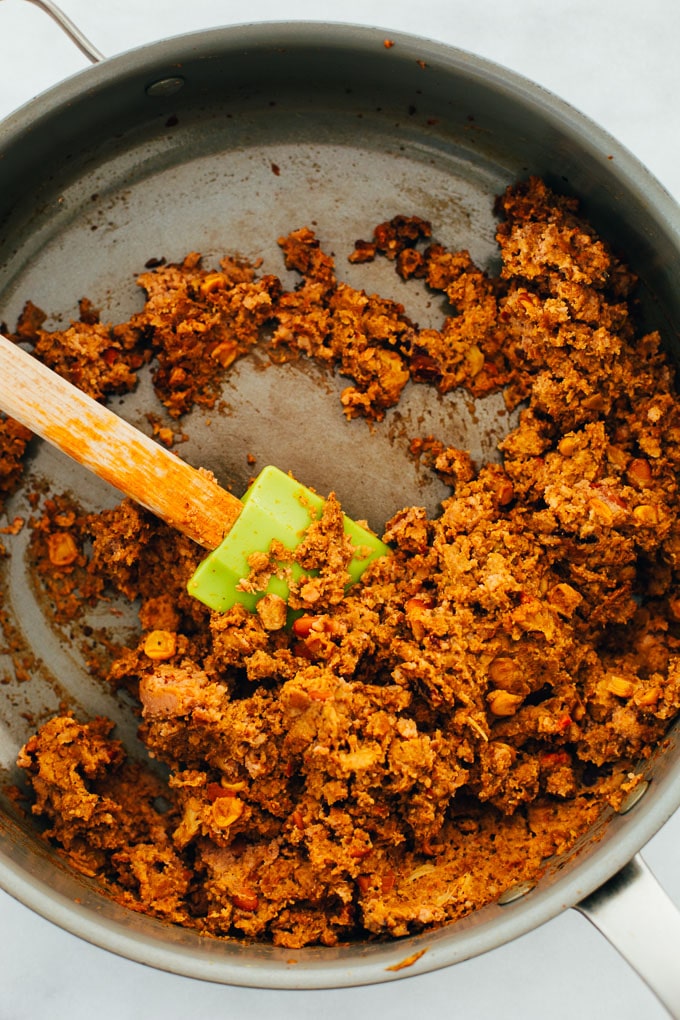 You'll have to excuse the use of flour tortillas here. Our store ran out of large corn tortillas, so I was stuck with flour for the photo shoot.
While you can use flour tortillas in a pinch, enchiladas are traditionally made with corn tortillas and are much more flavorful when prepared that way.
Either way, you'll stuff each tortilla with a bit of filling, roll it up, and nestle it into a sauce-lined baking dish.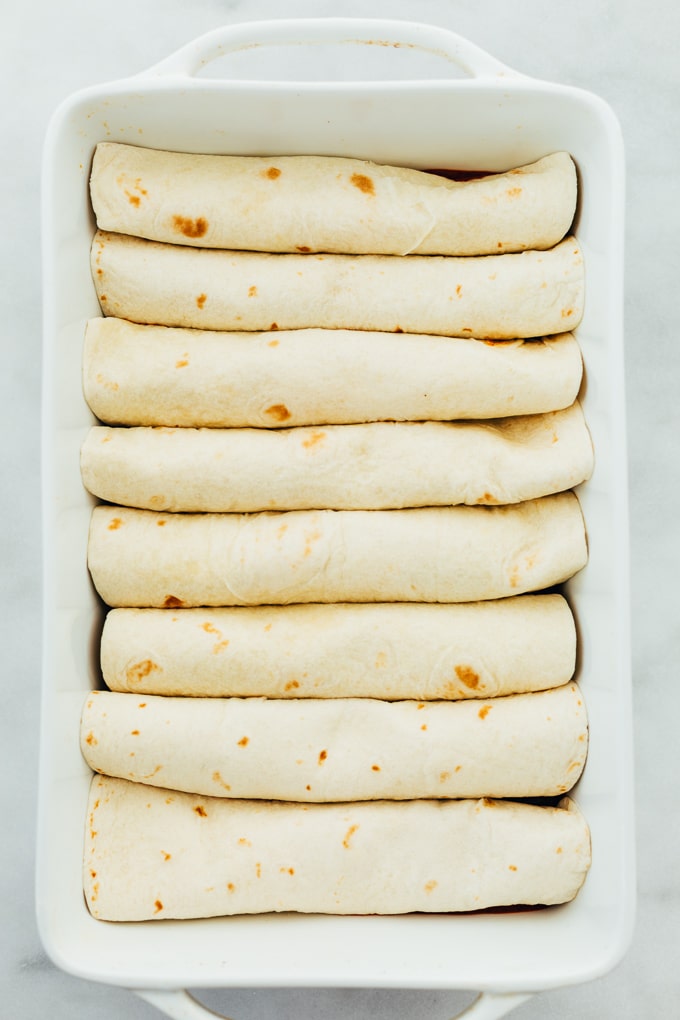 The red sauce in this recipe is homemade yet fast and nearly fool-proof.
You'll simply sauté an onion in a bit of oil, add some spices, whisk in tomato sauce and a bit of chipotle pepper in adobo sauce, let it all simmer for a quick five minutes, and then give it an optional blend until smooth. That's it. Super easy, super flavorful.
Before you bake the enchiladas, you'll pour a generous stripe of the sauce down the center of the stuffed tortillas.
While the enchiladas bake, you'll prepare a cilantro-lime cream sauce. The sauce is easy to make (just measure and blend) and really brightens the flavors in the dish, so I strongly recommend making it. BUT it's optional and you can absolutely omit it in a pinch.
Once the enchiladas have finished baking, drizzle them with the cream (if using) and top as desired.
I topped these with diced avocado, pickled red onions, and fresh cilantro. I love the look and flavors of this topping combination—really add a pop of color and freshness—but feel free to get creative.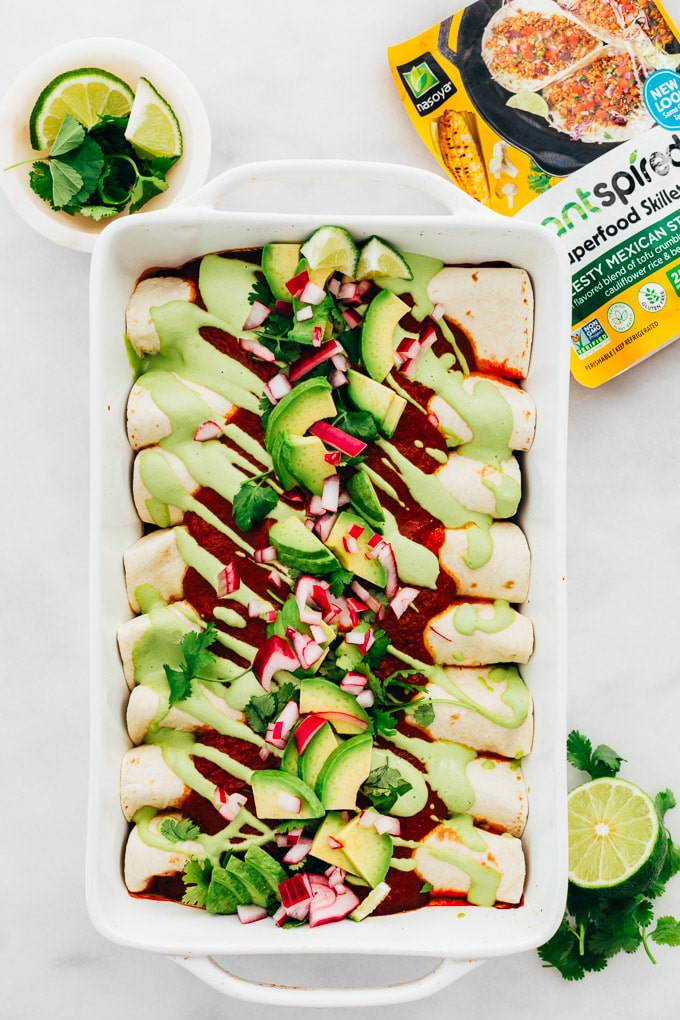 I hope you love these easy vegan enchiladas as much as I do. If you make them, let me know! Leave a comment, rate the recipe, and don't forget to tag a photo #blissfulbasil on Instagram.
📖 Recipe
Easy Vegan Enchiladas
Ingredients
Enchilada Sauce
1

tablespoon

avocado oil or grapeseed oil

1

cup

diced white onion (about ½ a large onion)

1

tablespoon

chili powder

1

teaspoon

garlic powder

1

teaspoon

ground cumin

1

(15-ounce) can

no-salt-added tomato sauce

½

cup

filtered water or vegetable broth

1

canned chipotle pepper in adobo sauce, plus 1 tablespoon adobo sauce

1

tablespoon

pure maple syrup, or to taste

Sea salt, to taste
Cilantro-Lime Crema (Optional)
½

cup

raw cashews, soaked overnight and drained*

½

cup

filtered water

¼

cup

cilantro leaves, stems removed

2 ½

tablespoons

fresh lime juice

2

cloves

garlic, smashed and peeled

½

tablespoon

apple cider vinegar or white wine vinegar

½

teaspoon

sea salt or to taste
Topping Ideas
Diced avocado

Pickled red onion

Cilantro
Instructions
Preheat the oven to 350F. Set out a 9 x 13-inch baking dish.
For the Sauce
Heat a large sauté pan over medium heat. Add the oil and onion. Cook, stirring frequently, for 5 minutes, or until the onion is soft and translucent. Next, add the chili powder, garlic powder, and cumin. Continue cooking for one minute, stirring constantly.

Whisk in the tomato sauce, water, chipotle pepper + adobo sauce, maple syrup, and salt to taste (I use ½ to ¾ teaspoon). Cover, reduce the heat to low, and simmer for 5 minutes.

If a smooth sauce is desired, carefully transfer the sauce to a high-speed blender and blend on high for one minute, or until smooth.
For the Enchilada Filling
Heat the oil in a large sauté pan or skillet over medium-high heat. Add the Superfood Skillet filling and cook for 5 minutes, or until hot and just beginning to brown.

Add the refried beans and stir or mash to combine.

Taste and season with salt, if desired.

If your tortillas are stiff or dry, wrap them in damp paper towels and microwave for 30 seconds, or until soft and pliable.

Pour about one-third of the enchilada sauce into the bottom of the baking dish. Spread to evenly coat. Take one tortilla and place it on a clean plate. Fill it with a scoop or two of filling, then roll up the tortilla and place seam side down at one end of the baking dish. Repeat until all of the tortillas are filled and wrapped.

Pour the remaining sauce over the enchiladas in a thick stripe down the center.

Bake for 15 to 20 minutes, or until warmed through.
For the Optional Crema
While the enchiladas bake, prepare the crema (if using) by adding all ingredients to a high-speed blender and blending on high for 2 minutes, or until completely smooth. Refrigerate until ready to serve.
Assemble + Serve
Drizzle the crema (if using) over the baked enchiladas and top as desired.

Serve warm.
Notes
*No nuts? No problem. To make this cream sauce nut-free, use shelled hemp seeds instead of cashews.