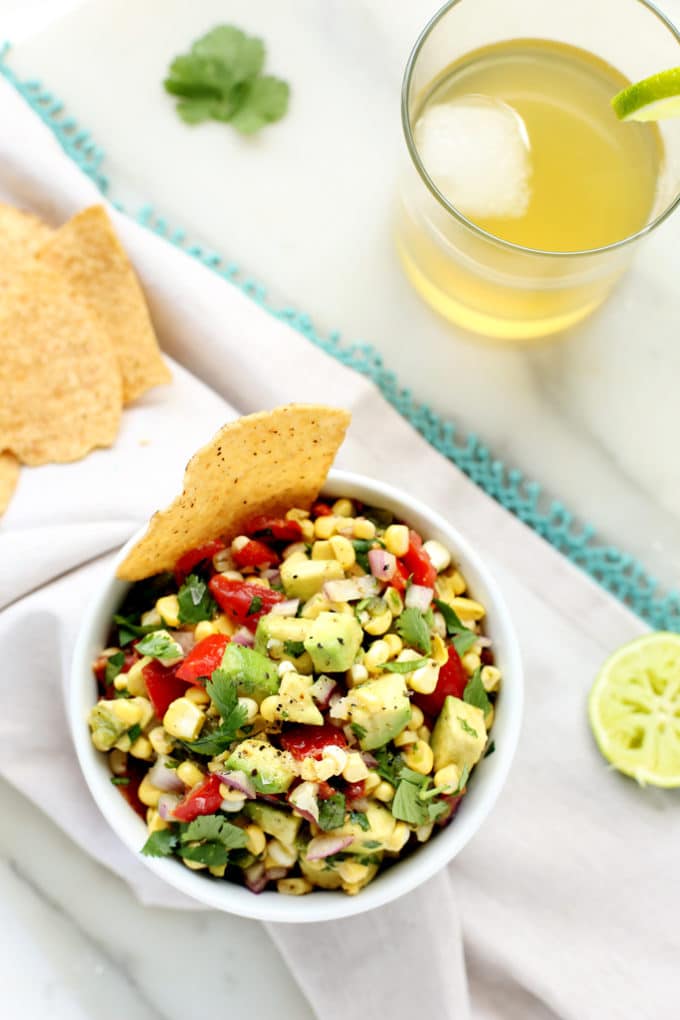 I hope you all had a wonderful long weekend. I'm having a difficult time wrapping my head around the fact that this is the last week of May; the months are whizzing by and exactly two weeks from today I'll officially be on summer break.
Or maybe I should say summer "break" because I'll be hard at work on the blog and the book with a very tight schedule. I'll be photographing the bulk of the recipes this summer while also finishing up (maybe? I hope) testing. My goal -- kitchen twine crossed -- is to have the majority of recipes ready to go by the time I return to work in the fall. That way, I'll be able to focus on putting my fingers to the keyboard for the written portions of the book. This means I'll be photographing 2 to 3 recipes each and every weekday of the summer for the book. Just the thought makes me both excited and anxious. I have a feeling I'll be summoning you all for a bit of support throughout the whirlwind of shutter-snapping.
But until then, I'm just going to casually nosh on this salsa. Because fear-conquering is to life as delicious salsa is to chips. The latter can be enjoyed on its own but is brightened and richened by the former.
Chips, salsa, and life analogies.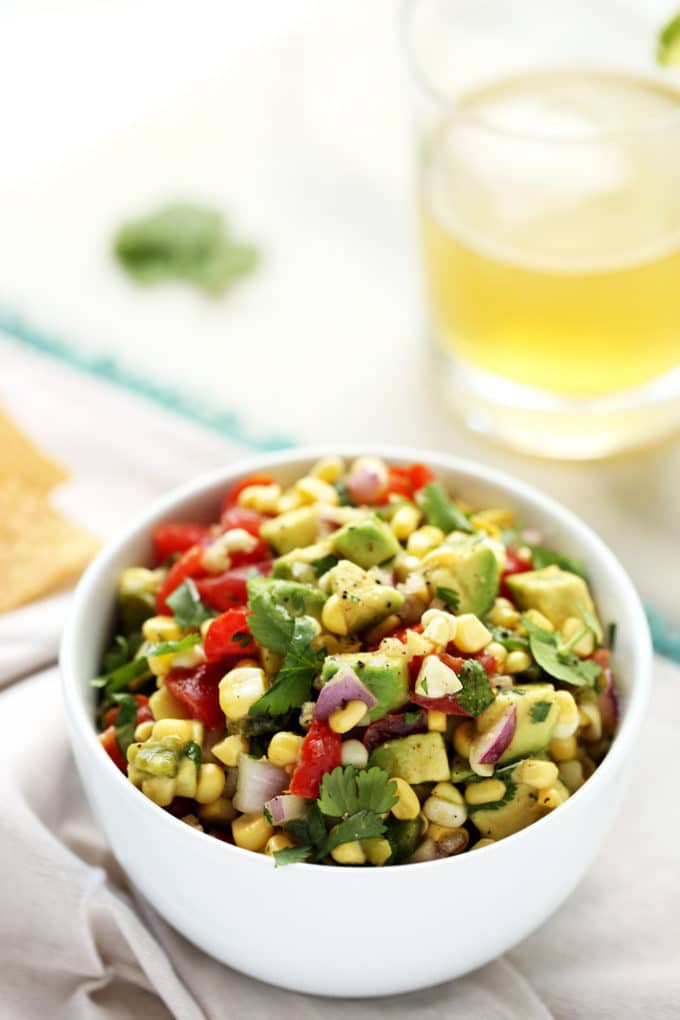 This salsa is grill-worthy and summer-spritzed.
The smokiness comes from charred, peeled, and diced poblano peppers. You can char them over the grill or directly on your stove, flipping them every few minutes until they're completely blackened and tender. Then, plop them in a bowl and cover them with a damp paper towel for 10 minutes. As they sit, they steam and the smokiness intensifies.
Once they've steamed, carefully peel away the charred skin, seed, and dice the peppers. Add them to a bowl along with fresh sweet corn kernals, cherry tomatoes, avocado, red onion, cilantro, lime juice, and sea salt. Give it a good stir and serve alongside a bowl of crunchy tortilla chips.
This salsa is light and crisp with a pleasant touch of richness from the avocado. If you want a heartier salsa, add in ½ to 1 cup of rinsed black beans.
There is enough lime juice to keep the avocado green for up to two days (at least in my experience), and it tastes best after chilling for an hour or two as this gives the flavors a chance to mingle.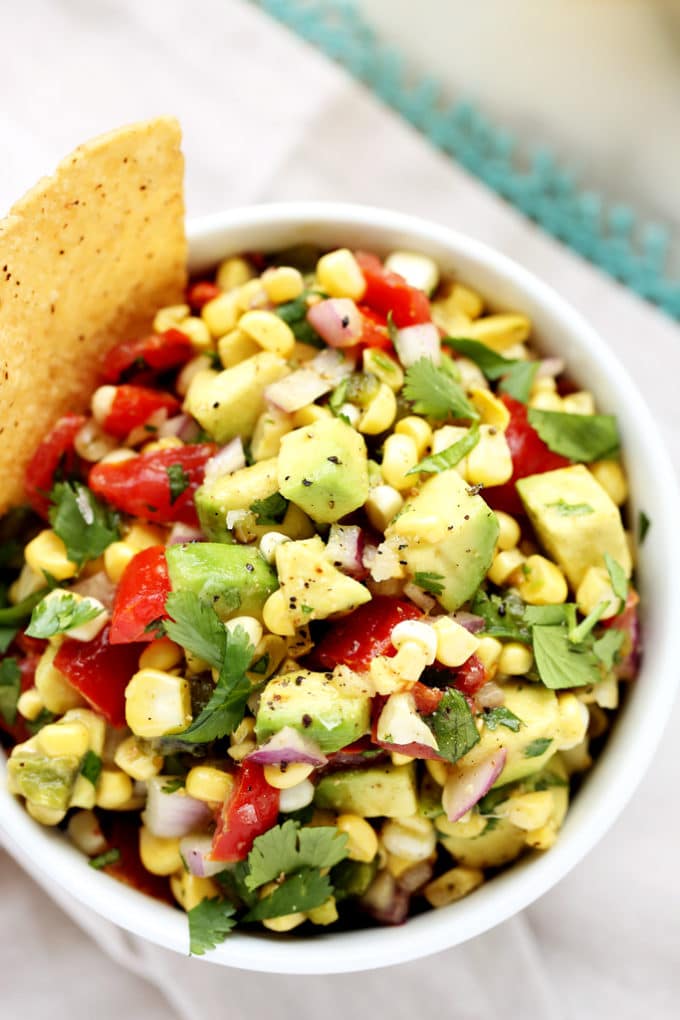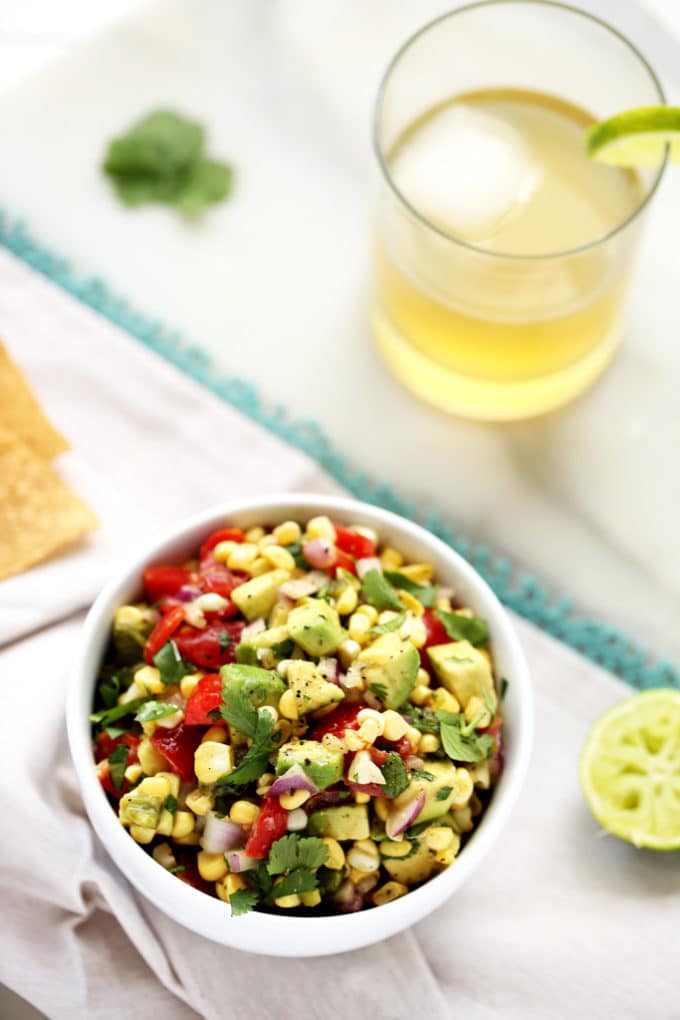 📖 Recipe
Sweet & Smoky Poblano, Corn, and Avocado Salsa
Charred poblano peppers are tossed with diced avocado, juicy cherry tomatoes, sweet corn, zesty red onion, fresh cilantro, and tangy lime juice in this sweet + smoky poblano, corn, and avocado salsa. This salsa makes an excellent summer dip to sink crispy tortilla chips into but would also be delicious as the finishing touch on some toasty plant-based tacos.
Ingredients
2

poblano peppers

3

ears of fresh sweet corn, shucked

1

cup

cherry tomatoes, diced

1

medium firm-ripe avocado, pitted, peeled, and cubed

½

cup

finely-diced red onion

¼

cup

fresh cilantro, chopped

¼

cup

fresh lime juice

sea salt, to taste
Instructions
Char the whole poblano peppers over an open flame. I place each over its own burner, turn the heat on medium-high, and turn them over with tongs every 3-4 minutes. Once the skin is completely blackened, move the peppers to a large bowl and cover them with a damp paper towel. Let them sit for 10 minutes to steam. Once they've steamed, carefully remove the charred skin, de-stem, and de-seed. Finely dice each pepper and add to a medium, nonreactive mixing bowl.

Meanwhile, use a knife to slice down the length of each ear of corn and transfer to the mixing bowl. Add in the tomatoes, avocado, red onion, cilantro, lime juice, and sea salt. Toss to coat and serve alongside tortilla chips.