Whether it's game day or date night, these loaded nacho potato wedges are sure to delight (and let's be honest, so are rhymes like this one 😆). Seasoned potato wedges are baked until golden brown and topped with vegan nacho cheese, walnut (or sunflower) taco crumbles, cherry tomato pico de gallo, avocado, scallions, jalapeños, and vegan sour cream.
Heyyyy! I'm back. And I'm bringing you this recipe just (barely) in the nick of time for the super bowl.
If you follow me on Instagram, you might have seen my chit-chatty story from earlier this week. In it, I offered a long-winded check-in and explanation for my general MIA-ness this month.
I'll spare you the lengthy details on the circumastances, but long story short: The last few months have been a doozy in terms of stress and it all came to a head last week in particular. If you want to know more, I saved the story posts in my "life" highlights, so scroll through to the last 20-ish frames and watch from there.
To be totally transparent about this experience though, it wasn't only the stressful circumstances that caused everything to come to a head.
It was also a failure on my part—and I say 'failure' here with love and compassion for myself—to put my usual coping methods to use. And so everything piled up, bubbled over, and left me feeling a bit empty and glum.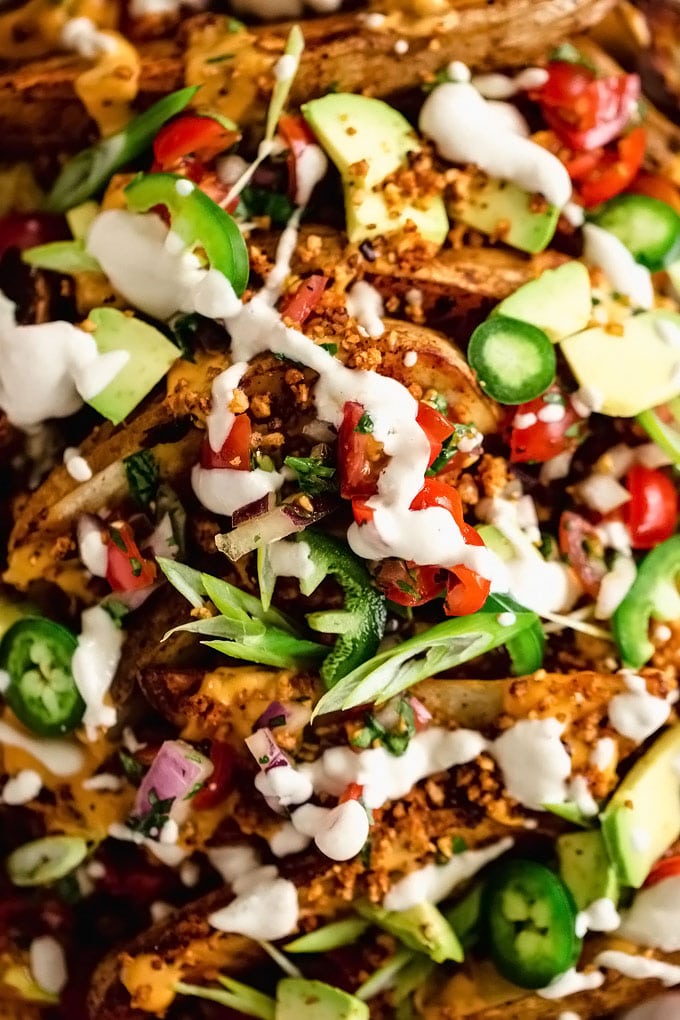 This past Monday was particularly bleh. Beyond bleh if I'm being totally honest. The high stress circumstances coupled with a lack of proper coping triggered anxiety which then triggered feelings of despair and hopelessness.
Despite wanting nothing more than to zone out watching the Bachelor that night, I flipped on Gaia TV instead. (If you're not familiar with it, Gaia is basically spiritual/psychological Netflix.)
As I browsed through the categories, I felt a nudge to click on "angels" and soon found myself watching an interview with a woman named Belinda Womack. Despite my ego's initial persuasive nudges to "just turn on the Bachelor... their drama will numb out your drama," I stuck it out with Belinda.
At one point in the interview, Belinda suggested a specific type of color-oriented visualization to heal subconscious trauma from past experiences.
Specifically, she asked the listener to close her eyes and visualize a difficult time period or traumatic moment as being enveloped in a purple/violet/periwinkle light—the same color the crown chakra radiates. She suggested that this practice calls in the healing powers of higher realms and activates the release of subconsciously stored trauma.
And so I did. I envisioned the darkest, most anxiety ridden time I could think of as being wrapped up in a glowing violet light.
It might sound unbelievable, but it took the edge off the ickiness almost immediately. Enough that, instead of pushing the feelings away, I began to feel immensely curious about what was really going on within myself.
Belinda also suggested asking the archangels for help out loud, noting that they prefer direct and clear requests from us. And so I did.
I made the following request out loud:
"Please help me surrender to this experience. Please help me uncover the resources that will allow me to move through this with grace."
Since making that request, resources, supports, and synchronicities have been presenting themselves left and right.
Books, interviews, quotes, wisdom, and encouragement have landed in my lap seemingly out of nowhere.
Each material manifestation has been encouraging and immensely appreciated, but by far the most encouraging has been witnessing how a simple request for guidance was heard and promptly met with enthusiasm and love from the Universe.
As the week has unfolded, I've spent most of my time in self-compassion mode. My primary points of focus have been reprioritizing self-love; taking time to care for, move, and nourish my physical body; following the curiosities of my higher self and soul; and acknowledging and then releasing pent up emotions that no longer serve me.
It's been a humbling reminder that no matter how far along we are on our spiritual journey (and heck, even if we have a separate blog where all we do is investigate spirituality in psychology), there will sometimes be circumstances that throw us off-kilter. Circumstances that drum up and expose the shadows within.
All the while, the Universe remains infinitely compassionate and steadfast in its willingness to offer support, jumping in to guide us as soon as the brave request for help passes through our lips.
On a much lighter note, I've recently developed a hunch that the Universe has an appetite, too. And might even partake in super bowl watching... ? The idea for these game-day-friendly loaded nacho potato wedges popped into my mind as an image during a grounding meditation just the other day.
So please, if you enjoy this recipe in your house as much as we currently are in ours, send your gratitude to the Universe. 🙏🏻✨
And perhaps put in an (out loud) request for more meditation-induced recipe ideas while you're at it. This one's a goodie.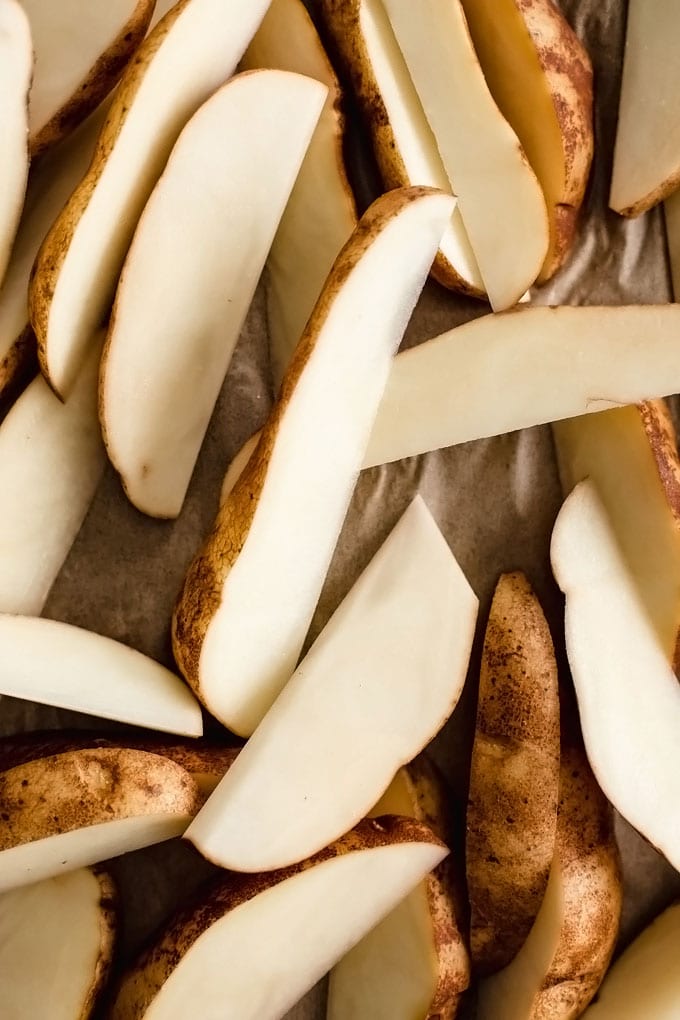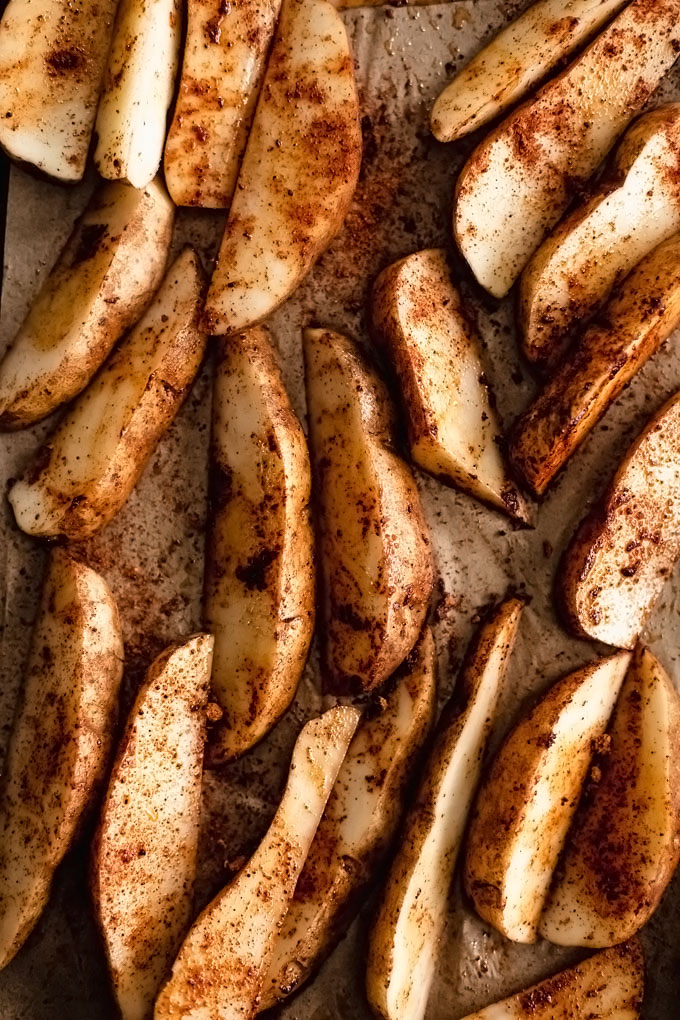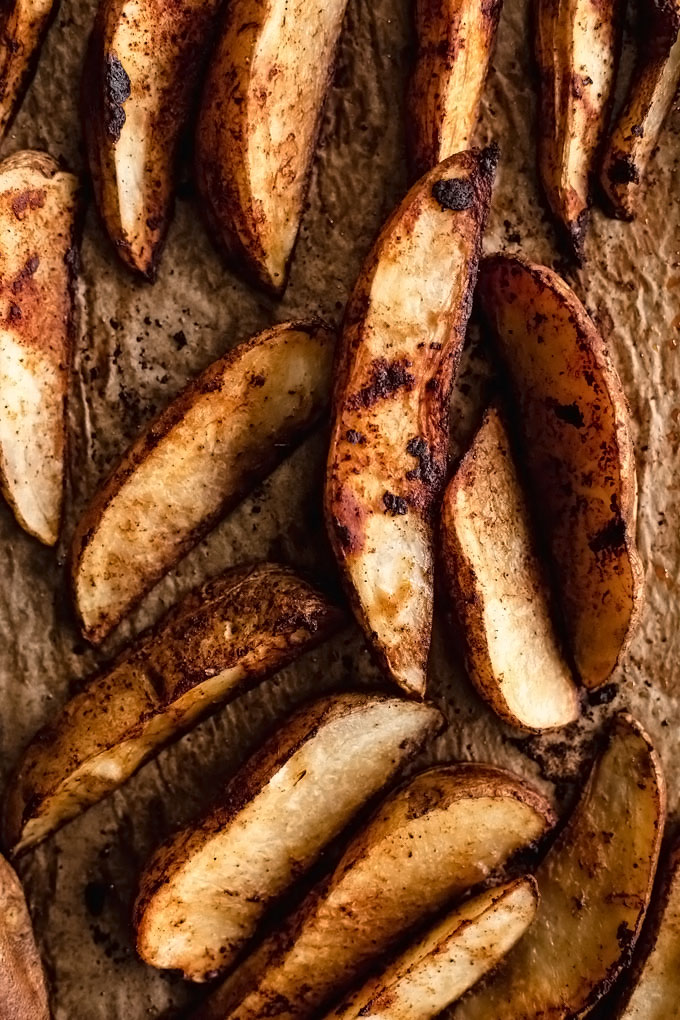 I'd explain how to make these vegan nacho fries here, but the recipe does a pretty good job on its own.
Plus, I've taken up plenty of your time with angels and the Universe. And I have a hunch they'd be happy to guide you in the kitchen should you get lost anywhere in the process. 😁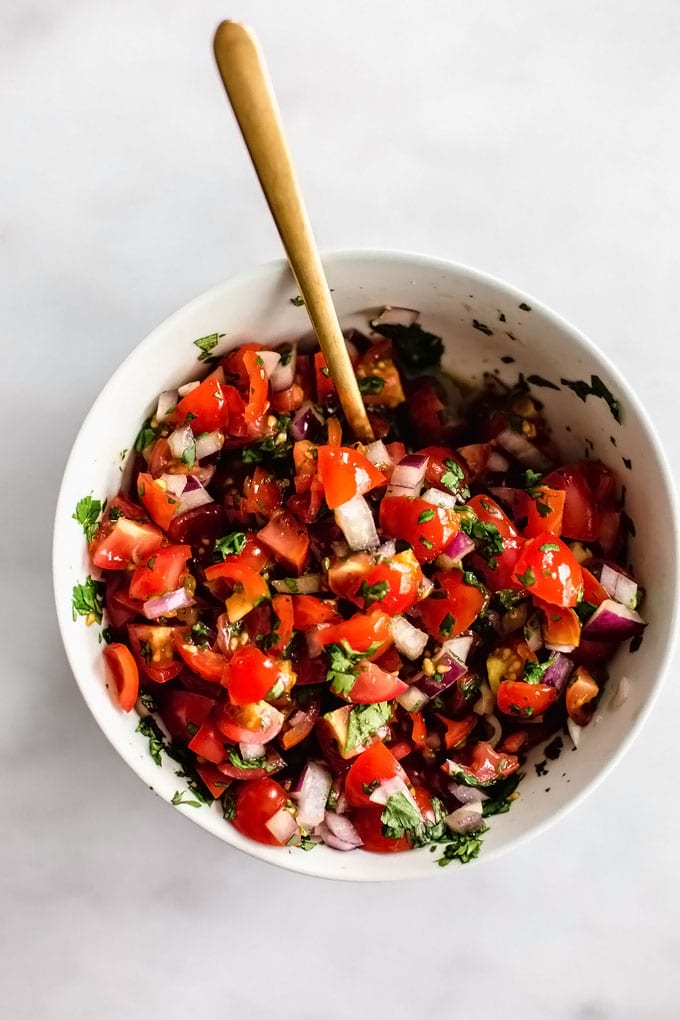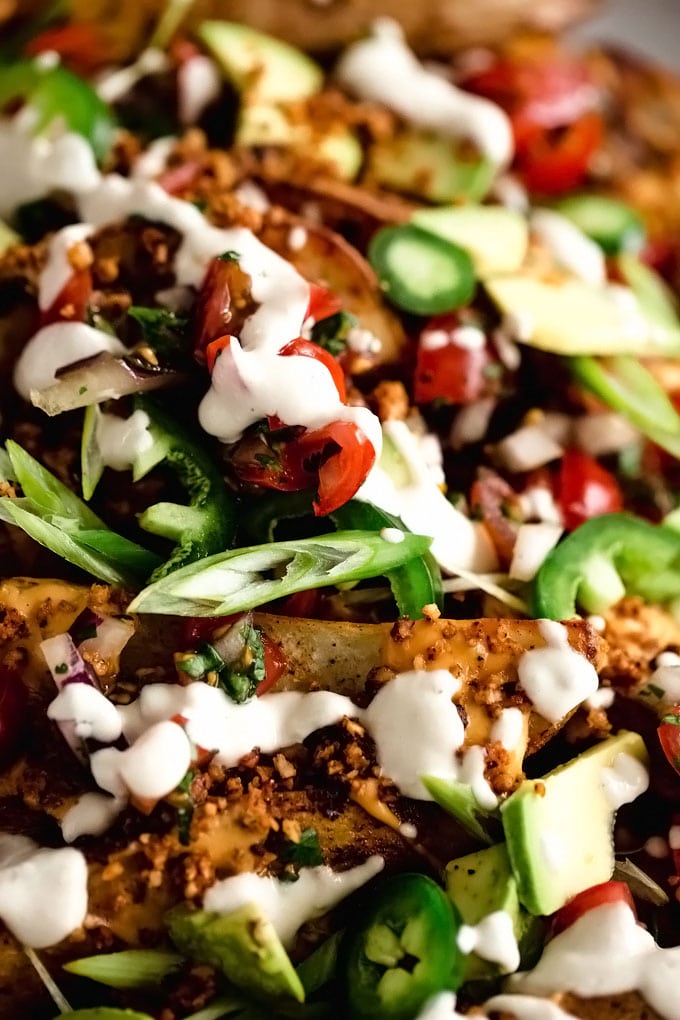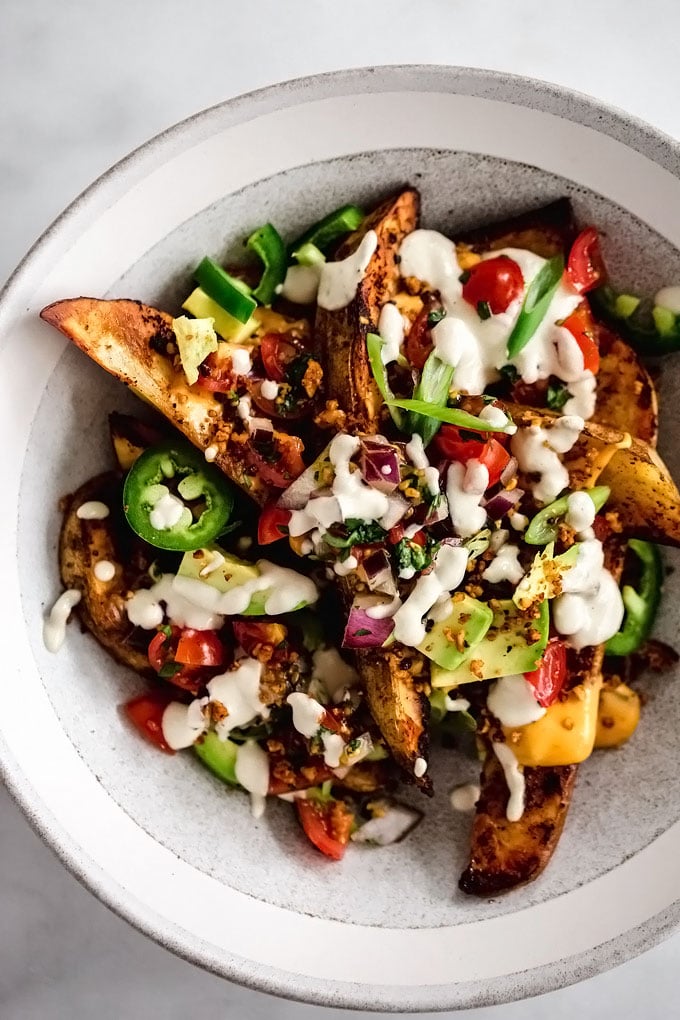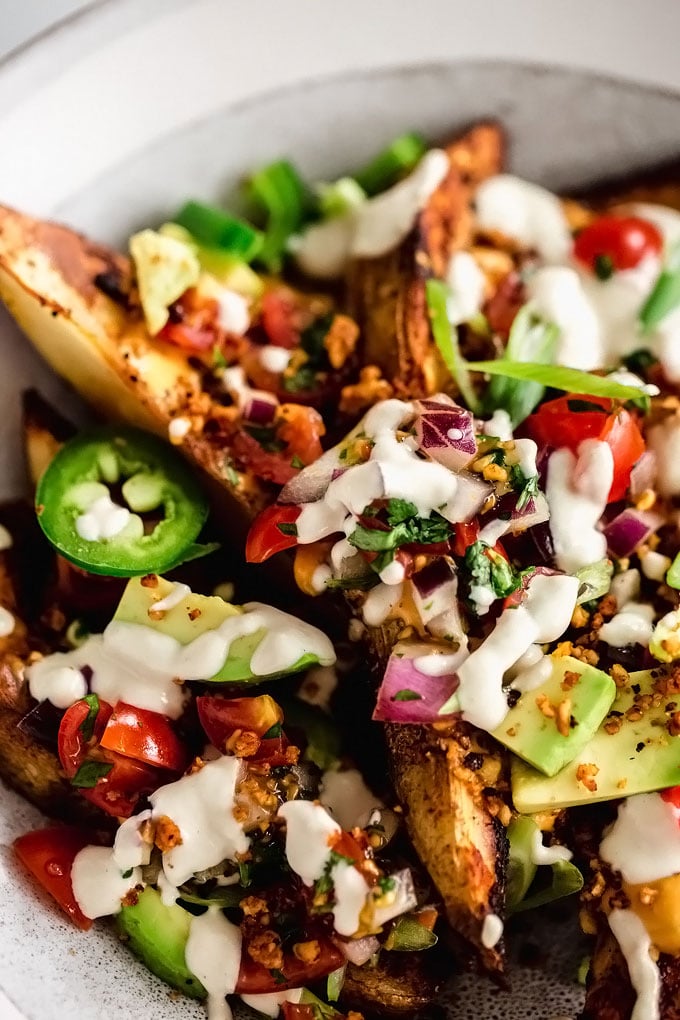 If you make these loaded nacho potato wedges, let me know! Leave a comment, rate the recipe, and don't forget to tag a photo #blissfulbasil on Instagram.
📖 Recipe
Loaded Nacho Potato Wedges
Whether it's game day or date night, these nachos are sure to delight (and let's be honest, so are rhymes like this one 😆). Seasoned potato wedges are baked until golden brown and topped with vegan nacho cheese, walnut (or sunflower) taco crumbles, cherry tomato pico de gallo, avocado, scallions, jalapeños, and vegan sour cream.
Ingredients
Taco Seasoned Potato Wedges
6

large

russet potatoes, scrubbed and patted dry

2 to 3

tablespoons

heat-friendly oil (e.g., expeller pressed grapeseed oil, avocado oil, etc.)

2 ½

tablespoons

taco seasoning (homemade or store-bought)
Cherry Tomato Pico de Gallo
1

pint

cherry tomatoes, diced

¼

small

white or red onion, finely diced

¼

cup

chopped fresh cilantro or to taste

Sea salt, to taste
Walnut Taco Crumbles
¾

cup

raw shelled walnuts*

1

teaspoon

apple cider vinegar

1

tablespoon

taco seasoning (homemade or store-bought)

¼

teaspoon

sea salt or to taste
Nacho Toppings
1

recipe

Cashew Cheddar Cheese**

1

just-ripe avocado, pitted, peeled, and thinly sliced

4

scallions, trimmed and thinly sliced

¼

cup

pickled jalapeño or to taste

Vegan sour cream (optional)
Instructions
For the Taco Seasoned Potato Wedges
Preheat the oven to 400Line two large baking sheets with parchment paper.

Slice the potatoes lengthwise into ¾-inch-thick wedges. Divide the wedges evenly between the two parchment-lined pans, drizzle with the oil, sprinkle with the taco seasoning, and toss to coat.

Spread the wedges out evenly over the pan, leave a bit of breathing room between each wedge.

Bake the wedges for 40 to 45 minutes, flipping at the halfway mark, or until tender and richly golden.

Meanwhile, get to work preparing the toppings.
For the Cherry Tomato Pico de Gallo
In a small bowl, stir together the tomatoes, onion, and cilantro. Season with sea salt.

Refrigerate until ready to assemble.
For the Walnut Taco Crumbles
Add the walnuts, vinegar, and taco seasoning to a small food processor. Pulse several times and then process for 30 seconds or until the texture resembles fine crumble.

Heat a large nonstick skillet over medium-high heat. Transfer the crumbles to the pan and toast for 3 to 4 minutes, or until golden and fragrant, stirring frequently.

Turn off heat and let cool until ready to assemble.
To Assemble
Begin to prepare the Cashew Cheddar Cheese when the wedges have just 5 minutes of bake time remaining. (It only takes about 5 minutes and you want the cheese to be fresh for serving.)

On a large serving platter, spread out a layer of seasoned potato wedges. Top with the cheese, taco crumbles, and pico de gallo. Repeat one to two more times. Garnish the top layer with the avocado, jalapeños, scallions, and a generous drizzle of sour cream (if using).

Serve immediately.
Notes
*No nuts? No problem. To keep this dish nut-free, us sunflower seeds instead of walnuts in the taco crumbles and use shelled hemp seeds instead of cashews in the cheddar cheese.
**For a little something extra, I stir one 4-ounce can hatch green chilis into the finished cheese.