This vegan spicy cauliflower cashew cheese dip is zippy, silky smooth, and addictive. Perfect for sinking crunchy tortilla chips or veggies into, dolloping over tacos, or folding into burritos.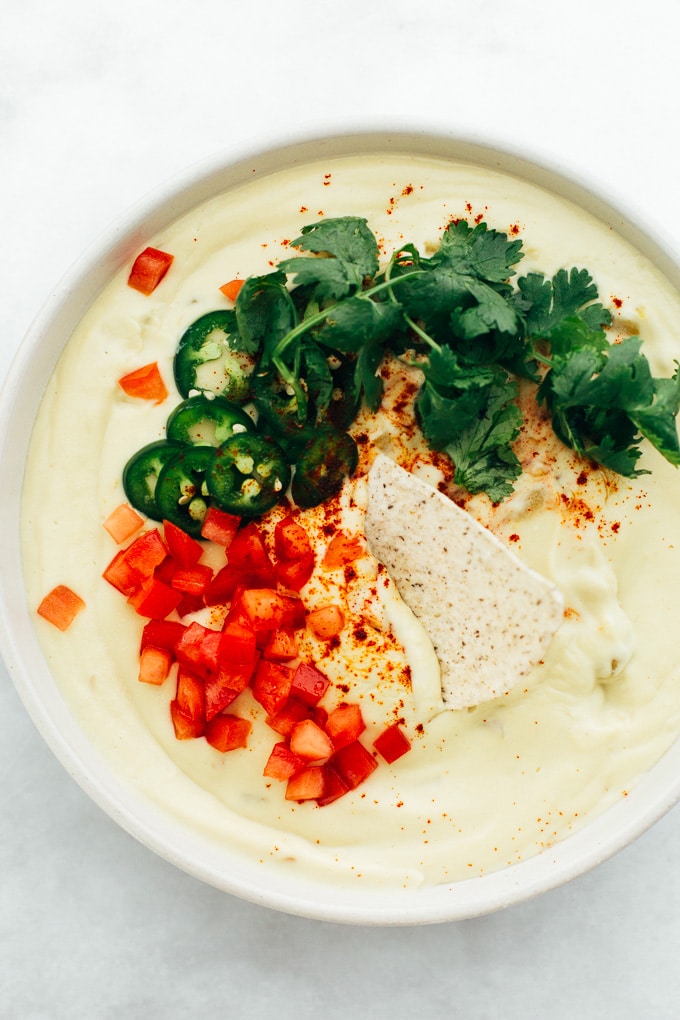 With recipes and life, systems are a win.
A few years back, I started using a veggie- and nut-packed combination to create super lush, creamy sauces and soup bases. It's most beloved in this hearty soup recipe but has also been featured in artichoke dip and even pot pie.
It's a reliable win and a sort of recipe "system" I've come to rely on for all things creamy and savory.
While I've mixed and remixed and adjusted it in many ways over the years, the one thing I hadn't yet attempted to do was to thicken it for use as a cheesy, spicy, sink-some-chips-in dip.
Until now...
It comes together in 25 minutes (usually less) and with just a handful of ingredients. It tastes dairy-rich and like it'd be severely lacking in nutrients but is dairy-free and brimming with micronutrients.
To make it, you'll boil four cups of fresh (or frozen) cauliflower florets along with two-thirds of a cup of raw cashews (or use unboiled shelled hemp seeds for a nut-free alternative).
While the cauliflower and cashews boil, you can get to work gathering your other ingredients—filtered water, nutritional yeast flakes (add cheesiness and depth of flavor), pickled jalapeño juice, salt, arrowroot starch or cornstarch (to thicken), and garlic powder.
Add everything to a blender along with the cauliflower and cashews.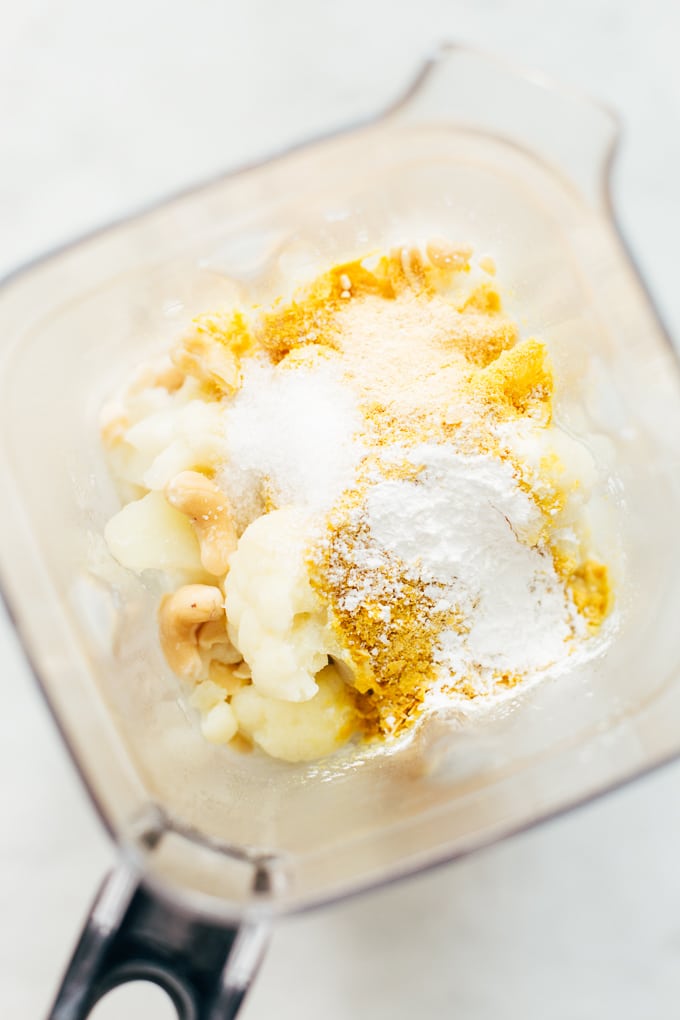 Then, blend on high until you have a super smooth and creamy sauce.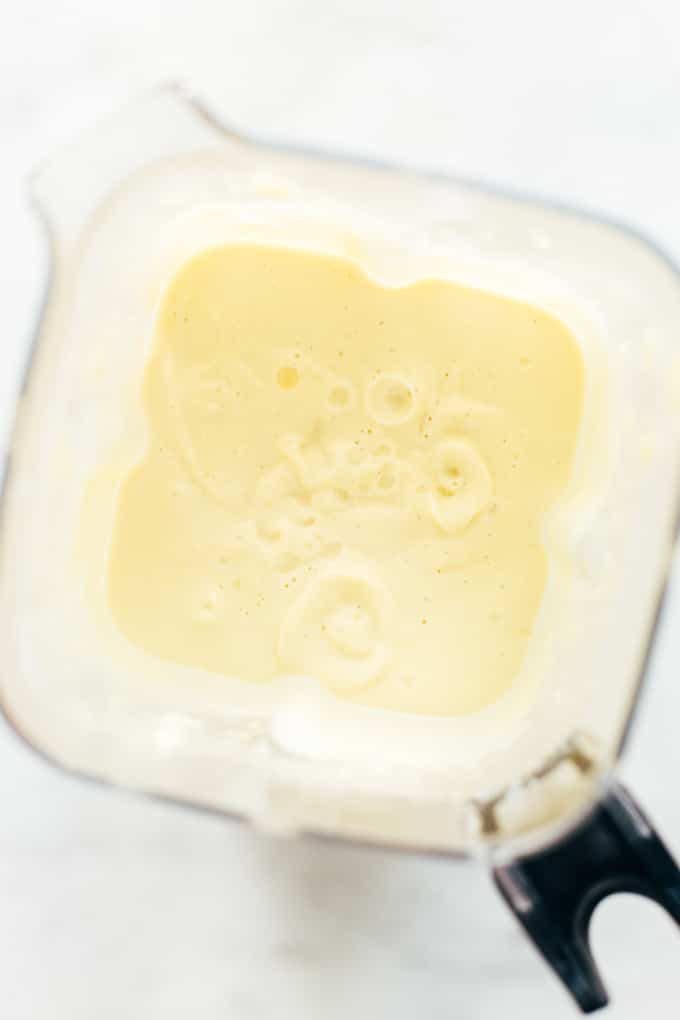 Transfer the mixture to a large sauté pan and heat over medium-low for just a few minutes, whisking constantly, or until the mixture thickens into a dunk-worthy dip.
Stir in a can of green chilis.
Taste, and adjust the seasonings according to your taste preferences. More salt, more jalapeño juice, etc.
I like to serve the dip topped with fresh jalapeños, cilantro, and tomatoes with a few dashes of smoked paprika. But garnishes are totally optional here.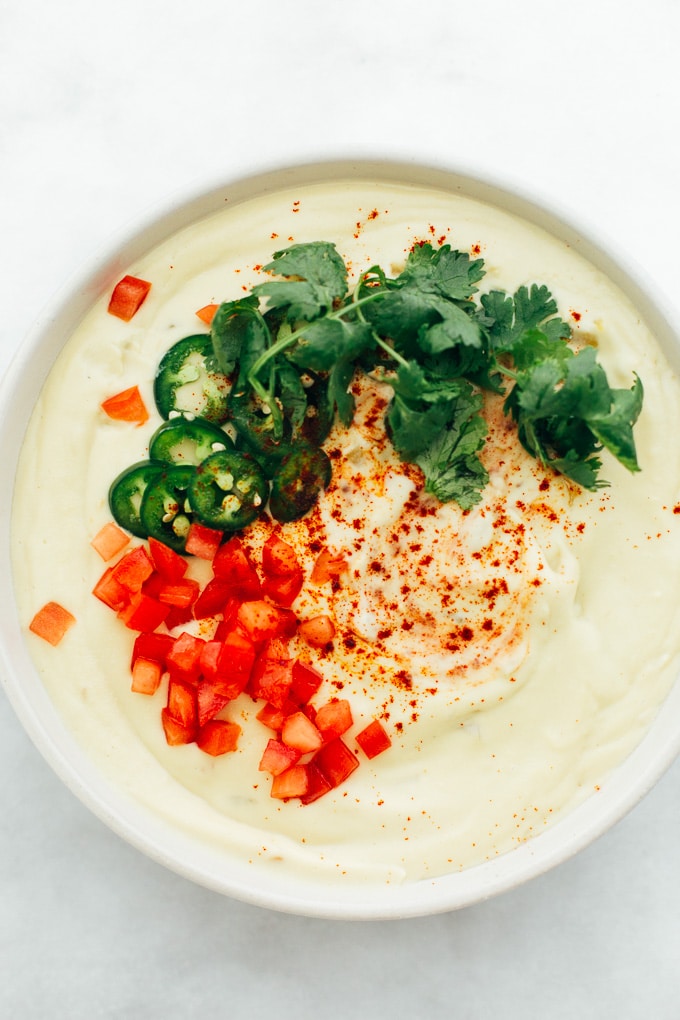 Just be sure to arm yourself with plenty of crunchy tortilla chips and crisp veggies for dipping, dunking, and sinking.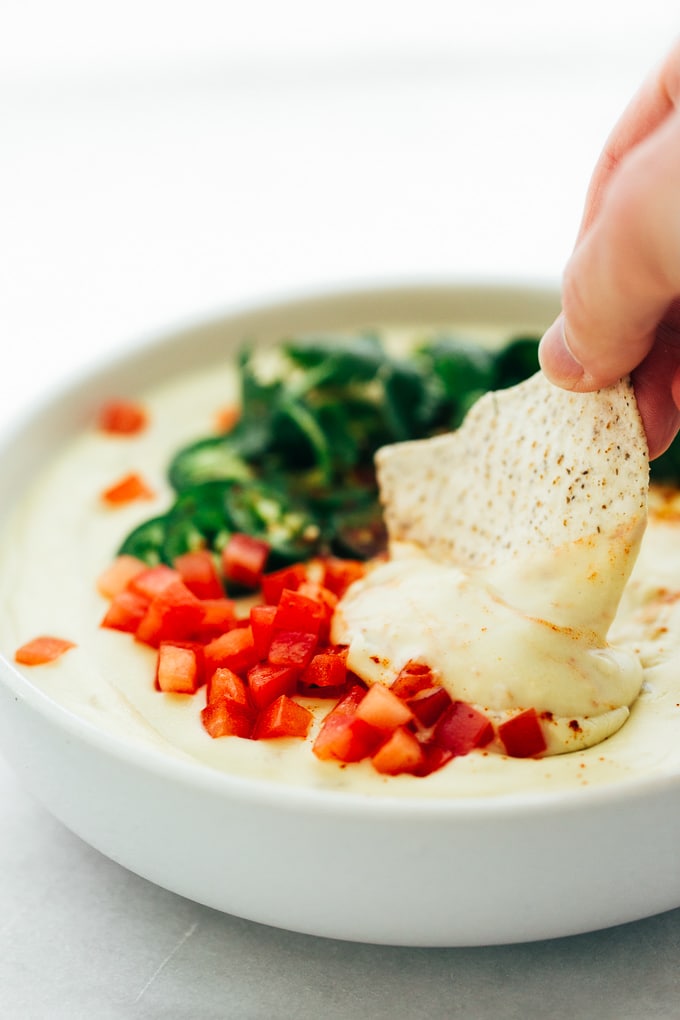 I hope you love this vegan spicy cauliflower cashew cheese dip!
If you make it, let me know! Leave a comment, rate the recipe, and don't forget to tag a photo #blissfulbasil on Instagram.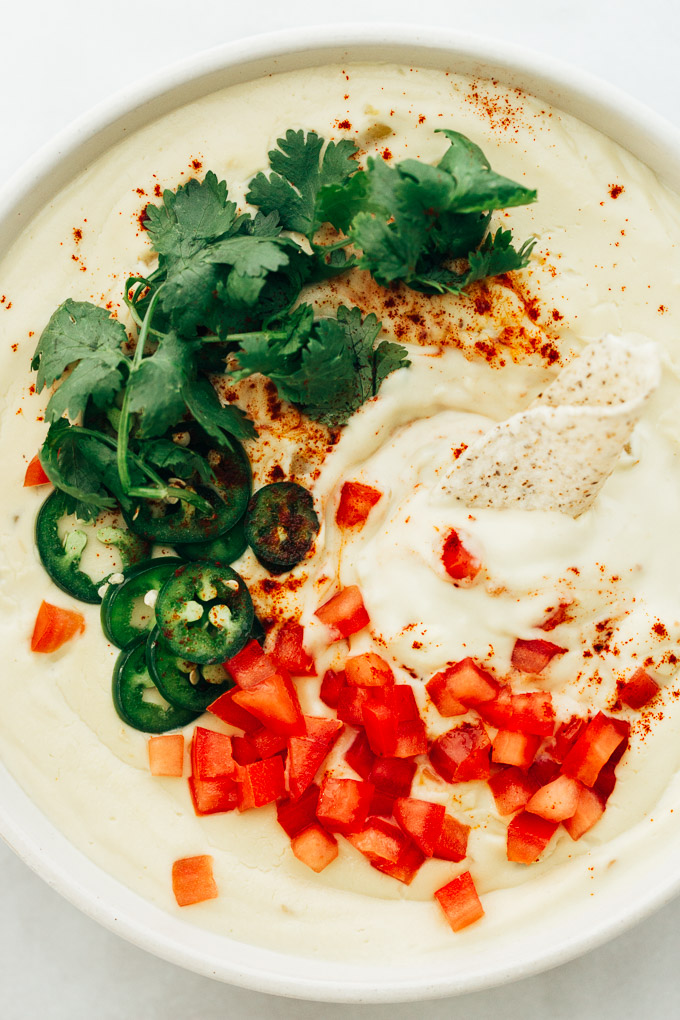 📖 Recipe
Vegan Spicy Cauliflower Cashew Cheese Dip
Ingredients
4

cups

fresh or frozen cauliflower florets

⅔

cup

raw cashews

1

cup

filtered water

¼

cup plus 2 tablespoons

nutritional yeast flakes

3 to 4

tablespoons

pickled jalapeño juice, plus more to taste

1 ½

teaspoons

salt, plus more to taste

1

teaspoon

arrowroot starch or cornstarch

½

teaspoon

garlic powder

1

(4-ounce) can

green chilis

Cayenne (optional for more heat)
Instructions
Bring a large pot of water to a boil.

Add the cauliflower florets and cashews, and boil for 7 to 10 minutes, or until the cauliflower is fork-tender.

Once the cauliflower and cashews are ready, add them to a high-speed blender along with the water, nutritional yeast, jalapeño juice, sea salt, starch, and garlic powder. Blend on high for 2 minutes, or until completely smooth and creamy.

Transfer to a medium saucepan. Heat over medium-low for 3 to 5 minutes, or until the sauce begins to thicken, whisking constantly.

Stir in the green chilis. Taste and season with more salt and/or pickled jalapeño juice, if desired. If you'd like to up the kick, stir in a few dashes of cayenne pepper, too.

Serve warm with plenty of tortilla chips for dipping.