These garlic herb burst tomatoes are extraordinarily delicious and so, so easy to make. They're also incredibly versatile and can be used as a topping for almost any savory dish you can think of—pasta, crostini, hummus.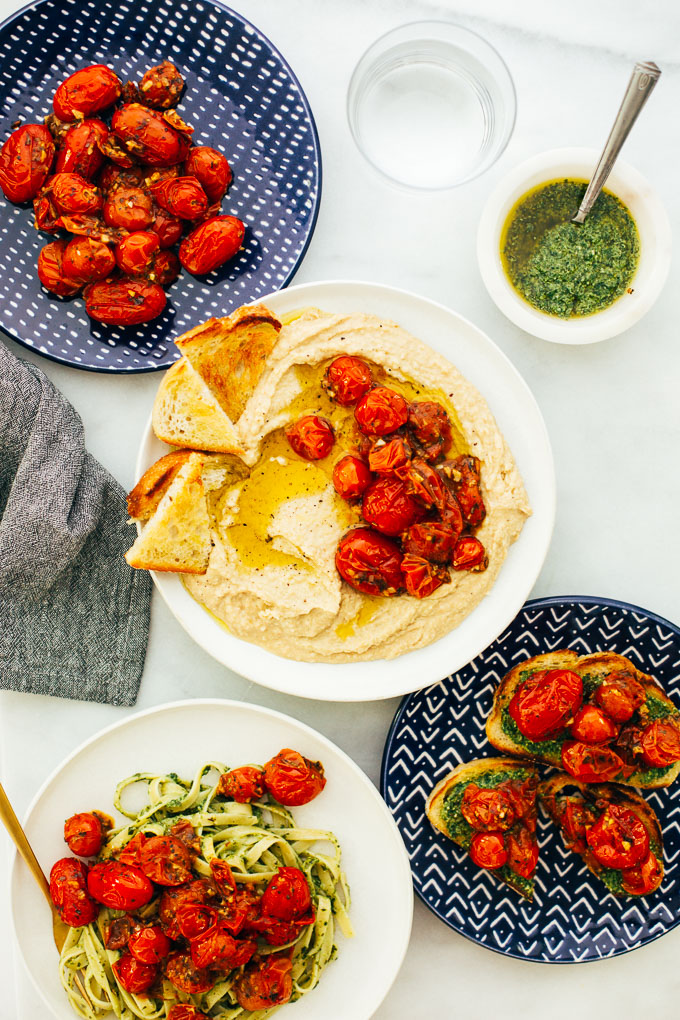 If you own a copy of my book, then these burst tomatoes might look a bit familiar. There, they're paired with a flavorful pesto pasta.
Quick diversion about my cookbook: If you're looking to purchase a copy, my publisher is currently offering 50% off the print edition with the code BLISSFUL50, so now's a great time to buy.
Back to burst tomatoes...
Although originally designed to accompany that one single dish, feedback from testers, those who regularly cook from the book, and applications in my own kitchen have proven that these easy burst tomatoes have earned their keep.
They're exceptionally versatile and add something special to any savory dish lucky enough to be graced by their ruby-hued presence.
So, they deserve to stand alone with their very own recipe. And you, whether you own a copy of my cookbook or not, deserve access to this simple treasure of a dish.
So garlic herb burst tomatoes. What are they? How do you make them?
Let's have ourselves a look...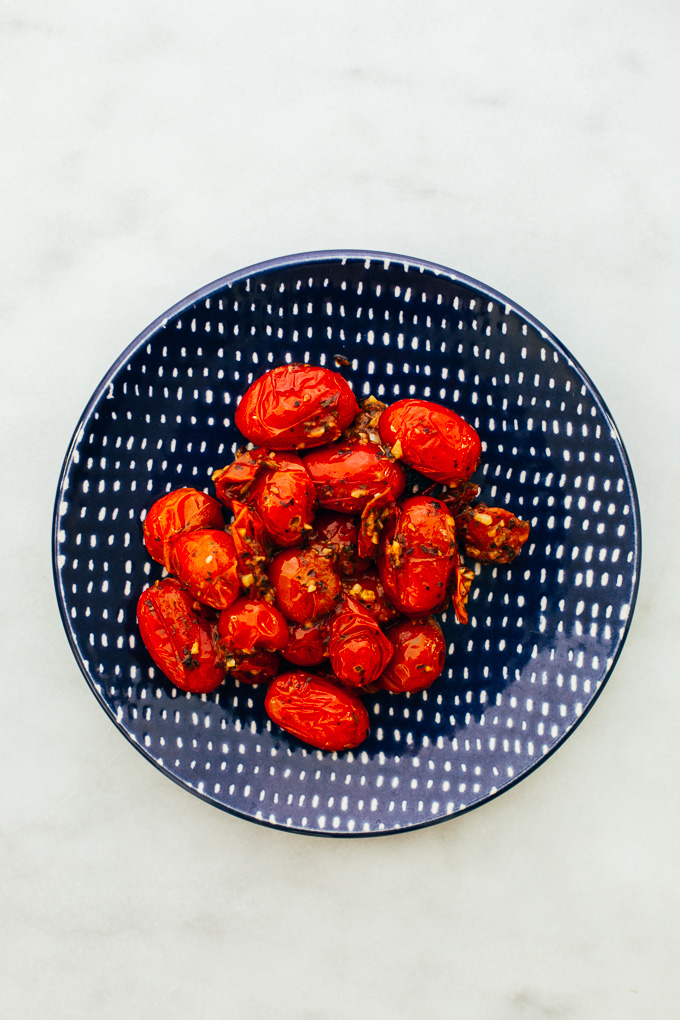 As we move into tomato season, you might find yourself with more cherry tomatoes or grape tomatoes than you know what to do with. We typically do—although Sloane is such an avid consumer of the little gems that this has been less of a (welcomed) problem in recent years.
Whether you have too many tomatoes on your hands or you're simply looking for a new way to showcase the brilliance of these mid- to late-summer beauties, this recipe has got you covered.
To make it, you'll need:
4 heaping cups cherry or grape tomatoes. I find the skins on cherry tomatoes to typically be a bit thinner and softer, which makes them better for cooking but either will work.
Dried herbs, including basil, oregano, and parsley. Fresh would be beautiful, too. Just be sure to double or triple the amount if you go the fresh route since they're less potent than dried.
Crushed red pepper flakes. Totally optional depending on whether or not you want a kick.
Olive oil.
Garlic.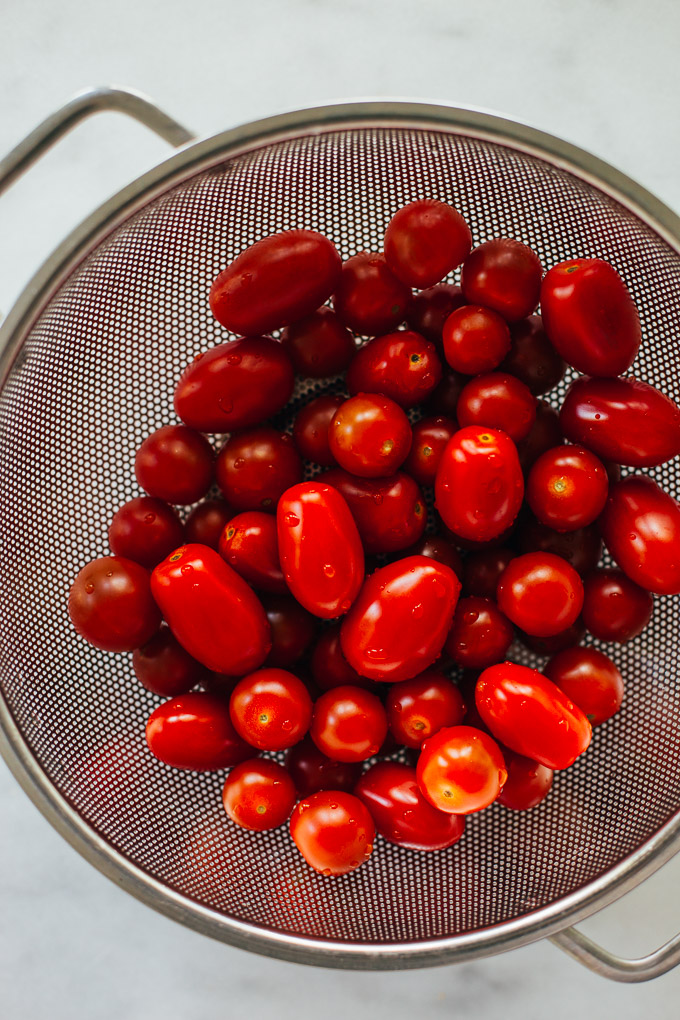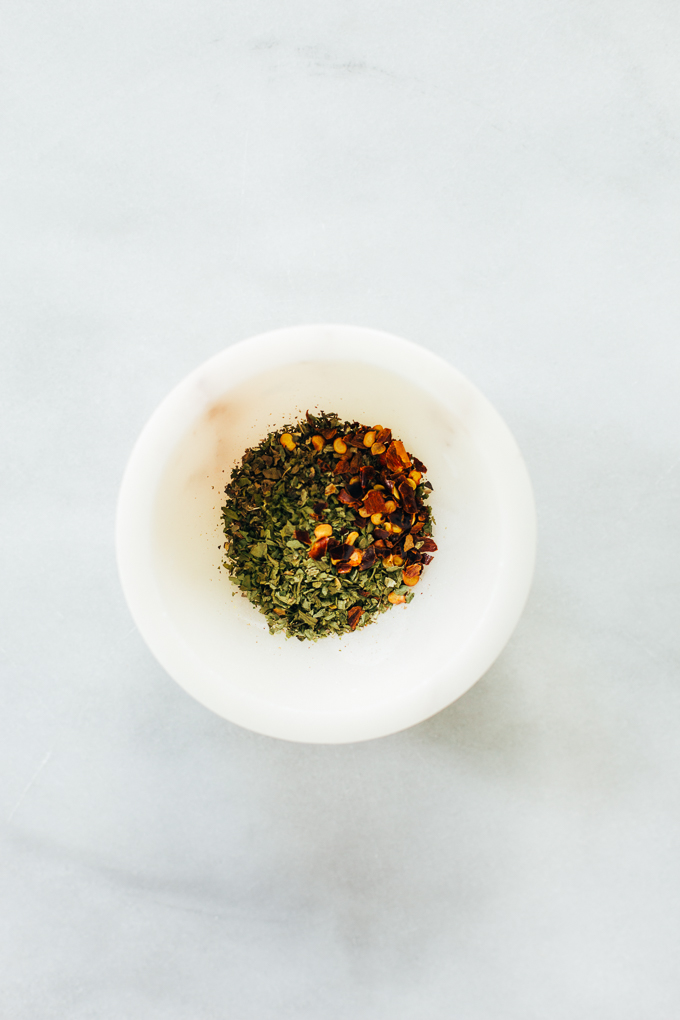 Heat the olive oil in a large sauté pan until it begins to thin and spread across the surface.
Next, add the herbs and sauté them for just 30 seconds or so to begin to bloom their flavors.
Add the tomatoes along with a bit of salt and let the tomatoes cook until they burst open, nudging them around every couple of minutes to prevent scorching.
Once most of the tomatoes have burst, add three cloves minced garlic and continue to cook for just another minute or two to soften and mellow the garlic.
Over time, I've learned that adding the garlic at this point—as opposed to along with the spices as the original recipe was written in the book—prevents it from scorching. Scorched garlic is quite bitter, and no one wants bitter burst tomatoes.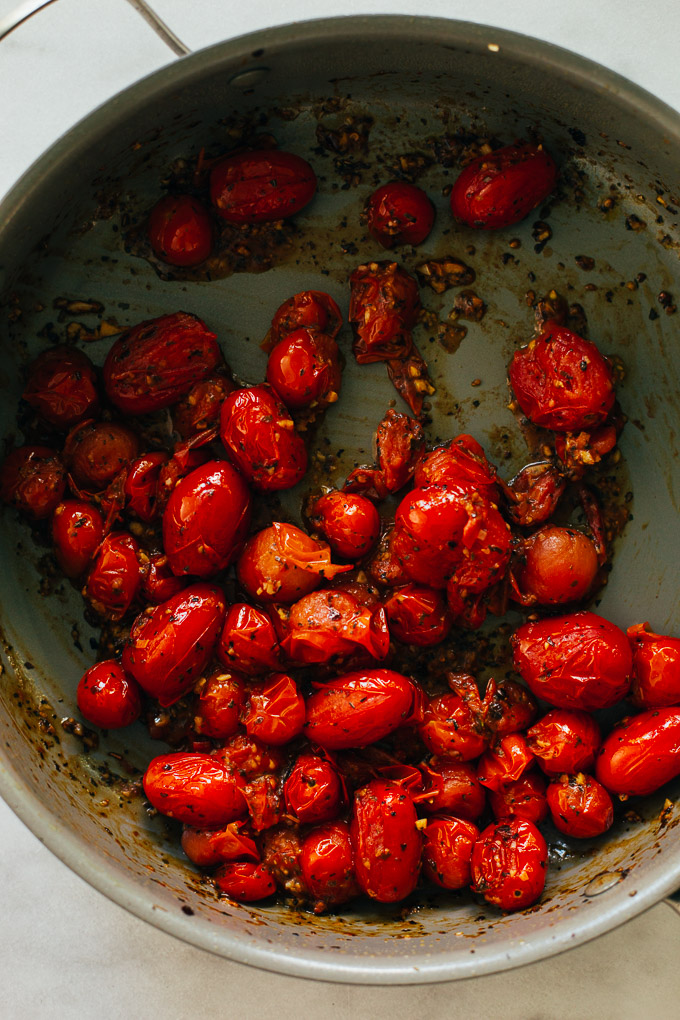 Once your tomatoes have been burst in all that herby, garlicky goodness, it's time to savor and enjoy.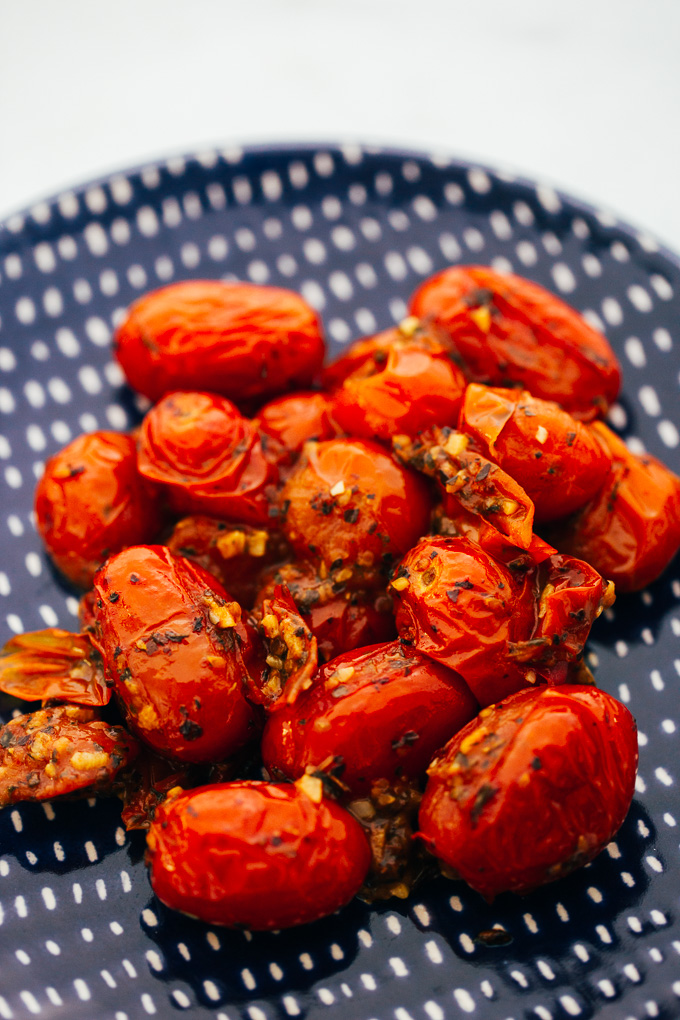 There are many, many ways to serve these, but here are a few of my favorites:
Use them to top homemade hummus or as a way to jazz-up store-bought varieties. Serve the hummus with crispy, olive-oil slathered toast points, and you'll have yourself a nosh-worthy midsummer snack dream.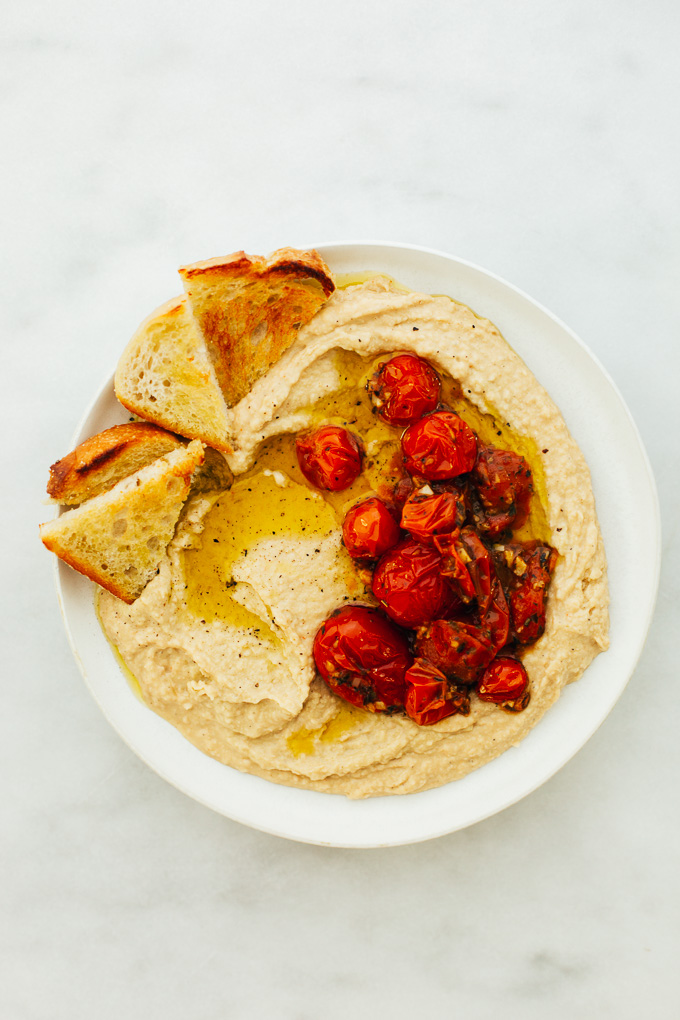 If you'd like to make a pesto pasta like the one in my cookbook, simply serve the burst tomatoes over a heap of warm pasta that's been tossed in vegan pesto.
My favorites are this superseed pesto, this walnut pesto, and this cilantro-jalapeño pesto.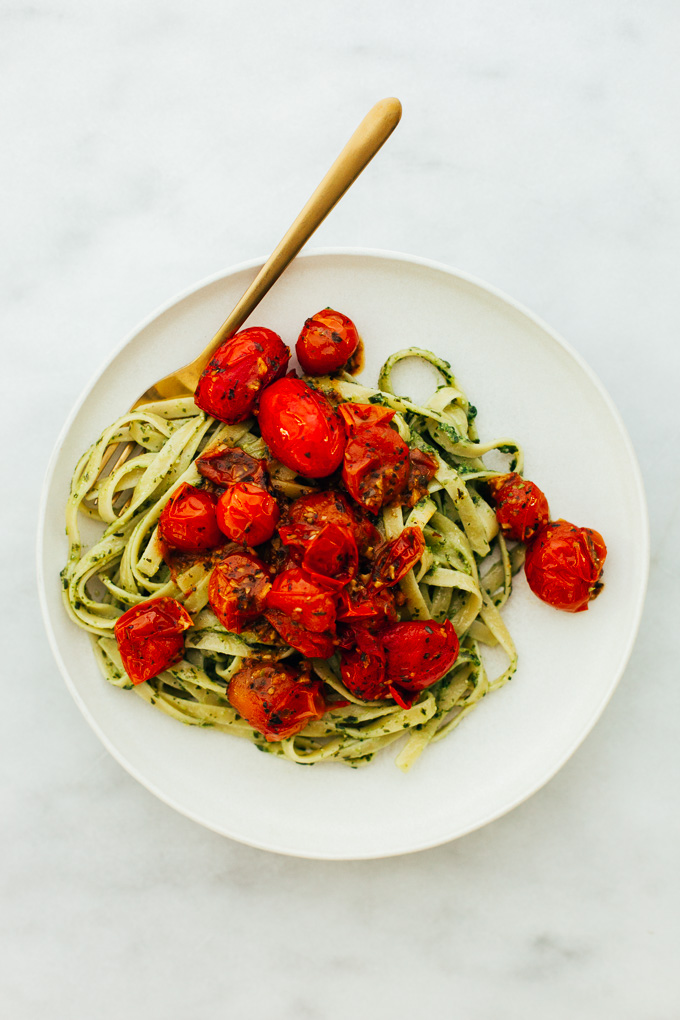 These burst tomatoes also make an excellent crostini topping. This one is pictured with a slather of pesto, but go on and get creative.
Burst tomato crostini topped with a slather of hummus, olive tapenade, vegan herbed cashew cheese, or even a simple olive oil + sea salt combo would all be wonderful.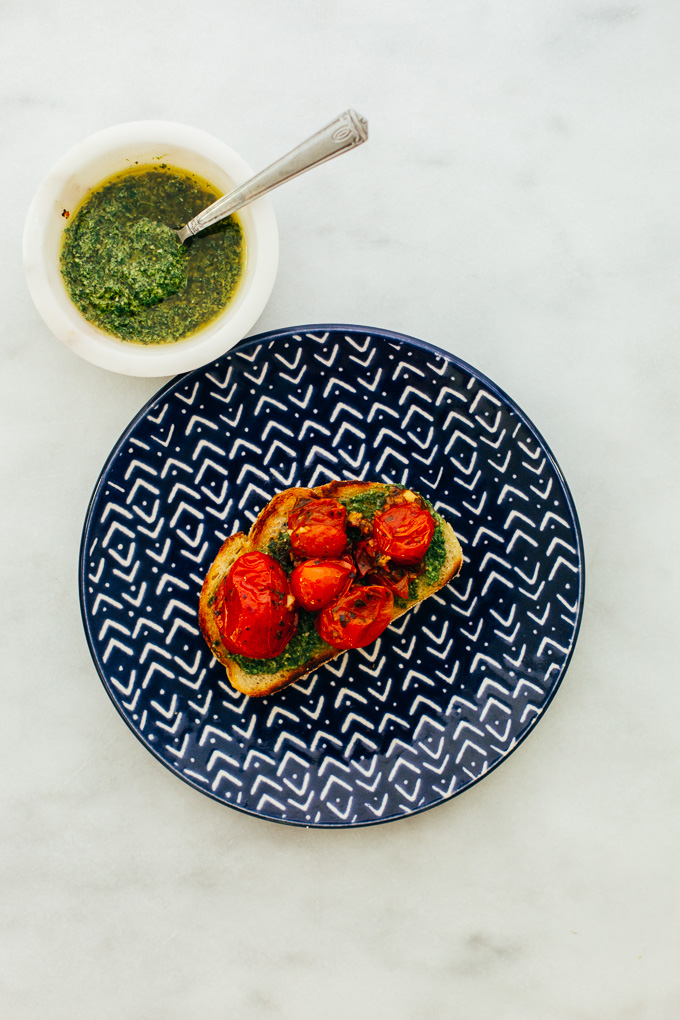 Other ways to use garlic herb burst tomatoes
Toss them into a simple pasta salad.
Serve them over warm polenta.
Eat them on their own.
Toss them with toasted bread cubes, red onion, fresh basil, olive oil, and vinegar for a play on a classic Panzanella salad.
Serve them over other dips—vegan French onion dip comes to mind.
Serve them as a topping option on a colorful vegan cheese platter.
Serve them over smoky vegan mac 'n' cheese.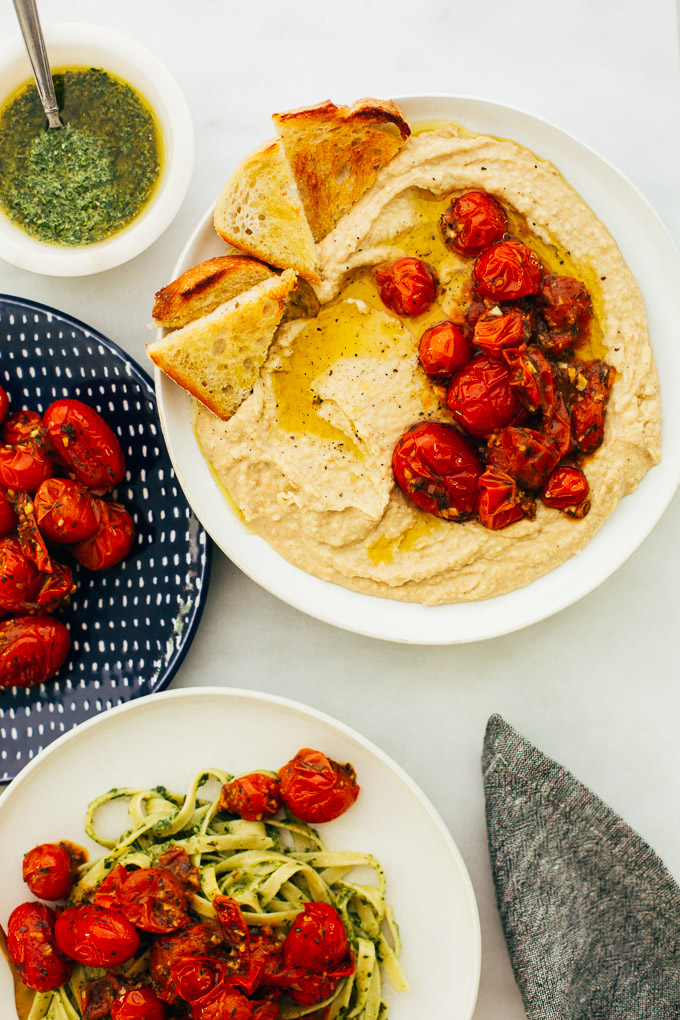 I hope you find these burst tomatoes to be a welcomed addition to your summer recipe lineup.
If you make them, let me know! Leave a comment, rate the recipe, and don't forget to tag a photo #blissfulbasil on Instagram.
📖 Recipe
Garlic Herb Burst Tomatoes
These garlic herb burst tomatoes are extraordinarily delicious and so, so easy to make. They're also incredibly versatile and can be used as a topping for almost any savory dish you can think of—pasta, crostini, hummus.
Ingredients
2

tablespoons

olive oil

1

teaspoon

dried oregano

1

teaspoon

dried basil

½

teaspoon

dried parsley

¼

teaspoon

crushed red pepper flakes (optional)

4

heaping cups

heirloom cherry tomatoes or standard cherry tomatoes (grape tomatoes work too)

Sea salt, to taste

3

cloves

garlic, minced
Instructions
Heat the olive oil in a large skillet over medium heat until it just begins to thin out and coat the pan.

Add the oregano, basil, parsley, and red pepper flakes (if using) and sauté until fragrant, approximately 30 seconds.

Add the tomatoes and a generous pinch of sea salt, increase heat to medium-high, and cook for 6 to 10 minutes or until the tomatoes develop a light golden-brown hue at their edges and burst open. As they cook, use a large wooden spoon to nudge them around the pan every minute or two to prevent burning.

Add the garlic as the tomatoes finish bursting and continue to cook for another minute or two, until the garlic softens and mellows. Adding the garlic now prevents it from scorching and burning.

Remove from the heat and let cool slightly.

Serve as desired—e.g., over pasta, crostini, hummus, etc.