If the vibe variety in these photos seems a bit -- for lack of a better description -- bipolar, it's because that's exactly how the weather was behaving this past Saturday.
I shot these photos over the course of 45 minutes, and as I ran back-and-forth from kitchen to guest bedroom (aka makeshift photography studio), the weather went from crisp and sunny to dark, gloomy, and gray. And back. Again and again. Blue-gray, deep and doom-y clouds would cover and then uncover the sun within seconds to minutes, making for an interesting photo shoot. The above eggplant caught the peak of bright light, so she's the superstar of the day.
Being my first recipe shoot that day, I was in an optimistic and overly confident mood. Some part of me actually believed I could 1) shift my camera's white balance settings quickly enough to keep up with the clouds/sun and 2) place and remove my diffuser as the light flared and dramatically dimmed. Umm, no. After a few rounds of that dance and nearly falling off of my step stool, I called it quits. Haters gonna hate, and clouds gonna cloud. I could not keep up.
I eventually pulled my photo table as far away from the wild light as I could and jacked up my ISO. With my setup so far away from the window, the hummus photos were veiled in some ultra moody shadows. Not usually my style, but I actually kind of like it. Gives it a little late October/Halloween vibe, doesn't it?
And for my next trick...
BRIGHT AND SUNNY.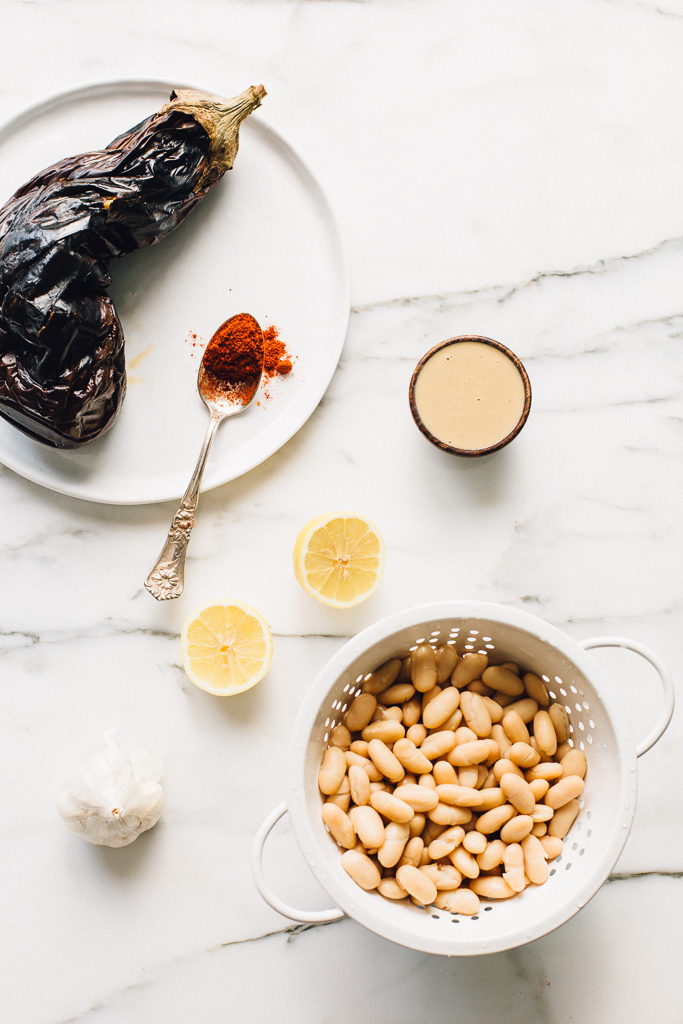 To make this hummus, you'll start by charring a whole eggplant over a grill pan or grill. Before grilling it, you'll use a fork to pierce it all over; this allows the steam to vent out and the smokiness from the char to seep in.
Once the eggplant is thoroughly charred and ultra tender, you'll plop it in a bowl to let it cool and steam itself a bit more.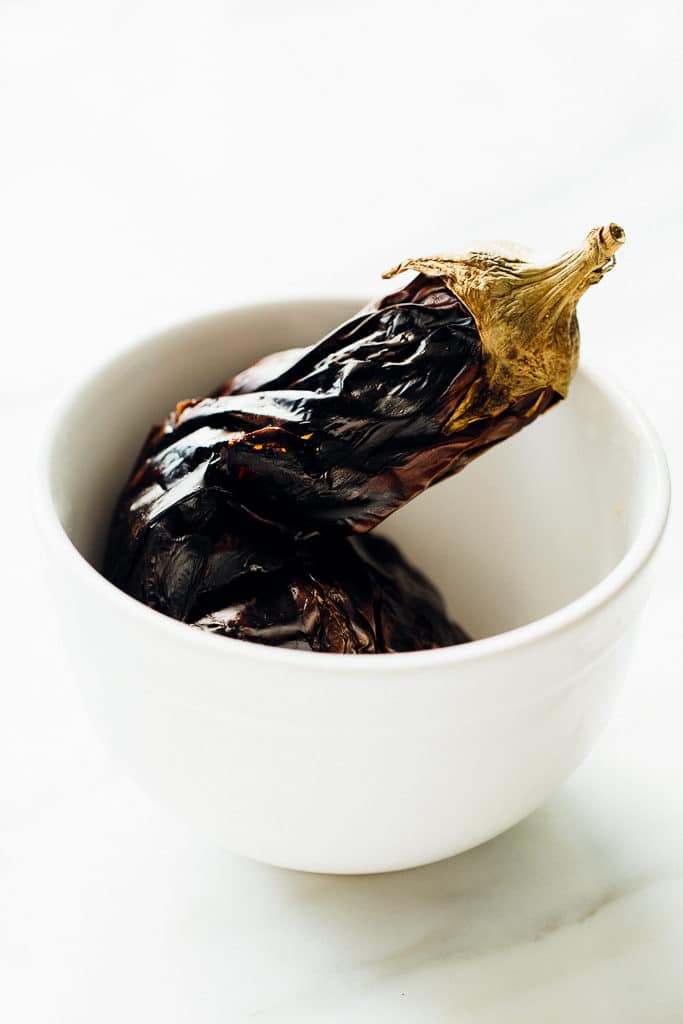 Once the eggplant is cool, slice it in half lengthwise, like so...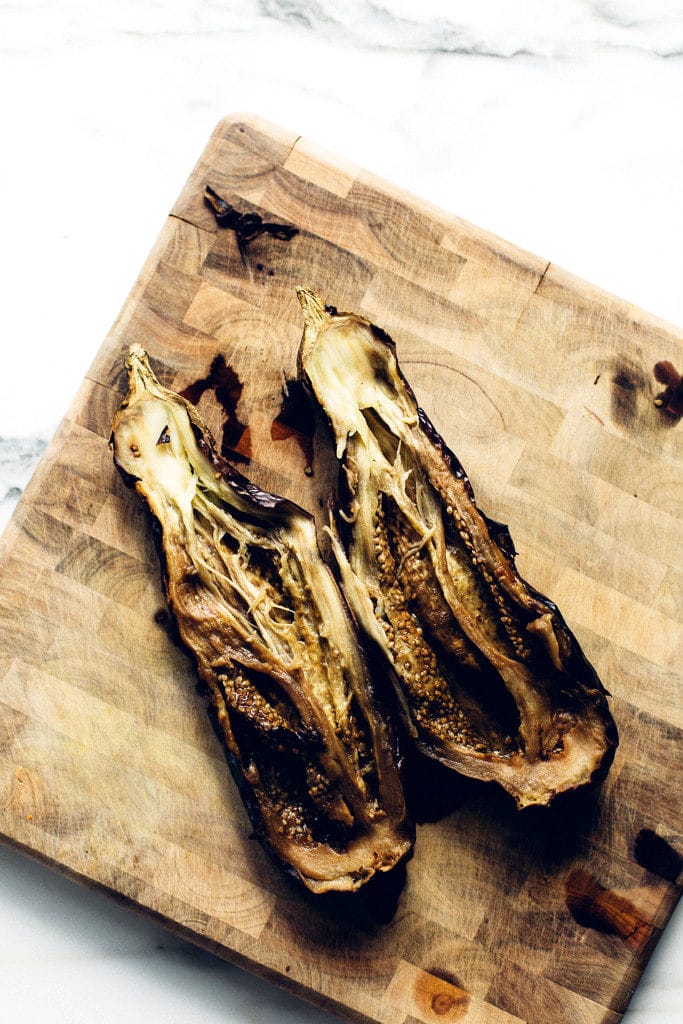 Then, use a spoon to scoop out the tender, smoky flesh, leaving only the stem and charred skin behind. Warning: this photo makes me look like an eggplant murderer. All the better for Halloween week... I suppose?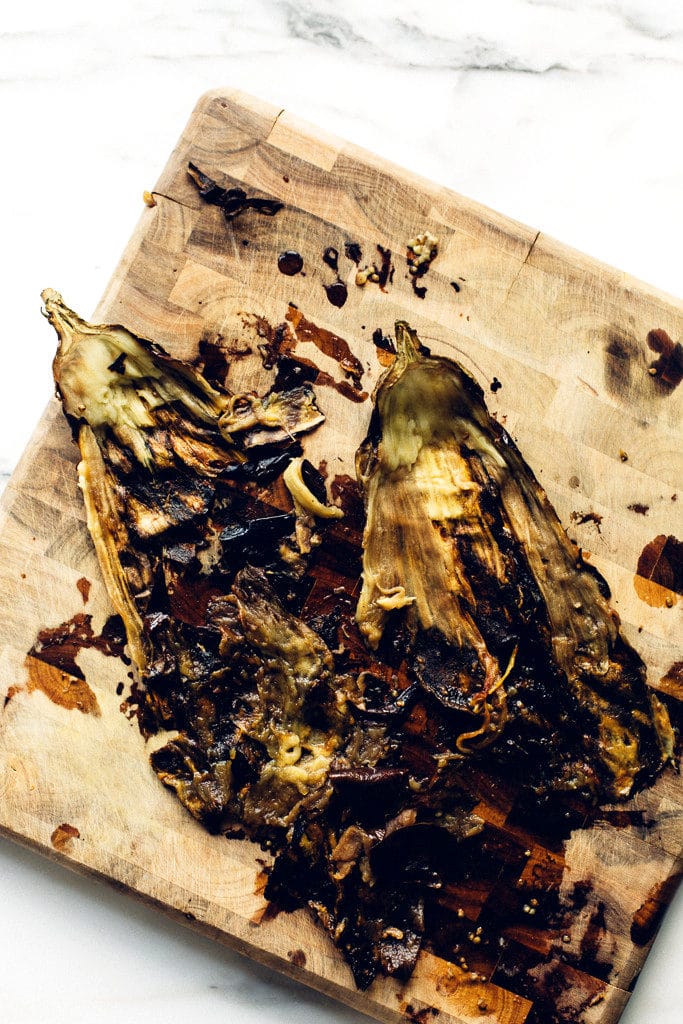 You'll add the eggplant to a food processor along with cannellini beans, tahini, lemon juice, smoked paprika, garlic, and sea salt. Then, process until quite smooth and creamy. Scoop it into a dish, garnish as desired, and serve it up alongside seeded bread, pita chips, veggies, tortilla chips, warm naan, etc.
The tahini adds a rich creaminess that is balanced by the brightness of the lemon juice, the zip of the garlic, and the savoriness of the smoked eggplant.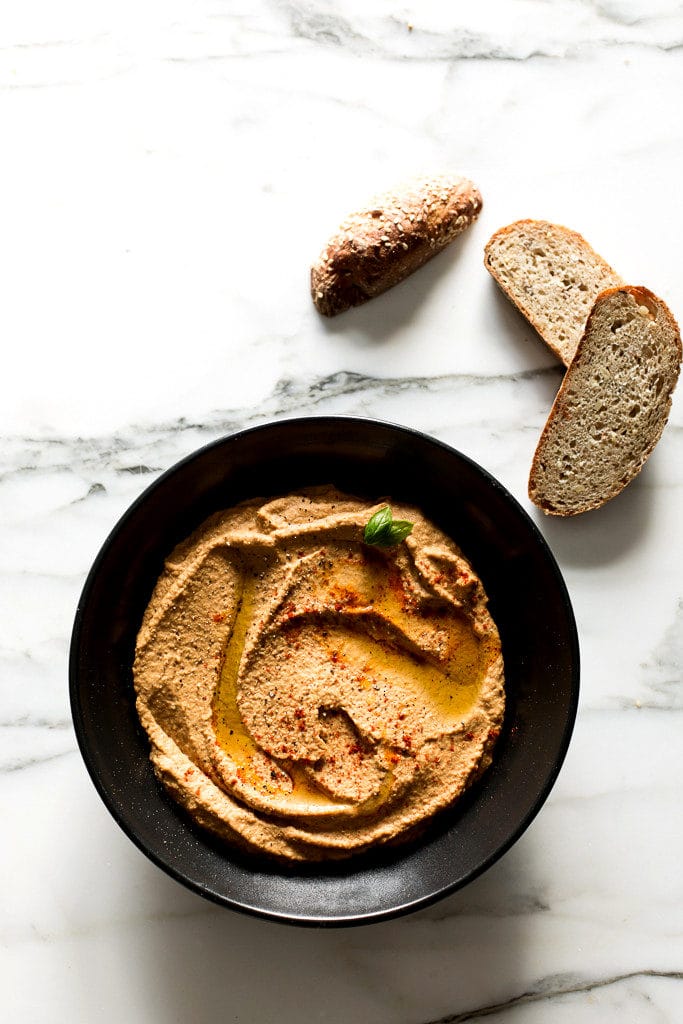 📖 Recipe
Smoky Eggplant Hummus
Smoked eggplant is blended with creamy white beans, tahini, garlic, lemon juice, smoked paprika, and sea salt in this simple smoky eggplant hummus. The eggplant is grilled until charred and wilted, then scooped out and added to a food processor along with the remaining hummus ingredients. Everything gets blended until ultra smooth and creamy. Pair this hummus with veggie sticks, warm pita bread, or toasted baguette slices!
Ingredients
1

large eggplant (approximately 22 ounces or 650 grams)

1

can cannellini beans (white beans), drained and rinsed

3

tablespoons

tahini

2 ½

tablespoons

fresh lemon juice

2

garlic cloves, peeled and roughly chopped

1 ½

teaspoons

smoked paprika

¾

teaspoon

sea salt or to taste
Instructions
Heat a grill pan or grill over high. Use a fork to prick the eggplant 15-20 times. Place the eggplant on the grill and char on all sides, turning every few minutes, until blackened and very tender. This process takes about 25 to 30 minutes. Transfer the eggplant to a bowl and cool for 15 minutes.

Once the eggplant is cool, transfer to a cutting board and reserve the smoky liquid that collected in the bowl. Cut the eggplant in half lengthwise, and use a spoon scoop out the inner flesh, leaving only the stem and charred skin behind. Transfer the flesh to the bowl of a food processor along with the reserved liquid, cannellini beans, tahini, lemon juice, garlic, smoked paprika, and sea salt. Pulse a few times and then process for 3 to 4 minutes or until as smooth as desired, stopping to scrape down the sides as needed.

Transfer to a bowl and garnish with a drizzle of olive oil (optional), black pepper, and smoked paprika. Serve with sliced veggies, seeded bread, pita chips, crackers, etc.