If you're looking for a hearty, rich, and meaty plant-based pasta sauce without having to rely on processed "faux meats", look no further. This easy vegan walnut bolognese sauce is bound to become your new household go-to for pasta night!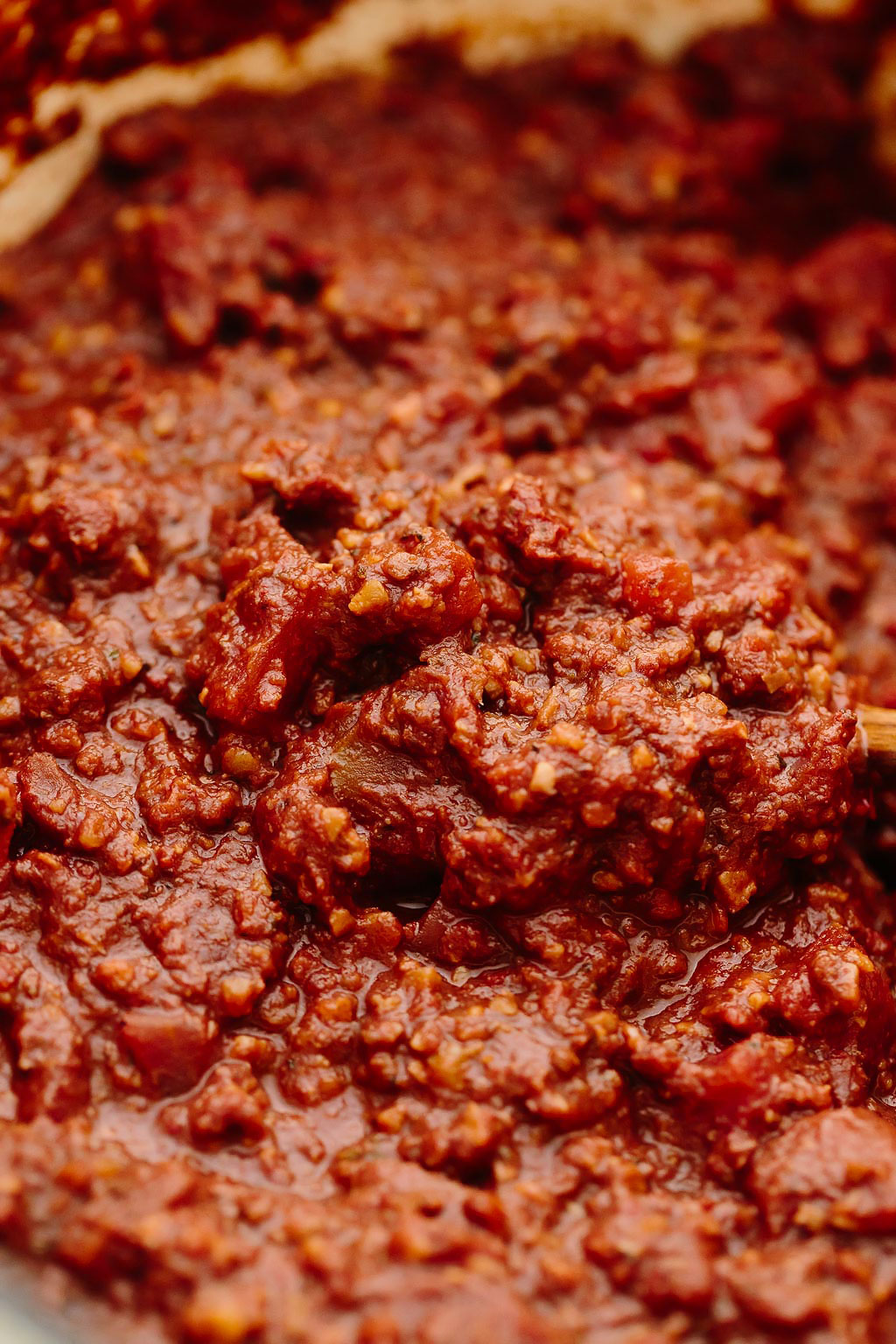 Since I missed posting last week, I'm coming at you this week with another new recipe.
That's right: two new recipes in one week! Reminds me of the old, pre-baby Blissful Basil days when I was churning out 2–3 recipes week-after-week for years on end.
While I sometimes miss those days, I wouldn't trade this momma life for anything. Being a mom has helped me find more peace, power, braveness, and alignment in the work I do.
It also makes me care less about outcome, which is surprisingly empowering. It's not that I try less. In fact, I try even harder because I take my commitment to this work even more seriously now. I have to with a little one watching my every move. I owe it to her, I owe it to you, and I owe it to myself.
And yet while I take the work itself even more seriously now, I care a whole lot less what anyone else thinks about it. Pre-baby, my sense of self was entangled with the outcomes of my work. Post-baby, I recognize that I'm not my work.
I'm not sure what it is about becoming a mom that inspires this give-less-sh*ts transformation (for lack of a better term), but it seems to be a common experience amongst new mommas.
I may be the brains, the heart, and the soul behind this work, yes. But I am not it. And from that perspective, I can release attachment to expectations surrounding its outcomes.
As The Bhagavad-Gita so wisely informs us: We have a right only to our labor, not to the fruits of our labor.
To take our work seriously by committing to it bravely and without self-sabotage while also recognizing that its outcomes are none of our business—if this isn't freeing, I don't know what is.
This perspective allows us to be radically authentic while we create.
Coincidentally, it's from this honest, humbled space of creation that we tend to produce the best work. And so by caring less about what others think of our work and owning who we are—faults, flaws, and façade-free—we tend to generate more meaningful work.
And even if we don't, at least we've disentangled our worth from our work. That's liberating.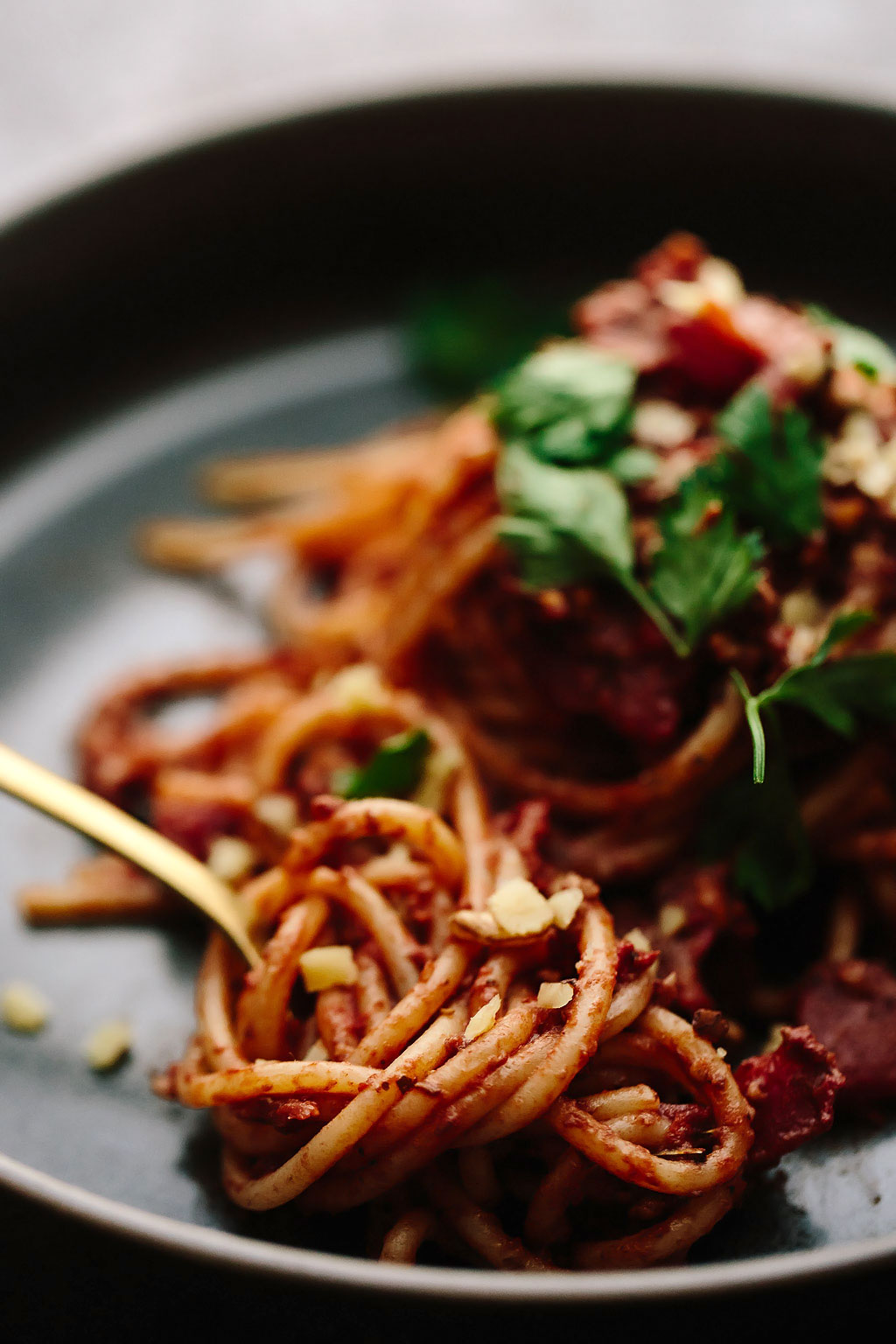 On that note, let's talk pasta sauce. A solid, go-to pasta sauce is liberating, too.
Every home cook needs a trusty red sauce recipe to rely on. One that comforts, satisfies, and makes a house smell like a home as it simmers away on the stove.
You know the type? Me too.
My Grandma Shirley was the keeper of the Wilson red sauce recipe in our family. Since her version contained a hefty amount of meat, I made it my mission to create a just-as-meaty yet vegan version of it.
If you own a copy of my cookbook, then you might be familiar with the Mostaccioli recipe on page 219. That one incorporates this hearty vegan walnut bolognese sauce into a classic baked pasta.
As anyone who's put something out into this world in print knows, with hindsight on my side, I'd most certainly go back and modify a few things. One would be to make that red sauce a stand-alone recipe. It deserves its own page or two. Having been made countless times in many kitchens over the last few years, it's earned it.
But since I don't have the publishing power to tackle the above, I'm bringing it to you here. Which actually makes me even happier because now you, whether you own a copy of my cookbook or not, have this trusty vegan red sauce recipe to rely on.
Unlike most vegan bolognese sauce recipes, this one doesn't rely on faux store-bought meat substitutes. Not shaming here—there's certainly a time and a place for those, and I love the taste of faux meat as much as the next vegan.
But it's nice to be able to reproduce a meaty, meatless bolognese with easy-to-find ingredients that you don't have to go searching for. Plus, this one is packed with healthy, brain-boosting fats and omega-3s. So you can eat your bolognese and feel great, too.
To make it, you'll start by preparing this vegan Italian sausage. It's made with a base of raw walnuts (see recipe notes for a nut-free version) and sun-dried tomatoes. The walnuts provide a heartiness to the "meat" while the sun-dried tomatoes provide an authentic meaty chew.
In addition to the walnuts and tomatoes, this "meat" contains a handful of spices that are customary to classic Italian sausage, including:
Garlic
Onion powder
Oregano
Basil
Parsley
Smoked paprika
Fennel seed
Red pepper flakes
Salt + pepper
Two comments on the above list:
Don't be intimidated. These are all easy-to-find dried spices, fennel seed included.
Don't substitute or omit any of the spices. Each and every one is there for a reason, especially the fennel seed. I've had multiple people reach out who have made the recipe in the book and say how, despite initially wanting to omit things (e.g., fennel seed), they stuck to the recipe as written and were so thankful they did because it made such a difference in flavor. Each and every spice is meaningful here.
You'll add the walnuts, sun-dried tomatoes, and spices to a food processor and pulse until ground into a sausage-like crumble.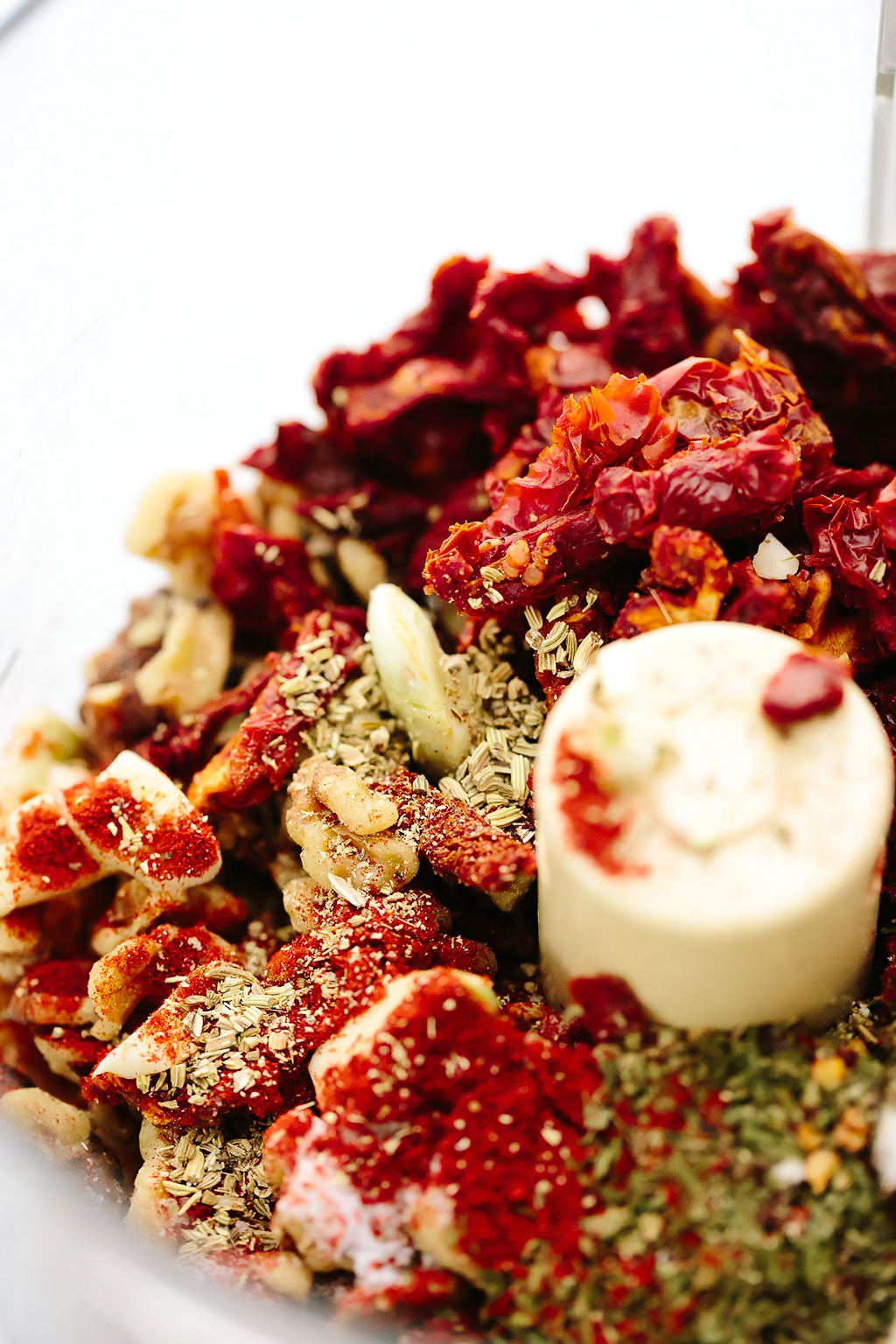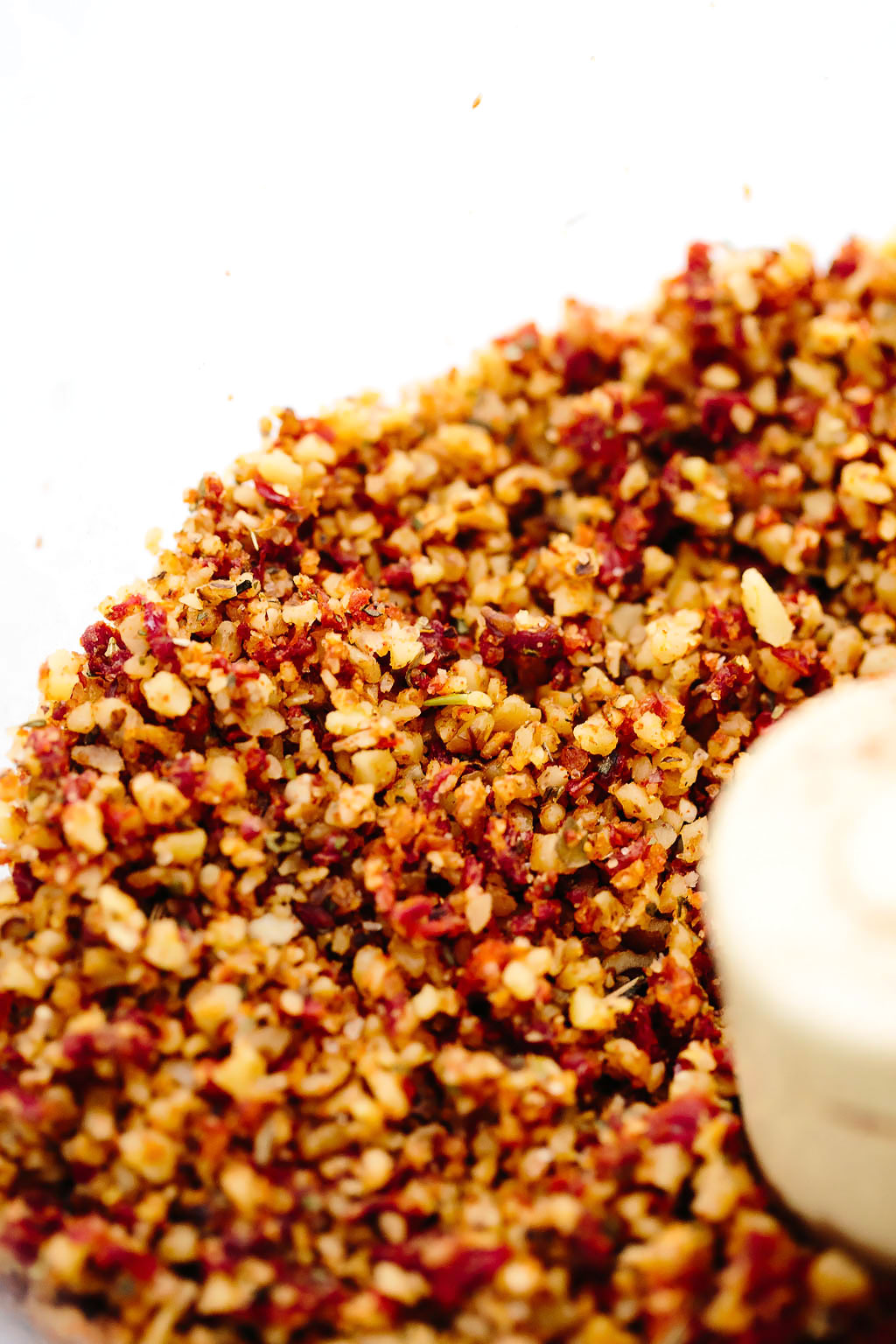 Then, heat a bit of olive oil in a large stockpot, add the "sausage" crumbles, and sauté for 3 to 5 minutes, or until wafting the most glorious garlicky, sausage-y scent.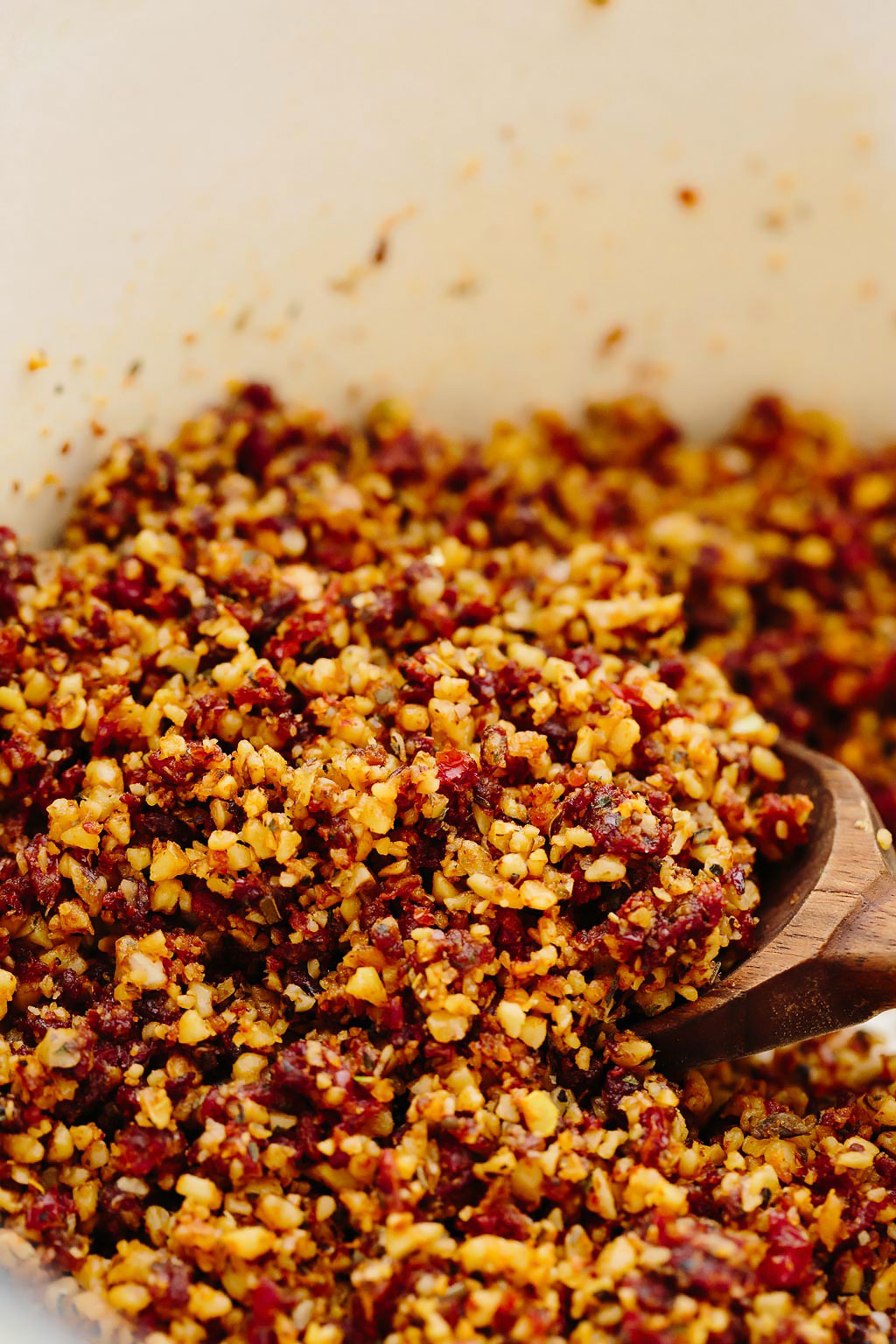 Next, add two cans diced or crushed tomatoes (depending on your texture preference), one can tomato sauce, one can tomato paste, and a bit of filtered water to the pot.
Decrease the heat to low and simmer, partially covered for 30 minutes, stirring occasionally.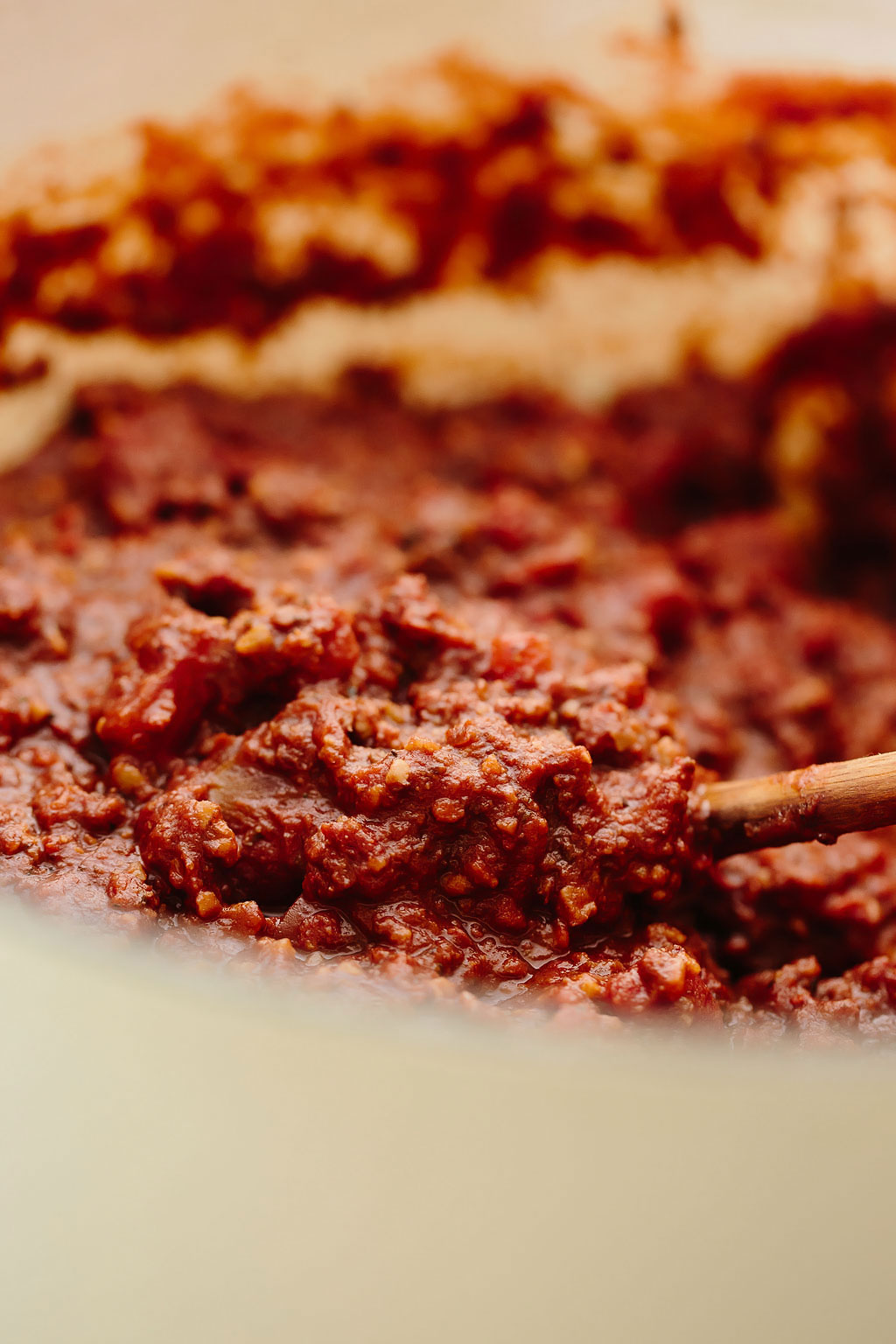 Once the sauce has finished simmering, stir in a pinch of baking soda to cut the acidic bite of the tomatoes.
Then, taste and season with a bit more salt, if desired.
Serve the sauce over heaps of warm pasta or however you prefer.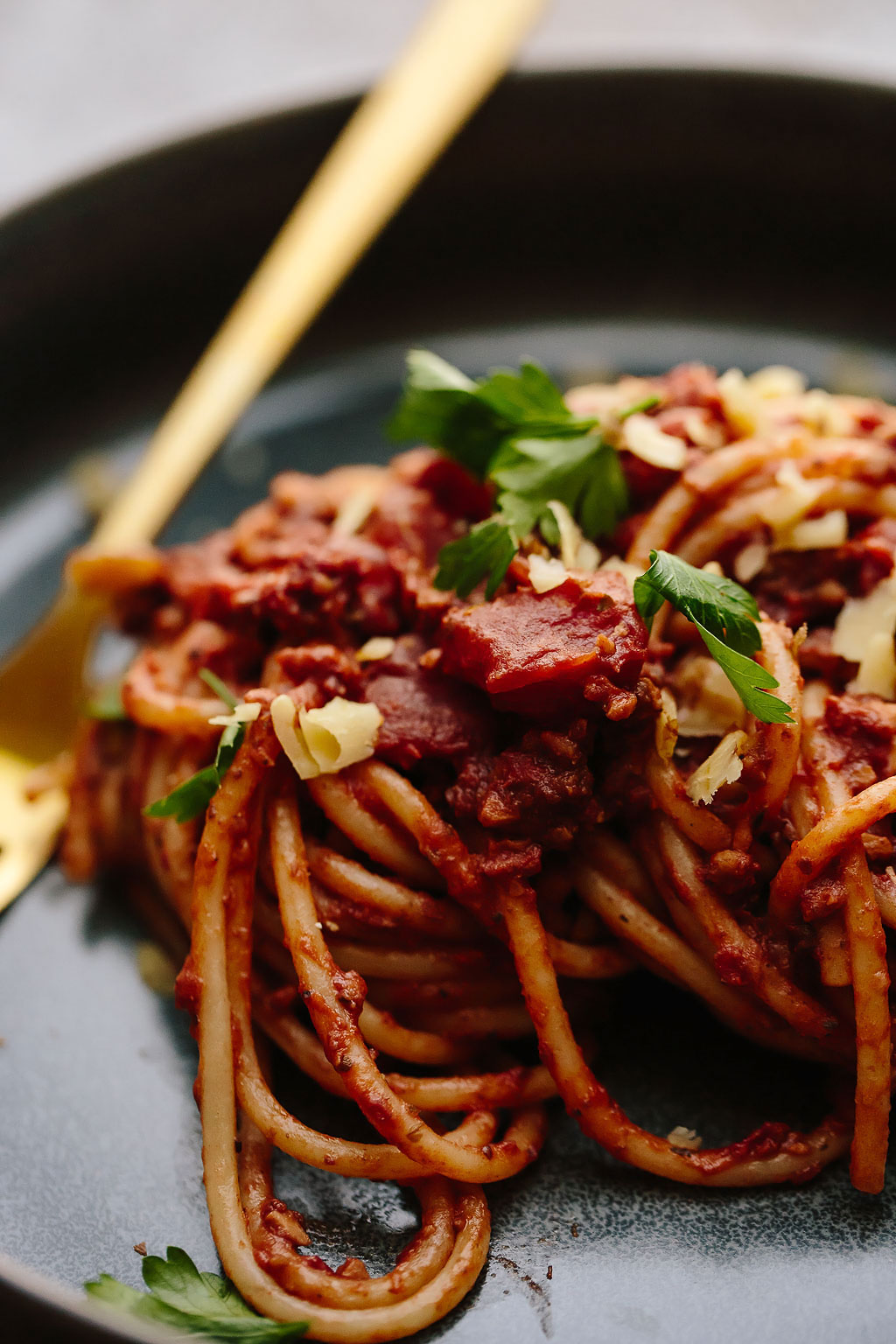 Dig in and enjoy.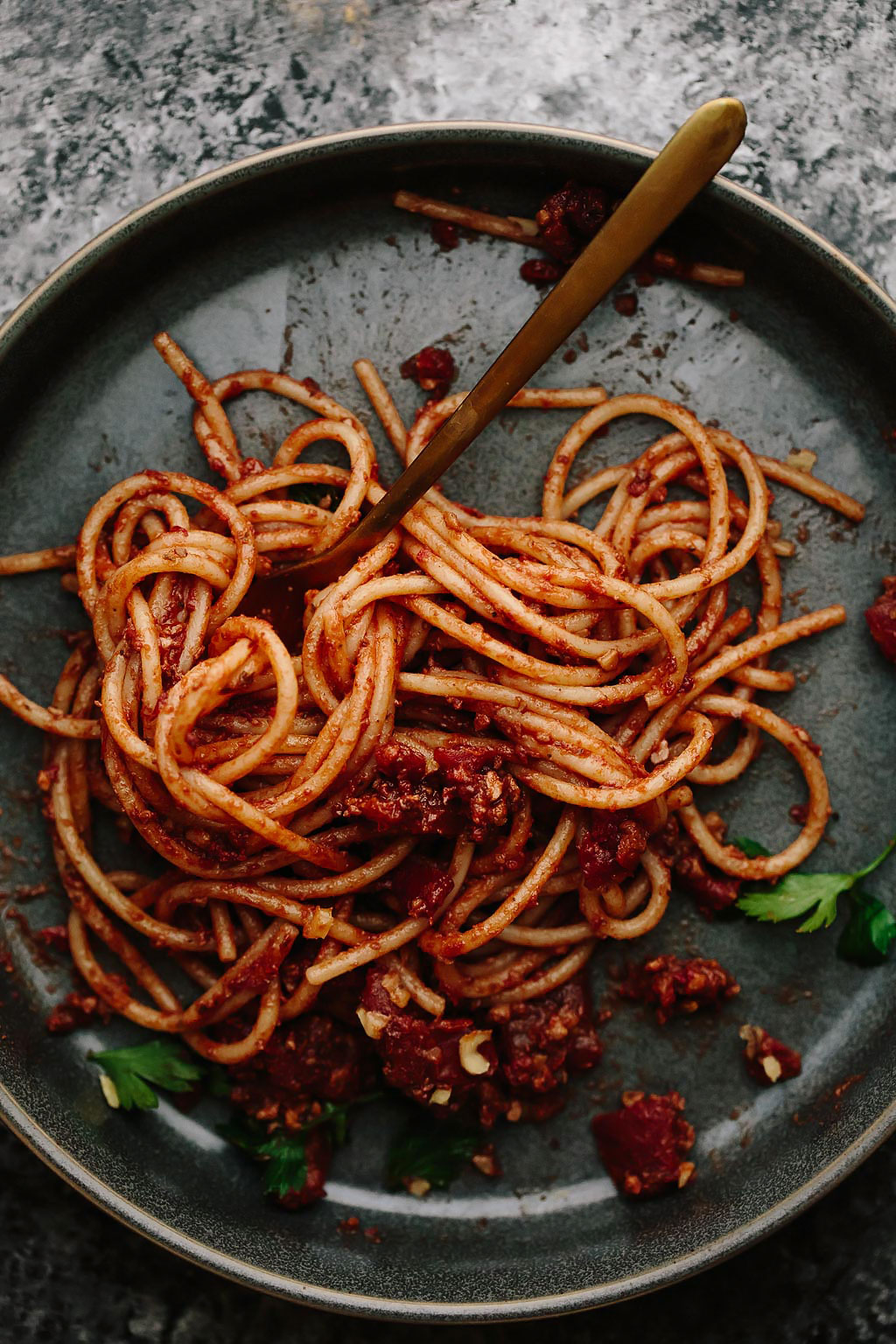 If you make this vegan walnut bolognese sauce, let me know! Leave a comment, rate it, and don't forget to tag a photo #blissfulbasil on Instagram.
📖 Recipe
Vegan Walnut Bolognese Sauce
If you're looking for a hearty, rich, and meaty plant-based pasta sauce without having to rely on processed "faux meats", look no further. This easy vegan walnut bolognese sauce is bound to become your new household go-to for pasta night!
Ingredients
2

(14.5-ounce)

cans diced tomatoes or crushed tomatoes (for a smoother sauce)

1

(15-ounce)

can tomato sauce

1

(6-ounce)

can tomato paste

¾

cup

filtered water

Pinch

baking soda

Sea salt, to taste
Instructions
Stir in the diced tomatoes, tomato sauce, tomato paste, and filtered water. Decrease the heat to low and simmer, partially covered, for 30 minutes, stirring occasionally.

Stir in a pinch of baking soda (a trick to balance out the acidic bite).

Taste and season with more salt, if needed.

Serve the sauce over pasta with a bit of Vegan Parmesan or in Lasagna.
Notes
*No nuts? No problem. Substitute shelled sunflower seeds for the walnuts in the Italian Sausage to keep this sauce nut-free.