This vegan walnut pesto cavatappi is a weeknight showstopper. It comes together in 20 minutes, is super satisfying, and offers lots of brain-boosting omega-3s.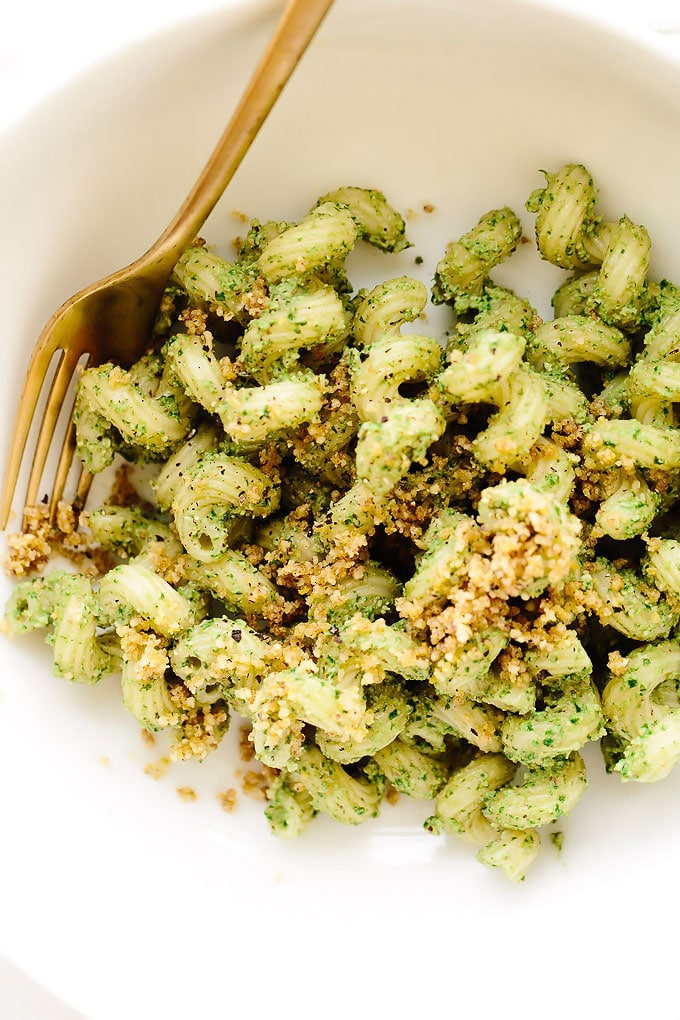 First of all, thank you from the bottom of my heart for your input on my last post!
It meant so much to hear from you all. Sometimes it can feel as if my words are streaming out into a mirky blog abyss once I click 'publish', and lately I've been unsure whether or not they're cutting through all the other internet noise.
But as it turns out, you're still here, reading and caring as always. It's the connection with you that's made blogging so worthwhile and rewarding throughout the nearly NINE years I've been here sharing. Thank you for making this journey so special and for reminding me why I started in the first place.
And since the vast majority of you said that you want me to continue to share life stuff, I'm here today with an update for you!
In the week since my last post, the following has happened:
We said goodbye to our wonderful nanny in Milwaukee (seriously heartbreaking). We moved back to our Chicago condo. Then, our condo unexpectedly found itself in a three-way bidding war the day after we moved back. What the what? We accepted an offer on it and are currently under contract. We're now trying to figure out where we want to rent (likely a house in the suburbs... we're looking for a one- to two-year commitment since we know Chicagoland is not our forever home). On Saturday, we leave to visit friends in LA for the week.
Exciting things with lots of forward movement. Of course, moving is never a stress-free experience, but we're flowing with things as they're unfolding and working to stay as grounded in the present moment as possible.
✨ Total side note: If you're interested in more of my mindfulness ramblings and spiritual musings, checkout my other Instagram account @findyourgoodspace, where a fellow blogger and I cover all things spiritual wellness. ✨
Alright, pasta.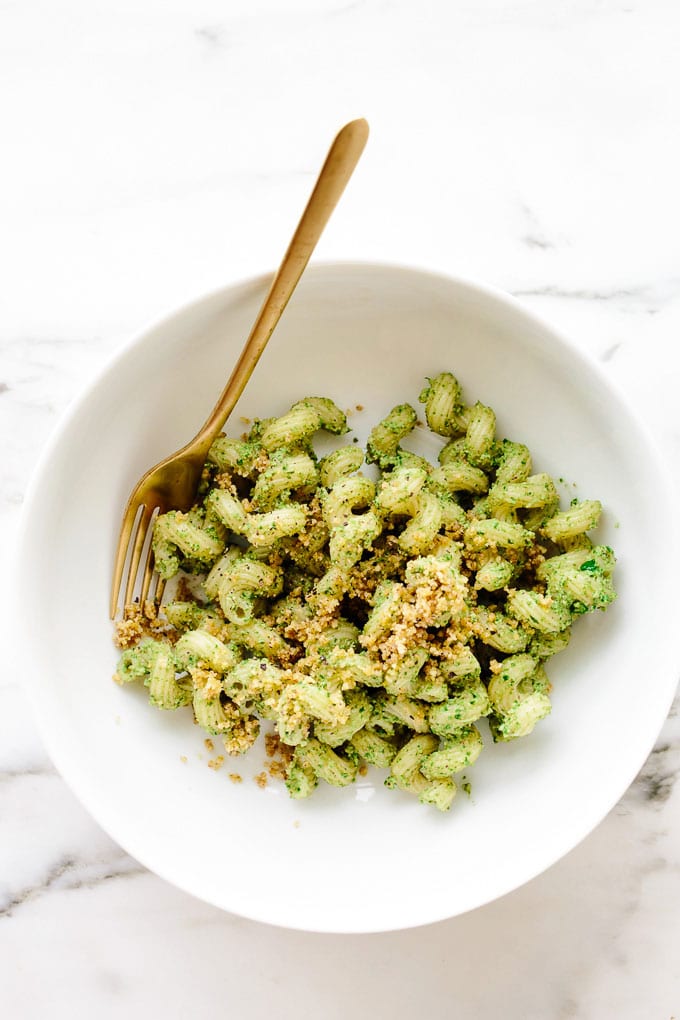 This vegan walnut pesto cavatappi is nearly effortless. And sort of magical, too.
It comes together in 30 minutes or less. It's packed with nourishing, brain-boosting omega-3s. It requires just seven ingredients (+ sea salt).
I have a feeling we'll be enjoying this pasta regularly in the coming months, and I hope you will, too.
To make it, you'll start by cooking up 12 ounces of your favorite spiral-ish pasta. I love cavatappi here, but fusilli and other similar shapes work well, too.
Your main goal with pasta selection should be to find a shape that really grabs onto all that yummy walnut pesto.
Speaking of which, to make the pesto, you'll simply toss all ingredients into a food processor and blend for a minute or two...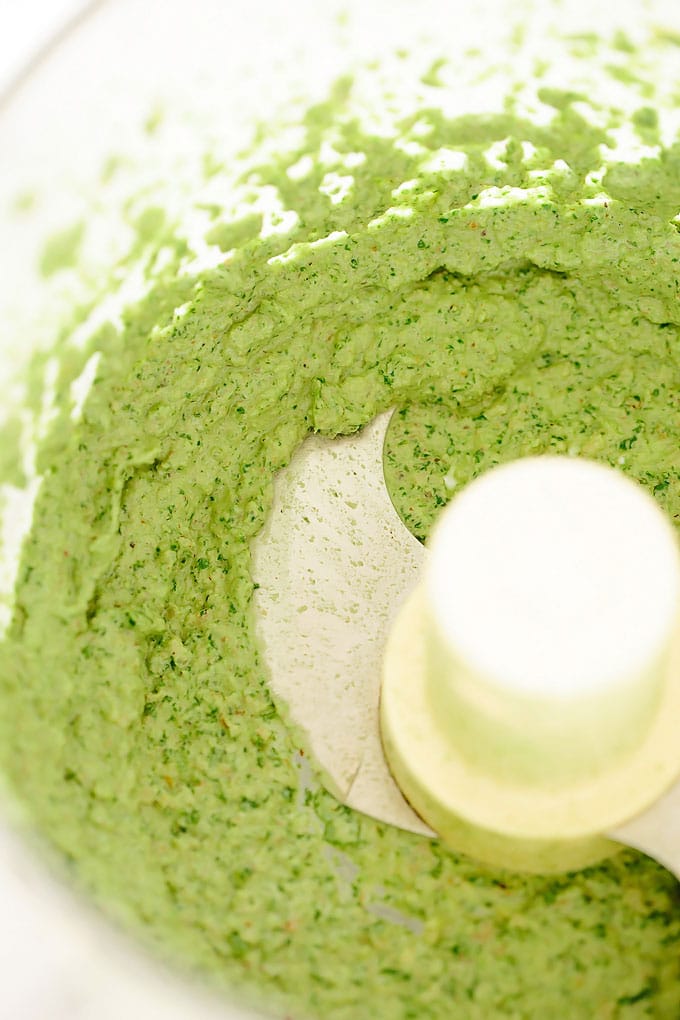 Once your pasta is ready, scoop on the pesto...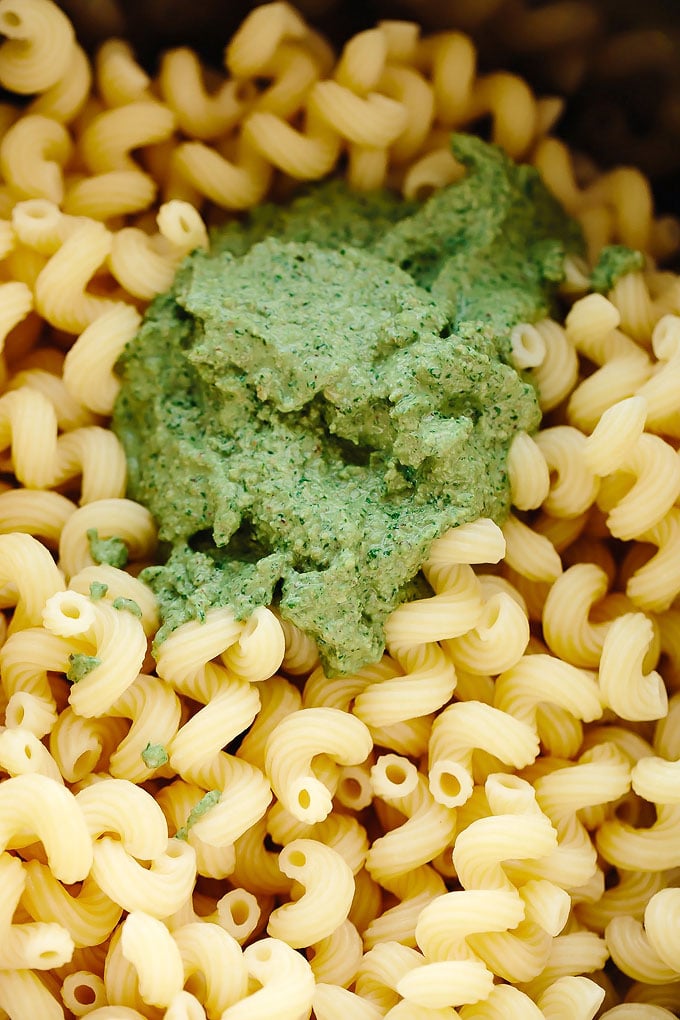 And toss, toss, toss to coat.
I recommend serving this vegan pesto pasta with a sprinkling of this nutty vegan parmesan, but you can absolutely skip it if you're looking to keep things as simple and streamlined as possible.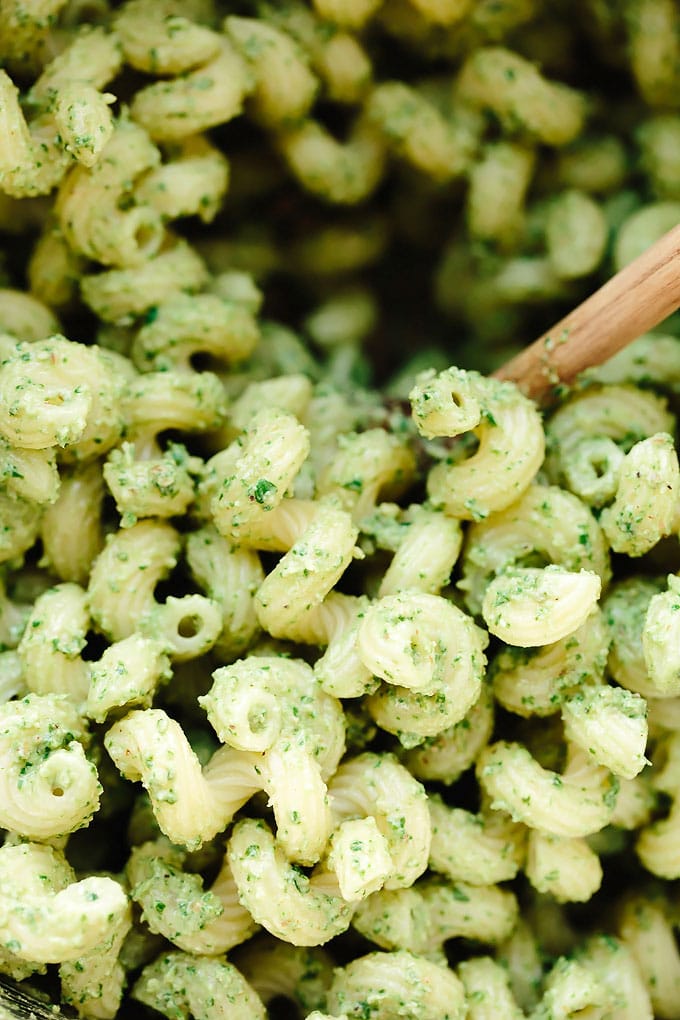 📖 Recipe
Vegan Walnut Pesto Cavatappi
This vegan walnut pesto cavatappi is a weeknight showstopper. It comes together in 20 minutes, is super satisfying, and offers lots of brain-boosting omega-3s.
Ingredients
12

ounces

cavatappi noodles or other spiral pasta

1

cup

basil leaves

½

cup

baby arugula

½

cup

raw walnuts pieces

2

tablespoons

cold-pressed olive oil

½ to 1

tablespoon

fresh lemon juice, to taste

1

garlic clove, peeled

½

teaspoon

sea salt or to taste, plus more for salting the pasta water

1

recipe

Vegan Nut // Seed Parmesan Cheese

(optional)
Instructions
Bring a large pot of well-salted water to a boil. Add the pasta and cook until al dente. Drain, reserving 1 cup of the pasta water, and return the cooked pasta to the pan.

Meanwhile, prepare the walnut pesto by adding the basil, arugula, walnuts, olive oil, lemon juice, garlic, and sea salt to a food processor and processing for 1 to 2 minutes or until just shy of smooth, stopping to scrape down sides as needed.

Spoon the pesto over the pasta, and toss to coat, adding in pasta water by the tablespoon only if absolutely needed to thin the sauce. NOTE: If you add pasta water, you'll likely need to add more salt as well.

Taste and season with additional sea salt, if desired.

Divide the pasta between bowls.

Garnish with parmesan, if desired.