The softest and most tender vegan peanut butter cookies ever. These vegan, gluten-free peanut butter cookies have received more than 100 5-star reviews! Peanut butter heaven wrapped up in pretty little crisscrossed packages.
Last week was a bit of a doozy. Lots going on at work and even more going on outside of work, and by the time I arrived home on Thursday night all I wanted for dinner was a handful of peanut butter cookies. A strange choice, I might add, considering we didn't have any peanut butter cookies on hand but stranger cravings have happened. It's a lovely thing to have a craving that is so easily accommodated for given the simplicity of ingredients needed. Had I been craving gold-flake encrusted peanut butter cookies, well then that might have posed a problem.
Over the last several weeks, I've been trying to make at least the majority of my weekday meals vegan. I've noticed that I feel more clear-headed and full of energy when I do, so I've worked to make it a habit. The weekends are still a time for falling off the vegan wagon, and if you witnessed my weekday breakfast trends you'd think I was a stockholder for Chobani. Such is life.
Peanut butter cookies are a cinch to make vegan, so I went ahead and made that a priority. As I got mixing, I figured why not up the health factor by allowing oat flour take the place of white flour. Now we're talking vegan and gluten-free. Check and check. But of course the bottom line in any recipe is taste, and I promise you that these peanut butter cookies will knock the socks off of your cookie cravings. Like socks on the floor and cookie crumbs everywhere. I'll let you gnaw on that image.
These vegan cookies are the softest, densest, and most tender peanut butter cookies I've ever tasted. The use of brown sugar adds to their density and lends a warm, caramely layer to their peanut butter decadence. The path to making them vegan and gluten-free means that all that extra stuff that interferes (white flour, eggs, etc.) is cleared away and their true peanuty potential is reached rather effortlessly. They have this melt-in-your-mouth goodness about them, and they pair perfectly with a glass of plant-based milk.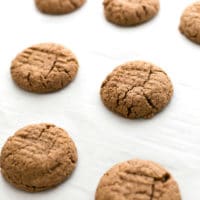 Soft + Tender Peanut Butter Cookies | Vegan and Gluten-Free
The softest and most tender peanut butter cookies ever... and you'd never know they were vegan and gluten free unless you read this recipe! Peanut butter heaven wrapped up in pretty little crisscrossed packages. (tip: make your own oat flour by tossing rolled oats in a food processor and processing for 2-3 minutes until a fine "flour" has formed).
Ingredients
1

cup

peanut butter (you can also use 1/2 peanut butter and 1/2 almond butter)*

1

cup

brown sugar**

2

teaspoons

vanilla extract

2/3

cup

oat flour (use 1 cup if you prefer chewy cookies rather than tender cookies)

1

tsp

baking soda

1/8

teaspoon

fine salt

1/4

cup

filtered water (readers have also had success using 1/4 cup almond milk)
Instructions
Preheat the oven to 350 degrees Fahrenheit.

In a large mixing bowl, cream together the peanut butter and brown sugar for 1 minute. Add in the vanilla extract and beat for another 30 seconds.

In a separate mixing bowl, whisk together the dry ingredients (oat flour, baking soda, and salt).

While beating the peanut butter mixture, slowly add in the oat flour mixture and beat until a crumby dough forms. Add the water and continue to beat until distributed. Do not over mix.

Line two baking sheets with parchment paper.

Roll the dough into balls (about 1 1/2 - 2 tablespoons per cookie), drop onto parchment-lined pan, and flatten with a fork one way and then the other to create a crisscross pattern.

Bake for 8-10 minutes, or until just starting to turn golden at the edges (they bake FAST, so watch them carefully).

Cool completely on the pan before moving or enjoy.

Store in an airtight plastic container to keep the cookies soft and chewy.
Recipe Notes
*Nut-free option: Use sunflower butter in place of the peanut butter.
**Refined-Sugar-Free option: Use coconut sugar in place of the brown sugar.