These vegan almond butter chocolate chip cookies are also oil-free and gluten-free. Made with just six ingredients (plus salt + water), you're likely to have all the ingredients on hand. They bake up crisp on the outside with soft, chewy, and super chocolaty interiors.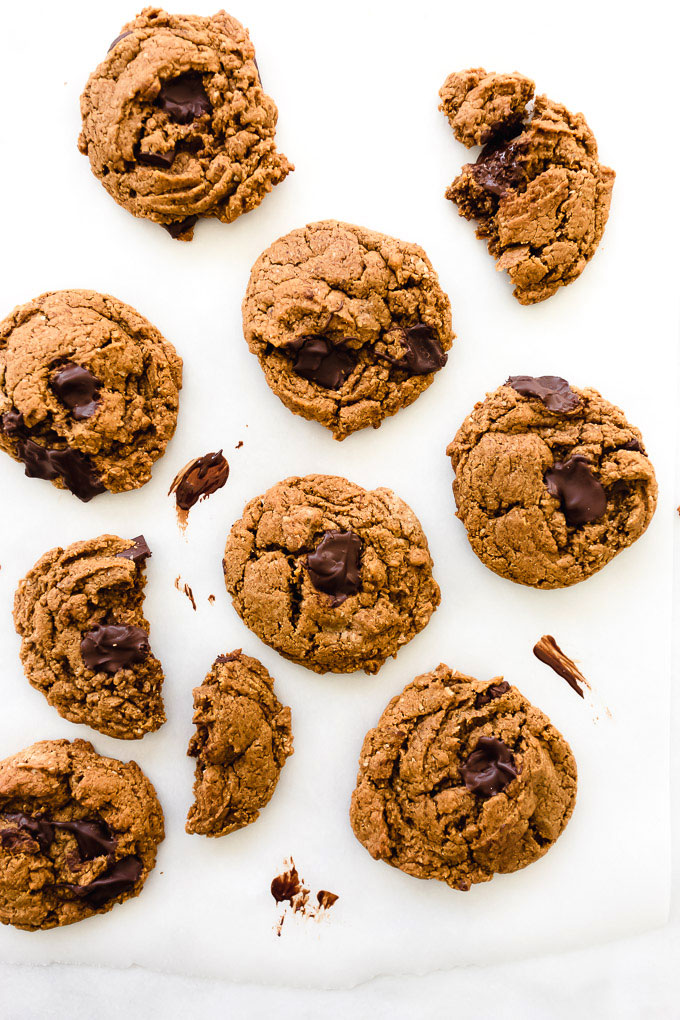 How are you?? If you have a moment to comment or email ([email protected]), I'd love to hear how things are going in your life during these unprecedented times.
It's been lovely connecting with so many of you on Instagram during these isolated times. Connection is so clearly prevailing despite the physical barriers between us.
As many of you know, I've temporarily transitioned to being in full-time mom mode for the time being so that we could do our part in fully isolating. Of course this means I have a whole lot less time to work.
I'm adoring this unexpected time with Sloane, but I do miss work so very much. For so many of us, myself included, having a creative outlet is immensely important for well being. Work is my main creative outlet.
Thankfully, Sloane also enjoys cooking. So, we've been averaging three cooking sessions a week which affords me enough of creative space to keep my mind at ease.
Speaking of work and life, there are two important updates I've been meaning to share with you.
One update I haven't been ready to share until now and the other I've continually delayed on, because it felt rather trivial and unimportant given all that's been unfolding in the world.
And yet while the world feels as if it's on pause, life continues to unfold for all of us. And I've realized it's ok, good even, to acknowledge the changes and milestones just as we always have before.
At least that's my penciled-in outlook at the moment. 📝
And so here we have it, two life updates...
I'm really building this up, aren't I?
Life Update 1.0
The first thing I want to share is that a little over a month ago, I made the decision to leave The Good Space and continue to pursue all things psychology and spirituality under my own name. Francesca (my co-founder) is now running TGS on her own.
Going forward, you can find all the writings I did for TGS on my new site—ashleymelillo.com. I've also linked the new site here in the main menu under the title of "Spirituality + Psychology" to make it easy to hop to if you're into that sort of thing. If you didn't follow TGS to begin with and have no idea what I'm talking about, no worries! I'm still in the process of determining what, exactly, my plan is beyond continuing the writings, but the Universe has been whispering, and I've been listening. ✨ If there's anything in particular you'd like to see, you know where to reach me. Also, if you'd like to follow along on Instagram, I recently started a separate account which you can find here.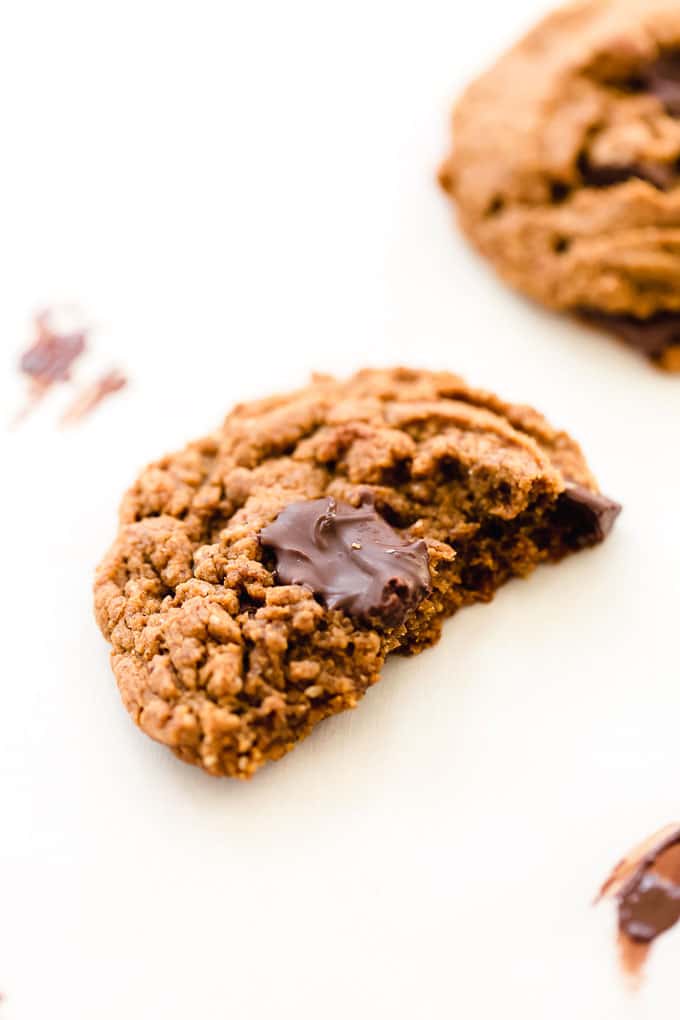 Life Update 2.0
We're expecting our second little one in October! 💗
It's still early-ish, but all has been well and steady thus far, and if something devastating happened at this point, I'd share with you even if I hadn't announced it.
When I was pregnant with Sloane, I waited until I was 18 weeks along to announce it. But waiting to share has been harder this time around. Perhaps because I've pushed myself in recent years to become more comfortable with embracing the vulnerability that joy elicits (thanks, Brené Brown).
And I don't want to live life waiting to share happy news until I'm certain the other shoe won't drop. Because there is no guarantee, there is no certainty.
And that damn shoe could always drop.
But at least for now, it's on my foot, and I'm happy to have it there.
I think that's a wrap on the news and updates. Let's chat cookies... 🍪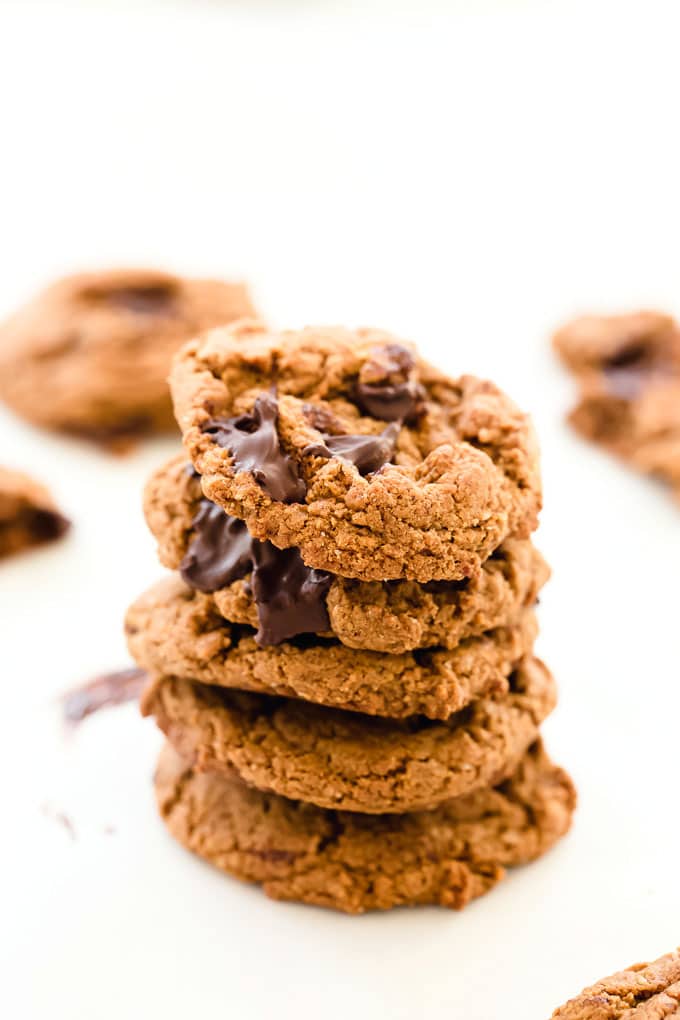 Almond Butter Chocolate Chip Cookies
These cookies originally had a grander destiny etched into their fate. The recipe was nestled into my cookbook manuscript, but I had to cut over 60 recipes from the initial draft because I had way, way, WAY too many.
Even after all the cuts, my publisher still had to add 20 additional pages to the book at the last minute during editing, and I'm sure you've noticed the petite font in the book. It was the only way to fit everything.
If I had to do it all over again, I'd either have pushed for a longer book or bigger pages (but the author only has so much control over these sorts of details) or I'd have gotten real tough about which recipes made the final cut. But at the time, each recipe felt like an important piece of my heart.
Anyway though, back to these cookies...
I fell in love with these on first bake and then continued to test, test, test, test, test them repeatedly... because that's what you do when you're writing a cookbook.
Point being: I've made these cookies countless times, and I adore them. But when push came to shove, I asked myself, "Does the world really need another chocolate chip cookie recipe taking up space in this cookbook?" And the answer was, "Nope," so I cut them.
I'd intended to share the recipe here posthaste after the book came out, but with all the hubbub and chaos of the book launch I must have forgotten. And then I apparently continued to forget for four more years until I found the recipe buried in my "tested but cut" cookbook recipe file in Evernote the other day.
Better late than never.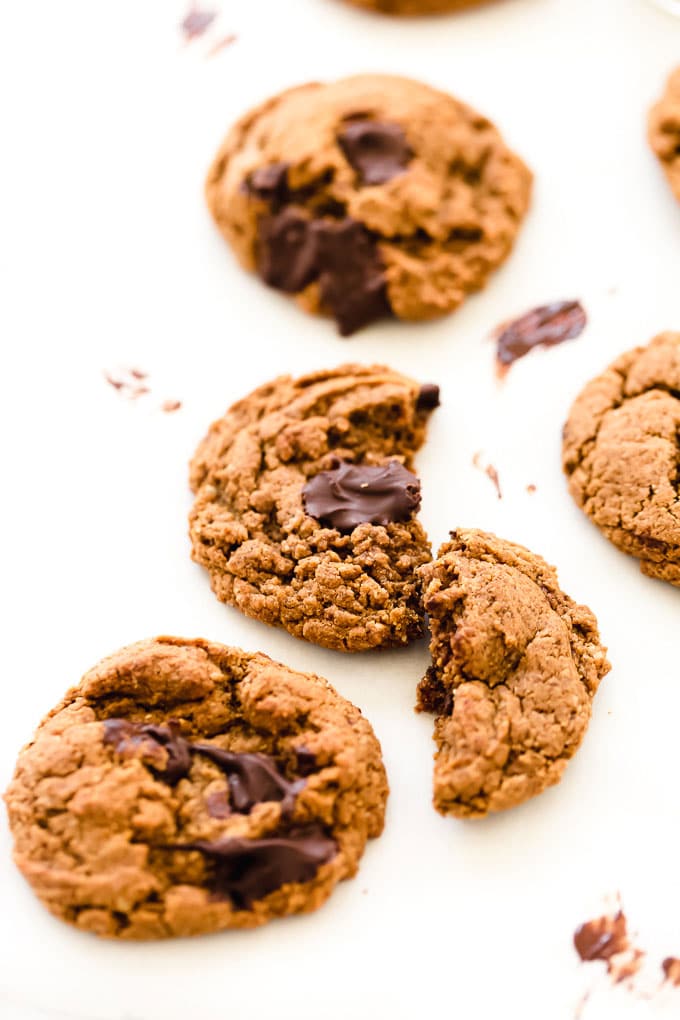 How to Make Almond Butter Chocolate Chip Cookies
These vegan almond butter chocolate chip cookies are naturally gluten-free and oil-free, and they're so, so, SO easy to make.
You'll need just six ingredients (plus water + salt):
Almond butter.
Coconut sugar.
Vanilla.
Oat flour.
Baking soda.
Chocolate chips.
You can use a hand mixture or a stand mixer. The dough comes together in less than 10 minutes, gets rolled out in about 5, and is done baking in approximately 12.
The cookies themselves are crisp on the outside with chewy-tender insides. Their flavor is nutty and super chocolaty.
I recommend adding the full ⅔ cup chocolate chips to really embrace their chocolaty nature, but feel free to taper that amount if you prefer your chocolate chip cookies a bit less chocolaty. Which hey, some people do.
Sloane on the other hand prefers to pick out the chocolate and hand me the cookie. Not complaining.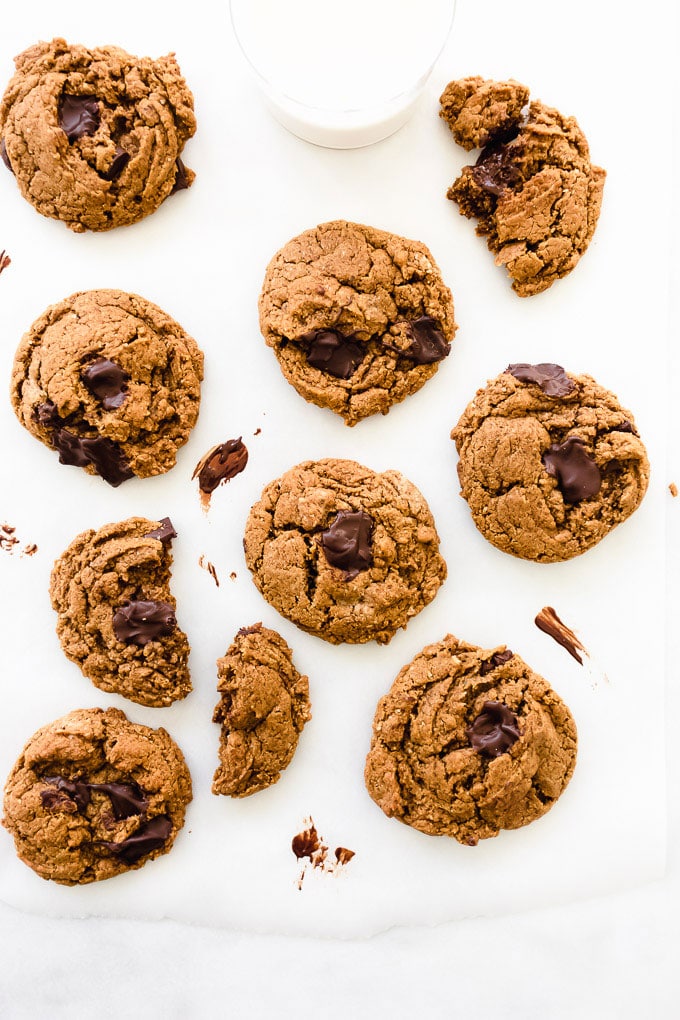 I hope you love this recipe as much as I do! 💗 If you make these vegan almond butter chocolate chip cookies, let me know! Leave a comment, rate the recipe, and don't forget to tag a photo #blissfulbasil on Instagram.
📖 Recipe
Vegan Almond Butter Chocolate Chip Cookies
These vegan almond butter chocolate chip cookies are also oil-free and gluten-free. Made with just six ingredients (plus salt + water), you're likely to have all the ingredients on hand. They bake up crisp on the outside with soft, chewy, and super chocolaty interiors.
Ingredients
1

cup

natural almond butter*, thoroughly stirred before measuring

1

cup

coconut sugar**

¼

cup

filtered water

1 ½

teaspoons

vanilla extract

1

cup

oat flour (store-bought or homemade)

1

teaspoon

baking soda

¼

teaspoon

sea salt

⅔

cup

chocolate chips or chocolate chunks (or less to taste)
Instructions
Preheat oven to 350F. Line two cookie sheets with parchment paper.

Add the almond butter and coconut sugar to a large mixing bowl, and use a hand mixer or stand mixer to cream together for 30 seconds on high. Add the water and vanilla extract and beat for another 20 seconds.

In a medium mixing bowl, whisk together the oat flour, baking soda, and sea salt. Slowly add the dry ingredients to the wet and beat until just incorporated. The dough will be oily.

Stir in chocolate chips.

Form into balls (about 2 tablespoons of dough—a cookie scoop works best for this because the dough is quite oily, but you can also use your hands), and transfer to the cookie sheets. Leave about two inches of space between each ball of dough.

Bake for 10 to 14 minutes, or until just turning golden brown on the bottom.

Let cool for 10 to 15 minutes on the pans. Then, transfer to a wire cooling rack to cool completely.

These cookies are best warm from the oven when their crispy exteriors are intact, but can be stored in an airtight container at room temperature for up to 3 days or in the refrigerator for up to 1 week.
Notes
* Nut free option: These will work with sunflower butter, BUT please keep in mind that sunflower seeds/sunflower butter react with baking soda in a bizarre but natural way and your cookies can take on a green hue because of the reaction. It's not mold and they're totally safe to eat, but just FYI! ** I haven't tested these cookies using other types of sugar, but I'd imagine other types could work. If you're brave enough to give another type of sugar a try and have a moment to share your results, I'd love to hear how it works out (and will update the notes section here to inform others). Thank you!