Sweet puréed persimmon and vanilla pudding are layered in this vegan persimmon chia pudding.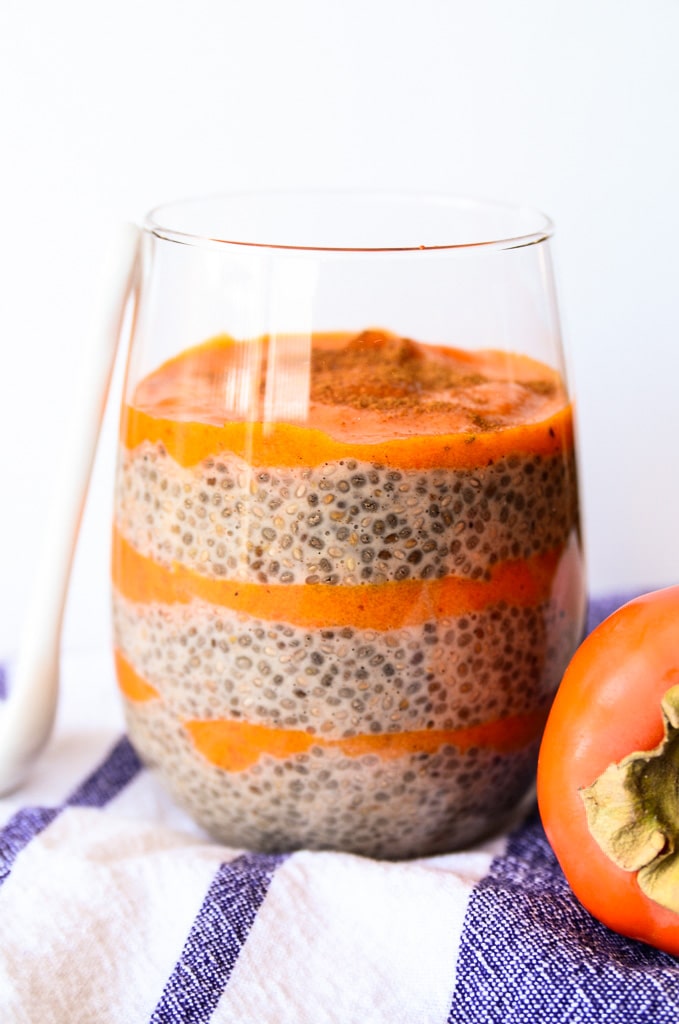 Good news, my lovely blog friends: it's persimmon season!
I rediscovered persimmons last November after maybe eating them once or twice in a "fancy" salad when I was a kid, and I'm absolutely in love with them. They're sweet, creamy, and bursting (literally, like they're about to burst open with a mere poke of the finger) with flavor. Although they look like they've tossed on a tomato costume, these orange-hued beauties are actually berries. Not even kidding. Often referred to as the "Divine Fruit," persimmons have an abundance of good-for-your-bod properties, including the following:
1| They're rich in phytochemicals, including Catechin which is a potent anti-inflammatory agent. Our bodies love anti-inflammatory foods because inflammation is a nagging, draining, pesky jerk when it wriggles its way into our bodies.
2| They have a wonderful balance of fiber (aka digestion cheerleader) and tannins (aka digestion pace-keepers) so they promote an evenly-moving digestive process.
3| They contain cancer-busting antioxidants including Vitamin A, C + K, Shibuol, Beta Carotene, Lycopene, Lutein, Zeaxanthin, Cryptoxanthin, and Betulinic Acid. Extra perk = vitamins a, c + k are also good for our eyeballs. Eat more persimmons, see more persimmons.
4| They contain copper which encourages proper absorption of iron which, in turn, improves our production of red blood cells.
5| Fun fact: persimmons are known to alleviate hiccups. Forget those scare tactics, drinking water upside-down, and altering your breathing patterns to rid yourself of pesky hiccups; eat a persimmon instead!
6| They're packed with potassium, which makes them powerful stress- and fatigue-warriors. Afternoon slump? Slice into a persimmon.
7| They're juicy and fabulous and readily available in the winter months when it's a bit trickier to find juicy and fabulous fruits.
Since persimmons are already so tasty on their own, this recipe keeps things simple and props their flavors right up on a pedestal where they belong. A simple vanilla chia pudding is layered with sweet persimmon cream (i.e., ripe persimmons blended with a pinch of cinnamon). Some might classify this as a dessert, others as breakfast. I say it's suitable for both occasions, so let your heart guide you. My heart guided me to eat this for breakfast this past Monday and let me tell you, it made the start of the week so much sweeter.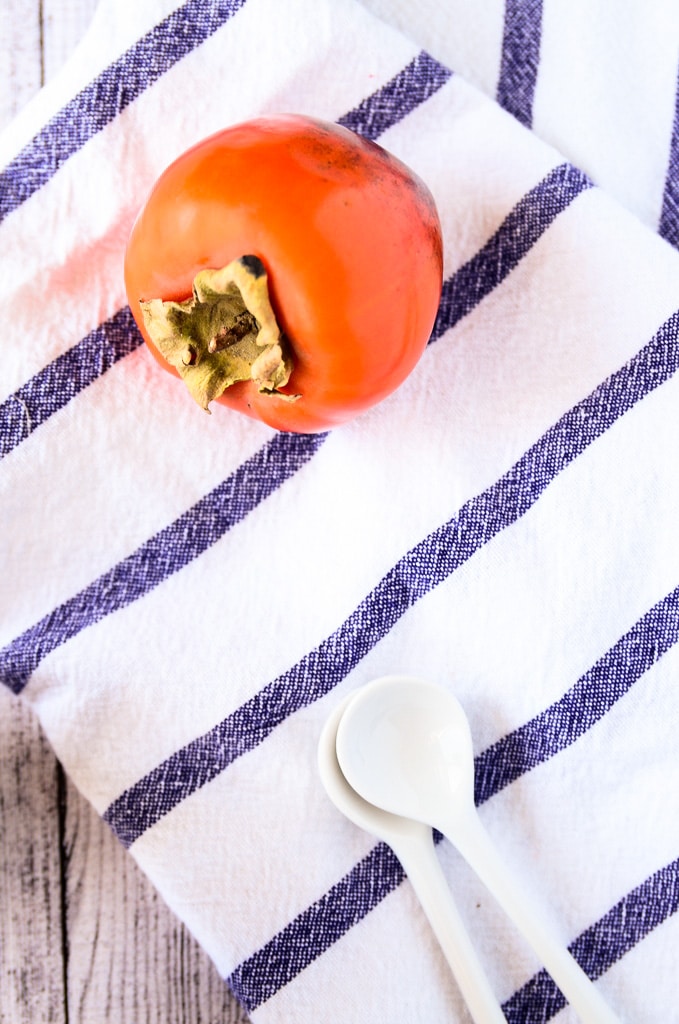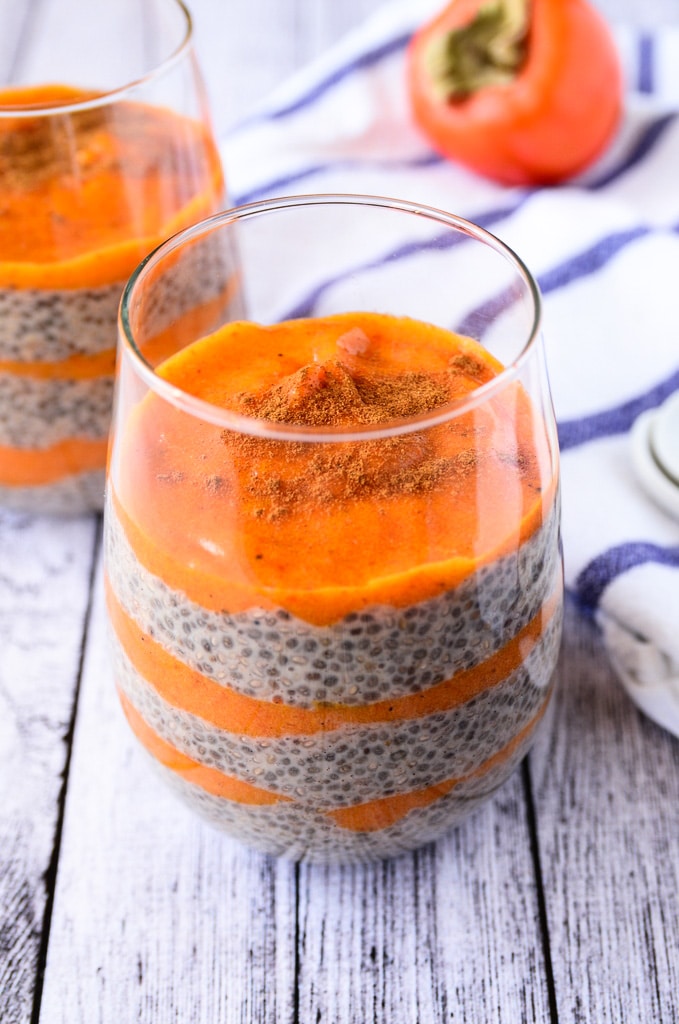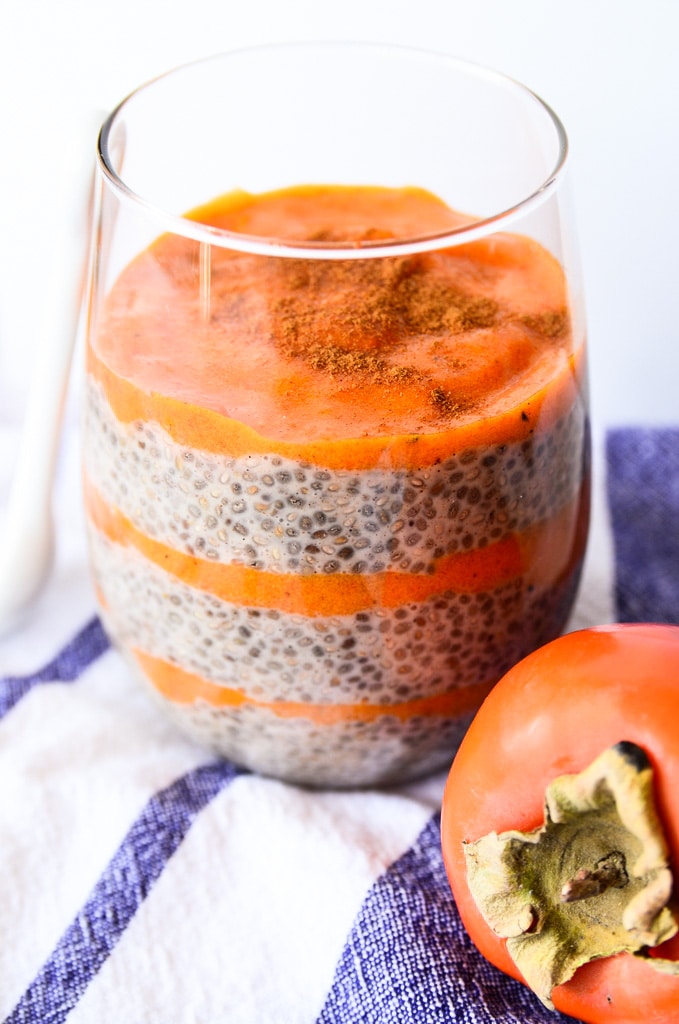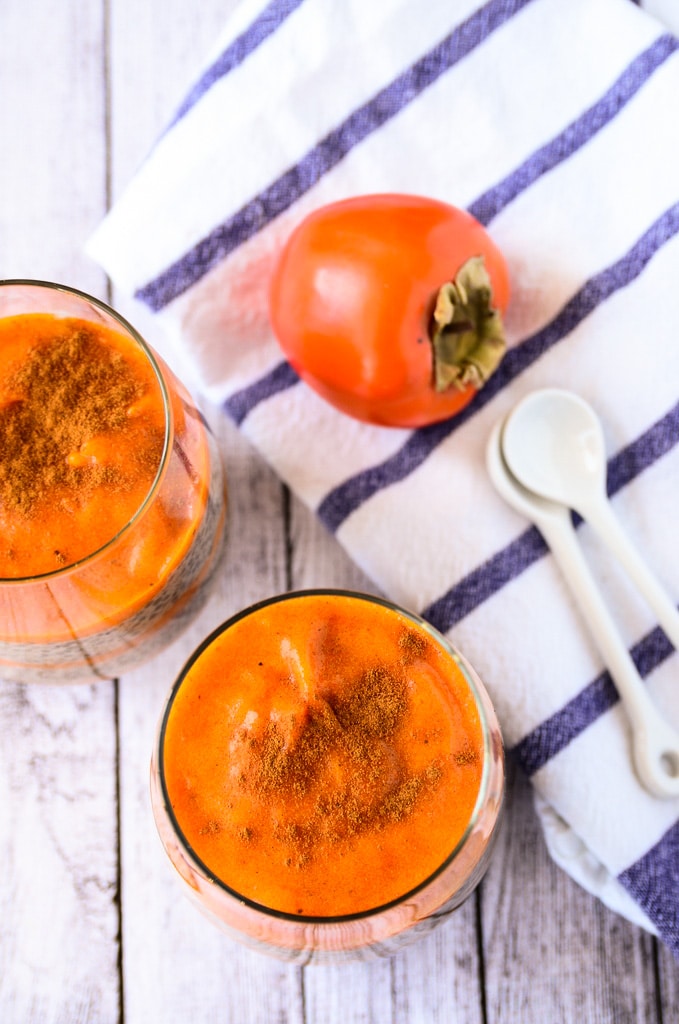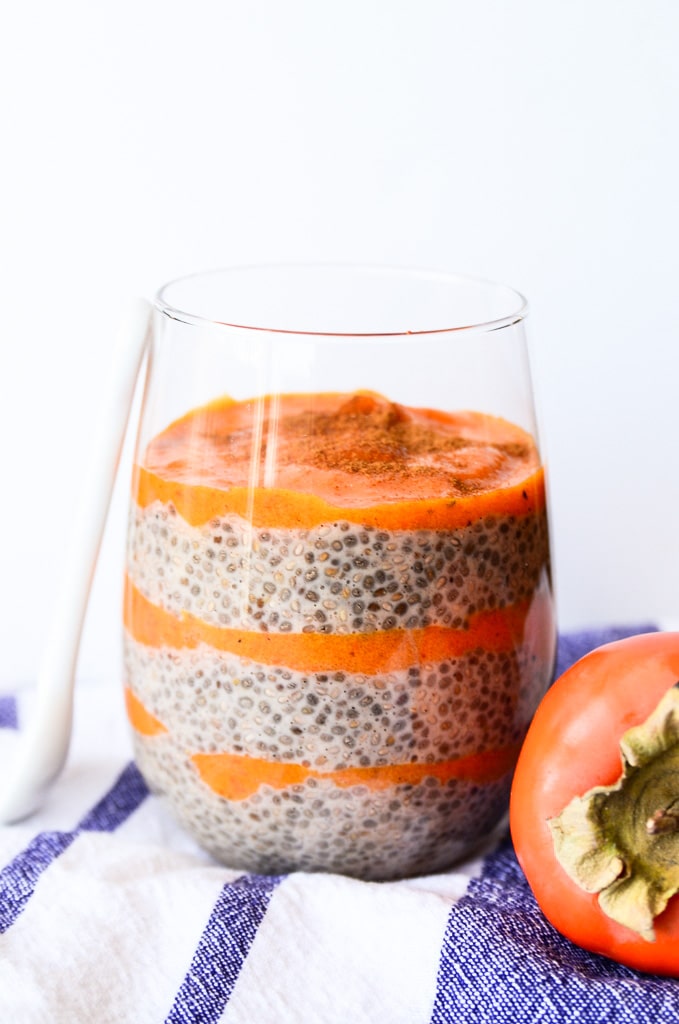 📖 Recipe
Persimmon Chia Pudding
Creamy layers of sweet persimmon and vanilla chia pudding create a dessert, snack, or breakfast that is delicious and filled with health-giving goodness.
Ingredients
For the Vanilla Chia Pudding
2

cups

vanilla coconut milk or almond milk

½

cup

+ 2 tablespoons chia seeds

1

vanilla bean or 1½ teaspoons vanilla extract

2 ½

tablespoons

pure maple syrup

½

teaspoon

ground cinnamon

pinch ground cardamom
For the Persimmon Cream
3

very ripe persimmons*

¼

teaspoon

ground cinnnamon
Instructions
To Make the Vanilla Chia Pudding
Add nut milk, chia seeds, vanilla bean seeds or extract, maple syrup, cinnamon, and cardamom to an airtight container. Whisk and refrigerate overnight or for at least 8 hours.
To Make the Persimmon Cream
Once your chia pudding is ready, de-stem your persimmons and add them to a food processor along with the cinnamon and process into a smooth cream.

In four small glasses or two larger glasses, create layers of chia pudding and persimmon cream starting with the pudding. I did 6 total layers or 3 layers of each.

Enjoy and refrigerate leftovers!
Notes
*Persimmons are ripe when they're extremely soft to the touch throughout the entire berry. Wait until they are fully ripened so that they reach their full flavor potential and blend easily.