Ever since Serial nabbed my attention (and everyone else's) in early December, I've been obsessed with podcasts. I have an hour round-trip commute to work each day, so listening to them has splattered my once-deemed-monotonous daily drives with feelings of productivity and inspiration.
There's one called The One You Feed that I've fallen particularly in love with because it offers a fresh, realistic, and approachable perspective on life. The entire series is inspired by this parable:
An old grandfather told his grandson: "My son, there is a battle between two wolves inside us all. One is evil. It is anger, jealousy, greed, and resentment. The other is good. It is joy, love, hope, humility, kindness, empathy, and bravery."
The boy thought about it, and asked, "Grandfather, which wolf wins?"
The old man quietly replied, "The one you feed."
Let that settle for a moment.
I've heard those words repeated so many times over the last two months as I've worked my way through about half of the 60+ podcasts in the series, and each time it resonates a little bit stronger with me.
The idea that good and evil reside within each of us, and it's the choices we make -- day in and day out -- that determine which one of those sides is prevailing at any given moment? I find this to be such an empowering message and also a calming one. Empowering because it suggests that we can shift the battle at any moment and calming because it normalizes those evil feelings that we all grapple with but try so hard to push away. And you know what happens when we try to push them away? They grow bigger and stronger. Because somewhere in the midst of all that denial is a whole lot of evil wolf food.
I've been thinking about this idea of good wolf/evil wolf so much over the past two months that I figured it was about time I mention it on the blog. I'm not sure if any of you have ever felt this way, but I've tended to harbor guilt when I've experienced feelings of anger, resentment, jealousy, etc. I believed those feelings were wrong and that a kind person, which I consider myself to be, doesn't experience them. In lieu of acknowledging those evil yet incredibly normal emotions, I've often opted to push them aside in hopes that doing so might dissolve them and that only the good, happy-go-lucky emotions would prevail. Totally not what happens! Instead of producing more goodness, that cycle only adds an additional layer of evil (i.e., guilt) to an already counterproductive and oppressed style of coping. This podcast reminded me that it's not just important but necessary to experience the depths of all emotions -- the good, the bad, the happy, the sad -- because by fully experiencing each we're in touch with our own reality. And I'm fairly certain the good wolf enjoys keeping it real.
What does the above have to do with Vanilla Chai Chia Pudding?
A. Everything
B. The good wolf likes being fed Vanilla Chai Chia Pudding
C. Nothing
D. B and C
If you guessed D, you're probably right. In all seriousness though, if you have some free time or hefty commute time on your hands, give The One You Feed a listen. I've skipped around quite a bit, but my favorite episodes have been 06 and 54. But every one is uniquely inspiring, and I find myself nodding my head in amazed agreement at the practicality and truth of the strategies, suggestions, and notions offered up in each interview.
Okay, enough with the deep stuff, let's float on down to the recipe for this sweet and spiced vanilla chai chia pudding. To make this snack/dessert, you'll simply add nut milk, chia seeds, maple syrup, vanilla, cinnamon, ginger, cardamom, cloves, and black pepper to a container. After a quick whisk to combine, you'll pop it in the refrigerator for four hours or overnight so that the chia seeds have time to expand and thicken the mixture. Then, pour into glasses or bowls, top with coconut whipped cream (optional), and enjoy.
This one is sweet enough for dessert, healthy enough for a snack, and delicious enough for a good wolf.
And on that cheese-tastic note, I hope you all have an awesome, fun-filled weekend!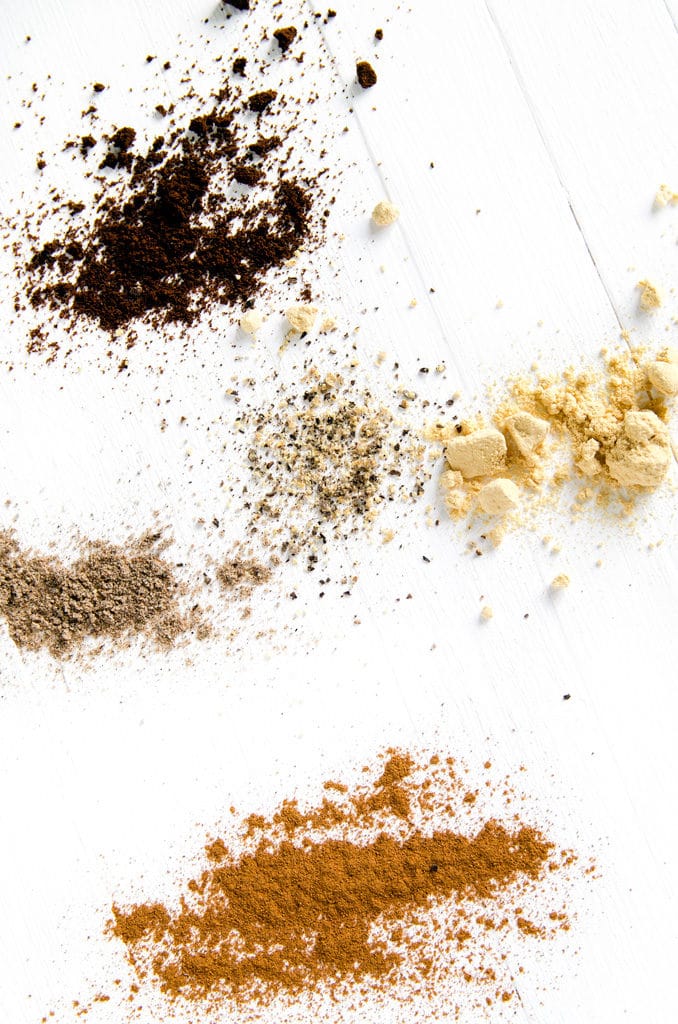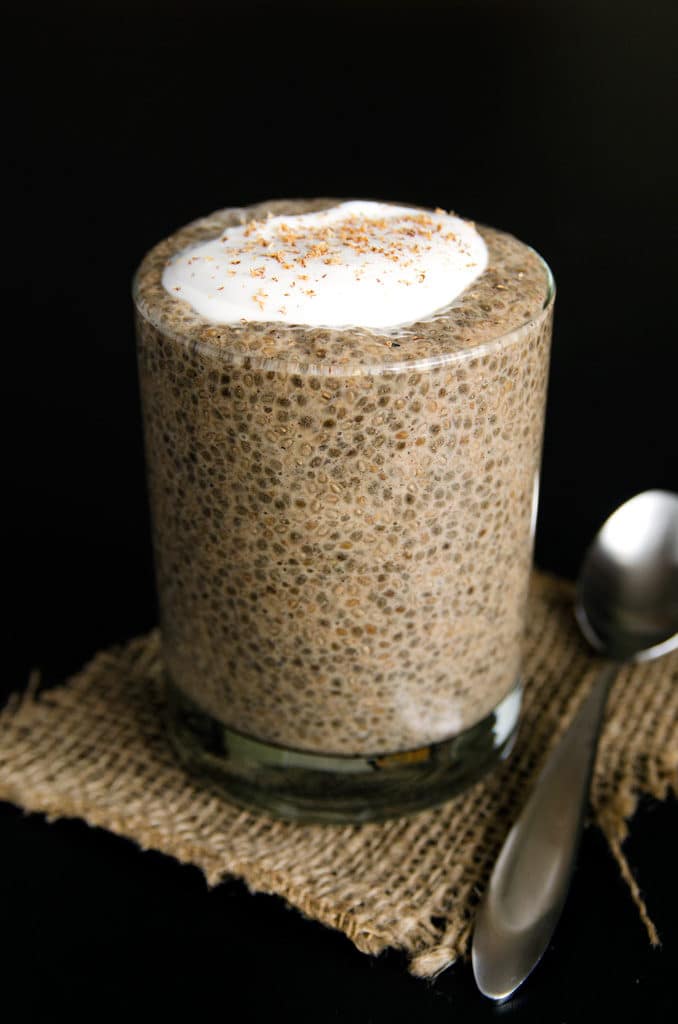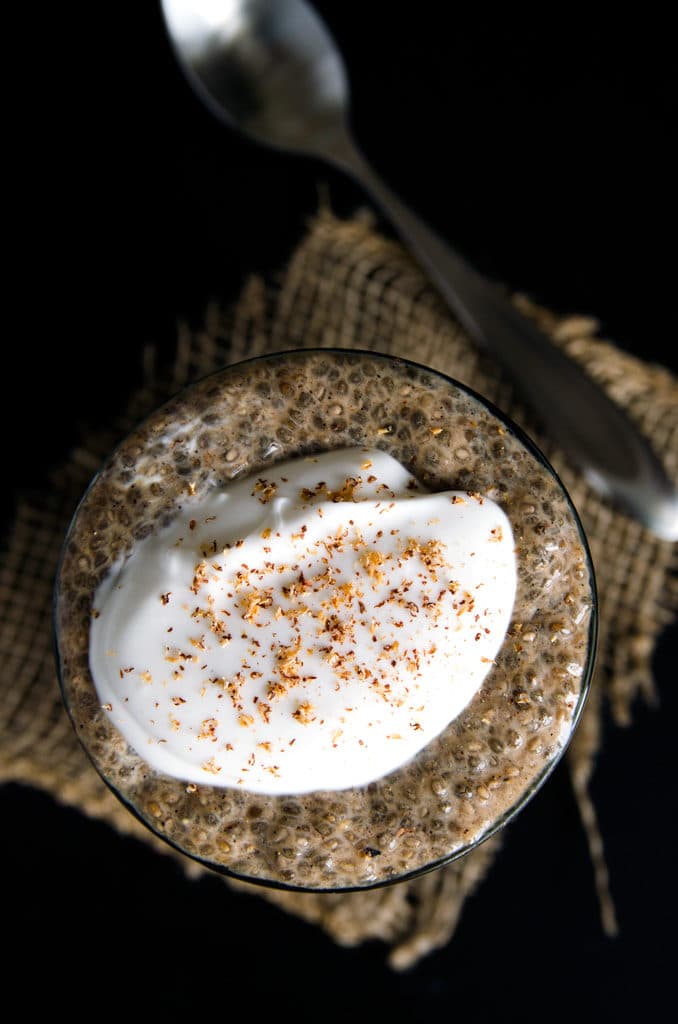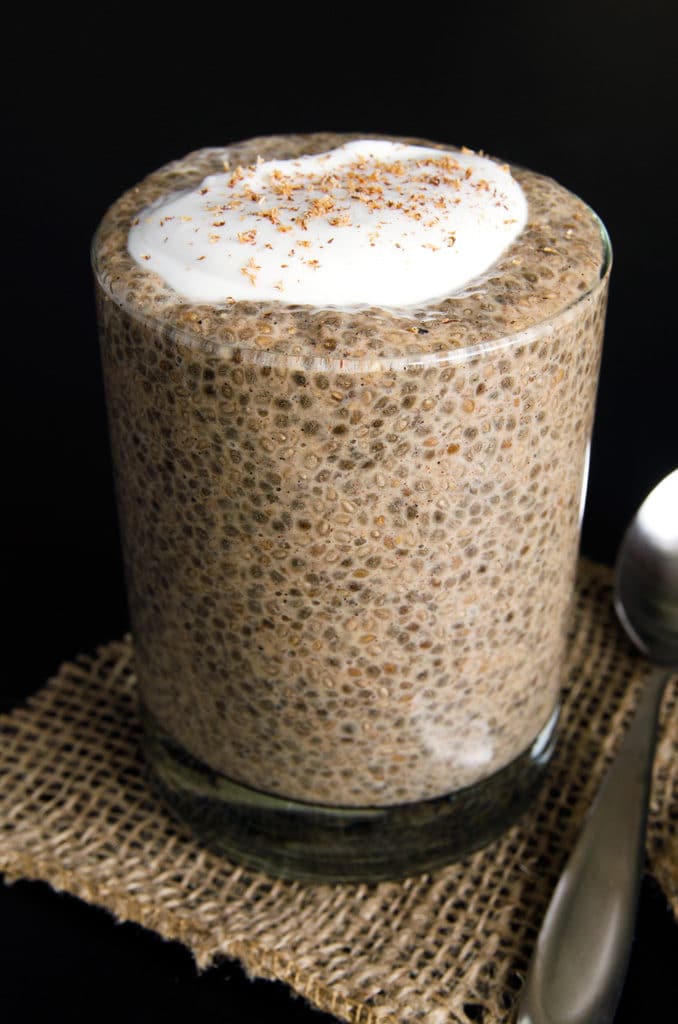 📖 Recipe
Vanilla Chai Chia Pudding (vegan, gluten-free)
Sweet vanilla and chai spices are whisked into nutrient-rich chia pudding to create a spiced pudding. This chia pudding makes an excellent snack or healthy dessert!
Ingredients
1 ½

cups

almond or coconut milk

¼

cup

+ 2 tablespoons chia seeds

2 ½

tablespoons

pure maple syrup

2

teaspoons

pure vanilla extract or the seeds of 1 vanilla bean

½

teaspoon

ground cinnamon

½

teaspoon

ground ginger

¼

teaspoon

ground cardamom

pinch to ¼ teaspoon ground cloves or to taste

⅛

teaspoon

freshly-ground black pepper
Instructions
Add all ingredients to an airtight contain, and whisk together until incorporated.

Refrigerate for at least 4 hours, but preferably overnight.

Divide between two glasses or bowls, and top with coconut whipped cream, if desired.

Serve and refrigerate leftovers.