These deliciously nutty raw almond butter cookies are easy to make and contain a powerhouse of feel-good, nourishing ingredients. Think: skin-nourishing vitamin E, calcium, iron, and fiber!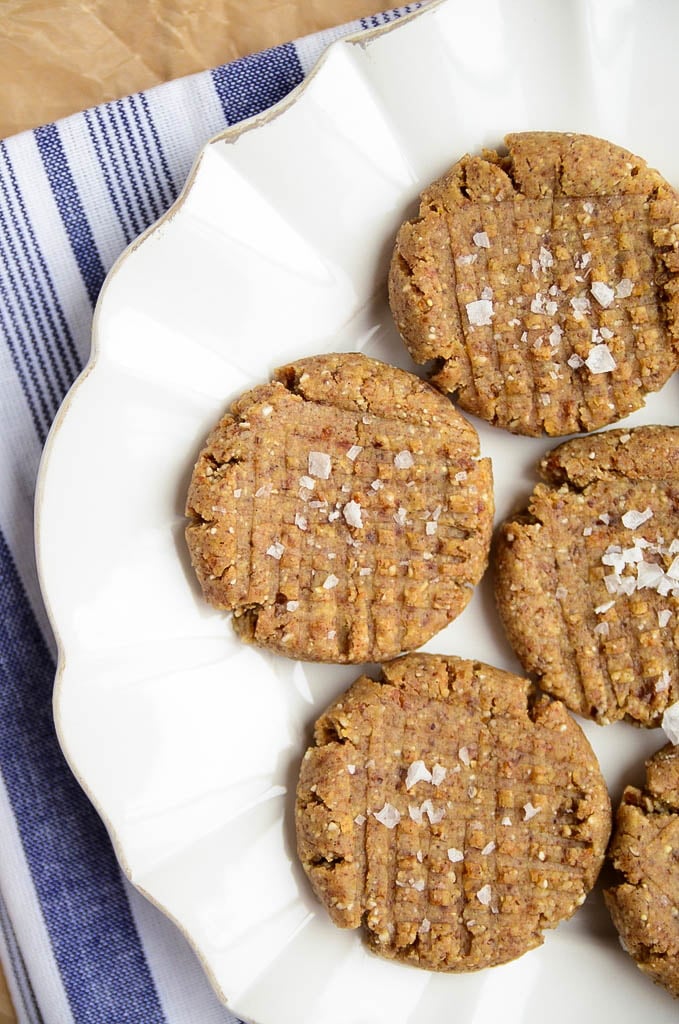 Happy St. Patrick's Day and happy Monday!
The latter phrase is typically the last thing most of us want to hear/read/say when our alarms startle us back to reality after a weekend of relaxation, but I find that when I write it out it actually makes me feel kind of excited to kick off the work week.
I hope you all had a fantastic weekend filled with friends, family, and lots of luck + laughter.
In preparation for being out of town in a few weeks, I spent much of the weekend creating recipes, photographing, and editing.
If you would have seen me at 4pm on Saturday afternoon, you would have found me in yoga clothes covered in coconut shreds, raw cacao, tomato sauce, cumin, and watermelon.
Don't worry, none of my upcoming recipes incorporate all of those ingredients at once.
I hope I'm not disappointing those of you who might have been looking forward to a recipe of grilled watermelon sprinkled with cumin and covered in a coconut-cacao tomato sauce. There's about a 1% chance that recipe might actually be delicious, but I'm not willing to bet the luck of my Irish heritage on it this week.
I've been saving this cookie recipe for over a week and a half, and there is no good reason why! It was a case of momentary cookie recipe hoarding, and it just wasn't right.
Since these peanut butter cookies have been a huge and humbling hit, I wanted to create a raw nut butter cookie with similar characteristics (i.e., tender, soft, extremely nutty, with charming hints of vanilla). I'm looking forward to trying this recipe with raw peanut butter, as well, but for the time being I've fallen in love with this raw almond butter variation.
Rather than using oat flour like my vegan + gf peanut butter cookies call for, this recipe incorporates raw buckwheat groats.
What in the world are buckwheat groats?
Don't be fooled by their name; buckwheat groats have nothing at all to do with wheat and are completely gluten-free.
These heart-shaped little grain-like seeds come from a plant in the rhubarb family. Although they're not a grain, they function like one but surpass nearly all other grains in terms of their healthfulness and superfood qualities.
The protein-to-amino acid ratio found in buckwheat makes it the most effective cholesterol-lowering food studied, to date*. It's also known for stabilizing blood sugar levels, reducing hypertension, and strengthening capillary walls.
All of that goodness plus they're packed with calcium, iron, and vitamins E + B. Powerful little beige and green seeds they are. As I noted in this oatmeal post, you can find buckwheat groats in the bulk section at Whole Foods.
Back to these vegan almond butter cookies.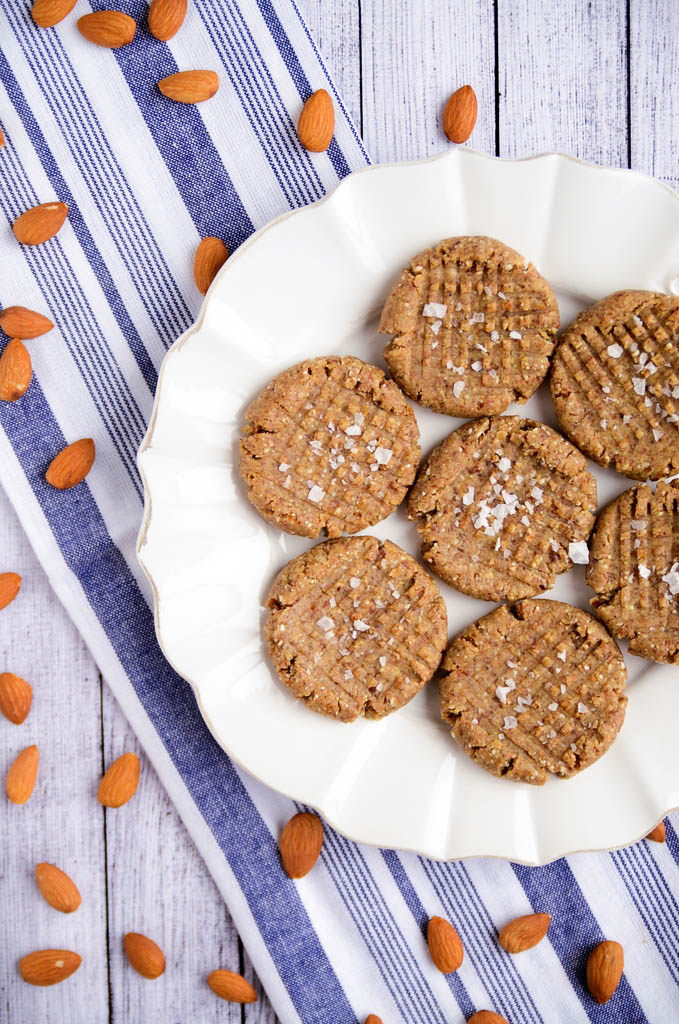 To make these raw cookies, buckwheat groats are processed into a flour and blended with raw almond butter, dates, vanilla bean, and coconut butter.
The mixture is then rolled into balls, pressed into cookies, sprinkled with sea salt, and popped into the freezer.
The result is altogether out of this world.
These cookies are some of my favorites ever.
They're nutty, creamy, crunchy, salty, tender, and delectable.
Plus, they're full of wholesome and good-for-you ingredients. I made sure to have a handful of non-vegans taste-test these, and they also fell in love. They're truly a cookie that everyone can enjoy and feel good about eating.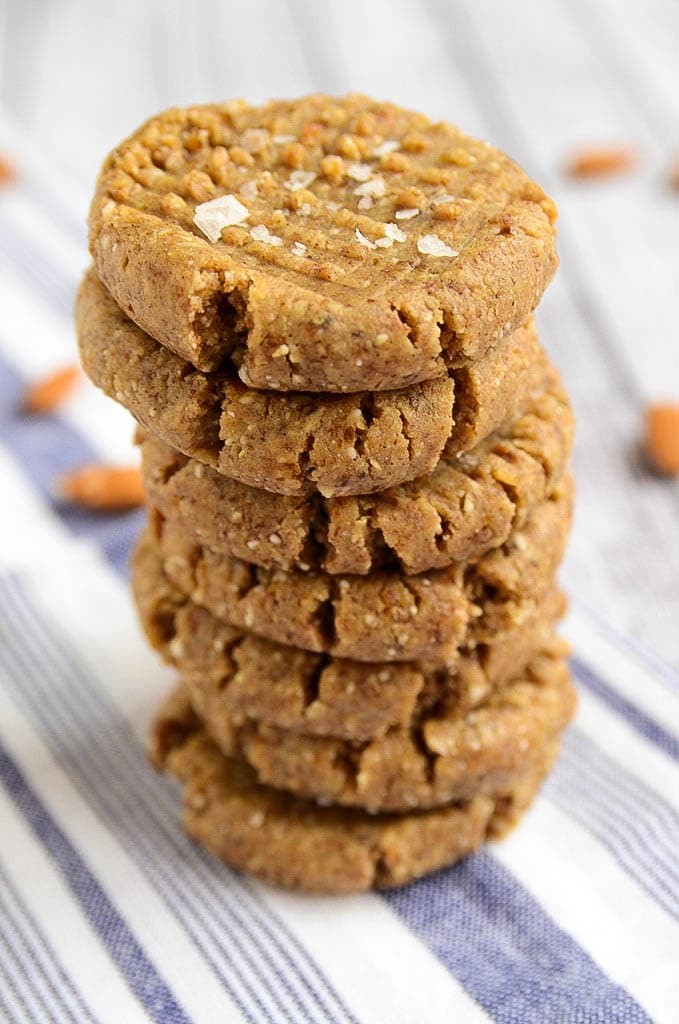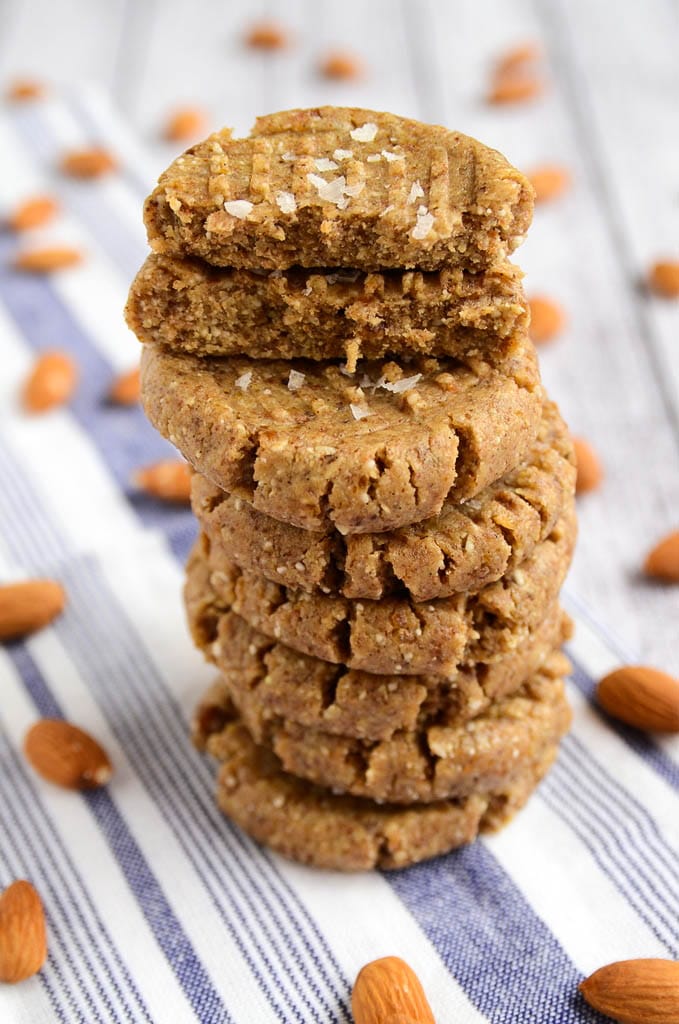 📖 Recipe
Raw Almond Butter Cookies
These deliciously nutty raw almond butter cookies are easy to make and contain a powerhouse of feel-good, nourishing ingredients. Think: skin-nourishing vitamin E, calcium, iron, and fiber!
Ingredients
⅔

cup

buckwheat groats

¾

cup

raw almond butter

1

cup

pitted medjool dates

1

vanilla bean, scraped*

2

tablespoons

coconut butter

Large flake sea salt for garnishing

(optional)
Instructions
Add the buckwheat groats to a food processor and process for 3-4 minutes or until a fine flour forms. It's okay if the flour isn't perfectly fine -- larger pieces will add more texture to your cookies.

Add in the raw almond butter, dates, caviar from the vanilla bean, and coconut butter. Pulse several times and then process for 1-2 minutes.

Roll the mixture into 14 balls and drop onto a cookie sheet lined with parchment paper. Using a fork, press the balls into cookies while making a crisscross pattern. Sprinkle the cookies with large grain sea salt, such as Maldron.

Pop the cookie sheet in the freezer for 20-30 minutes to set the cookies. Remove from freezer and indulge!

You can store the cookies in either the freezer or refrigerator. The freezer will add a snap when biting in and the refrigerator will keep the cookies firm but tender.
Notes
*Substitute a splash of pure vanilla extract if you don't care about keeping this recipe raw.
*http://www.oprah.com/health/Buckwheat-Dr-Perricones-No-5-Superfood