These vegan chorizo breakfast tacos are spicy, savory, warm, filling, and incredibly satisfying. The chorizo itself is made from a combination of grated cauliflower, sun-dried tomatoes, and a handful of spices. For real.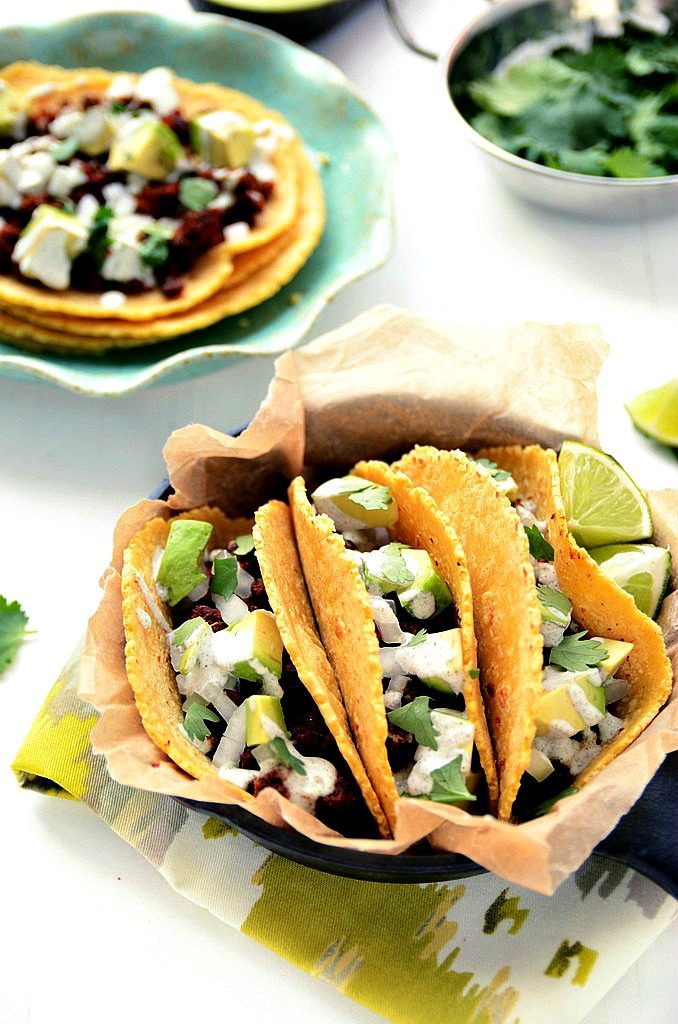 Originally, I had planned to make lentil chorizo breakfast tacos, but the idea of swapping lentils for cauliflower popped into my head while I was driving home from work one day. I figured it was a long shot and would likely result in huge flop that I would have to re-work over and over again until I eventually threw in the towel, but it was worth a try.
By some sort of vegan cooking miracle, this cauliflower chorizo came together on the first try, and I about fell over when I tasted it. It has the tender, non-chewy texture of chorizo, and the spices offer a rich, complex, and savory flavor profile just like the real thing.
To make the filling, cauliflower florets are finely grated by hand or in a food processor. Then, sundried tomatoes that have been packed in oil are pulsed into the mixture to add texture and heartiness. A whole bunch o' spices are tossed together in a bowl, and then the cauliflower and sundried tomato mixture gets folded into that spicy goodness. You'll massage the spices into the cauliflower mixture with your hands, and I'll be completely honest: it resembles raw ground meat in terms of texture and look (see below). Both strange and fascinating at the same time.
After you've mixed the spices in, you'll heat a bit of olive oil in a large skillet and add the mixture into the pan. You'll cook the "chorizo" for 30-35 minutes until it's crumbly and browned. Much of the liquid will cook out of the crumbles, but you want to maintain some moisture. Rather than a chewy or crunchy texture, you'll be left with moist -- again, this word makes me anxious -- crumbles that are full of flavor.
To serve these tasty breakfast tacos, you'll scoop the cauli-rizo into warm corn tortillas and top with a bit of onion, avocado, hemp seed sour cream, cilantro leaves, and a spritz of fresh lime juice.
I can't quite get over these breakfast tacos. They're my new favorite Sunday brunch food, and I'm in love with the layers of spices in the cauli-rizo.
These tacos take the word "satisfying" to a whole new level. Yum.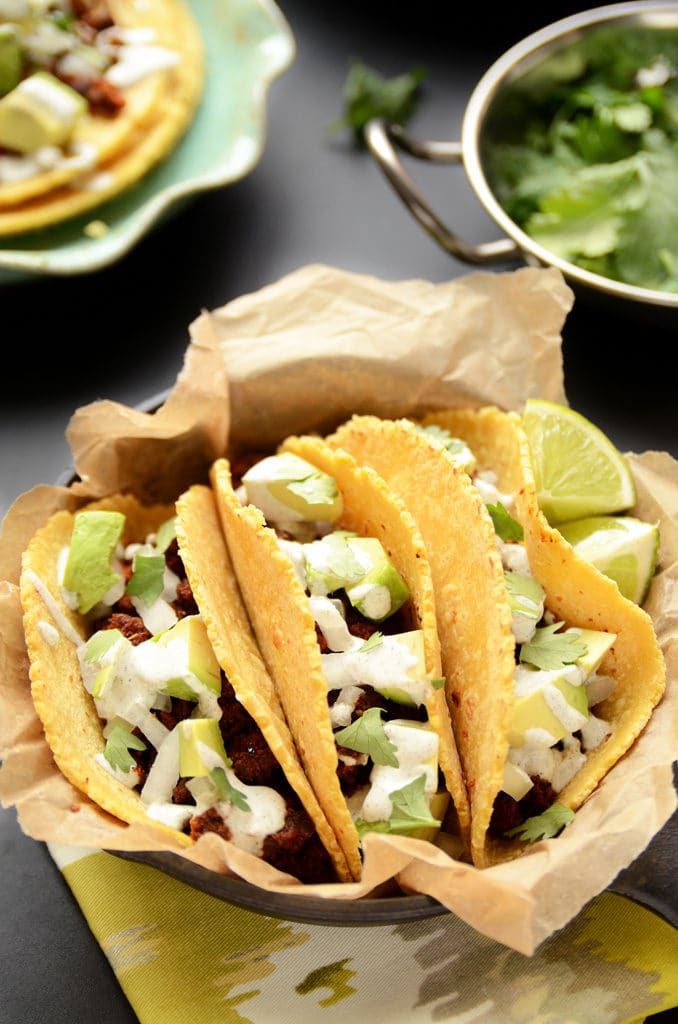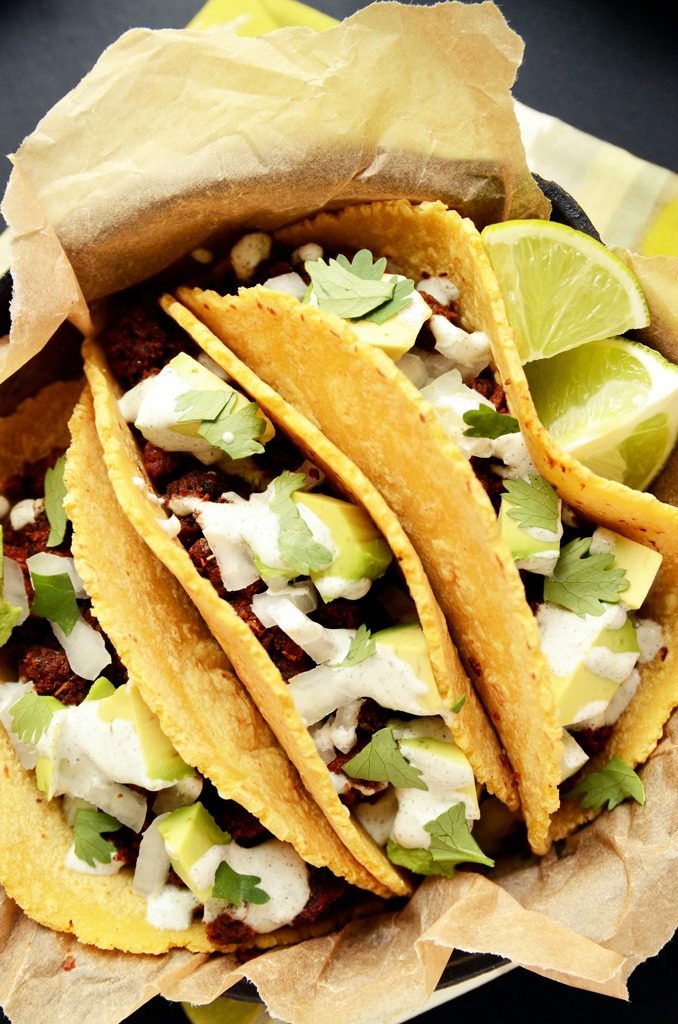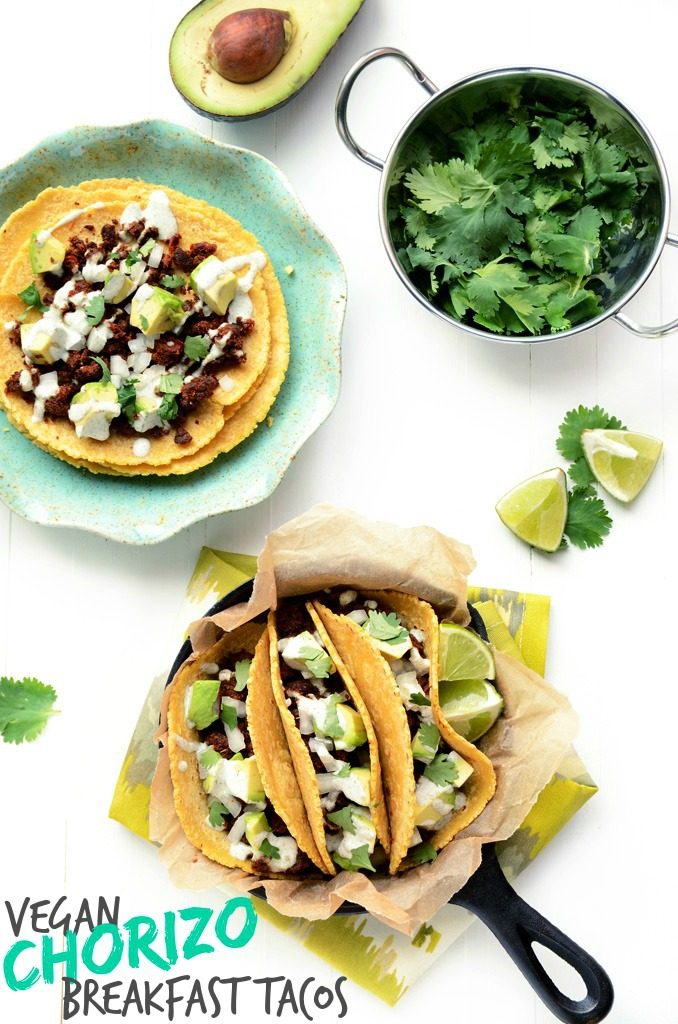 📖 Recipe
Vegan Chorizo Breakfast Tacos | Made with Cauliflower
Grated cauliflower and sundried tomatoes are tossed in a variety of spices and cooked into a crumbly, browned mixture. The tasty cauli-rizo is scooped into warm corn tortillas and topped with onion, avocado, hemp seed sour cream, cilantro, and a spritz of fresh lime juice. The perfect weekend brunch tacos.
Ingredients
For the Cauliflower Chorizo
1

medium head of cauliflower, trimmed and cut into florets

½

cup

packed sun-dried tomatoes (in oil)

1

tablespoon

paprika

1 ½

teaspoons

garlic powder

½

teaspoon

plus ⅛ teaspoon sea salt or to taste

1

teaspoon

ground coriander

1

teaspoon

dried oregano

½

teaspoon

cumin

½

teaspoon

turmeric

½

teaspoon

dried thyme

¼

teaspoon

cayenne pepper

⅛

teaspoon

ground cinnamon

1

tablespoon

olive oil
For the Hemp Seed Sour Cream
½

cup

hemp hearts

⅓

cup

water

2-3

teaspoons

apple cider vinegar or to taste

1 ½

teaspoons

fresh lime juice

¼

teaspoon

sea salt
To Assemble
8

corn tortillas

½

white onion, finely diced

½

avocado, cubed or sliced

⅓

cup

cilantro leaves

1

lime, sliced into wedges
Instructions
To Make the Cauliflower Chorizo
Finely grate the cauliflower florets by hand or using a food processor. If you use a food processor, do NOT use the grater attachment. Instead, add the cauliflower florets to the bowl of the food processor and pulse until the cauliflower is finely grated.

Pack the sundried tomatoes into a measuring cup, press down with your fingers, and drain off excess oil. Add the sundried tomatoes to the food processor and pulse 10-20 times to incorporate.

Add the paprika, garlic, sea salt, coriander, oregano, cumin, turmeric, thyme, cayenne pepper, and cinnamon to a large mixing bowl. Add the cauliflower mixture to the bowl and use your hands to massage the spices into the mixture.

Heat olive oil in a large nonstick skillet over medium-high heat. Add in the cauliflower mixture and cook for 30-35 minutes or until crumbly and browned, stirring every few minutes but more frequently in the last 10-15 minutes of cooking. Also, you may need to reduce the heat to medium toward the end of cooking to prevent burning. The "chorizo" is ready once the mixture is crumbly and browned.
To Make the Hemp Sour Cream
Add the hemp hearts, water, apple cider vinegar, lime juice, and sea salt to a high-powered blender. Blend on high for 2-3 minutes or until smooth and creamy. Pour into a jar or bowl and refrigerate until ready to use. It will thicken as it cools.
To Assemble the Tacos
Heat your corn tortillas in a small skillet for 20 seconds on each side to soften.

Scoop the "chorizo" into the tortillas, top with onion, avocado, cilantro leaves, hemp seed sour cream, and a spritz of fresh lime juice.

Serve immediately and refrigerate leftovers.
Notes
*You can substitute pre-made vegan sour cream for the hemp seed sour cream if you prefer.