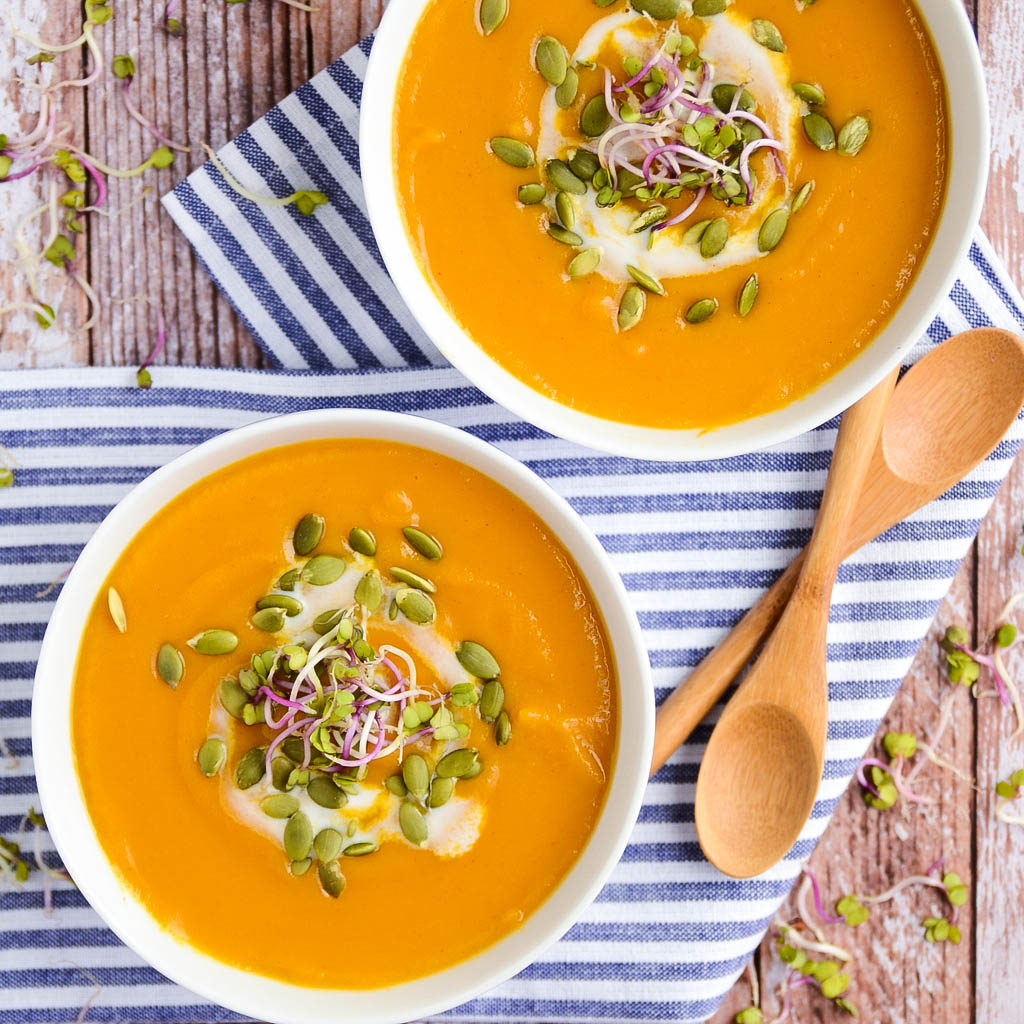 There are so many ways to describe the awesomeness of this soup, but I'll start with silky, creamy, warm, luxurious, sweet, beautiful, savory, and satisfying. This is contentment in a bowl. It's one of those meals that will bring a smile to your face and add a spring to your step. It's overflowing with good-for-your soul (and health) ingredients, and its bright persimmon hue makes me feel like I'm gazing into a bowl of sunshine. Do you feel the sunshine, too?
This soup is made with a base of butternut squash, sweet potatoes, and a dash of green apples. Warm and sassy spices are layered one after the other to create a complex flavor profile, and a splash of coconut milk sends the creaminess factor through the roof. I strongly recommend topping this bowl of plant-based goodness with pepitas and radish sprouts. Why? Because they're pretty to look at and up the health factor just one more notch.
I hope you all have a wonderful, sunshine-filled weekend! Chicago has graced us with an above-freezing Friday in what appears to be some sort of apology for the reprised winter blast we endured on Wednesday. I'll take it, Chicago. I'll take it.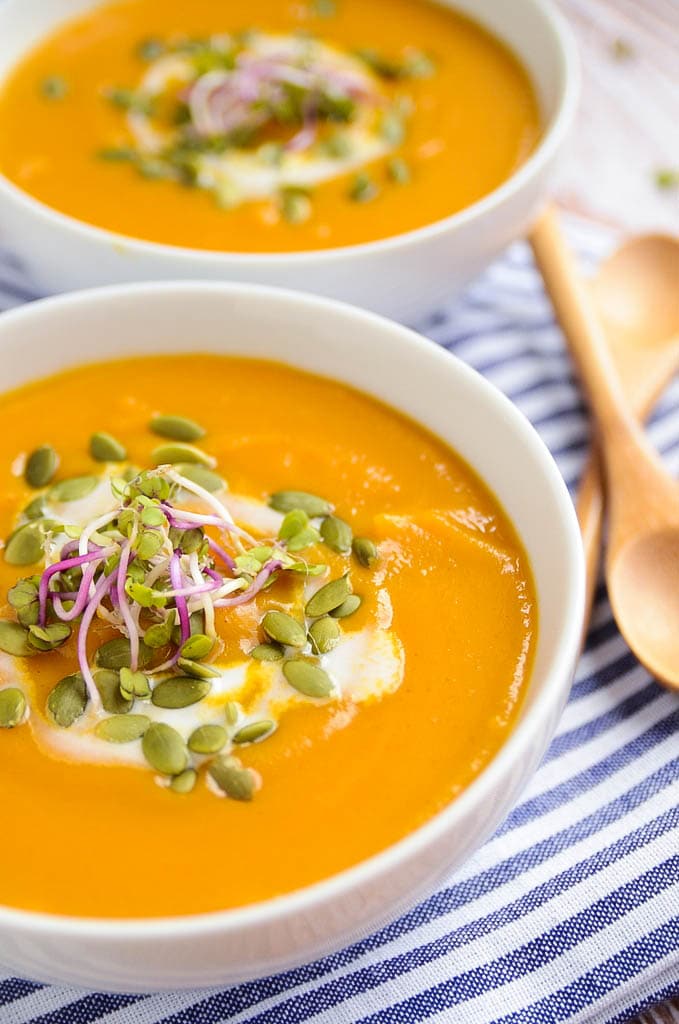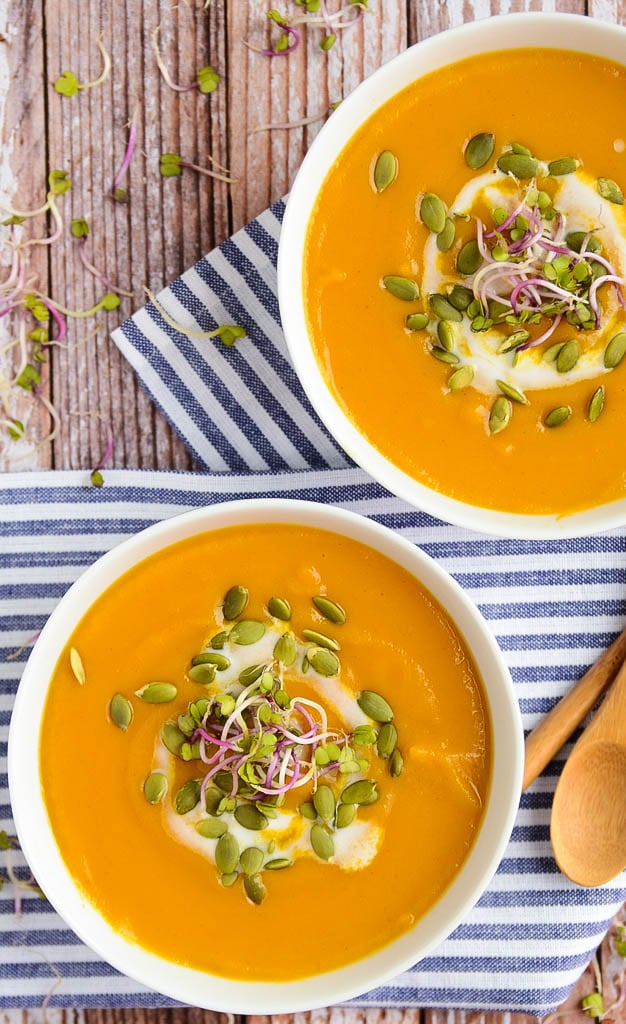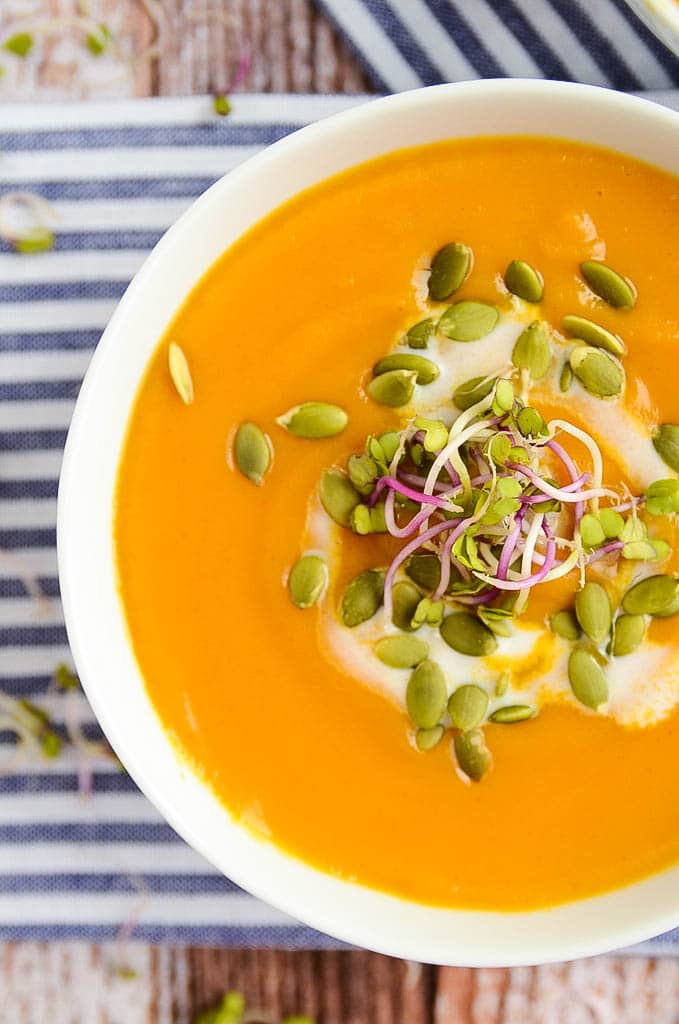 Butternut Squash + Sweet Potato Soup
Ingredients
1 tablespoon coconut oil
1 yellow onion, diced
1 medium butternut squash, peeled and cubed (5-6 cups)
1 medium sweet potato, peeled and cubed (1 cup)
1 green apple, peeled, cored, and cubed
3 cups low-sodium vegetable broth
1 teaspoon cinnamon
1/2 teaspoon curry powder
1/4 teaspoon ground ginger
pinch nutmeg
1/2 cup light coconut milk
1 teaspoon sea salt
optional toppings: pepitas and radish sprouts
Instructions
Heat coconut oil in a dutch oven or large stock pot over medium-low heat. Add onion to pot and cook until translucent (5-7 minutes).
Add in the butternut squash, sweet potato, apple, vegetable broth, cinnamon, curry powder, ginger, and nutmeg. Gently stir.
Turn up the heat to medium-high, cover, and cook for 20-25 minutes or until veggies are fork-tender. Turn off heat.
Using an immersion blender, begin to pureé the soup, adding in the coconut milk and sea salt after a few minutes. (be patient as it will take 5-8 minutes to get your soup silky smooth depending on the strength of your immersion blender).
Serve warm and topped with pepitas and radish sprouts, if desired.
Store leftovers in refrigerator.