These southwest vegan spring rolls with smoky chipotle sauce are packed with veggies and boast the most satisfying range of textures and flavors. From sweet to zesty, juicy to crunchy, there's a little something for everyone wrapped up in these plant-powered rolls.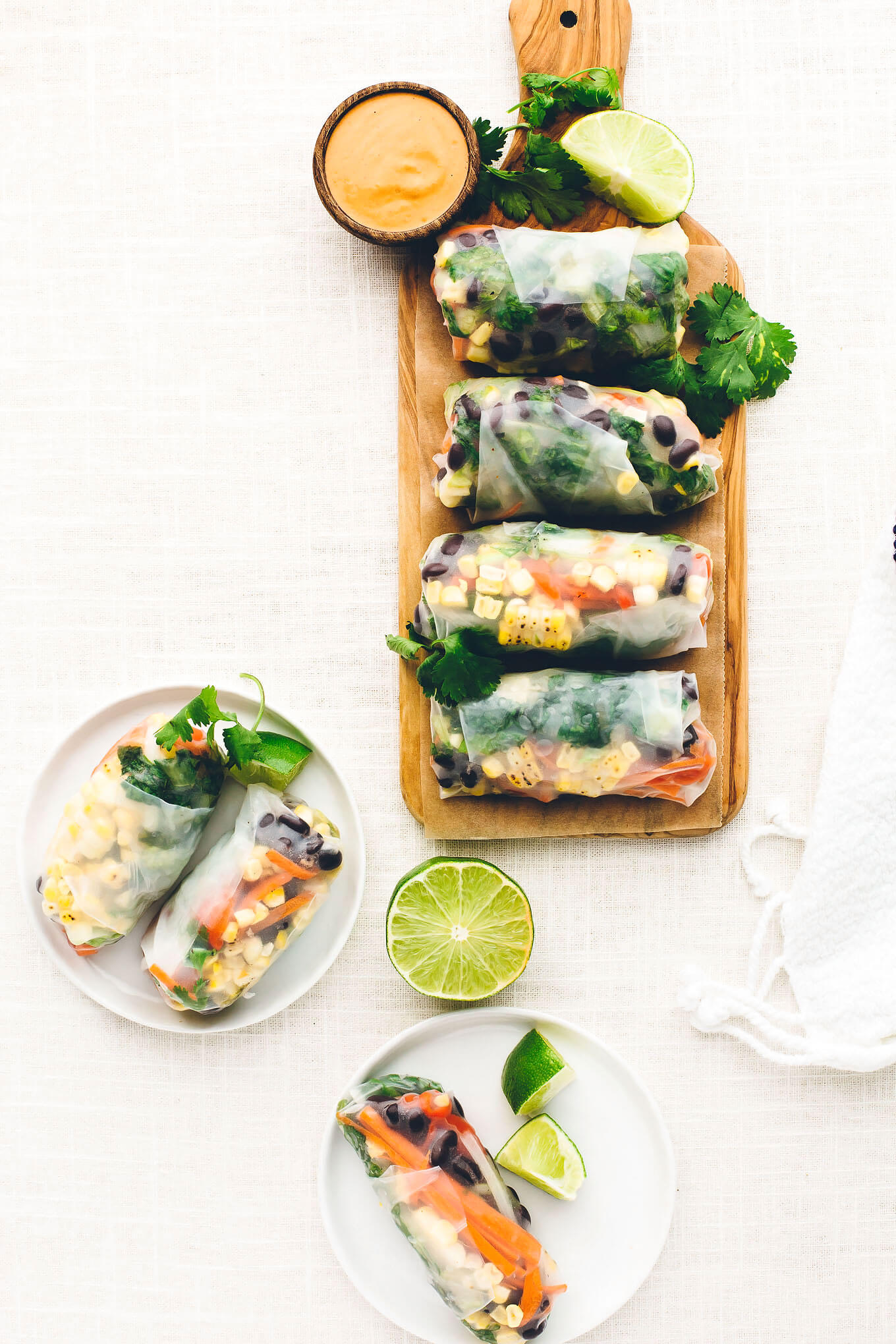 These spring rolls are the perfect example of why I love eating plant-based. They prove that close-to-the-earth, nutrient-rich ingredients bound by simple methods and a little splash of creativity have the potential to create something that is deeply satisfying.
Best yet, instead of feeling tired or sluggish after enjoying to your heart's content, you'll likely feel energized. Invigorated, even.
When you eat well and when you eat until fully nourished and satiated, you'll find that your cravings, as well as your worries, begin to fall away. The focus shifts from one of numbers, guilt, and meal-induced judgment to one of nourishment, liveliness, inspiration, and empowerment. And isn't that the entire point?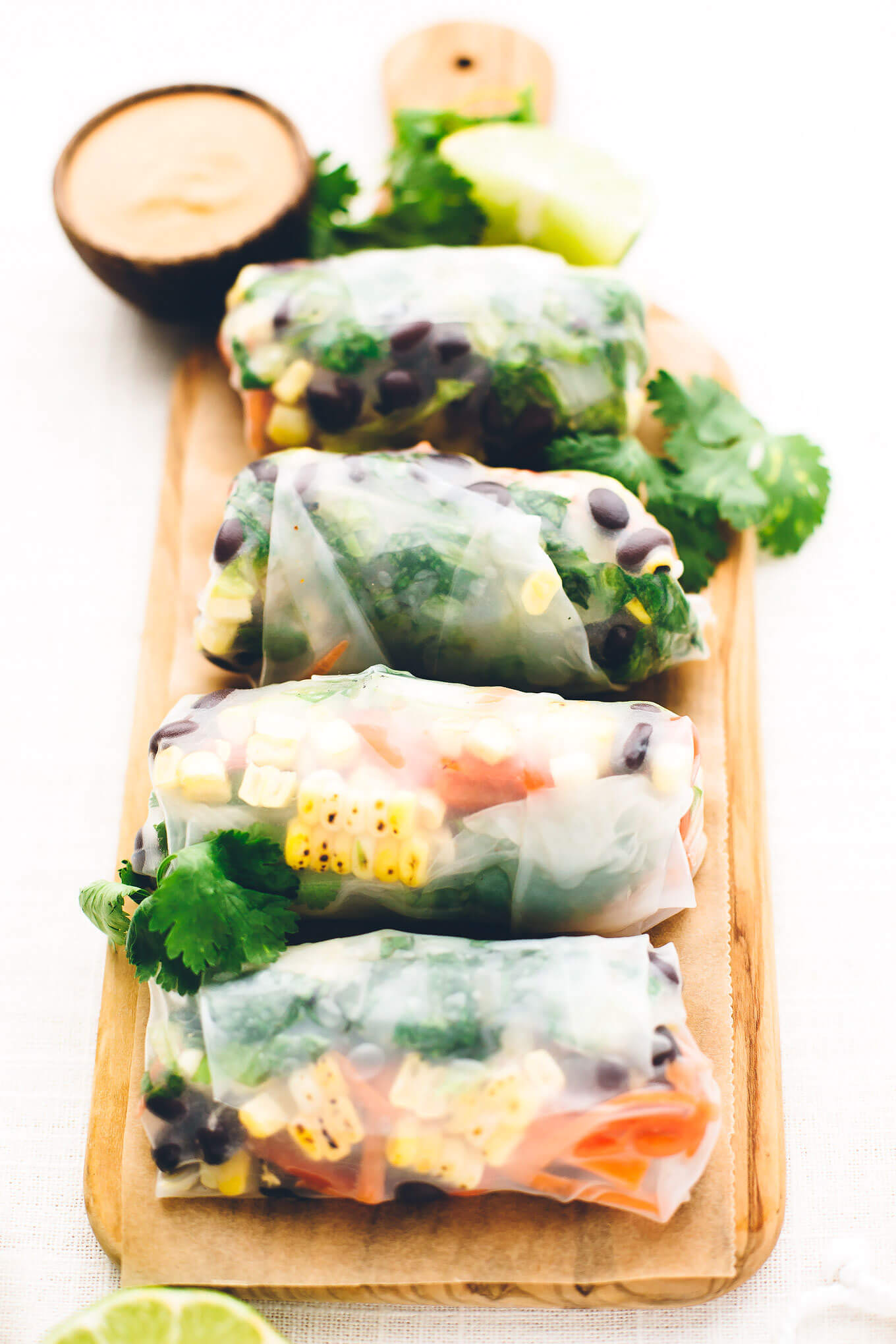 One of the most common questions I receive in both comments and emails is, "Do you have nutrition information for [fill in the blank recipe]?" And while I occasionally post nutritional tidbits for recipes that target a specific macronutrient or micronutrient, by and large (and as outlined here) my policy on nutrition information is this:
Forget about the numbers.
Pounds, calories, macronutrients. They tell us so very little about the health of ourselves and the health of the foods we eat. Foods that look "healthy" from a macronutrient standpoint can be full of additives and chemicals while being completely devoid of vitamins and minerals, thus making us feel pretty lousy once we consume them. Far worse, when we're caught up in the numbers, we tend to disconnect from our body, end up in a state of numbing or depriving, and wear down our spirit.
We can choose to stand for something so much greater than numbers. We can choose to stand for self-love, personal empowerment, and vitality by listening to our bodies (and occasionally reading ingredient lists) rather than obsessing over the minutiae.
The great thing about tuning in is that we're able to discern, almost perfectly, what's most optimal for ourselves in that moment in time. If you feel like garbage after you eat lunch and you don't want to feel that way, it's probably time to take a closer look at the foods you're choosing to consume. If you feel amazing after breakfast, take note of which foods feel good in your body and keep on keepin' on.
Point being: You're in the driver's seat of your food journey. No one else. Pay attention.
Our bodies are incredibly adept at letting us know what is and is not working if we're willing to listen to the signals, symptoms, and functionality cues they send us. And it's important to remember that even foods that are truly healthy for most people can have an adverse or undesirable effect for some people.
Bottom line, there isn't one way of eating that's going to be optimal for every single person, and macronutrients and calories mean nothing if you feel like crap eating what you're "supposed to be" eating (or not eating what you're "supposed to not be eating," for that matter).
And I want to be extra clear that I'm not advocating "clean eating" either. Forget about clean eating, too.
I don't know about you, but guilt and shame aren't welcome at my dinner table, and the whole dirty/clean thing presumes a sort of good vs. evil within the foods we eat. And to that I say, no thanks.
True healthfulness isn't about what we deprive ourselves of, it's about what we nourish ourselves with. It's about self-respect and self-love. It's about ebbing and flowing with our own unique, individual needs. It's about being flexible and compassionate with ourselves. It's about choosing the foods that allow us to thrive most of the time, and graciously welcoming the ones that don't to our plates on occasion, too.
Much of the time what we need more than anything are whole, close-to-the-earth, nourishing foods; other times we're in desperate need of a good ol' "dirty" cookie.
And you know what I say to that?
Go on and embrace the "dirty" and pat yourself on the back for being so flexibly in touch with who you are and what you need. That's brave, empowered living at its finest, and it's something that so few of us are able to do without worry or fear.
If there's one thing I've learned working as a psychologist, it's this:
Black-and-white thinking, controlling behaviors, and extremes are mastered with ease. Flexibility, reflective honesty, and self-compassion require constant evolution and hard work.
Also: The best things for us are often the things we resist the most, especially when we're trapped in a cycle of feeling down on ourselves. The foods that make us feel the best, the habits that nourish our soul. Choosing those things consistently requires us to shush the part of our ego that so desperately wants us to self-sabotage, because somewhere along the way we came to believe we weren't worthy.
And when we're caught up in feelings of unworthiness, the ego's wacky logic sounds a whole lot like this: If we're not worthy, then we must control the outcome by choosing the things that guarantee our demise.
Because at least then we know what's coming. At least then we can evade vulnerability and protect our hearts from the woes of uncertainty. At least then we can be certain we'll succeed at failing.
So we choose the easy things. We choose the things that make us hurt. We choose the things that validate our own self-fulfilling prophecy of unworthiness.
But we are worthy. Worthy of happiness. Worthy of wellness. Worthy of peace.
So let's put in the hard work.
I promise it's worth it. And we are, too.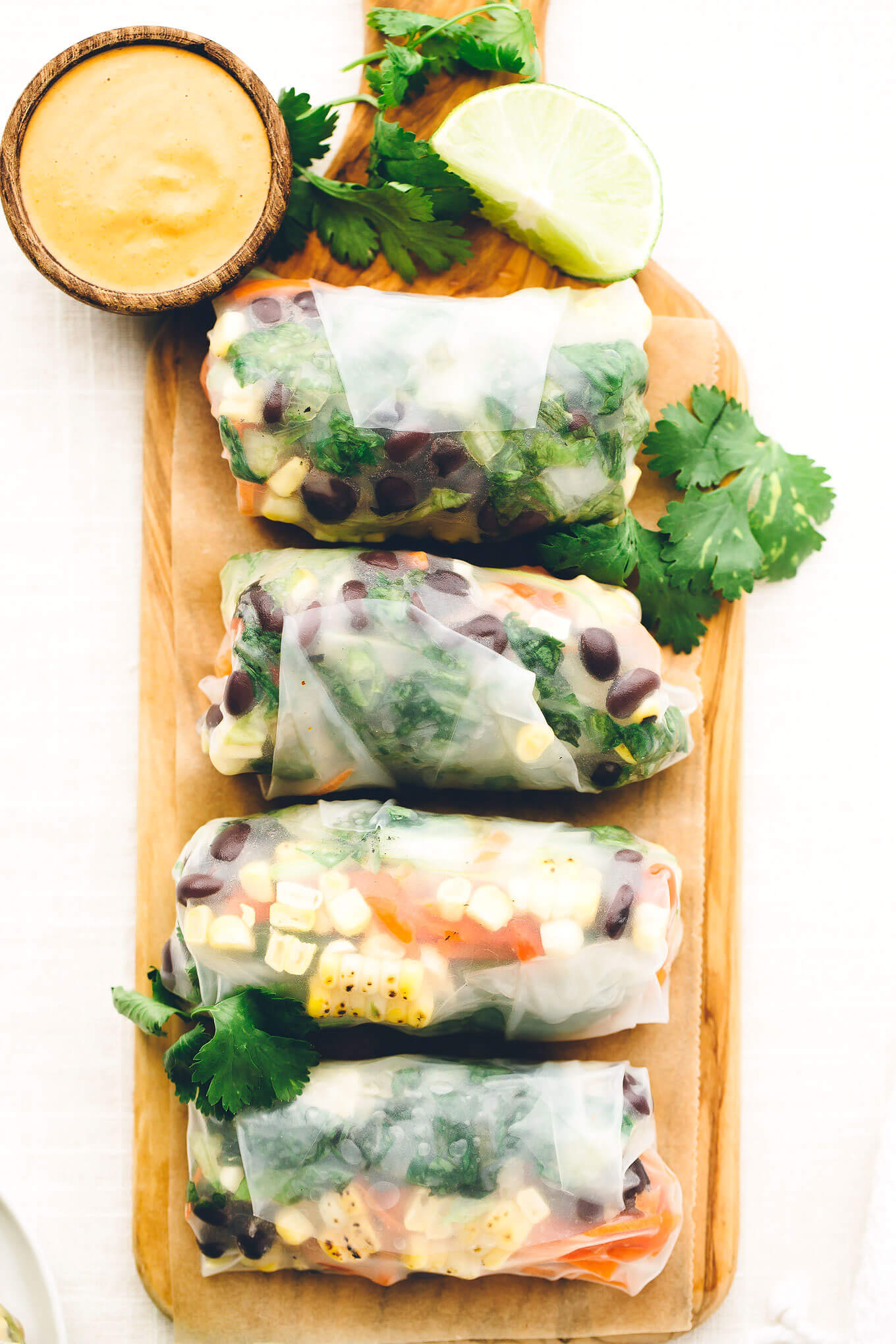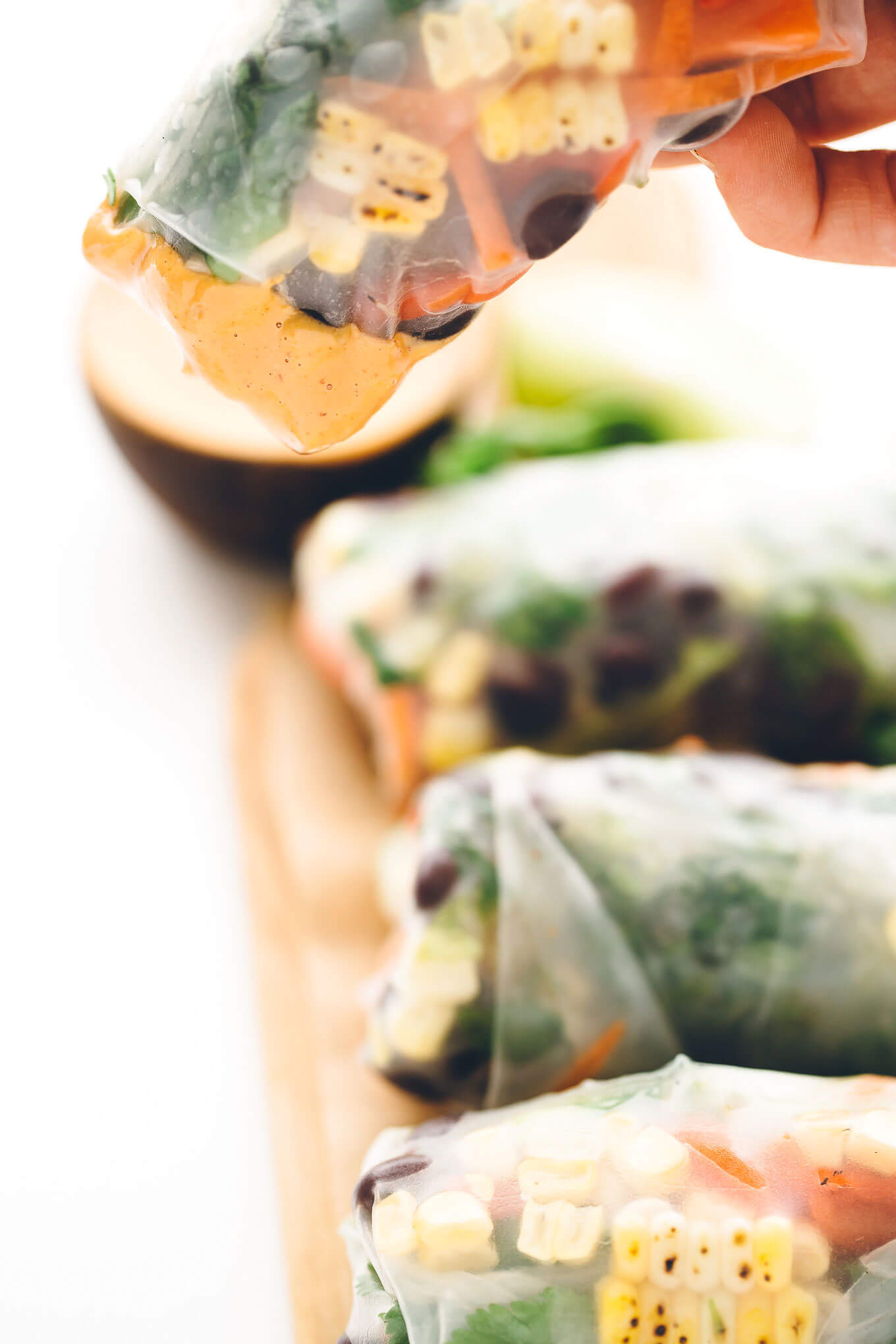 Whew. End rant. But before we get to the hard work, let's briefly run through the very easy details of how to make these southwest vegan spring rolls with smoky chipotle sauce. Alright? Alright.
First thing's first: gather your ingredients.
Second thing's second (duh): char your veggies. Not all of them though. Just the ears of corn and the romaine lettuce. A gentle char is all you need to infuse a little extra flavor into those beauties.
Once you have all of your veggies prepped and ready to go, get rolling.
My recommendation: Toss on a mix of energizing, feel good tunes and get after it.
Speaking of tunes, if you're ever in need of some fresh new jams, be sure to follow my sweet husband on Spotify. Not a shameless plug, just sharing the music love. The man's a genius when it comes to scouting the good stuff. Really, truly, honest to goodness. He's been putting together monthly mixes—Dan's Indie Mix—for over a decade now. Since, you know, back when "indie" music was still underrepresented.
Once you've finished wrapping the spring rolls, you'll whip up a super quick and easy smoky chipotle sauce. Simply toss all the ingredients in a blender and blend until smooth. That's it.
Then, there's nothing left to do except serve, dip, savor, and repeat. And repeat. And repeat. To your heart's and your body's content.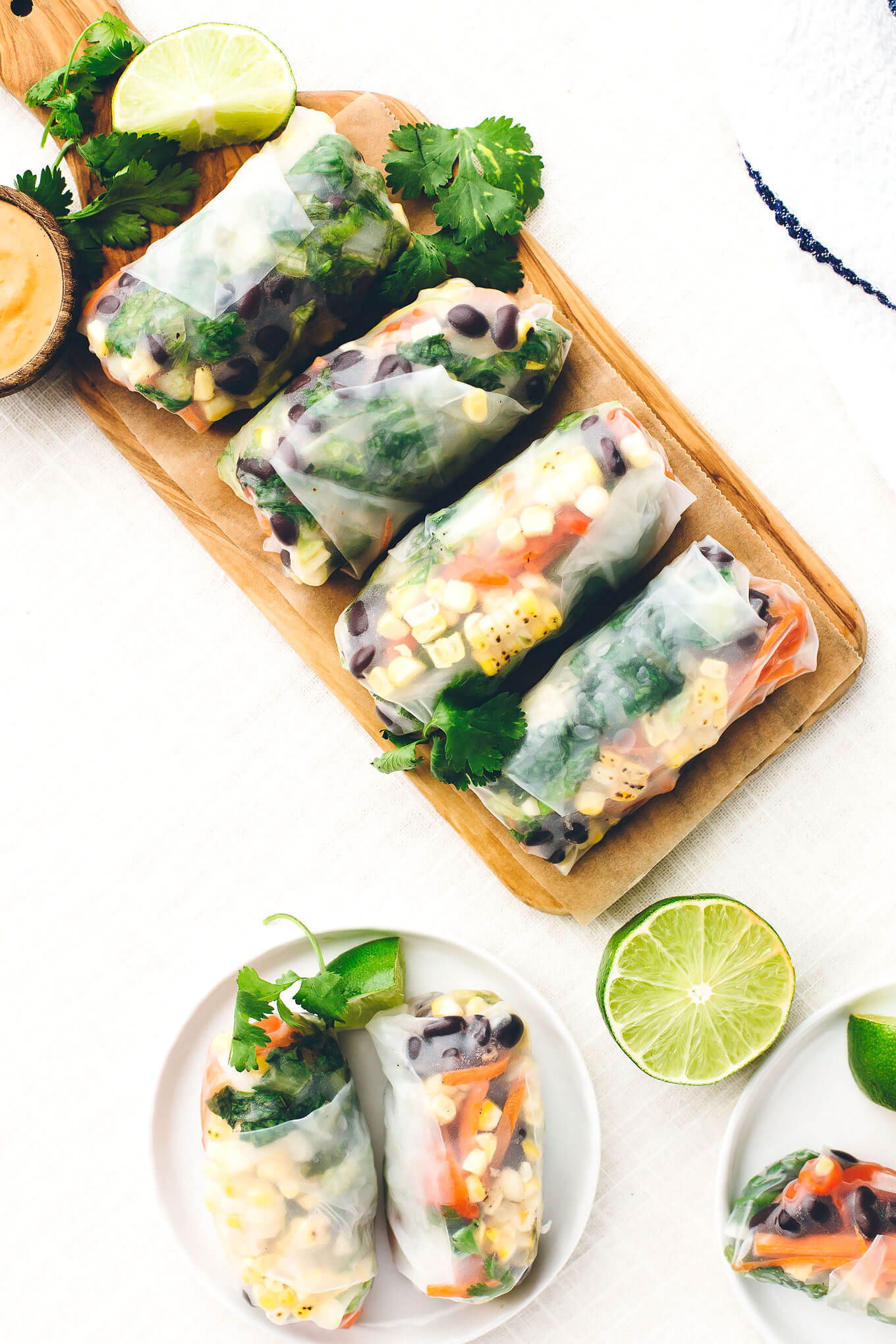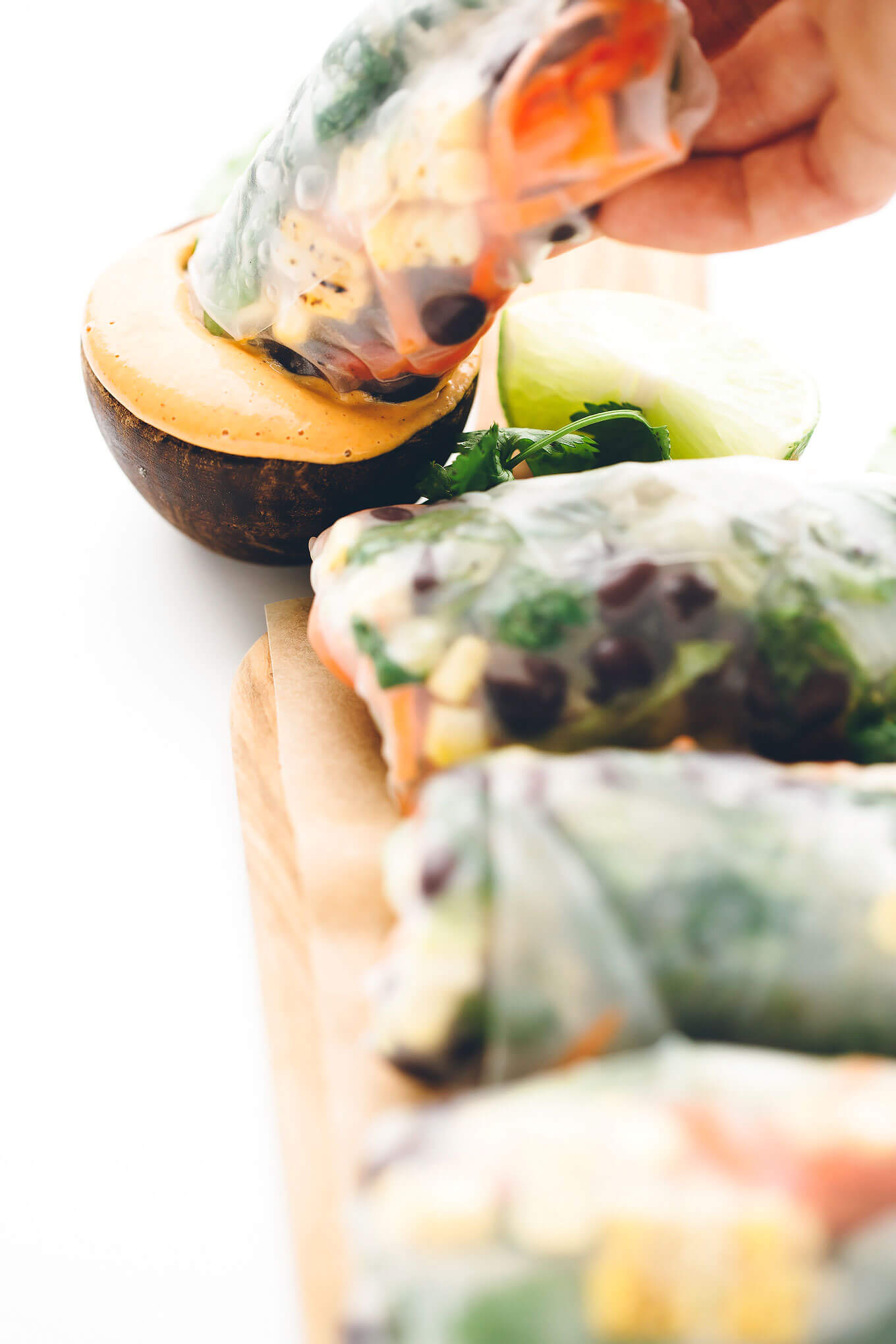 📖 Recipe
Southwest Vegan Spring Rolls with Smoky Chipotle Sauce
These southwest vegan spring rolls with smoky chipotle sauce are packed with veggies and boast the most satisfying range of textures and flavors. From sweet to zesty, juicy to crunchy, there's a little something for everyone wrapped up in these plant-powered rolls.
Ingredients
Southwest Spring Rolls
1

small head of romaine, sliced in half lengthwise

2

ears sweet corn, shucked

6

scallions, ends trimmed and cut into matchsticks

2

jarred roasted red peppers, drained and thinly sliced

2

medium carrots, peeled and cut into matchsticks

1

firm-ripe avocado, pitted, peeled, and thinly sliced (optional)

1

(15-ounce) can black beans, drained and rinsed

½

cup

loosely packed cilantro leaves

20

round spring roll wrappers ("skins")
Smoky Chipotle Dipping Sauce
½

cup

raw cashews or shelled hemp seeds

½

cup

filtered water

¼

cup

fire roasted crushed tomatoes

1

tablespoon

finely diced chipotle pepper in adobo sauce or more, to taste

1

clove

garlic, smashed and peeled

½

tablespoon

apple cider vinegar

1

teaspoon

smoked paprika

¾

teaspoon

sea salt or to taste
Instructions
For the Southwest Spring Rolls
Heat a grill on high and grill the romaine and sweet corn until just beginning to show bits of char, rotating every minute or so until desired doneness is reached. Alternatively, if you have a gas stove, you can carefully char the veggies over the open flame. Let cool slightly. Then, finely chop the romaine and carefully slice the kernels off the ears of corn.

Prepare a clean work surface (a glass cutting board or smooth silicon mat work best). Place the sliced veggies, herbs, and beans within reach.

Fill a wide and shallow bowl or large sauté pan with hot, but not boiling, water. Slide one of the spring roll wrappers into the hot water and soak for just a few seconds, or until just beginning to soften (it should still be a bit firm, as it will continue to absorb the water on the surface once removed). Be careful not to soak the rice paper wrappers for too long, or they will become difficult to work with. Transfer to the prepared work surface.

Fill the bottom third of the rice paper round with a bit of romaine, sweet corn, roasted red peppers, carrots, scallion, avocado (if using), and black beans.Top with a small mound of cilantro leaves.

Carefully fold in the sides of the rice paper wrapper, then tightly roll it forward until closed and sealed (it should resemble a tiny burrito). Transfer to a serving platter or plate and repeat with each spring roll wrapper.
For the Smoky Chipotle Dipping Sauce
Add all ingredients to a high-speed blender, and blend on high until smooth and creamy, stopping to scrape down the sides as needed.

Transfer to an airtight jar and refrigerate until ready to serve.
To Serve
Serve the rolls chilled alongside the dipping sauce.
Notes
*The spring rolls and sauce can be made up to 8 hours before serving. Prepare the rolls as directed and then layer them in between sheets of parchment paper in an large, airtight container. Be sure to keep at least 1 inch of space between each roll to prevent sticking. Prepare the sauce as directed and refrigerate in an airtight jar.