This vegan wild blueberry, brazil nut + tahini smoothie might just be my new favorite blended beverage. And when you take into account all the smoothie recipes that have been shared over the last seven years, that's saying quite a lot.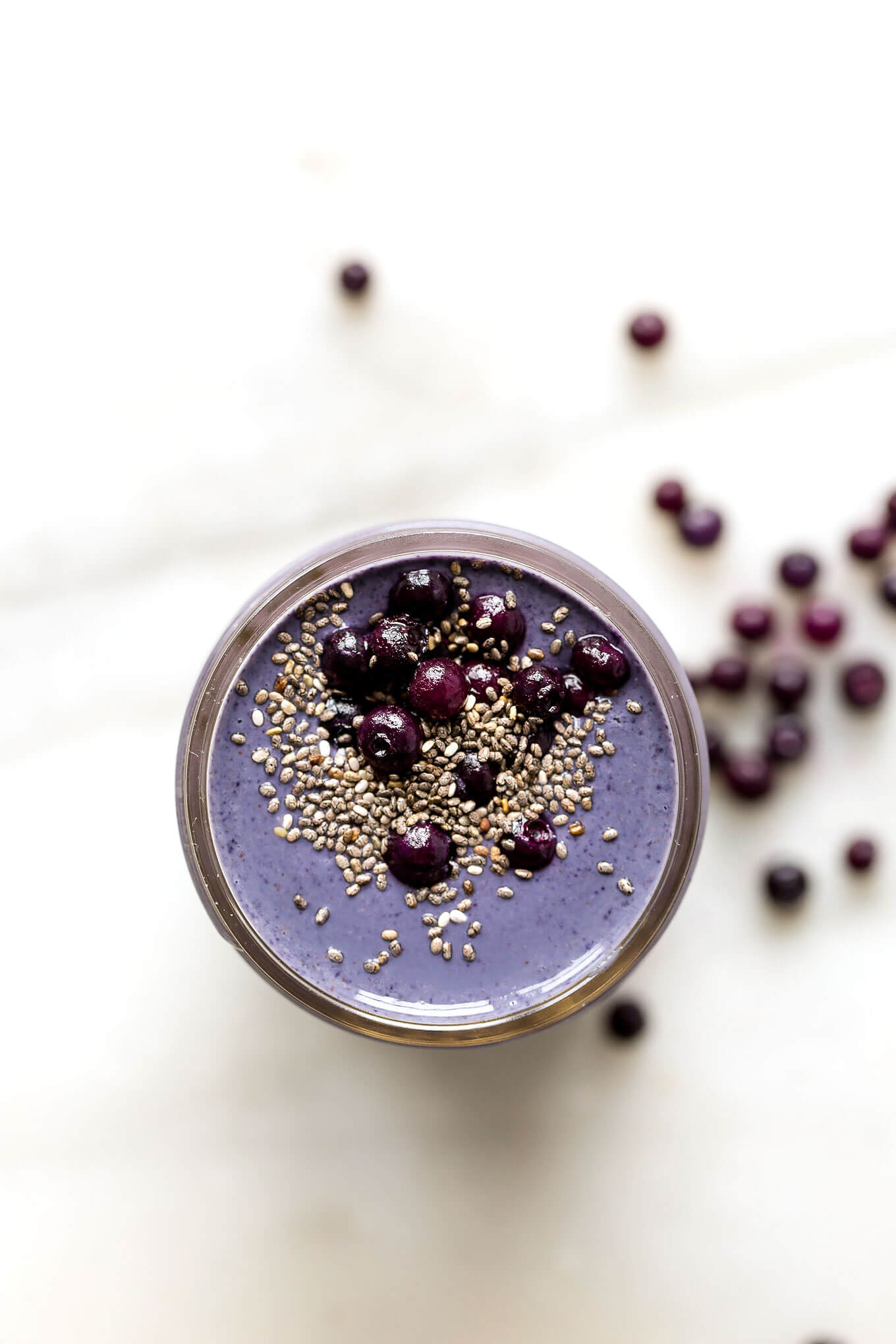 Something about that amethyst hue gets me good.
But beyond its pretty purple exterior, this smoothie is both nourishing and dreamy. It's home to a host of plant-powered ingredients like wild blueberries, brazil nuts, banana, and tahini, each of which packs a punch of feel-good nutrients.
Wild Blueberries
Not only do wild blueberries boast a richer blueberry flavor than their more robustly sized siblings (aka "ordinary" blueberries), they also have twice the antioxidant power. The antioxidant compounds found in wild blueberries (i.e., anthocyanins) are contained within their deep purple/blue pigments and are particularly praised for their potent anti-inflammatory properties.
Wild blueberries are also an excellent source of dietary fiber, with one cup providing 25% recommended daily value. One cup also provides 200% recommended daily value of manganese, a trace mineral that's vital to bone development and other bodily functions. Although it can be quite the challenge to find fresh wild blueberries, many grocery stores (e.g., Trader Joe's, Whole Foods) carry frozen wild blueberries, which are perfect for smoothie making.
Brazil Nuts
Brazil nuts (i.e., the poor ol' nuts that tend to get left behind in nut mixes) are a nutritional powerhouse. Not only are they rich with fiber, protein, thiamine, copper, and magnesium, they're also considered to be the number one food source on the planet for selenium.
Selenium plays an important role in many bodily functions, ranging from emotions and mood (e.g., combats anxiety and depression) to inflammation. Considering how important it is to proper functioning, one might assume that selenium is readily available in a variety of foods. However, it's often tricky to get enough in our everyday diets, so it can be helpful to lean on brazil nuts for a little selenium love.
Thanks to their vitamin and mineral content, brazil nuts are also touted as being an anti-inflammatory and anticancer superfood.
Banana
Bananas are one of the best mood-boosting foods thanks to their tryptophan and B6 content. How do these two positively affect mood? Carbohydrates (e.g., sweet bananas) allow the brain to absorb tryptophan, and B6 swoops in to help convert tryptophan to serotonin. There are few foods that I feel an instant energy and mood boost from but bananas are one of them. They're also packed with bloat-busting and muscle-healing potassium, making them an excellent post-workout recovery snack.
Tahini
Tahini (aka "sesame butter") can be made from hulled or unhulled sesame seeds. Unhulled tahini is best, because it's made from the whole sesame seed, thus leaving its full nutritional power intact. However, hulled tahini boasts a nice range of perks as well.
Tahini packs a punch of alkaline minerals—think phosphorus, magnesium, potassium, and iron—that make it easy for the body to digest. It's also rich in B vitamins (i.e., B1, B2, B3, B5, and B15), vitamin e, and calcium, and it offers a kick of plant-based protein to boot.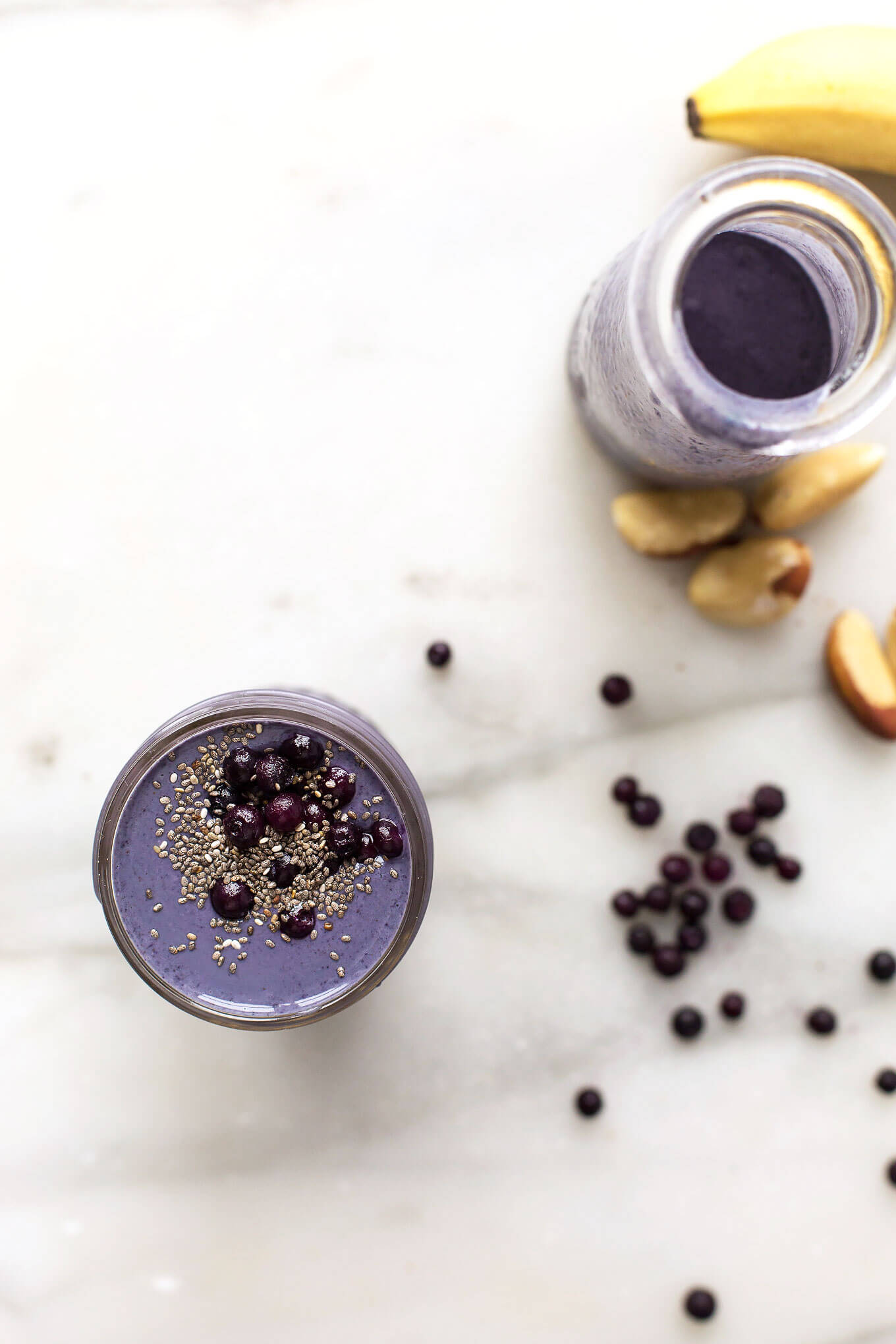 To make this vegan wild blueberry, brazil nut + tahini smoothie, add the following to a blender:
Frozen banana
Frozen wild blueberries
Almond milk
Brazil nuts
Tahini
Splash of vanilla
Pinch of sea salt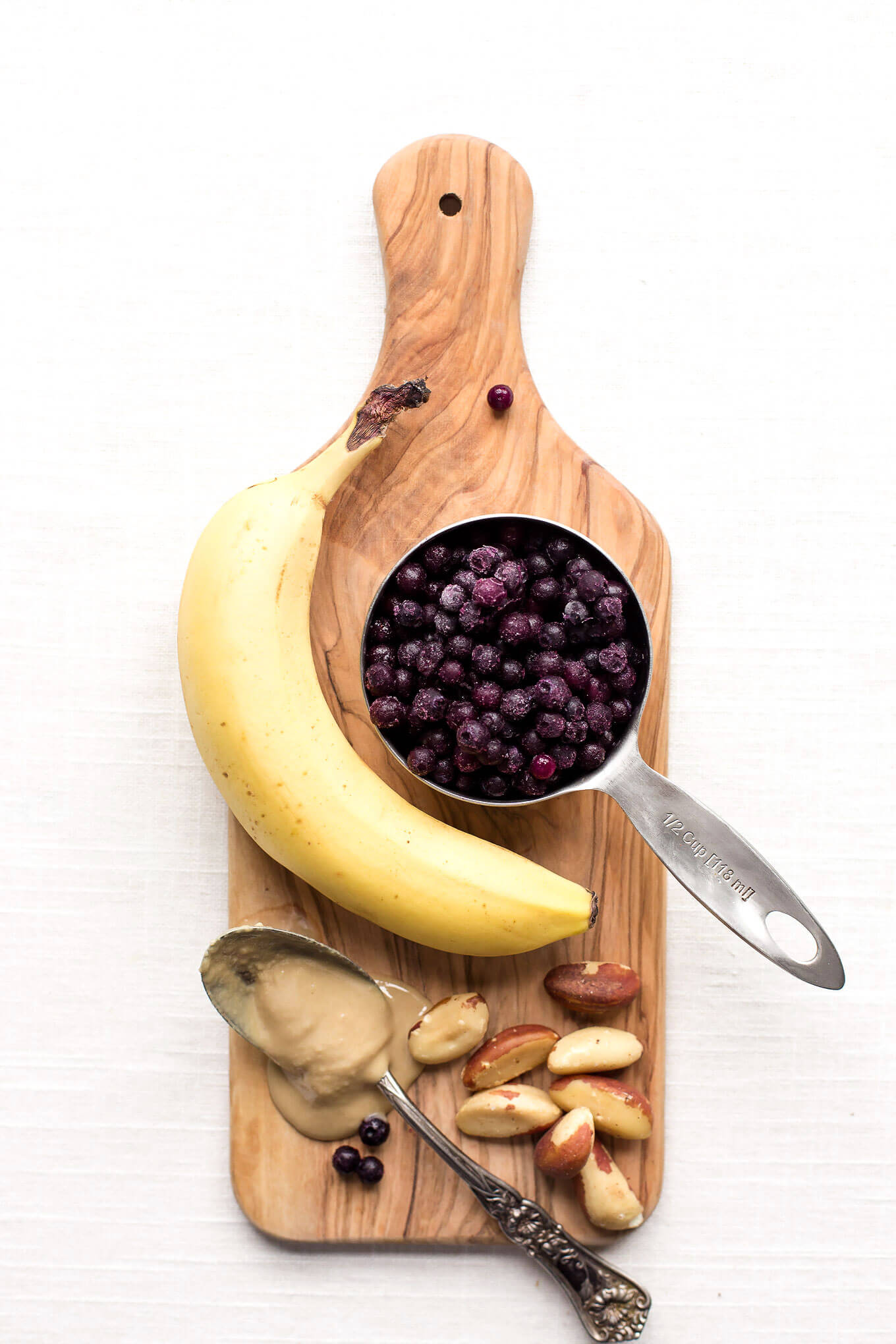 Blend on high until smooth and creamy, stopping to scrape down the sides or add more liquid as needed.
Then, pour into a glass and serve enjoy immediately. ♥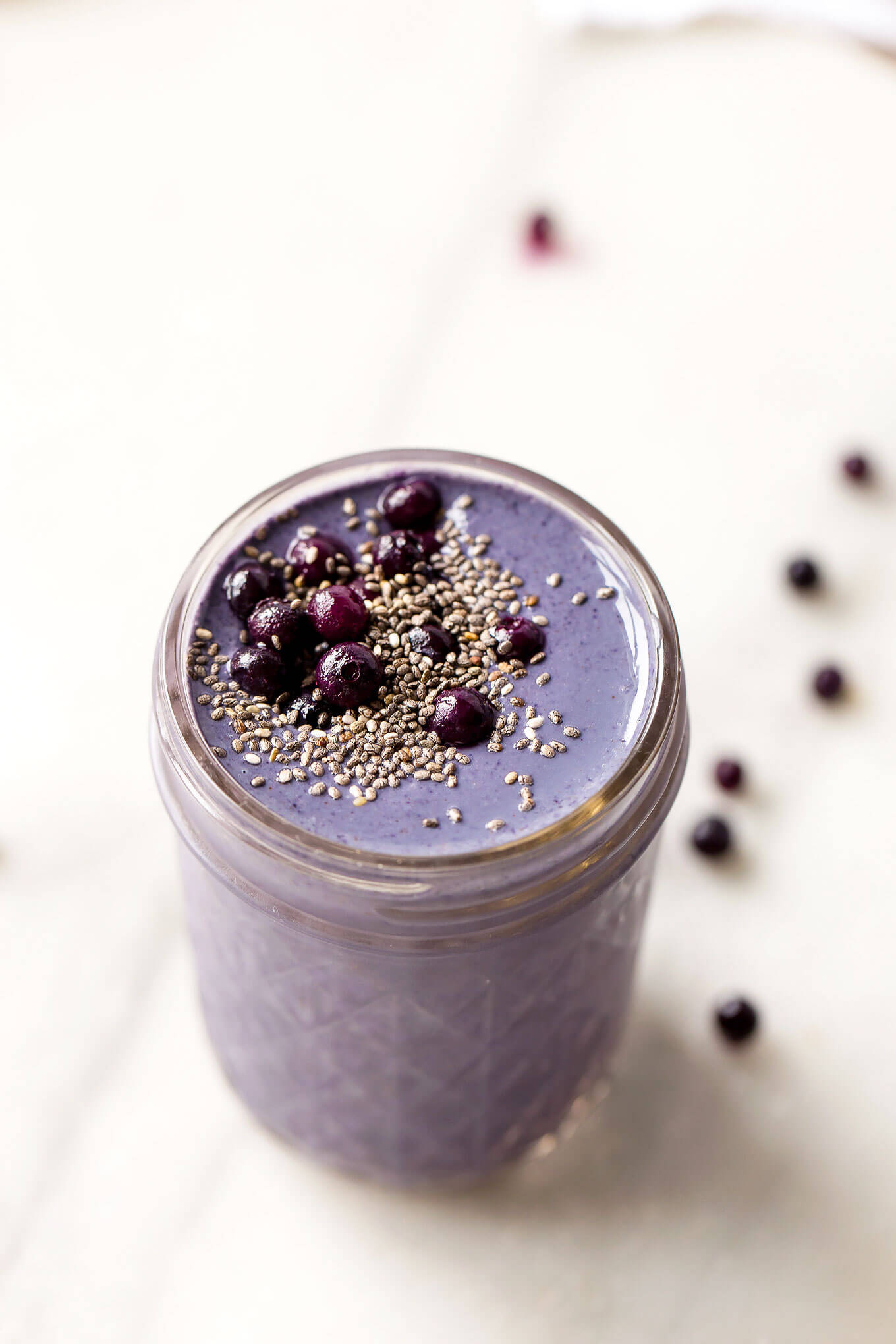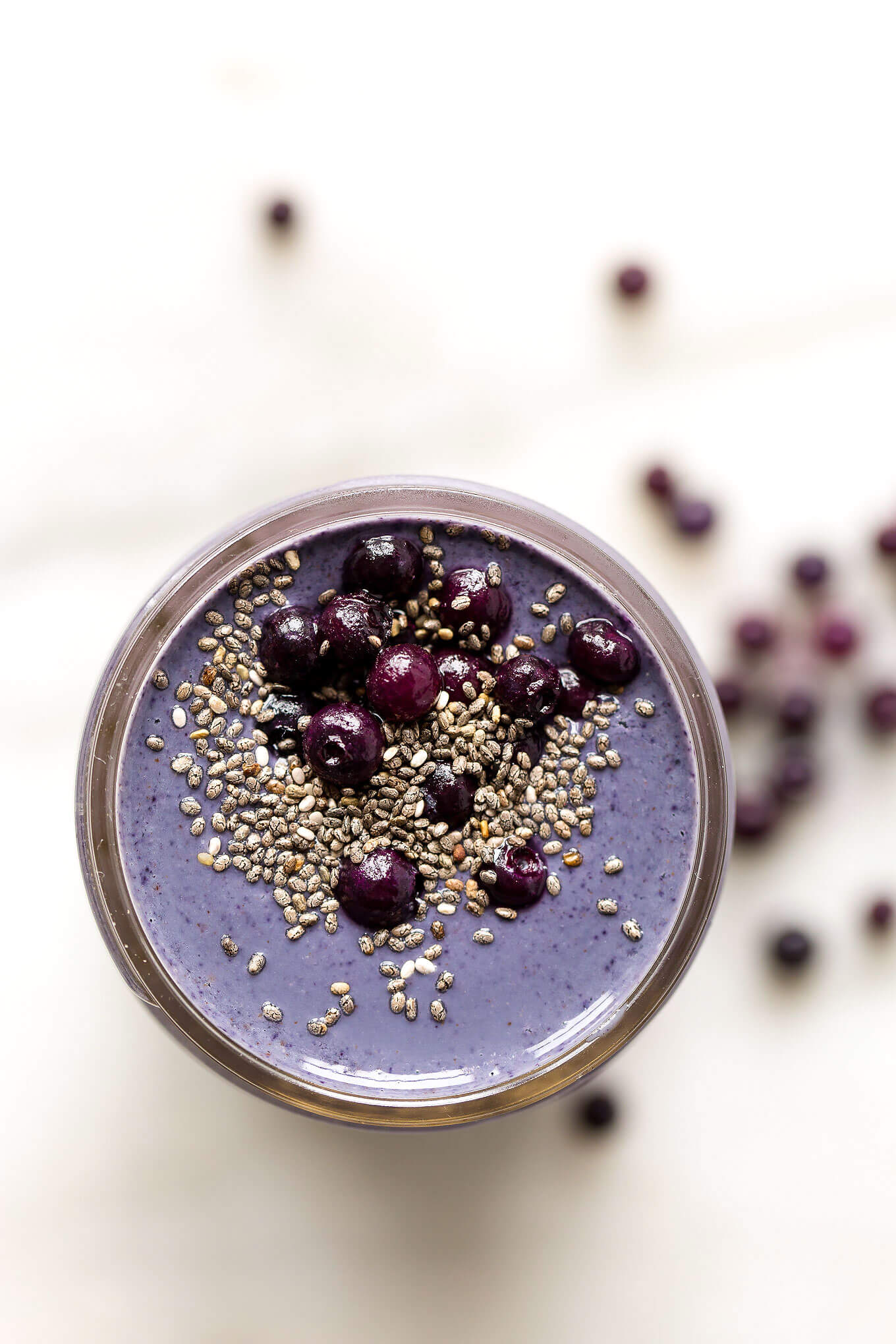 📖 Recipe
Wild Blueberry, Brazil Nut + Tahini Smoothie
Frozen banana, wild blueberries, almond milk, brazil nuts, tahini, vanilla, and a pinch of sea salt are blended until smooth and creamy. This wild blueberry, brazil nut + tahini smoothie boasts a beautiful purple hue, but beyond its pretty exterior, it's also incredibly nourishing. It's home to a host of plant-powered ingredients like wild blueberries, brazil nuts, banana, and tahini, each of which packs a punch of feel-good nutrients.
Servings
1
(16-ounce) smoothie
Ingredients
1

ripe and speckled banana, peeled, sliced, and frozen

¾

cup

frozen wild blueberries

1

cup

unsweetened almond milk

2

tablespoons

raw brazil nuts*

1

tablespoon

tahini

½

teaspoon

pure vanilla extract

Pinch sea salt
Instructions
Add all ingredients to a high-speed blender, and blend on high until smooth and creamy.
Notes
*If you're not using a high-speed blender (e.g., Vitamix, Blendtec, etc.), soak the nuts for at least two hours or overnight before blending.