I think it's fair to say that I'm officially on a spring recipe rampage. Things are feeling crisp, green, and fresh around here lately, and I'm loving it.
Something else I'm loving? The fact that at 3:25 this afternoon, I'm officially on "spring break" for a week. Last year we spent the week in St. Lucia soaking up the sun, picking fresh cocoa fruit and guavas from the trees, and gazing at the Petit Piton and Gros Piton. Although we aren't able to squeeze in a visit this year, I'm grateful to have an entire week off at home. I plan to spend most of it flitting about the kitchen/working on new recipes, but I've also set aside time to catch-up on a few books that have been collecting dust on my nightstand, set out on a day of adventure/relaxation with Dan, and get outside for a dose of fresh air and sunshine.
As this week unfolded, I realized just how much I'm in need of a break. The realization literally left a bad taste in my mouth yesterday morning as, for the second time in my life, I mistook Cortizone-10 for toothpaste. The first mix-up occurred a few years ago and was quickly excused as an honest mistake because at the time we were using a toothpaste that had an uncanny resemblance to Cortizone-10.
However, this time around our toothpaste looks nothing like it. Not one bit. Rather than an honest mistake, I have a hunch that yesterday's distasteful mix-up was most likely a byproduct of exhaustion. Either that or I have a subconscious hankering for this sort of thing.
Words of Maximum-Strength Wisdom | Toothpaste deserves its own drawer. If you opt to forgo this practical piece of guidance, you should know that Cortizone-10 proves to be a bit greasy in the mouth, and your tongue will be left to battle trace amounts of "creme with aloe" for several hours after your mishap.
In all seriousness though, between school psych duties and the blog, I typically work seven days a week and anywhere from 10 to 14 hours a day. The irony? I'm often reminding students of the importance of balance because downtime is necessary to our health as well as our creativity and productivity. Looks like I'm the one who needs the reminder this time, because a quick glance at my calendar suggests that I've taken just two full days off of work since January 1st. 2 days off + 84 days of work = imbalanced and unsustainable. I love what I do, so most of the time I don't even classify it as "work," but I'm realizing that a love for work doesn't make me insusceptible to burnout. I have no desire to slow down completely, but I'm learning to respect the value of routine downtime to unplug, relax, recharge, and catch-up with loved ones.
If you read all that, thanks for sticking with me. If you didn't, you best be watching your toothpaste. Only playing... ;)
Now that I've whet your appetite with all that toothpaste talk, let's get into the real deliciousness of this post: spring rolls. Spring rolls packed with fresh vegetables and served alongside a tangy, herbed tzatziki. Take a look...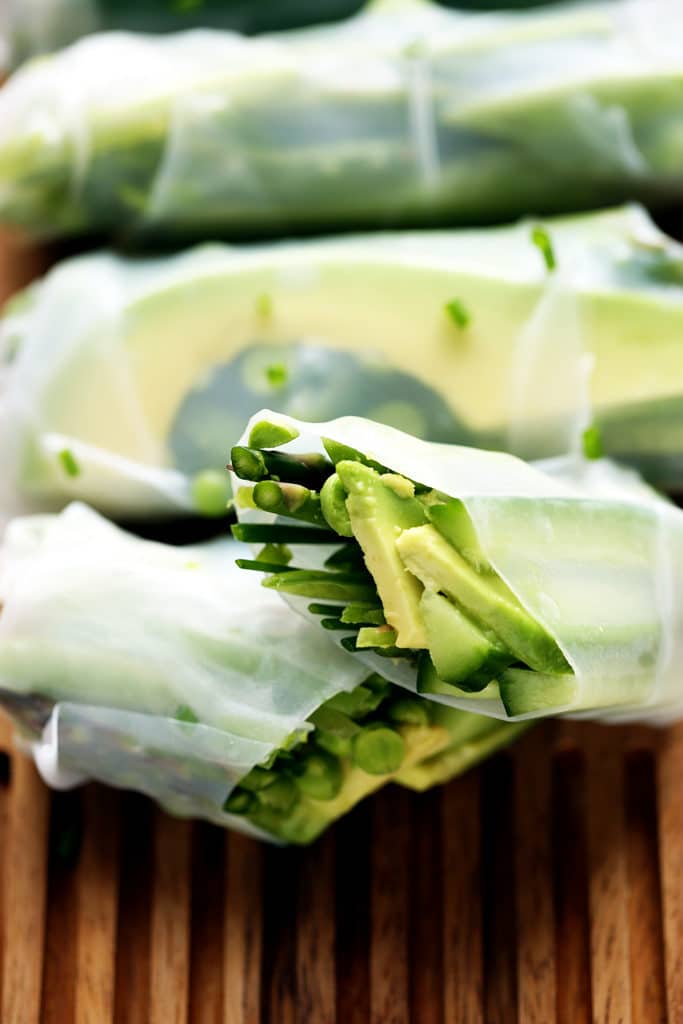 These 6-shades-of-green beauties come together in a pinch, requiring just a little bit of chopping, soaking, blending, and rolling.
To make them, you'll cut and chop fresh asparagus, avocado, sugar snap peas, cucumber, chives, and butter lettuce. One at a time, you'll soak round rice paper wrappers in warm water until tender, fill the bottom third of each with a variety of the veggies, and carefully tuck and roll the wrapper. It's that simple. You can even prep and cut the vegetables ahead of time so that you can quickly assemble the rolls just before serving.
The spring rolls are served with a plant-based tzatziki sauce that offers balance and richness to complement the brightness of vegetables. It's made by blending soaked cashews, water, cucumber, lemon juice, apple cider vinegar, garlic, and sea salt until creamy. Then, freshly-grated cucumber and chopped chives are stirred in to add texture and layers of flavor. This is the kind of sauce that tastes even better after it's chilled in the refrigerator for an hour or two, so if you have the time I recommend making it a few hours in advance.
These spring rolls are fresh, crunchy, and seasonal. They're excellent served as an appetizer or light lunch as they'll keep you feeling energized and vibrant. Let's get chopping, wrapping, and dipping, shall we?
📖 Recipe
Spring Green Vegetable Rolls with Herbed Tzatziki
Fresh spring vegetables are rolled in rice paper wrappers and served alongside a tangy, herbed tzatziki sauce. These are wonderful as a fresh appetizer or light, energizing meal.
Ingredients
Herbed Tzatziki
½

cup

soaked raw cashews*

⅓

cup

water

¼

cup

peeled and diced cucumber

1

tablespoon

lemon juice

1

garlic clove

2

teaspoons

apple cider vinegar

¼

teaspoon

sea salt

¼

cup

grated cucumber

2

tablespoon

chopped chives

1

tablespoon

chopped cilantro, optional

black pepper, to taste
Spring Rolls
10

spring roll rice wrappers

20

thin asparagus stalks, trimmed and halved

½

ounce

fresh chives, trimmed and roughly chopped

2

persian cucumbers, halved and cut into thin strips

1

cup

julienned sugar snap peas

1

avocado (sliced)

5

butter lettuce leaves, roughly torn
Instructions
Herbed Tzatziki
Add the soaked cashews, water, peeled and diced cucumber, lemon juice, garlic, acv, and sea salt to a high-powered blender. Blend on high until smooth (about 2-4 minutes).

Transfer to an airtight container or jar, and stir in grated cucumber and chopped chives. Add black pepper and more sea salt, to taste, if desired.

Refrigerate until ready to use.
Spring Rolls
Fill a large skillet with hot, not boiling, water. Take one rice paper round, slide it into water, let it soak for 20-30 seconds or until tender, and remove. Place on a clean work surface.

Fill the bottom third of the rice paper round with the asparagus, chives, cucumber, pea pods, avocado, and lettuce. Fold in the sides of the rice paper wrapper first, then begin to tightly roll the rice paper wrapper forward. Set roll aside.

Repeat with each rice paper round.

Serve fresh alongside the tzatziki sauce.
Notes
*Soak the cashews in water for 2 hours before blending.