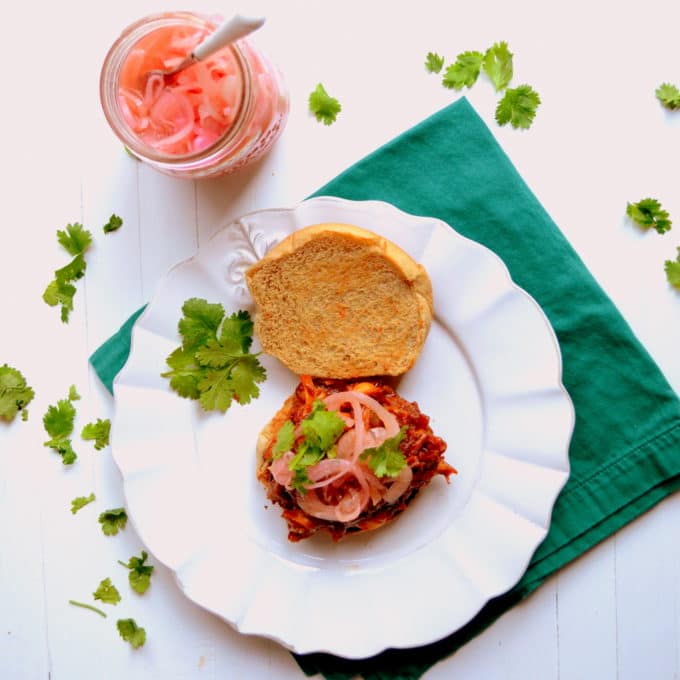 What looks like the real thing, tastes like the real thing, is texturally the same as the real thing, and is made from fruit?
You guessed it: vegan BBQ pulled pork. Actually, you probably never would have guessed it. I certainly know I wouldn't have.
Not a joke, not a dream, not a July Fool's Day joke. This is real life, and my goodness it is tasty.
I first read about Jackfruit, the miracle pulled meat substitute, a couple years ago but was never able to find it in non-sugary , syrupy form until last week. There is a teeny, tiny Asian grocer just a few blocks from us and somehow they have every ingredient I was unable to find over the last few years. Serendipitous? I think so.
Jackfruit is a tree-grown fruit native to Southeast Asia. In it's unripened form, its flavor is comparable to heart of palm and it has a stringy, pull-apart texture. It is seriously talented in its ability to take on the flavor of nearly anything you toss in its direction, and the texture is surprisingly meat-like. It's also full of fiber and vitamins. I mean, you ask and jackfruit probably delivers.
Before I get to this recipe, let me take you back to a story I not-so-lovingly call the "Pulled Pork Disaster of '11." Dan and I invited my brother and his lovely lady friend, Abby, to our place for dinner one Saturday night a couple years back. I was determined to satisfy both meat lovers and myself for that dinner, and in a moment of pure crazy, I thought making a real pulled pork dish and a vegetarian pulled pork dish was the best idea that had ever come into my mind.
I went to Whole Foods and asked for 7 pounds of pork shoulder. Seriously, 7 pounds? The butcher should have known I had a slip in my sanity and refused to sell me any meat at all when I said I was cooking 7 pounds of pork for 3 people. That is pure crazy. I thought each person I was cooking for was going to eat 2.33 pounds of meat? I phrase that as a question only because it makes me feel better to think that perhaps I did question that ridiculous pork-to-person ratio at the time. This was strike 1.
I also picked up some seitan for myself, which I had high hopes of serving as an acceptable vegetarian replacement to pulled pork.
Where it all went wrong…
As our slow cooker slaved away on the 7 pound hunk of meat, my brother, Brad, began to question whether it was pork at all. With one swift lift of the slow cooker lid, he declared that I had purchased 7 pounds of beef, not 7 pounds of pork. I at least take comfort in knowing that the butcher at Whole Foods was slightly more crazy than I on that cold March day in '11. This was strike 2.
I tried to put my pork troubles behind me as I worked away on shredding, marinating, and cooking my seitan BBQ un-pork. I figured at least there was one silver lining in this BBQ Pulled Pork Disaster.
As I served Dan, Brad and Abby their pulled beef hot messes of sandwiches, I offered up a taste of my BBQ seitan sandwich. Brad, being the supportive younger brother, offered to try a bite to see how it compared. Upon biting into the sandwich, a dismal look came across his face as if to say "I feel sorry for you." And then, those exact words came out of his mouth. And those words were delicately followed by the statement, "This sandwich tastes like pencil erasers coated in barbeque sauce." And there, my friends, you have strike 3.
I'm both relieved and ecstatic to say that this BBQ pulled pork made from jackfruit tastes nothing like pencil erasers. It tastes so delicious that you'll be double checking just to be extra certain you didn't accidentally pick up a can of meat.
The jackfruit is coated in spices and simmered in barbeque sauce until it is fall-apart tender. The flavor, texture and look of it will be enough to woo meat lovers and vegetarians alike. AND it comes together way quicker than the real thing.
Brief synopsis: jackfruit + spices + barbeque sauce = a vitamin-rich, healthier, happier replica of BBQ pork. Get cooking.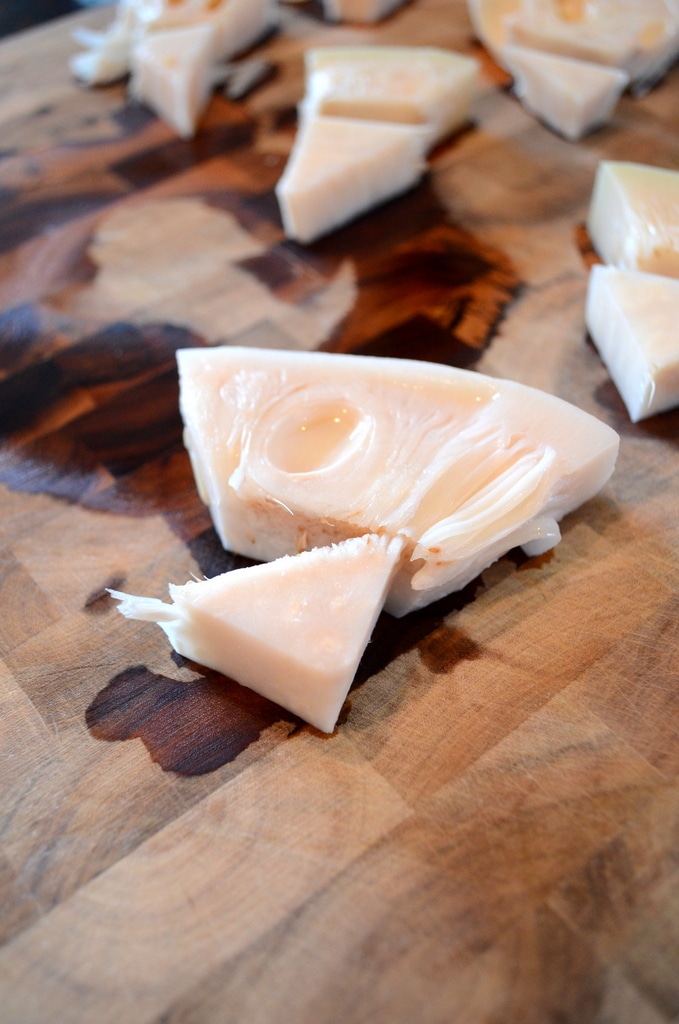 Vegetarian BBQ Pulled "Pork"
Jackfruit takes the place of pulled pork in this fall-apart tender and flavorful vegetarian sandwich.
Ingredients
1 can green, young jackfruit in water or brine
1 small onion, diced
1 garlic clove, minced
1 tablespoon olive oil
1 tablespoon chili powder (←affiliate link)
1/2 teaspoon cumin
1/4 teaspoon smoke salt (optional)
1/2 teaspoon garlic powder
1/8 teaspoon cayenne pepper
1 tablespoon brown sugar
1/2 cup barbeque sauce
1/4 cup water
4 whole-wheat buns
Instructions
Heat olive oil in a large nonstick skillet over medium heat. Add onion and garlic and sauté until tender (5-7 minutes).
Drain and rinse the jackfruit in a strainer. Cut the core of the jackfruit (the triangular tip) from the flesh and discard the core.
Mix chili powder, cumin, smoke salt, garlic powder, cayenne pepper, and brown sugar together in a medium bowl. Add in the jackfruit flesh and toss to coat.
Add seasoned jackfruit to the skillet with the onions and garlic. Sauté for 5 minutes.
Whisk the barbeque sauce and water together. Pour into the skillet with the jackfruit. Cover and simmer for 20-25 minutes or until tender.
While the jackfruit simmers, toast the buns in a toaster.
Remove the lid from the skillet and shred the jackfruit with a fork. Continue to simmer with the lid off for 5-10 minutes or until the barbeque sauce is reduced.
NOTE: you can either enjoy the "pulled pork" as is OR spread it on a baking pan and bake it in a 350 degree oven for 20 minutes. Readers have reported that this makes the texture more "pork" like.
Fill each of the buns with a mound of jackfruit and top with garnishes of choice (ideas: pickled red onions, cilantro, parsley, etc).