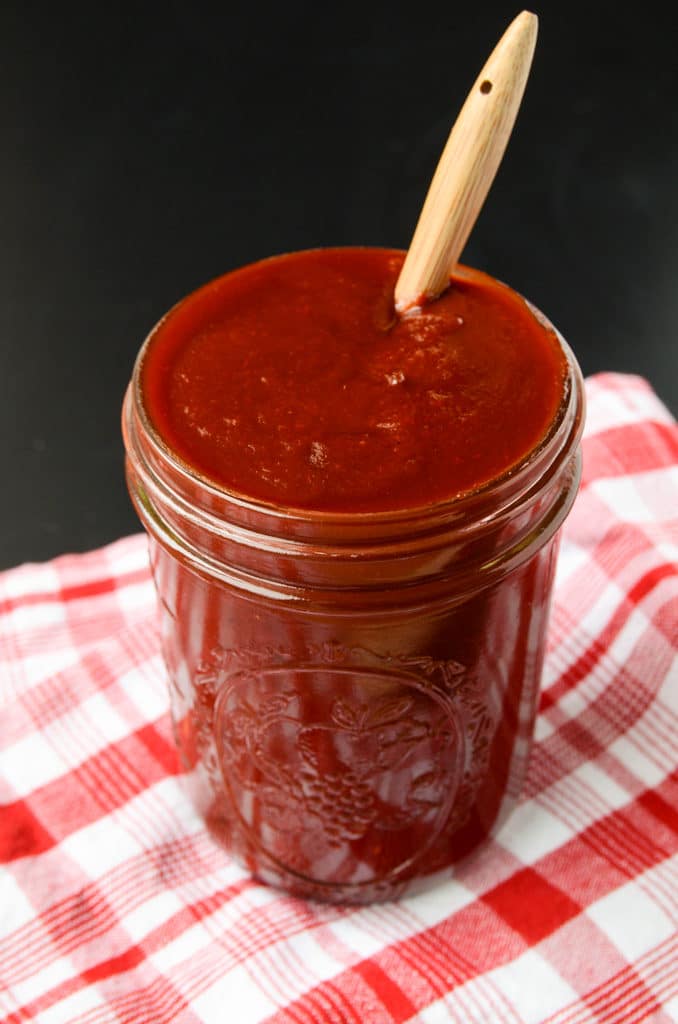 This recipe might seem like an unexpected twist on a vegan blog, but let's be real: BBQ sauce is awesome on anything.
Especially when it's...
Tangy.
Sweet.
Spicy.
Thick.
Slather-worthy.
Bright.
Sassy.
That's right, I just called this sauce sassy. Isn't the first time and probably won't be the last.
On second thought, maybe I'm the one who's sassy today.
Why?
Because it's FREEZING in Chicago today. And when I say "freezing" I mean as cold as -25 windchill. Polar Vortex Part Trois? Yes. I'd say so. Cold enough for schools to close = cold enough to be a named event of chilly terror.
Back to this BBQ goodness.
Dan and I are lovahs of barbecue sauce and we can slather through a bottle in a few weeks. Easily. My most-frequently-slathered food? Roasted cauliflower. Sounds strange but tastes amazing.
Since store-bought BBQ sauce often contains all sorts of highly-processed ingredients and unpronounceable additives, I figured it was probably about time to try making a healthier homemade version from a short but mighty list of goodies.
I didn't want some overly-complicated, fussy sauce that required multiple pans, copious amounts of time, or goofy techniques, so this sauce came to be with those parameters in mind. It's super delicious and couldn't be a lick easier to make.
You'll simply toss all 10 ingredients into a pan, whisk together, and simmer over low heat for five minutes.
That's it. Put a roasted cauliflower floret in it, it's done.
And be sure to check back on Friday for a knee-buckler of a recipe that requires oodles of this tasty sauce. It's a goodie and a sassy one at that.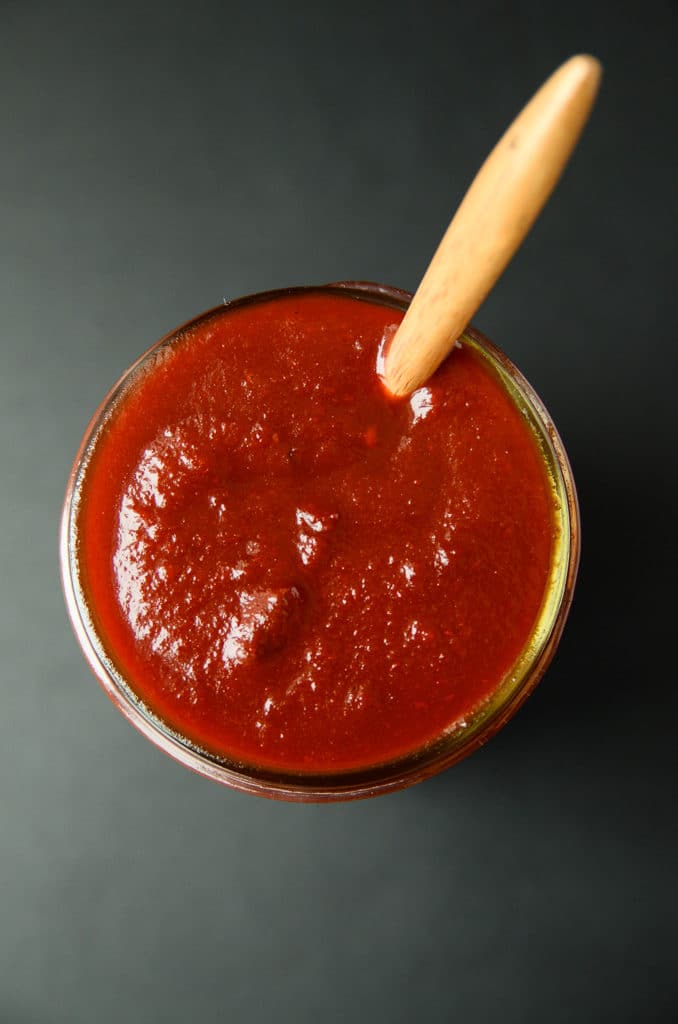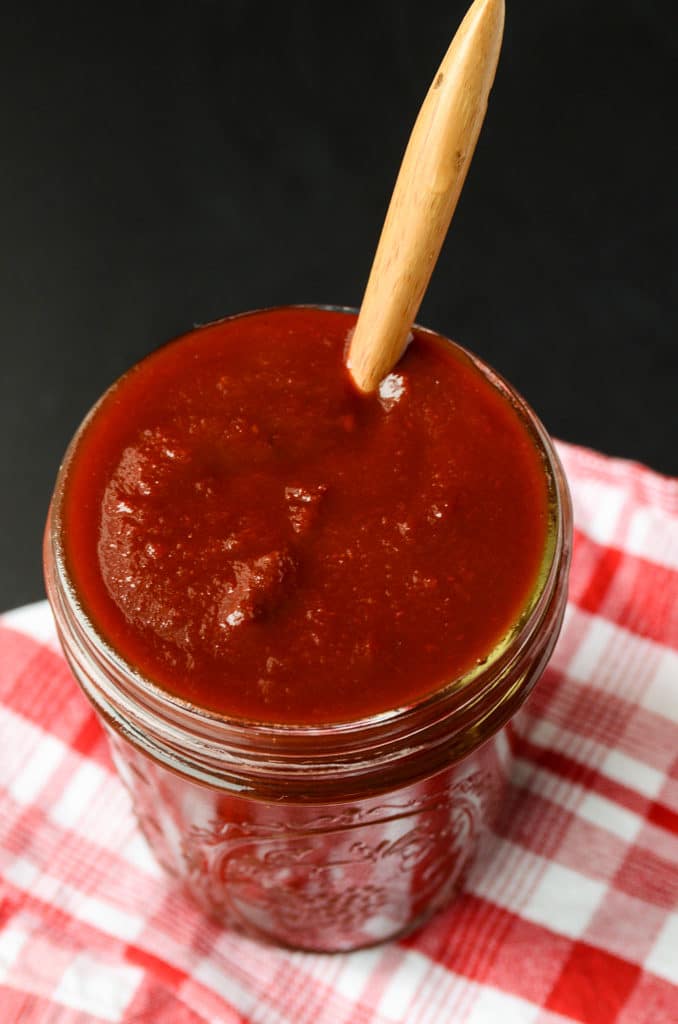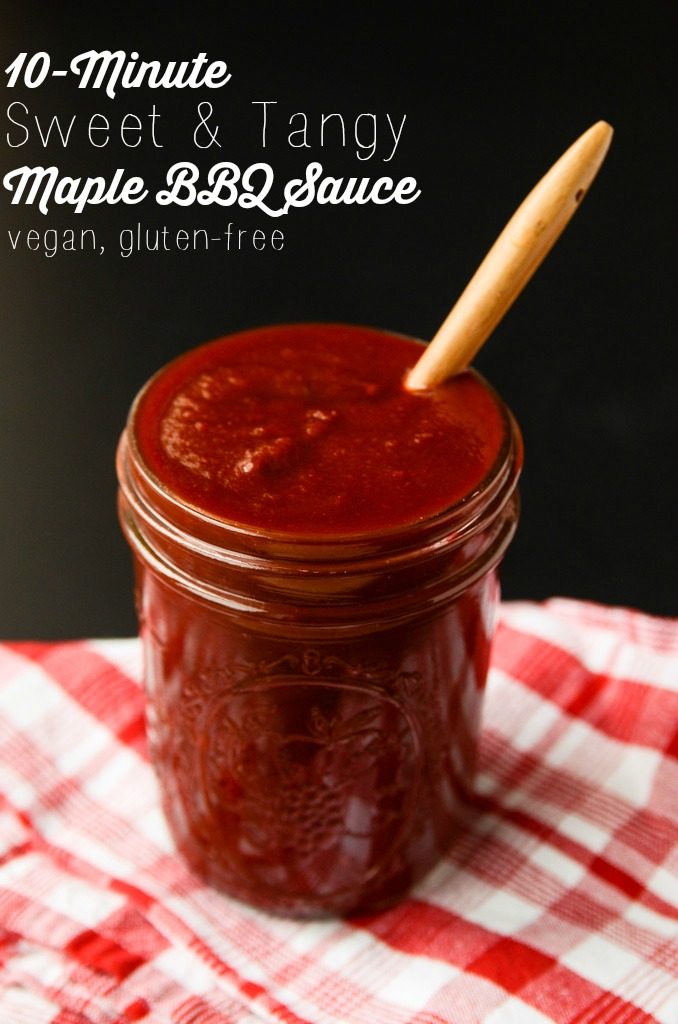 📖 Recipe
10-Minute Sweet & Tangy Maple BBQ Sauce (vegan, gf)
Just 10 ingredients (water included) and a speedy simmer stand between you and this vegan 10-Minute Sweet & Tangy Maple BBQ Sauce.
Ingredients
1

(6-ounce) can

tomato paste

¼

cup

plus 2 ½ tablespoons apple cider vinegar

¼

cup

plus 1 ½ tablespoons coconut sugar

¼

cup

water

¼

cup

pure maple syrup

3

tablespoons

braggs aminos or tamari

3

tablespoons

seeded and minced chipotle peppers in adobo sauce

1

teaspoon

onion powder

¼

teaspoon

garlic powder

⅛

teaspoon

ground allspice
Instructions
Add all ingredients to a medium sauce pan and whisk together over low heat.

Let simmer for 5 minutes, stirring frequently.

Remove from heat, transfer to glass jar or container, and refrigerate.
Notes
*I prefer a tangy and sweet BBQ sauce, so feel free to cut back on the amount of apple cider vinegar and coconut sugar, if you want less tang and/or sweetness. Just taste as you go until you've reached the right balance of flavors.