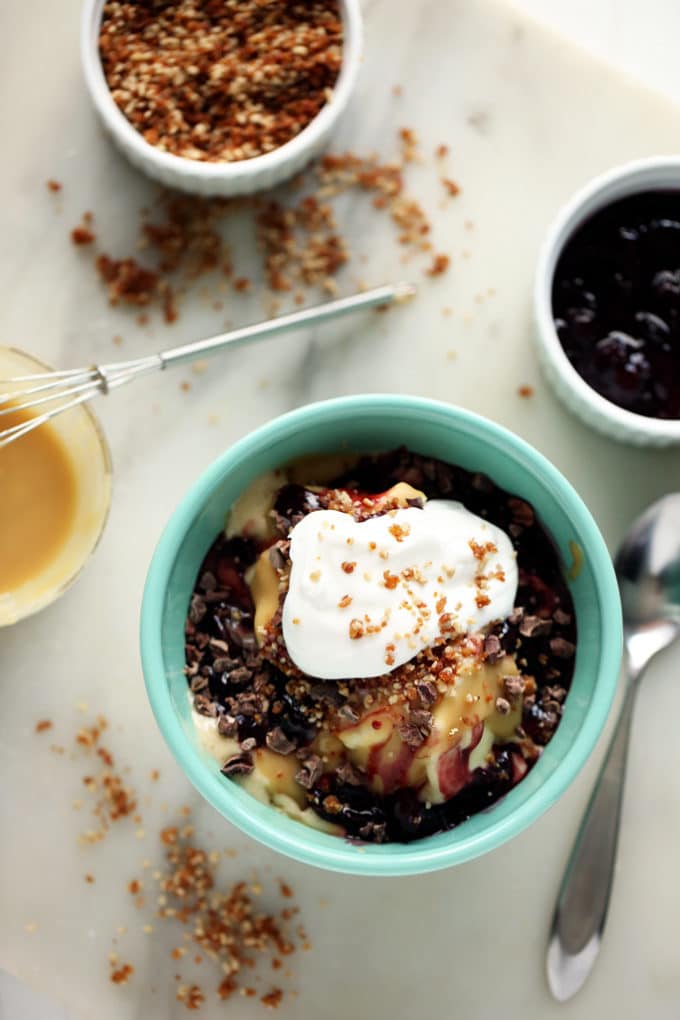 Today, I'm coming to you with an open heart and large-winged, excitement-filled butterflies in my stomach. Equal parts sheer joy, inspired determination, and unguarded vulnerability, all of which are thickly slathered with gratitude.
I've kept this news a secret for so long that it's difficult to find the right words to share it, but I'm going to sprint down the straightforward and simple path: I am writing a cookbook!
That five-word declaration embodies my dreams and aspirations as well as my oh-my-goodness-what-am-I-doing fears. Healthy, workable, and motivating fears, but fears nonetheless. It's been an 8-month journey to get from concept to proposal to signed-on-the-dotted-line book deal, and it feels amazing to finally be sharing the news with you.
I'm absolutely honored to be working with BenBella Books. Many of their publications, including YumUniverse and The China Study, have been a huge inspiration to me. Additionally, they're innovative, supportive, and passionate, and I'm thankful for the creative space they've offered me.
The book, set to be released in January of 2017, will include 100+ plant-based recipes with a focus on whole, straight-from-the-earth ingredients. The vast majority of recipes will be brand new with a tiny sprinkling of favorites from the blog thrown in for good measure. Speaking of favorites, if you have a blog favorite that you'd like to see in bound-paper form, please let me know. I'd really love your input! One recipe that's already made the cut is this one, but to keep things fresh, I've devised a few variations to nestle next to the original recipe. Also, if there are other recipes you'd love to see fashioned into whole foods, plant-based numbers, I'm all ears.
I'm currently in the throes of recipe-testing, which involves taking the 140+ recipe concepts I've drafted specifically for the book and giving them a go in the kitchen. I've been able to chip away at testing on weeknights over the last three months, and every Sunday has been dedicated to book recipes while Saturdays have been reserved for the blog. One thing I articulated at the very start of the process was the importance of maintaining the blog at the same rate I have been, which means three posts per week the majority of the time. This right here — these pixelated white pages — is my home base.
Now onto the decadently-dressed elephant in the room...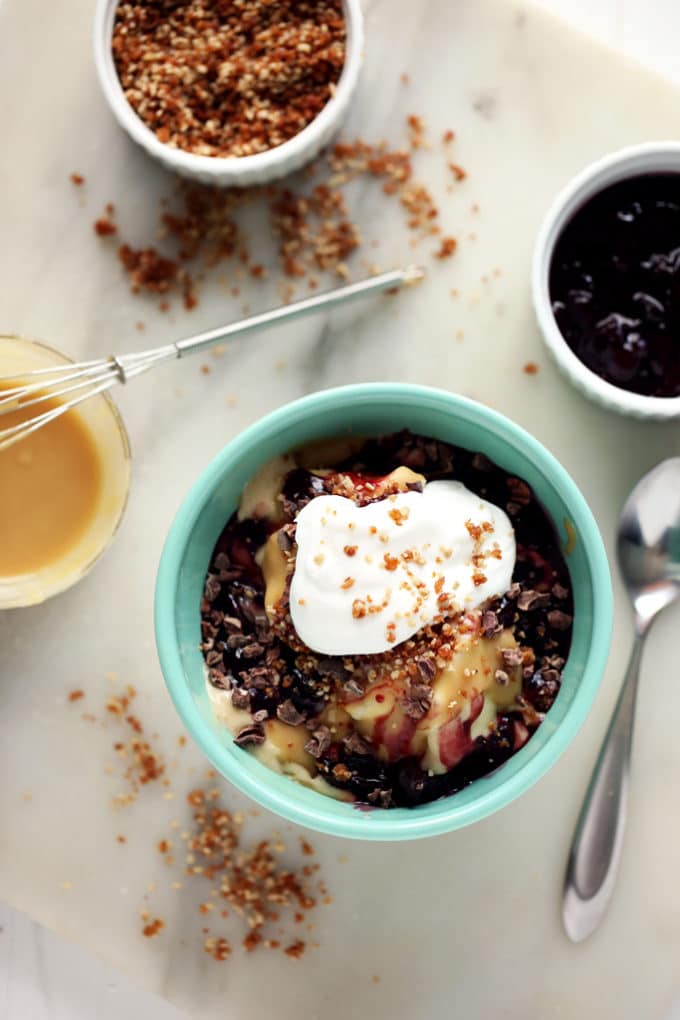 This sundae was built on a foundation of gratitude and topped with celebration.
Gratitude = banana ice cream.
Celebration = tahini magic shell, sweet cherry compote, sunflower crumble, and cacao nibs.
Grab a spoon and dig in.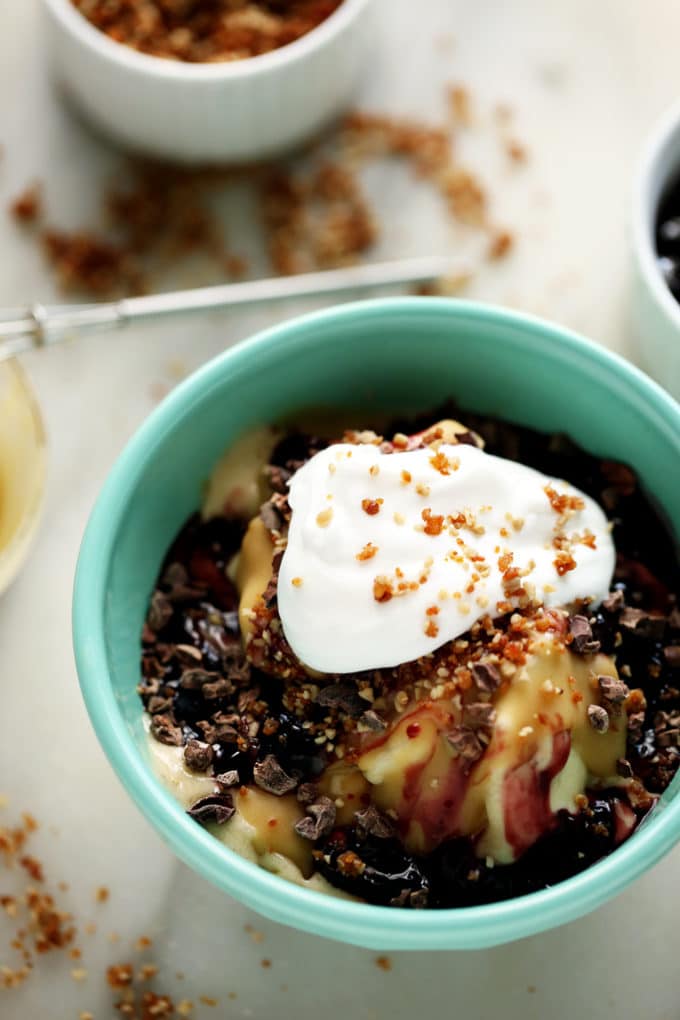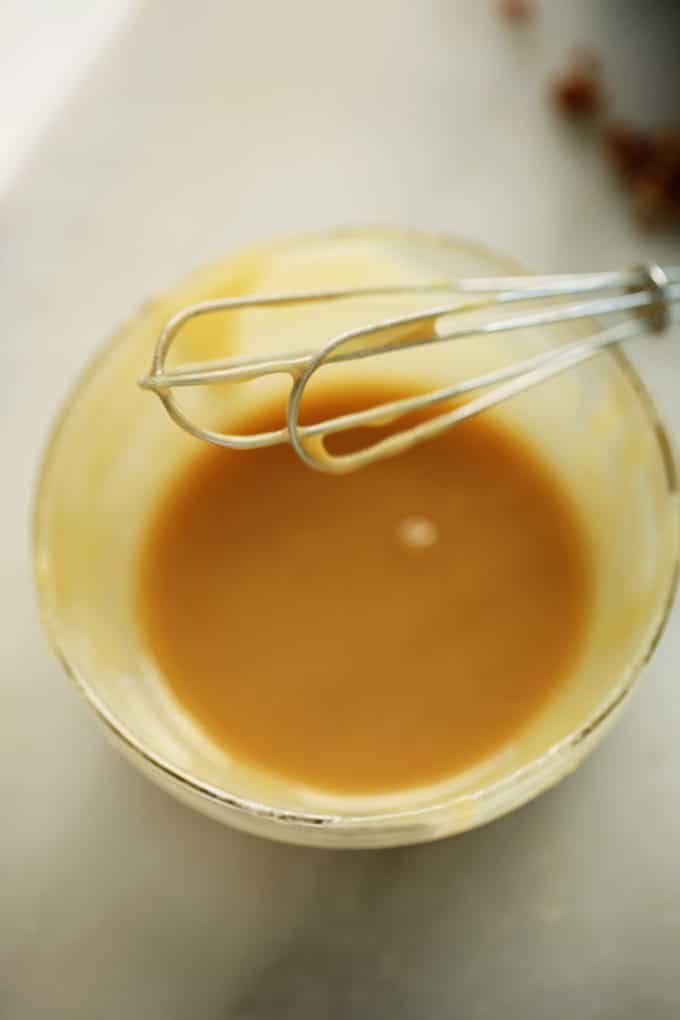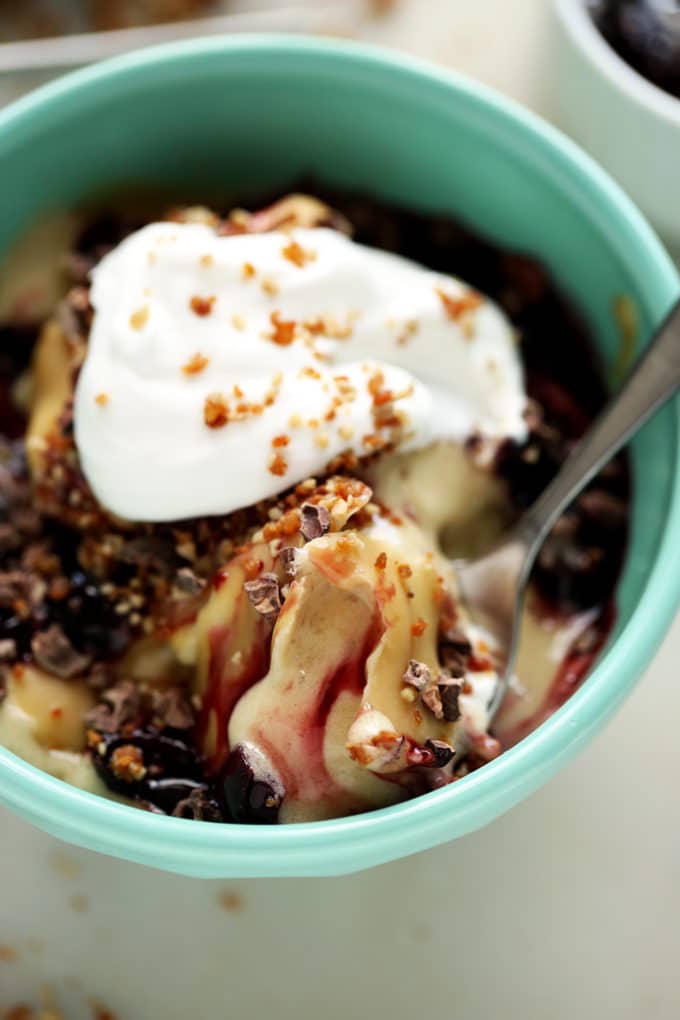 📖 Recipe
Hot Tahini Sundae with Banana Ice Cream, Cherry Compote & Sunflower Crumble
This sundae was built on a foundation of gratitude and topped with celebration. Creamy banana nice cream is topped with tahini magic shell, sweet cherry compote, sunflower crumble, and crunchy cacao nibs.
Ingredients
Cherry Compote
1

cup

fresh or frozen sweet cherries

2

tablespoons

water

1

tablespoon

pure maple syrup

½

teaspoon

arrowroot powder
Sunflower Clusters
2

tablespoons

raw sunflower seeds

1

medjool date, pitted

½

tablespoon

coconut sugar

½

teaspoon

coconut oil

⅛

teaspoon

ground cinnamon
Tahini Magic Shell
2

tablespoons

tahini

1

tablespoon

pure maple syrup

2

teaspoons

coconut oil, melted
Banana Ice Cream
4

ripe and speckled bananas, peeled, sliced, and frozen

1

teaspoon

pure vanilla extract, optional
Additional Toppings
2

tablespoons

cacao nibs

Coconut cream, optional
Instructions
Cherry Compote
In a small saucepan, stir together the cherries, water, and maple syrup over medium heat. Bring to a boil, reduce heat, and simmer for 10 to 12 minutes or until the cherries have broken down into a sauce. With a few minutes left, scoop 1 tablespoon of the cherry liquid into a small bowl, add the arrowroot, and whisk together to combine. Pour the mixture back into the pan and stir until desired thickness is reached. Let cool completely.
Sunflower Crumble
In a food processor, combine the sunflower seeds, coconut sugar, coconut oil, and cinnamon. Pulse 10 to 15 times and then process for 15 to 30 seconds or until coarsely chopped. Transfer to a small bowl.
Tahini Magic Shell
In a small bowl, whisk together the tahini, maple syrup, and coconut oil until combined.
Banana Ice Cream
In a food processor, combine the frozen bananas and vanilla extract. Pulse a few times and then process for 1 to 2 minutes or until smooth and creamy, stopping to scrape down sides as needed.
To Assemble
Use an ice cream scoop to scoop the banana ice cream into 2 serving bowls. Drizzle the tahini magic shell over the ice cream, spoon the cherry compote on top, and sprinkle with the sunflower clusters and cacao nibs. Serve immediately.