Although this vegan crispy brussels sprout salad with pomegranate seeds is dressed from head to toe in red and green, it's completely Thanksgiving appropriate. It can be served as a side or salad course, and it's one of those dishes that you I can't seem to scoop into my mouth quickly enough.
Do you know what I'm talking about? That hurried fork-to-plate, fork-to-mouth movement that seems to be set on autopilot-repeat as if this might actually be the last salad of its kind in the whole, wide world?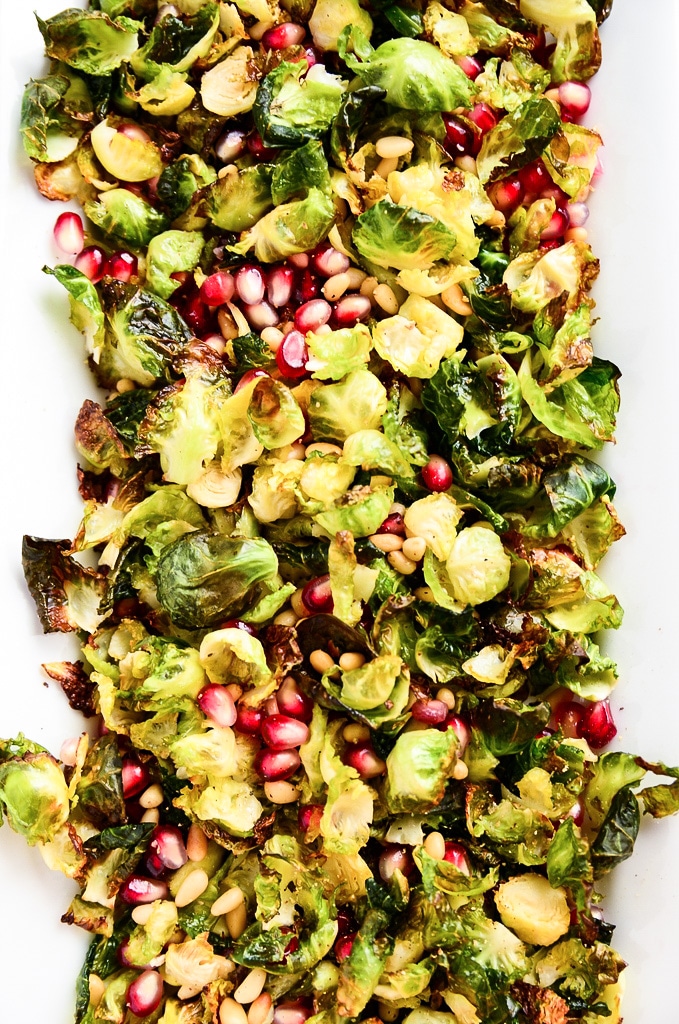 There's no telling what will happen when you put this crispy, crunchy, sweet, and savory salad down on the table. My warning to you: prepare your napkins and twist your shiny locks up into a bun; brussels sprouts and pomegranate seeds have a tendency to fly.
And if you're anything like me, blushing is likely to occur when you find a stray, still-crisp brussels sprout leaf in your hair nearly three hours after you've eaten this salad for lunch. Shh, don't tell Dan.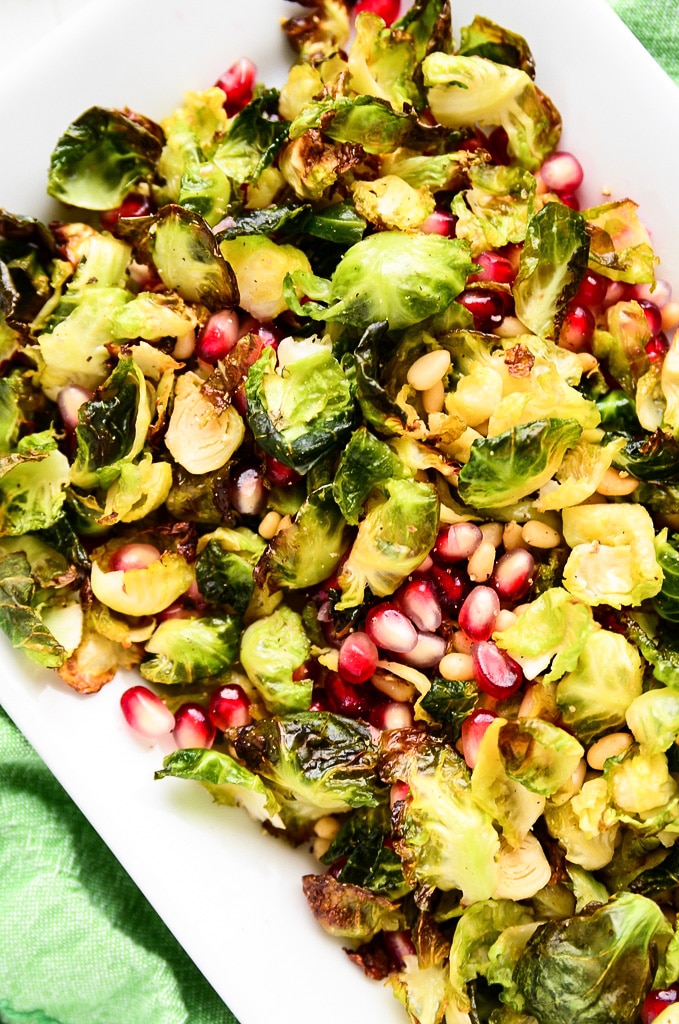 This salad is a slight labor of love but worth every second in the kitchen. The laborious part is trimming each and every brussels sprout and meticulously removing each leaf, one-by-one. Before you disregard this recipe as being wrought by a crazy person, hear me out.
Separating the leaves and massaging them with olive oil before popping them in the oven allows nearly each and every one to crisp up in a chip-like fashion. This method of baking makes them so addictive that it's risky to taste-test before assembling the salad because you're likely to come up short a few dozen leaves.
Once you have an abundance of crispy sprout leaves, you'll add them to a serving bowl or platter, toss in a generous amount of pomegranate seeds, and sprinkle with pine nuts. Then, you'll pour a tangy lime-tahini vinaigrette over top, toss to coat, serve, and observe as happiness spreads across the faces at your dinner table.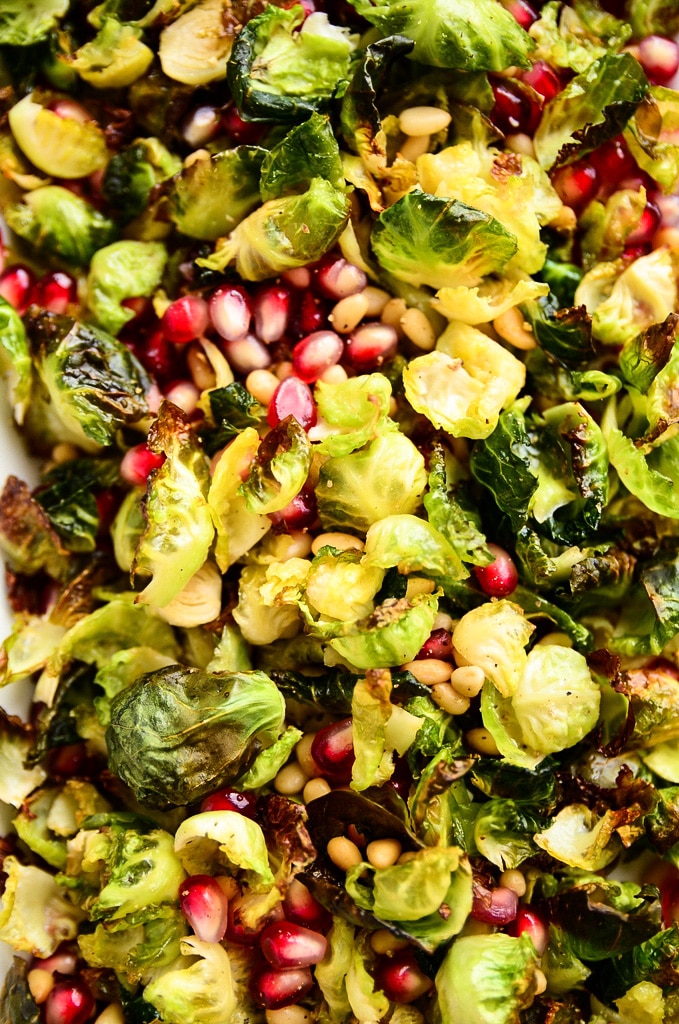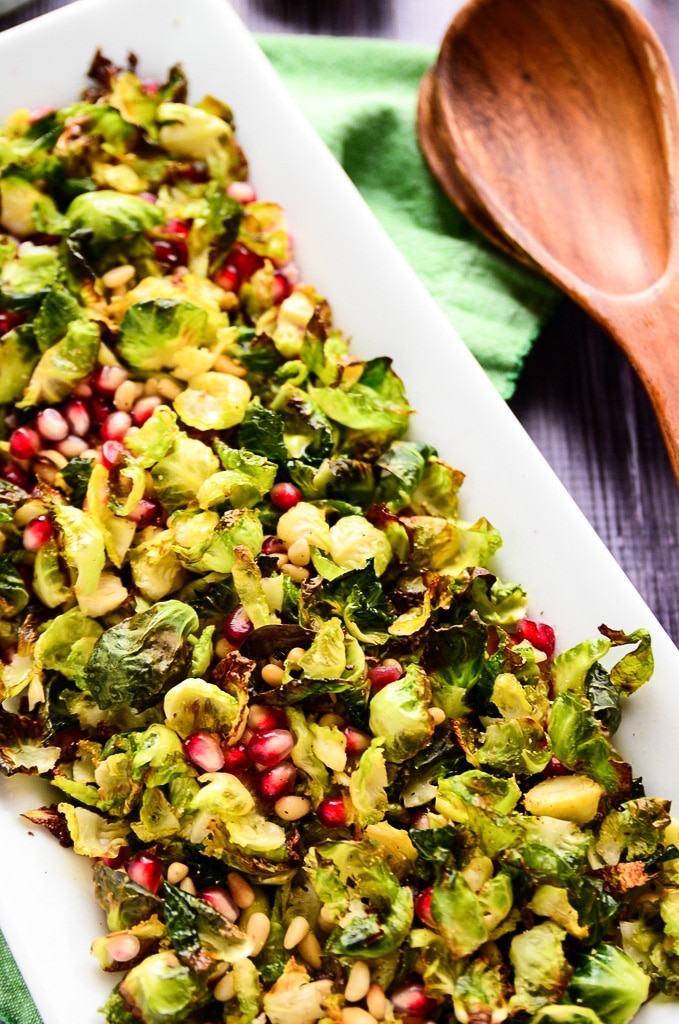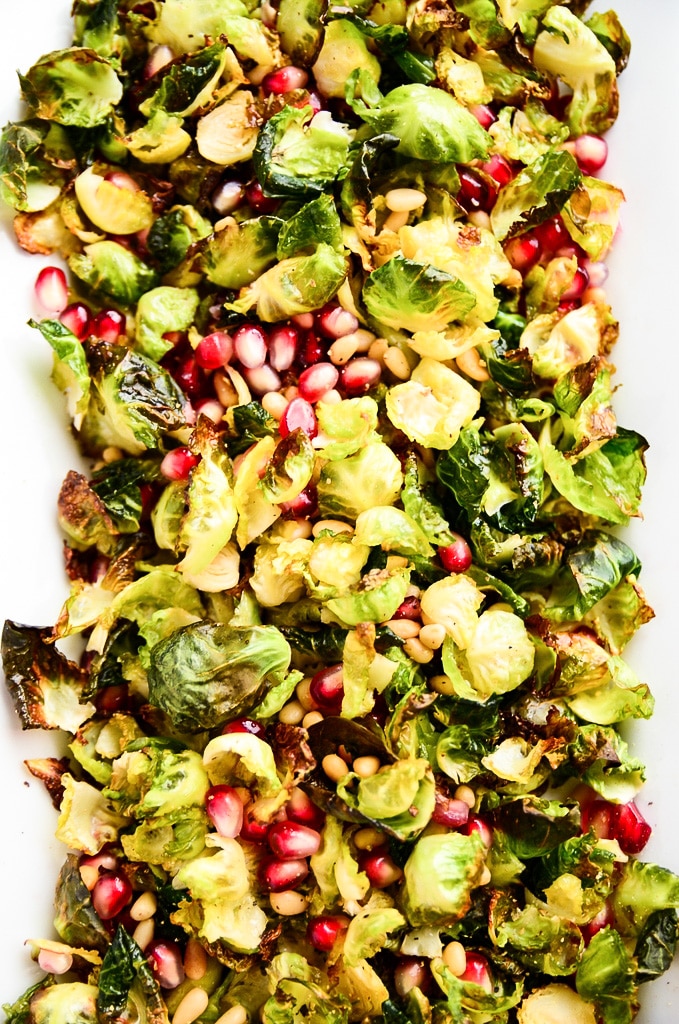 📖 Recipe
Crispy Brussels Sprout Salad with Pomegranate Seeds
Crispy, oven-baked brussels sprout leaves are tossed in a tangy lime vinaigrette and topped with pomegranate seeds and pine nuts. This salad makes an excellent side dish for a festive holiday gathering but is also delicious served as a light lunch or dinner during the chilly winter months!
Ingredients
For the Salad
2

pounds

brussels sprouts

2

tablespoons

olive oil

1

cup

pomegranate seeds

¼

cup

pine nuts
For the Lime Vinaigrette
2

tablespoons

fresh lime juice

1

tablespoon

apple cider vinegar

1

tablespoon

extra-virgin olive oil

½

tablespoon

tahini

½

tablespoon

pure maple syrup

¼

teaspoon

sea salt

Freshly ground black pepper, to taste
Instructions
Preheat oven to 350F.

Line two baking sheets with parchment paper.

One at a time, trim the brussels sprouts and separate the leaves. You will need to trim the base of the sprout a few times to get as many leaves as possible from each. Add the leaves to the baking pans and repeat with each sprout.

Once all of the leaves have been added to the pans, drizzle each pan with 1 tablespoon olive oil and massage the oil into the leaves. Spread the leaves out evenly over each pan and bake for 15-20 minutes or until most of the leaves are crispy and just turning golden. Make sure to toss the leaves every few minutes as they bake to prevent burning. Remove from oven and let cool slightly.

While the leaves are baking, make the vinaigrette by adding the lime juice, apple cider vinegar, olive oil, tahini, maple syrup, salt, and pepper to a small bowl. Whisk for 15-30 seconds until incorporated.

To serve the salad, add the leaves to a serving bowl or tray along with the pomegranate seeds and pine nuts. Pour the dressing over, toss to coat, and serve immediately.

Refrigerate leftovers.