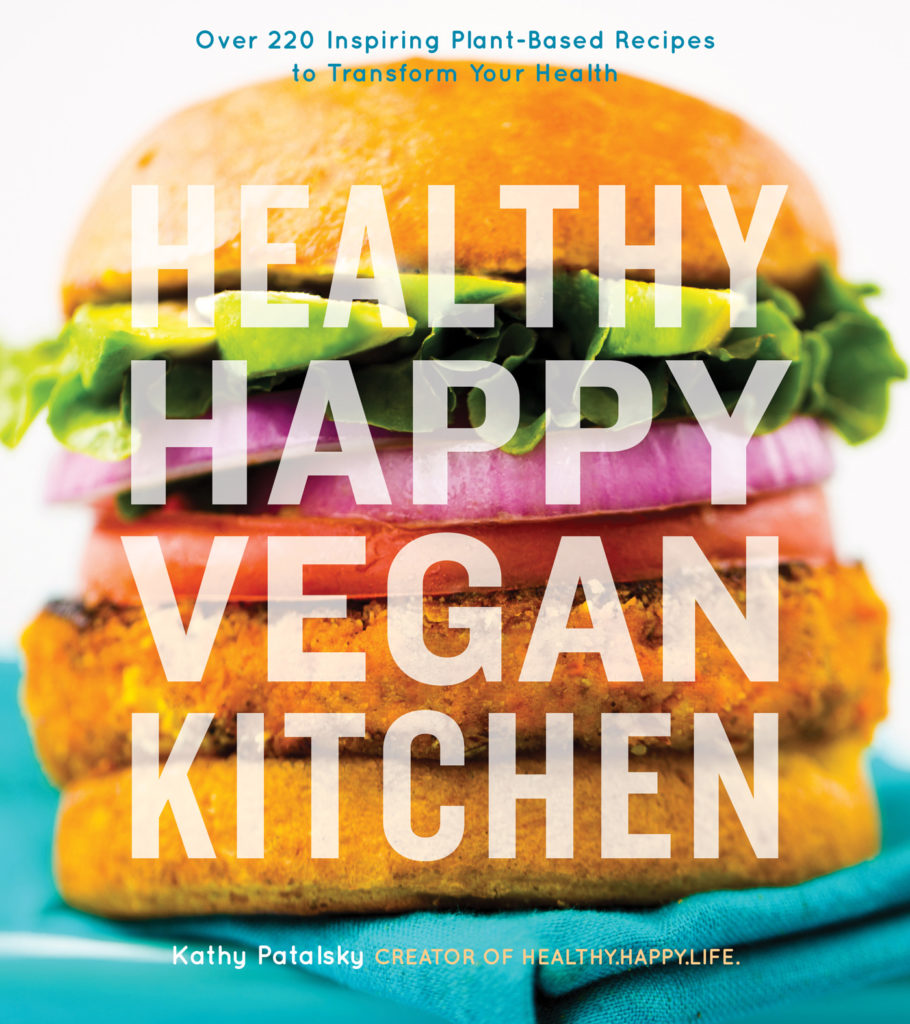 Is this not one of the most eye-catching, vibrant cookbook covers you've ever seen? It's incredibly fitting given that the author of this beautiful book is Kathy Patalsky, creator of the colorful vegan blog Healthy.Happy.Life. Kathy is also the brains behind Finding Vegan and author of the impressive 365 Vegan Smoothies book.
I first stumbled across Kathy's blog during the winter of 2013 and was immediately enamored by the warmth exuded through her creative recipes and inspired reflections. I would go as far as to say it was blog-love at first sight, because her mouthwatering photography gripped my attention, and before I knew it I had spent an hour clicking my way through her recipe archives.
Since that time, Healthy.Happy.Life. has become one of my go-to sources for delicious, reliable vegan recipes. Kathy is one of the kindest, most optimistic, and compassionate bloggers out there, and it's nearly impossible to feel anything less than upbeat from the positive vibes she radiates. Her latest book, Healthy Happy Vegan Kitchen, boasts an impressive 220+ plant-based recipes along with a fun and approachable perspective on vegan cooking. Rather than touting perfection or a drastic lifestyle shift, Kathy welcomes occasional, newbie, and lifelong vegans into her practical, plant-based kitchen and reminds us that small, enduring changes can be beneficial to our health, the animals, and the environment.
I've only spent a few days with Healthy Happy Vegan Kitchen in my hands, but I've already marked countless recipes as must-makes. The recipes are enticing for both their deliciousness and ease, with fuss-free methods and welcoming ingredients. Whether you're vegan, vegetarian, or looking to incorporate a few more plant-based meals into your life, you'll find a special, frequently-visited spot for this cookbook in your kitchen.
Healthy Happy Vegan Kitchen will be released on April 28th, but you can pre-order a copy now. Pickup a copy here.
And wait just one minute, because we're just getting to extra-tasty stuff...
1) I jumped at the chance to make Kathy's 5-Step Raw Kale Salad recipe from the book, and it's one of best kale salads I've ever tasted. The dressing. Oh the dressing. I have no words. Scroll down for a few photos and the recipe!
2) One (seriously lucky) reader will win a copy of Healthy Happy Vegan Kitchen. Be sure to enter the giveaway below!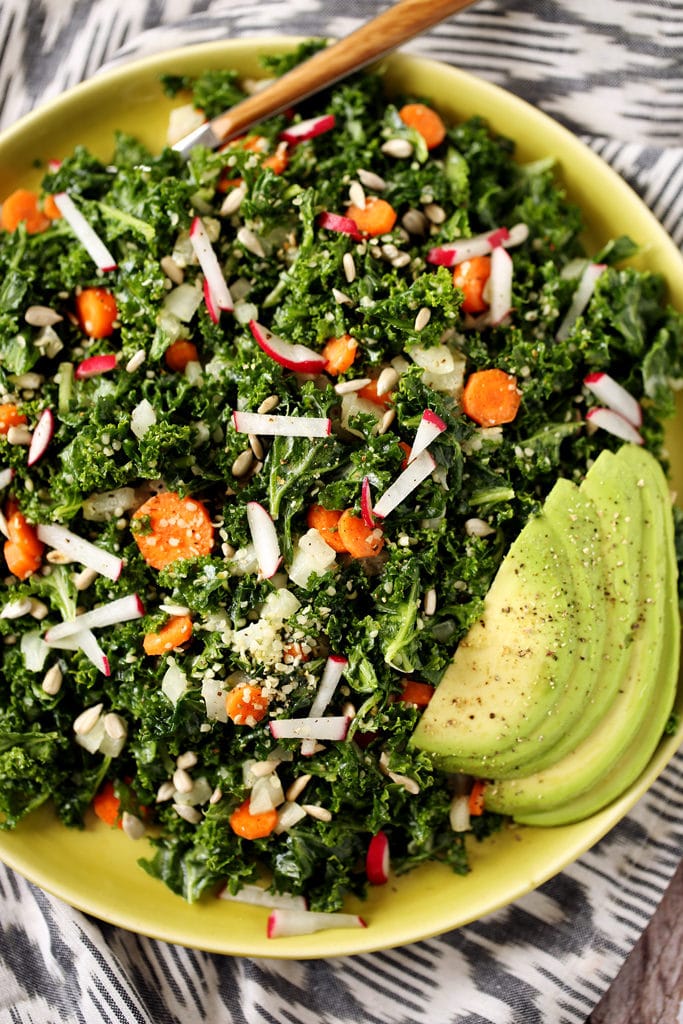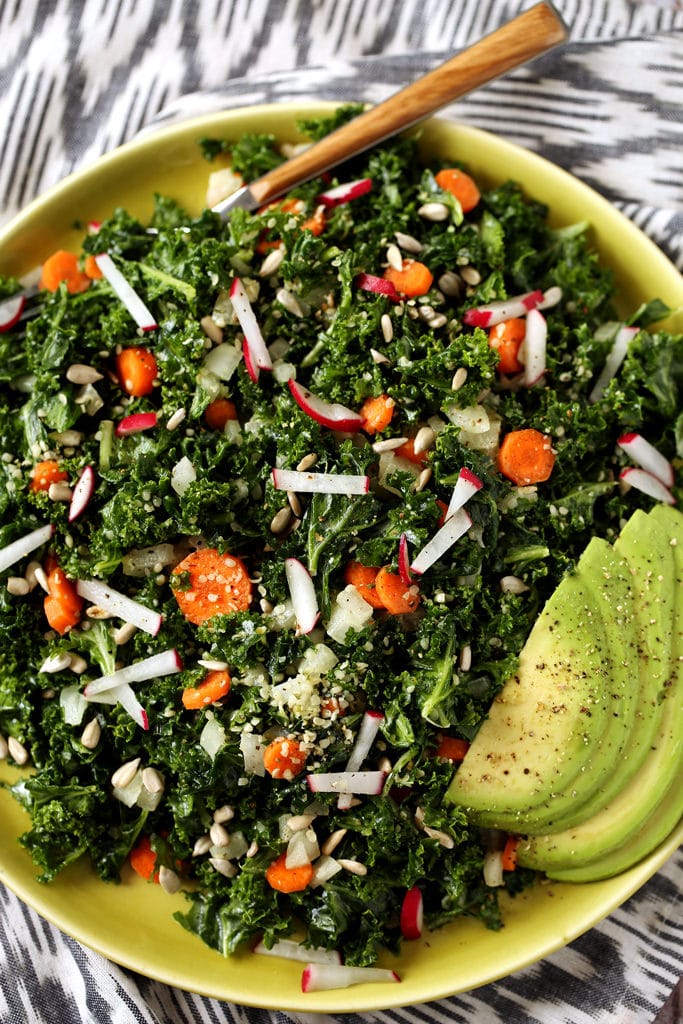 5-Step Raw Kale Salad from Healthy Happy Vegan Kitchen
"When you hear about kale salads being trendy and craveable, this is the type of salad that everyone is referring to! Raw kale marinated or massaged with flavors, tahini or nut butter, avocado, veggies, a sweet accent, and something sassy like lemon juice or apple cider vinegar. Make this your go-to raw kale recipe -- it only takes five steps!"
Ingredients
Salad
1

bunch kale

¾

cups

shredded carrots

1

small avocado, diced

½

cup

diced sweet onion

2 to 3

tablespoons

seeds or nuts (optional)
Simple Sweet Tahini Dressing
3

tablespoons

fresh lemon juice or apple cider vinegar

2

tablespoons

tahini (or substitute with nut or seed butter)

2

tablespoons

grade B maple syrup

2

teaspoons

extra-virgin olive oil (optional, adds richness)

pinch of freshly-grated zest

2

pinches

cayenne

Pinch of sea salt

Few pinches of freshly-ground black pepper
Instructions
Wash the kale. Run each thick leaf under warm water and massage any grit away. Tear the leaves away from the thick stalks and place them in a large bowl. Rinse and drain the leaves several times until the kale is adequately clean. Drain the water from the bowl for a final time and squeeze the kale dry with a few paper towels. Remove any large pieces of kale from the bowl and finely chop them into long strings. (If you like large pieces of kale you can skip this last chopping step.) You should have 4 to 5 cups of kale.

Place the kale, carrots, avocado, and onion in a large bowl.

For the Simple Sweet Tahini Dressing: In a small bowl, whisk the dressing ingredients together.

Add the dressing to the bowl of veggies and kale and start tossing. Massage the dressing into the kale with your hands, if you'd like, for more infused flavor. Fluff and toss until the dressing is well absorbed into the greens and veggies. Fold in the seeds, if desired.

Cover and refrigerate the salad. Allow at least 1 hour for the dressing to really sink into the ingredients. Plus, chilling everything makes it refreshing and tasty as a cold salad side. You can even make this salad the night before you serve it. Overnight chilling works! The greens should be eaten within a day for the best taste and texture.
Notes
Text excerpted from HEALTHY HAPPY VEGAN KITCHEN, © 2015 by Kathy Patalsky.
*I also added sliced radishes, hemp seeds, and sunflower seeds to the salad.
Nutrition
Serving:
235
g
|
Calories:
259
kcal
|
Carbohydrates:
23
g
|
Protein:
5
g
|
Fat:
17
g
|
Fiber:
8
g
Healthy Happy Vegan Kitchen Cookbook Giveaway
One winner will receive a copy of Healthy Happy Vegan Kitchen. For a chance to win, simply enter the giveaway using the Rafflecopter widget below and comment on this post between April 18th and May 2nd. Please note: this giveaway is only open to residents of the US.