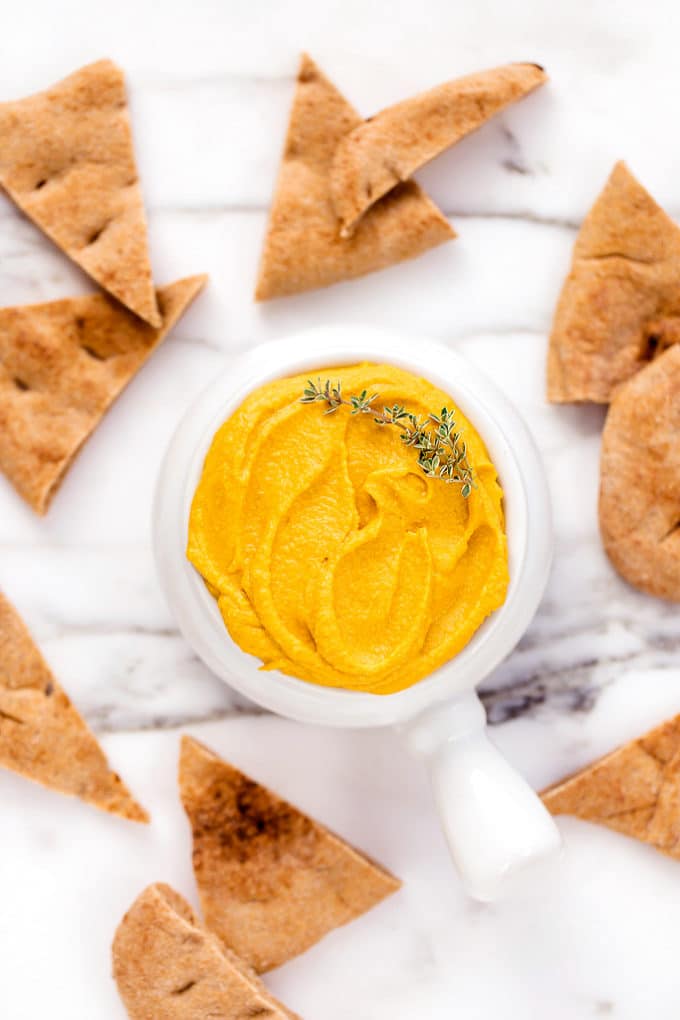 Pumpkin. An obsession that's triggered like clockwork, moving in alongside the first brisk September breeze and lingering until December snowflakes encourage the release of our firm, pumpkin-filled grips.
As I was flipping through the pages of Kathy Hester's latest cookbook, The Easy Vegan Cookbook: Make Healthy Home Cooking Practically Effortless, to decide on a recipe to make and share in this post, I flagged oodles of must-make goodies, including (but not limited to)...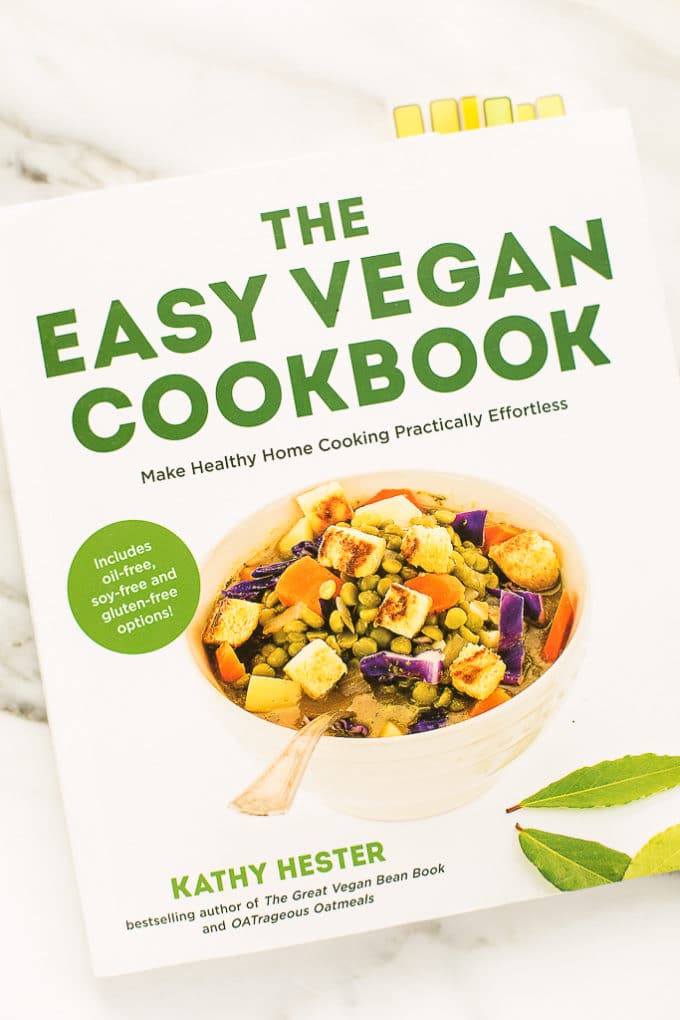 One Pot Veggie Vodka Sauce Pasta, Singapore Mai Fun (Curry Thin Rice Noodles), Sweet Potato Ropa Vieja, Creamy Black-Eyed Pea Southern Quesadillas, All-Natural Carrot Dogs (yes, like hot dogs but with carrots!), Spicy Cauliflower Po' Boy (next on my to-make list), and Applesauce Spice Cake.
The book is packed to its covers' with deliciously-balanced recipes: creative yet easy and quick yet thoughtful. Plus, each and every recipe has a mouthwatering photo to accompany it -- an immediate win in my food-photo-loving heart.
However, it was this recipe for pumpkin hummus that I just couldn't shake as I was putting together my grocery list on Friday evening. It's packed with almost as much pumpkin as it is chickpeas, richly layered with savory spices, and totally snack-able. In total, it took me about 10 minutes to pull together, and that included a few minutes of hemming and hawing about serving gear (i.e., pita, naan, or veggies?) for these photos.
Scroll down to... 1| snag this must-have fall recipe and 2| enter to win your very own copy of The Easy Vegan Cookbook. You can also grab a copy here now.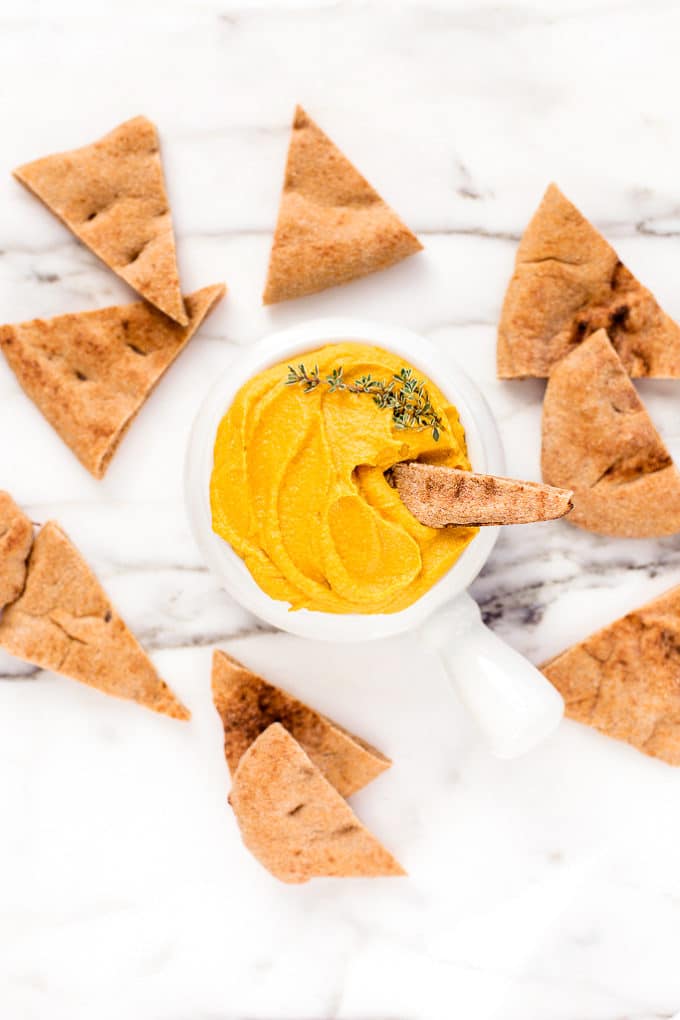 📖 Recipe
Pumpkin Hummus from The Easy Vegan Cookbook + A Giveaway!
A rich and creamy vegan pumpkin hummus that's packed with pumpkin purée and protein-rich beans to boot. Pair it with sliced veggies, warm pita wedges, or toasted baguette!
Ingredients
1 (15-ounce)

can

chickpeas, drained and rinsed or 1 ½ cups (300 g) cooked

¾

cup

(184 g) pumpkin puree (can substitute sweet potato or butternut squash puree)

2

cloves

garlic, sliced

1

tablespoon

(15 ml) fresh lemon juice

2

tablespoons

(10 g) nutritional yeast

½

to 1 teaspoon cumin, to taste (I used ½ tsp)

¼

teaspoon

smoked paprika

¼ to ½

teaspoon

coriander, to taste, optional (I used ¼ tsp)

¼

teaspoon

cayenne

2 to 3

tablespoons

water, as needed

Sea salt, to taste (I used ¾ teaspoon)

Note: I also added 2 tablespoons of tahini to yield a super smooth and creamy hummus.
Instructions
Place the chickpeas, pumpkin, garlic, lemon juice, nutritional yeast, cumin, paprika, coriander, and cayenne in your food processor. Blend until the chickpeas are pureed (note: I blended until everything was super smooth and creamy). Add in water, one tablespoon at a time, if the mixture is too thick.

Taste and adjust seasonings; add sea salt to taste.

Serve with veggies, pita, sweet potato chips, etc.

Refrigerate leftovers.
The Easy Vegan Cookbook Giveaway
One winner will receive a copy of Kathy Hester's The Easy Vegan Cookbook: Make Healthy Home Cooking Practically Effortless. For a chance to win, simply enter the giveaway using the Rafflecopter widget below and comment on this post between September 30th and October 14th. Please note: this giveaway is only open to residents of the United States.