This spaghetti with Nana's red sauce from The Wicked Healthy cookbook is a simple yet robust dish. Layers of flavor are built over time with just a handful of humble ingredients. This recipe is one you'll want to bookmark, dog-ear, tweet, etc. It's a goodie.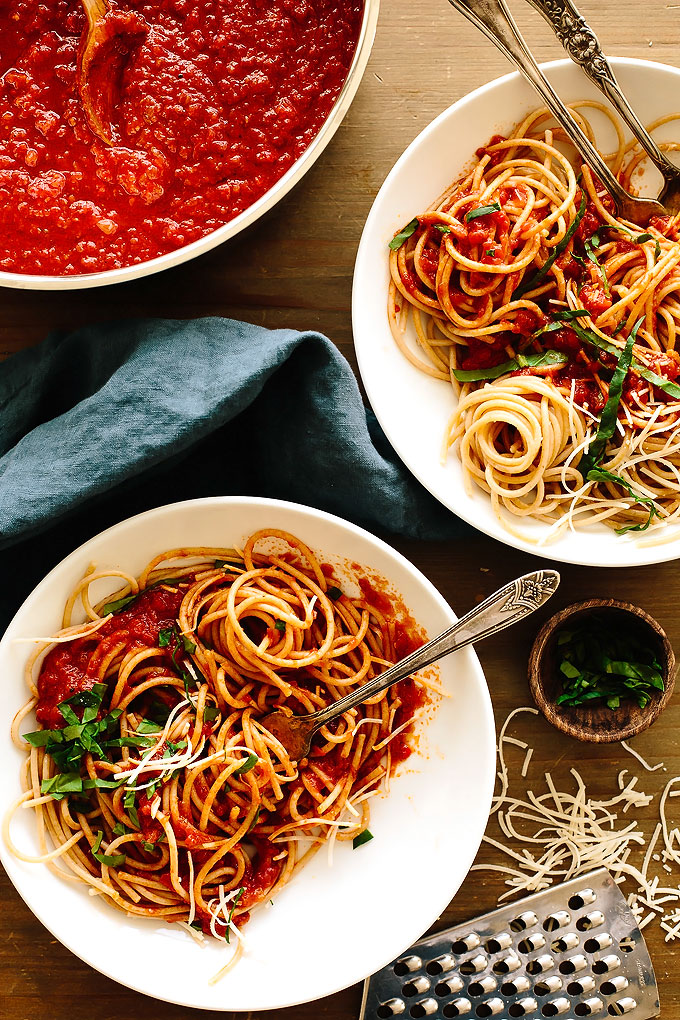 I haven't been reviewing nearly as many cookbooks lately. Not because I haven't wanted to, but because I've had to strictly limit extra projects since I'm working just two days a week.
But when I was contacted to review The Wicked Healthy Cookbook by Chad Sarno, Derek Sarno, and David Joachim, I couldn't resist.
The Wicked Healthy cookbook offers a fresh, exciting, and chef-led twist on plant-based cooking. Chefs Chad and Derek use innovative techniques and ingredients to create recipes that are sure to entice even the most meat-loving and hoity-toity of palates.
Here's a rundown of a handful of the recipes on my must-make list:
King Satay with Spicy Peanut-Ginger Sauce
Smoky Poutine
Corn Dumplings in Coconut Corn Broth
Lion's Mane Steaks
Sourdough Pizza Dough
Lion's Mane Street Tacos
Sloppy BBQ Jackfruit Sliders with Slaw, Sriracha Mayo, and Pickles
New England Lobster Roll (side note: this one looks CRAZY good)
Banana Blossoms with Coconut and Chile
Stir-Fried Farro Fawcett
Spicy Coconut-Corn Crack
Lobstah Mushroom Chowdah
I'm only halfway through the book, but I'll cut myself off here. Plenty to entice!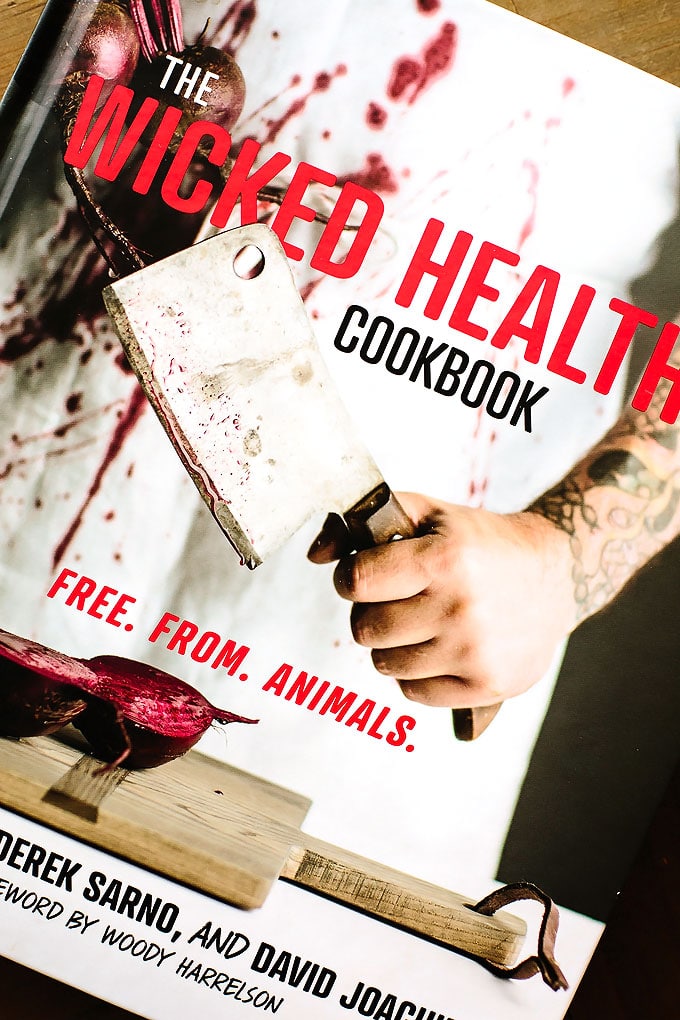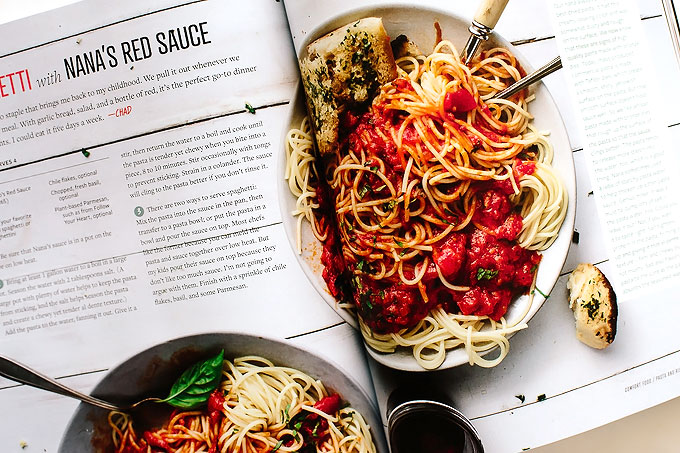 To give you a little preview of the tastiness of this book, below you'll find the recipe for Spaghetti with Nana's Red Sauce.
This unassuming dish is full of robust layers of flavor. The trick is all in the sauce. Ingredients are added a few at a time and a lengthy (three-hour) cook time is a must. Trust me, it's worth it. This is a staple sort of sauce. The "gravy" for a variety of pasta canvases, if you will...
Beyond spaghetti, think: tagliatelle, vegan lasagna, vegan stuffed shells, etc. Splatter this stuff around wherever red sauce is needed. You won't be disappointed.
Be sure to scroll down to the bottom of this post 1) to grab this recipe and 2) to enter to win your very own copy of The Wicked Healthy Cookbook. And if you simply can't wait to get your hands on it (I feel you), you can purchase a copy here (←affiliate link).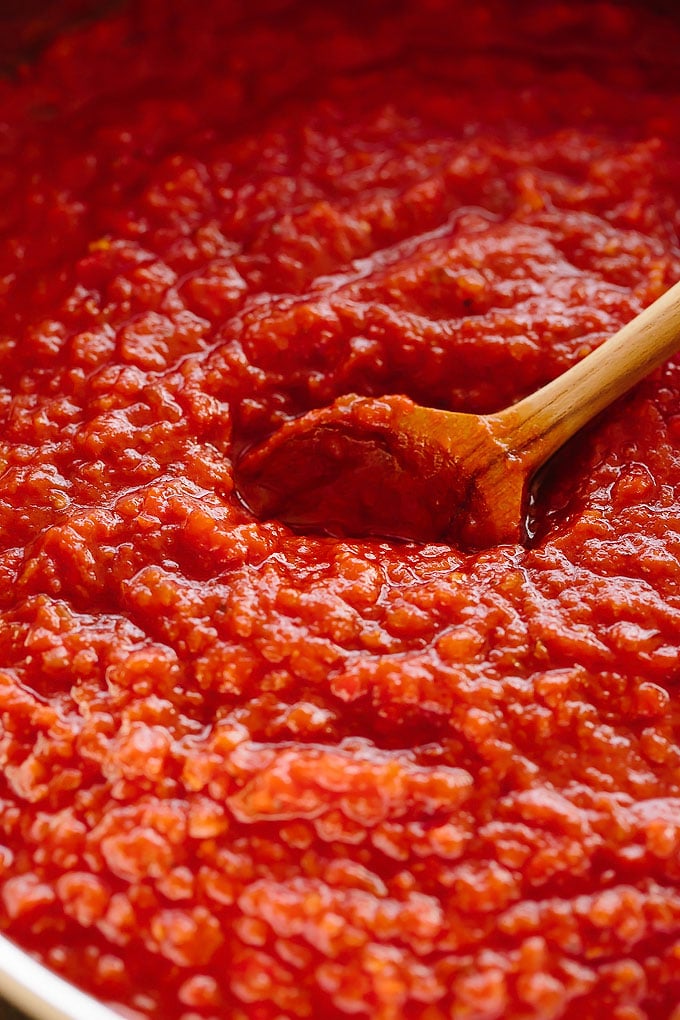 📖 Recipe
Spaghetti with Nana's Red Sauce
"This is a Sarno staple that brings me back to my childhood. We pull it out whenever we need a quick meal. With garlic bread, salad, and a bottle of red, it's the perfect go-to dinner on weeknights. I could eat it five days a week." —Chad
Ingredients
Nana Sarno's Red Sauce

(recipe below)

Sea salt

1

pound

your favorite dried spaghetti or spaghettini

Chile flakes, optional

Chopped, fresh basil, optional

Plant-based Parmesan, such as from Follow Your Heart, optional
Instructions
Be sure that Nana's sauce is in a pot on the stove on low heat.

Bring at least 1 gallon water to a boil in a large pot. Season the water with 2 tablespoons salt. (A large pot with plenty of water helps to keep the pasta from sticking, and the salt helps season the pasta and create a chewy yet tender al dente texture.) Add the pasta to the water, fanning it out. Give it a stir, then return the water to a boil and cook until the pasta is tender yet chewy when you bite into a piece, 8 to 10 minutes. Stir occasionally with tongs to prevent sticking. Strain in a colander. The sauce will cling to the pasta better if you don't rinse it.

There are two ways to serve spaghetti: Mix the pasta into the sauce in the pan, then transfer to a pasta bowl; or put the pasta in a bowl and pour the sauce on top. Most chefs like the former because you can meld the pasta and sauce together over low heat. But my kids pour their sauce on top because they don't like too much sauce. I'm not going to argue with them. Finish with a sprinkle of chile flakes, basil, and some Parmesan.
📖 Recipe
Nana Sarno's Red Sauce
Ingredients
Everyday olive oil

1

white onion, diced small

2

large cloves

garlic, minced

1

red bell pepper, diced small

1 ½

teaspoons

minced fresh oregano

Sea salt and freshly ground black pepper

2

28-ounce cans San Marzano tomatoes, drained

1

6-ounce can tomato paste

About ¼ teaspoon organic cane sugar (optional)

Large handful of basil leaves, torn
Instructions
Heat a large saucepot over medium-high heat. Add enough oil to cover the bottom of the pot. Sauté the onions in the oil until they look golden around the edges, about 4 minutes. Add the garlic, bell pepper, and oregano. Sprinkle with a little salt and pepper, then sauté until the peppers are soft, about 5 minutes.

Use your hands to pinch and pull out the canned tomatoes' cores, then crush the tomatoes right into the pot. Add the tomato paste and sugar. Fill the tomato paste can 4 times with water, adding the water to the pan, and stir until incorporated. Simmer the sauce uncovered over low heat for 1 to 1 ½ hours, stirring now and then to prevent burning. Use an immersion blender in the pot, or an upright blender, to puree the sauce—or, for the perfect rustic texture, use a food mill.

Return the sauce to low heat and simmer until the flavors blend, an additional 1 to 1 ½ hours. Taste the sauce, and add salt, pepper, and sugar until it tastes good to you. Remove from the heat and stir in the basil.
The Wicked Healthy Cookbook Giveaway
One winner will receive a copy of The Wicked Healthy Cookbook. For a chance to win, simply enter the giveaway using the Rafflecopter widget below and comment on this post between June 7th and June 20th. Please note: this giveaway is only open to residents of the US and Canada.