This thin and fragrant weeknight root vegetable dal from The First Mess Cookbook unites comfort and simplicity in one ultra-cozy, one-pot vegan meal.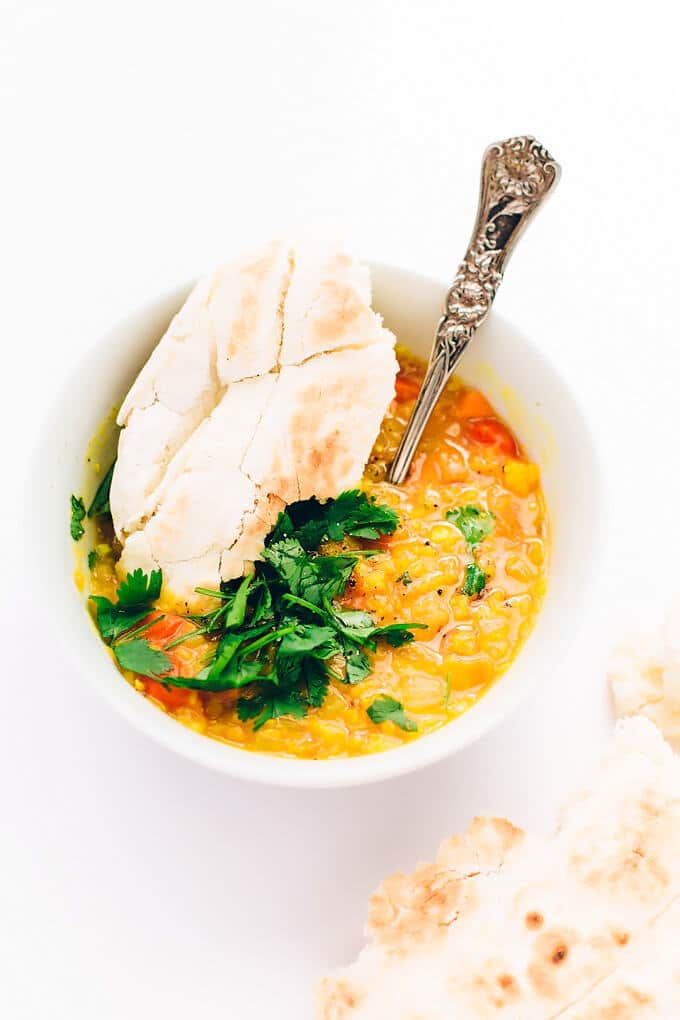 When I think of Laura Wright, the first word that comes to mind is "cool".
Not "cool" in the too-cool, standoffish sense. Quite the opposite, in fact. Cool in the chill, kind-vibin', creatively attuned, confident, well-rooted, and awesome kind of way.
Laura's recipes have this sort of inspired vitality that emanates from them. It's as if the creative state she wrote a recipe within becomes transposed upon the maker's experience. Does this make sense? Probably sounds crazy, but I can't think of a better way to explain it.
Take this recipe for example. As I drizzled the final touch of spice oil over the simmering golden dal, I could feel the spirit that Laura infused into the creation of it. When I tasted the first of many delicious bites, I sensed it yet again.
Writing a recipe that translates well into other kitchens is a feat; creating a recipe that moves the next maker's heart is a gift.
Laura has this gift, and it radiates from each and every page in her debut cookbook, The First Mess.

Cover photography by Laura Wright
This is one of the most beautiful cookbooks I've ever held in my hands. It's brimming with whole food, plant-based recipes and packed with full-page photos (nearly one for every dish).
Much like her brilliant blog, Laura's cookbook is home to undeniably stunning photos. Her photography is vibrantly moody. This paradoxical style seems almost impossible to pull off, yet she does so effortlessly.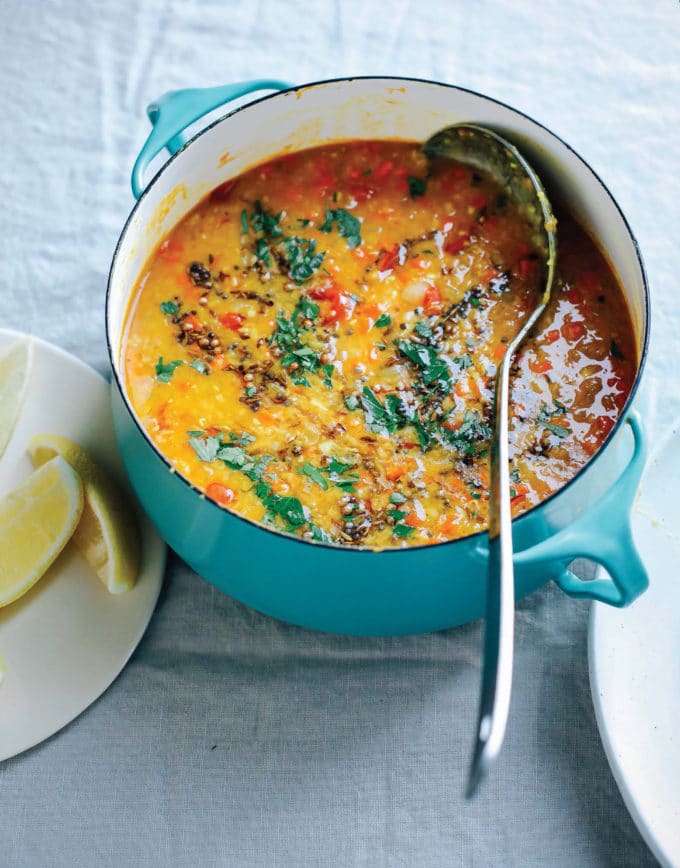 Photo by Laura Wright
Beyond its coffee-table appeal, this cookbook is packed with approachable, innovative, and nourishing recipes. Other than marking the recipes I was deciding between for this post, I gave up on dog-earing pages because there are simply too many I'm itching to try.
Here are a few at the tippy-top of my list:
Savory Ginger Green Onion Crepes
Leaf and Stem Green Tortilla Soup
Creamy Jalapeño Corn Chowder
Pepperoncini Lentil Crunch Salad (with pepperoncini dressing—say what?!)
Caramelized Onion Potato Salad
Broccoli Caesar with Smoky Tempeh Bits
Warm Balsamic Mushroom Salad with Pine Nut Parmesan
Tandoori-Rubbed Portobellos with Cool Cilantro Sauce
BBQ Mushroom Toast
Crispy Avocado Tacos
Garlicky Winter Vegetable and White Bean Mash with Mushroom Miso Gravy
Salted Date Caramel Shake
Coconut Cream Tart
Fudgy Nut and Seed Butter Brownies
Yeah, that's the "short list".
And if you decide to follow my lead, be sure to also add this one to your short list:
Weeknight Root Vegetable Dal.
Oh. Em. Gee.
I love a good lentil dal and am not easily impressed, but this is the best I've ever tasted. It uses a simple throw-it-all-in-the-pot-and-simmer method that I was initially skeptical of, but my goodness did this impress.
The dal relies on simple ingredients with your choice of root veggie (I opted for carrots, but beets, celery root, etc. are up for grabs, too). Simply toss all of the ingredients into a pot, bring everything to a boil, and then simmer for 40 minutes, giving it plenty of stirring love near the end.
It's finished with a handful of fresh cilantro and the most delightful spice oil made from virgin coconut oil, mustard seeds, coriander seeds, and cumin seeds.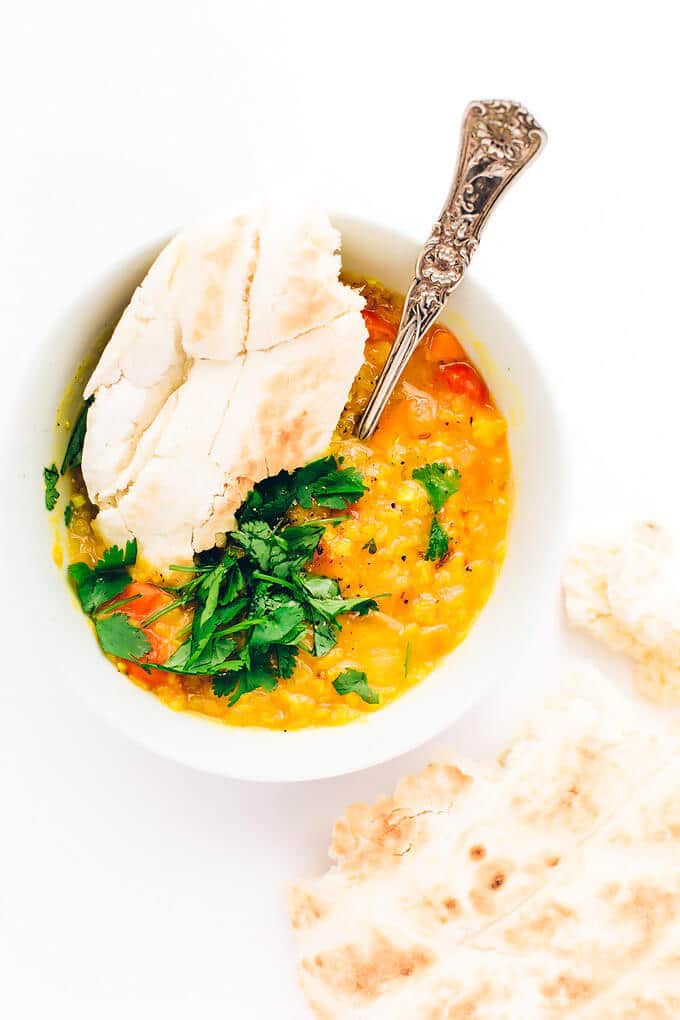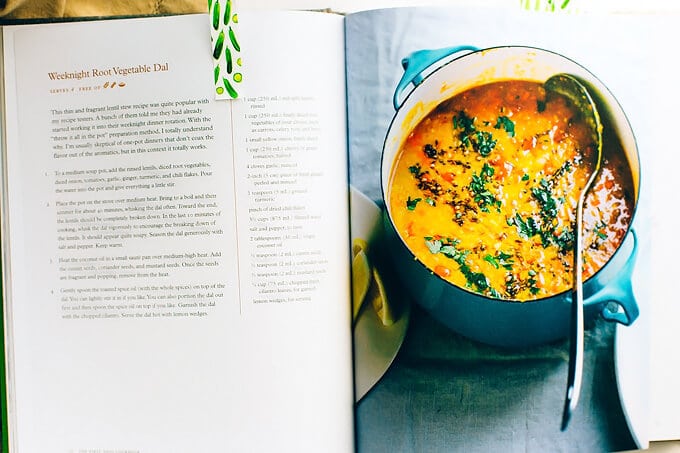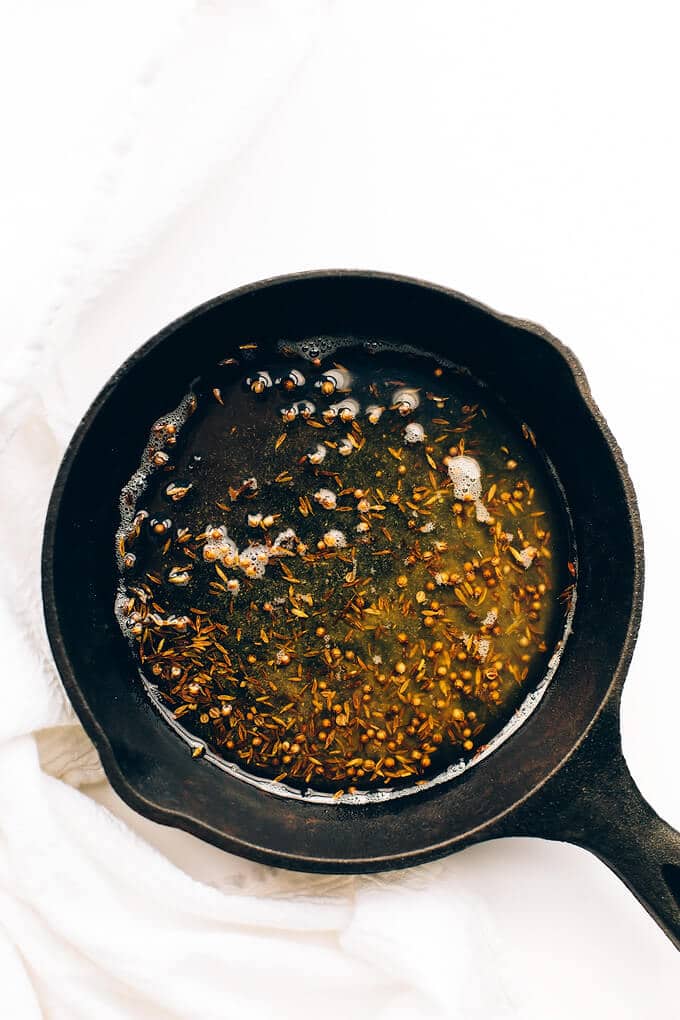 I love how special this dish looks, feels, and tastes. Add to that the fact that it comes together without a fuss, and there's no denying that this one is a keeper.
I hope you give this recipe a go—you'll be so happy you did!
For more recipes like this one, be sure to pickup a copy of The First Mess cookbook or scroll down and enter for a chance to win a copy (details below)!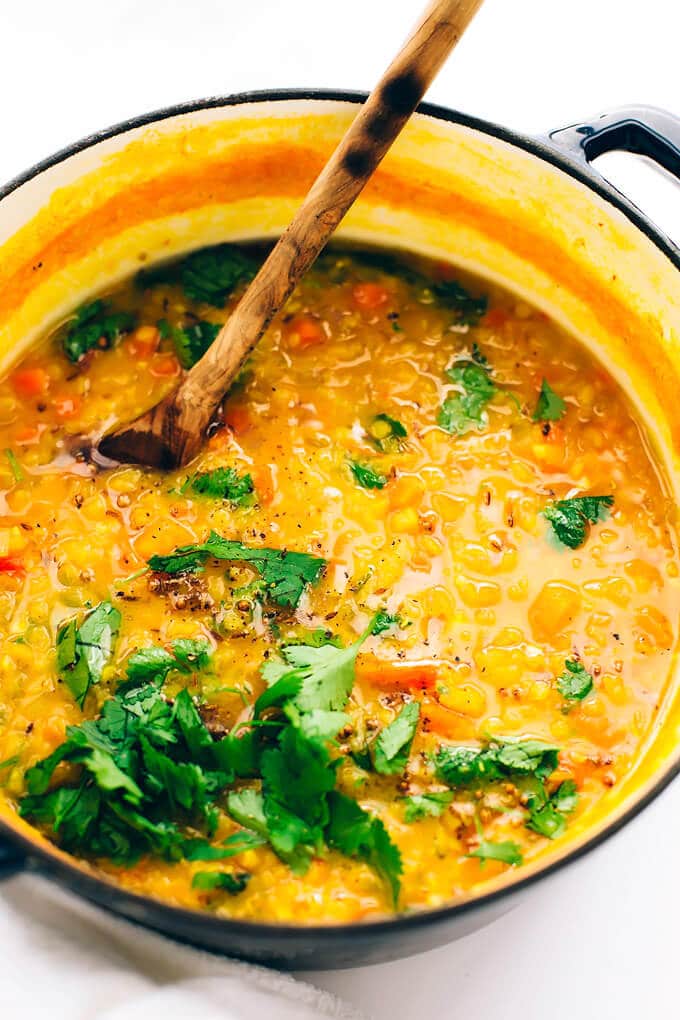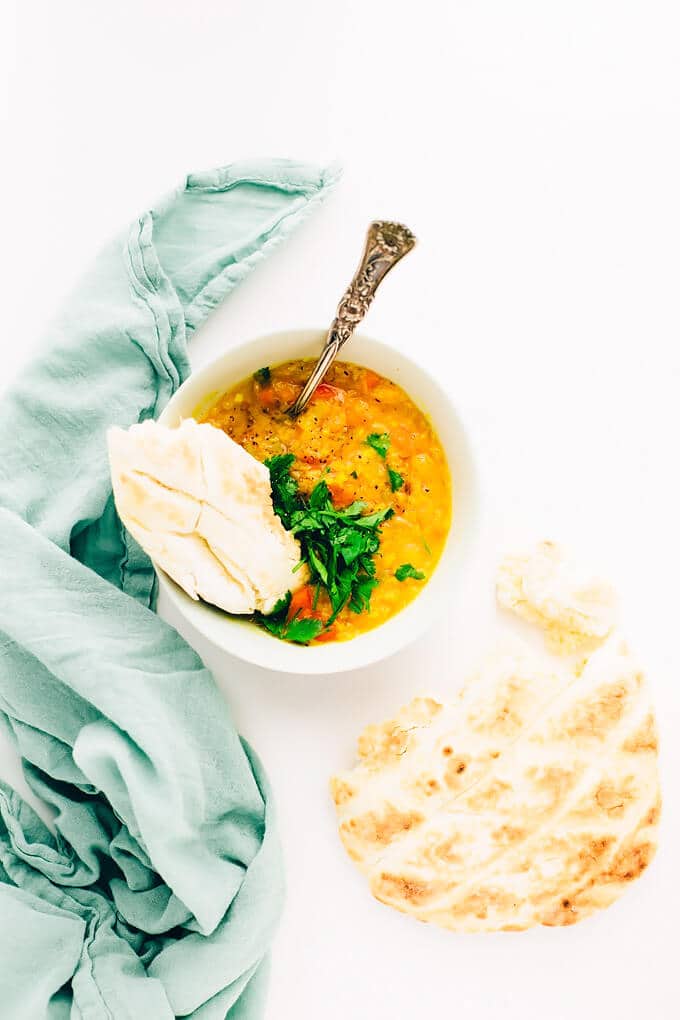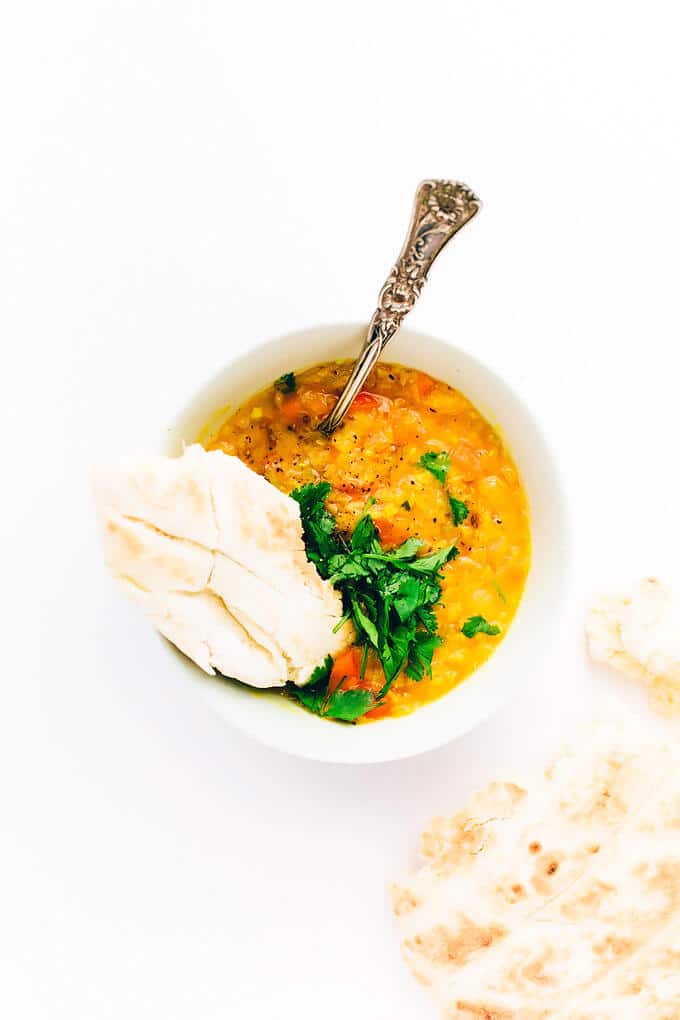 📖 Recipe
Weeknight Root Vegetable Dal
"This thin and fragrant lentil stew recipe was quite popular with my recipe testers. A bunch of them told me they had already started working it into their weeknight dinner rotation. With the "throw it all in the pot" preparation method, I totally understand why. I'm usually skeptical of one-pot dinners that don't coax the flavor out of the aromatics, but in this context it totally works." —Laura Wright, The First Mess cookbook
Ingredients
1

cup (250 mL)

red split lentils, rinsed

1

cup (250 mL)

finely diced root vegetables of your choice, such as carrots, celery root, and beets

1

small yellow onion, finely diced

1

cup (250 mL)

cherry or grape tomatoes, halved

4

cloves

garlic, minced

2-inch

(5 mL)

piece of fresh ginger, peeled and minced

1

teaspoon (5 mL)

ground turmeric

Pinch of dried chili flakes

3½

cups (875 mL)

filtered water

Salt and pepper, to taste

2

tablespoons (30 mL)

virgin coconut oil

½

teaspoon (2 mL)

cumin seeds

½

teaspoon (2 mL)

coriander seeds

½

teaspoon (2 mL)

mustard seeds

⅓

cup (75 mL)

chopped fresh cilantro leaves

(for garnish)

Lemon wedges

(for serving)
Instructions
To a medium soup pot, add the rinsed lentils, diced root vegetables, diced onion, tomatoes, garlic, ginger, turmeric, and chili flakes. Pour the water into the pot and give everything a little stir.

Place the pot on the stove over medium heat. Bring to a boil and then simmer for about 40 minutes, whisking the dal often. Toward the end, the lentils should be completely broken down. In the last 10 minutes of cooking, whisk the dal vigorously to encourage the breaking down of the lentils. It should appear quite soupy. Season the dal generously with salt and pepper. Keep warm.

Heat the coconut oil in a small sauté pan over medium-high heat. Add the cumin seeds, coriander seeds, and mustard seeds. Once the seeds are fragrant and popping, remove from the heat.

Gently spoon the toasted spice oil (with the whole spiceon top of the dal. You can lightly stir it in if you like. You can also portion the dal out first and then spoon the spice oil on top if you like. Garnish the dal with the chopped cilantro. Serve the dal hot with lemon wedges.
Notes
Reprinted from The First Mess Cookbook by arrangement with Avery Books, a member of Penguin Group (USA) LLC, A Penguin Random House Company. Copyright © 2017, Laura Wright
The First Mess Cookbook Giveaway
One winner will receive a copy of The First Mess cookbook by Laura Wright. For a chance to win, simply enter the giveaway using the Rafflecopter widget below and comment on this post between March 15th and March 28th. Please note: this giveaway is only open to residents of the US and Canada.