This Thai quinoa bowl is packed with fresh, crunchy veggies, plenty of spicy tofu (as an optional add-in), and generous drizzles of nutty ginger dressing. It's the perfect plant-powered meal, designed to both satisfy and nourish.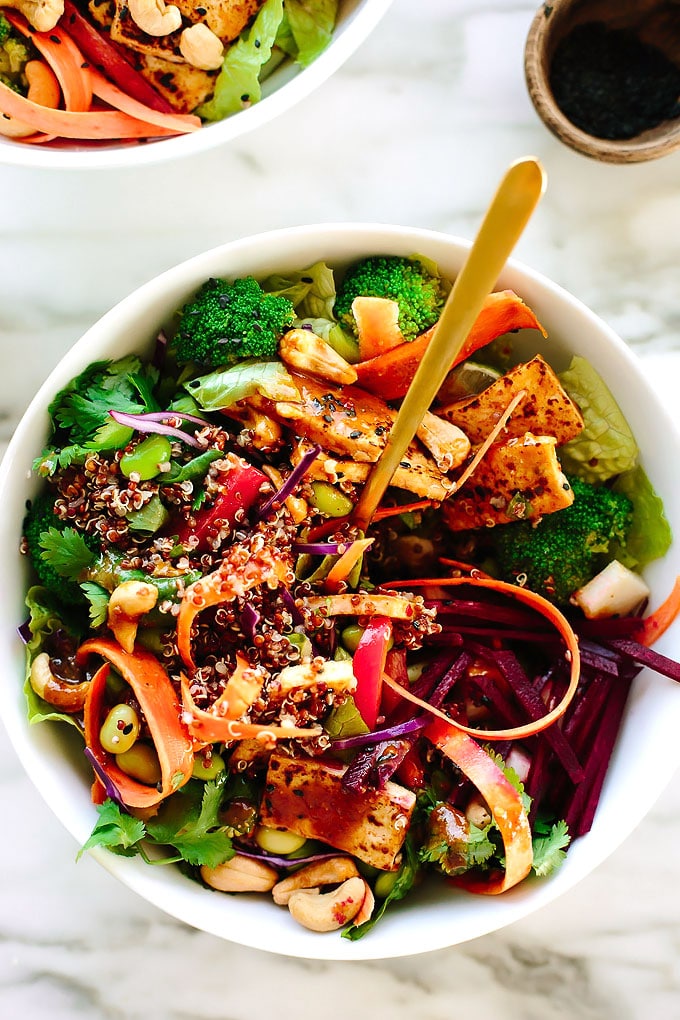 I hope you're all having a peaceful, easeful, and fulfilling start to 2019.
We rounded out 2018 from the comfort of a cozy cabin in Door County, Wisconsin. It was an impromptu getaway that I surprised Dan with for Christmas, and it was a total treat.
If you're from the Midwest, then you've probably been to or at least heard of Door County. It's got a little bit of everything—wine tasting, skiing, hiking, etc.—and is completely picturesque no matter the time of year.
We spent two nights in Sturgeon Bay and two nights in Egg Harbor, and meandered up an down the quaint peninsula throughout the long weekend.
Our very first stop was at a small, vegan-friendly restaurant in Sturgeon Bay called Bluestone Cafe. If you follow me on Instagram, then you might have caught a glimpse of our lunch there a week ago.
Dan ordered a delicious veggie noodle bowl, and I got their Thai Quinoa Bowl. I snapped a quick photo and shared it to Instagram Stories and several of you quickly reached out to request a remake.
And so, here you have it. My take on Bluestone Cafe's simple, nourishing, and super satisfying Thai Quinoa Bowl.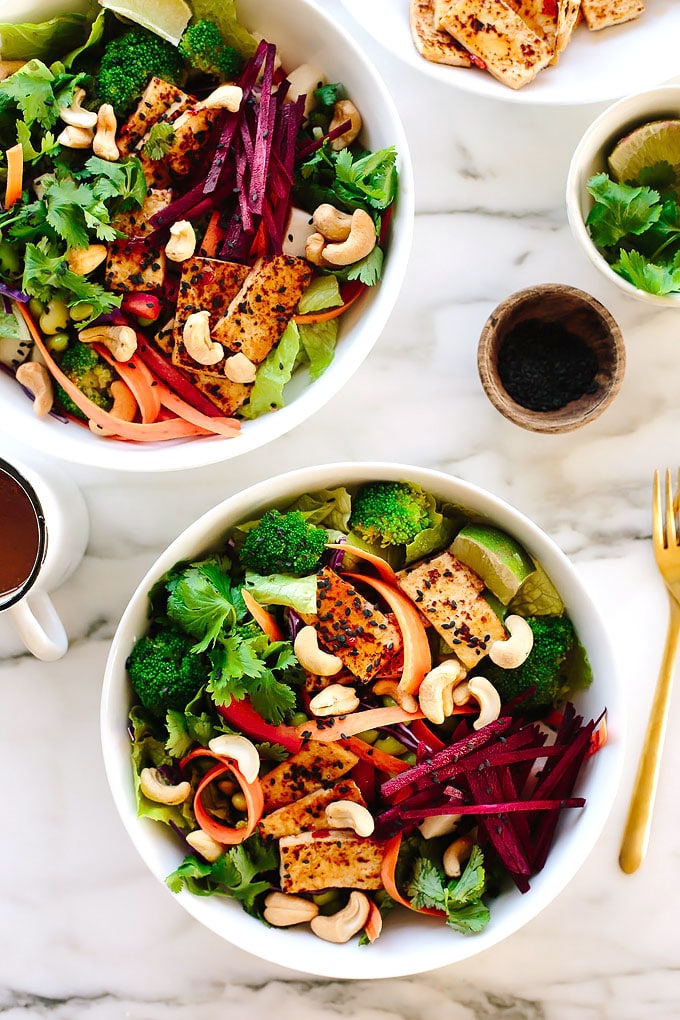 I could eat this for lunch and dinner for a week straight and (probably) not grow tired of it. Between the wide range of textures, the colorful veggies, and the slurp-able nutty ginger dressing, it's a keeper in so many ways.
So, what all have we got here?
A bed of red quinoa gets topped with the following...
Steamed broccoli.
Shelled edamame.
Spicy-garlic tofu (optional but totally delicious).
Carrot ribbons.
Red bell pepper.
Beets.
Jicama (another optional addition but again, totally delicious).
Red cabbage.
Cilantro.
Roasted cashews.
Nutty ginger dressing.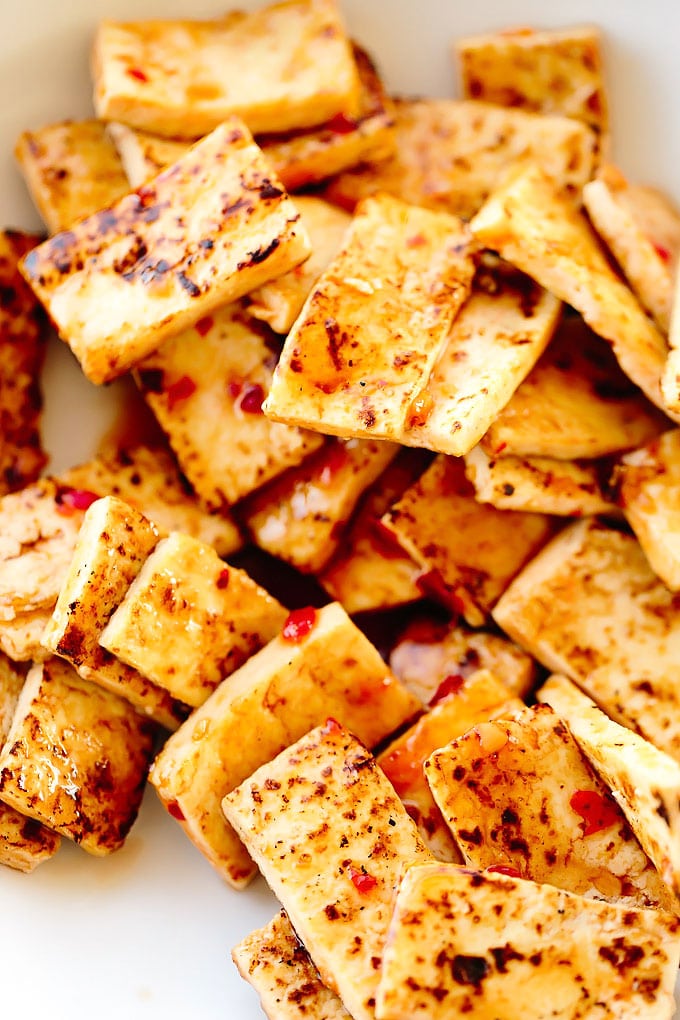 Here's the great thing about the list above: You can totally swap in (and out) the veggies as you please.
I do recommend keeping a wide array of vegetables (a rainbow, if you will) because, well, that just makes life more fun and this bowl more delicious. But you should feel free to remix and match to align with the contents of your crisper drawer and your tastebuds.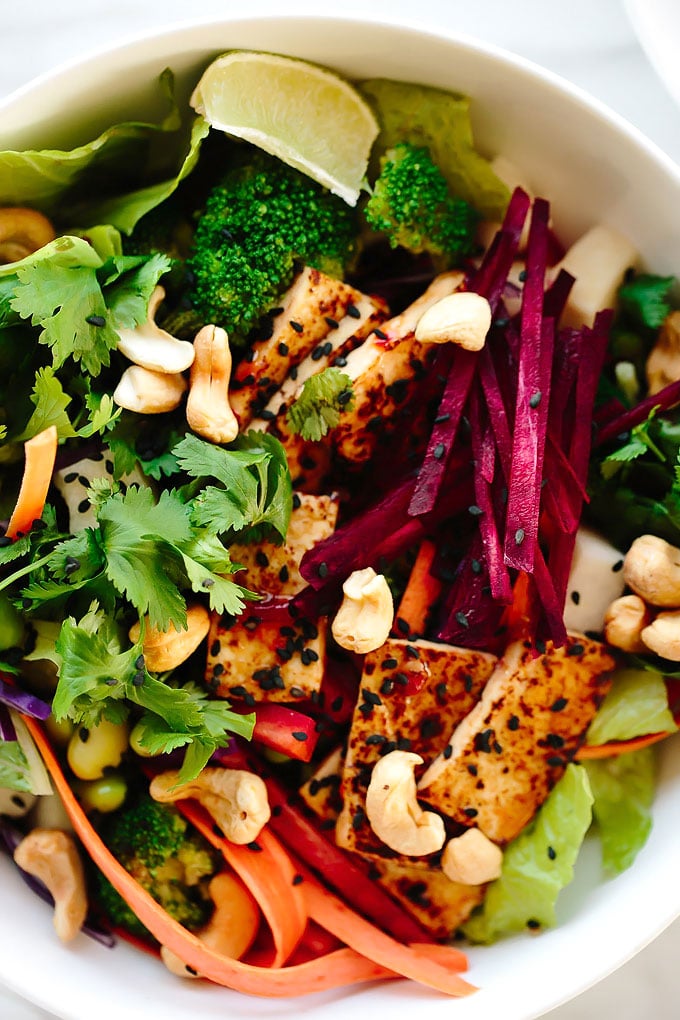 Other than cooking the quinoa and steaming the broccoli, the prep work here is little more than washing, chopping, and whisking.
I recommend tossing on some tunes and really getting into the preparation of each element. Think of it as meditation... with the added bonus of a beautiful bowl of food at the end.
I hope you enjoy this one!
📖 Recipe
Thai Quinoa Bowl
This Thai quinoa bowl is packed with fresh, crunchy veggies, plenty of spicy tofu (as an optional add-in), and generous drizzles of nutty ginger dressing. It's the perfect plant-powered meal, designed to both satisfy and nourish.
Ingredients
Quinoa Bowl
1

cup

uncooked red quinoa

1 ¾

cups

filtered water

1

small head broccoli, washed and cut into small florets

1

recipe

spicy chili-garlic tofu

(optional for added protein)

1

cup

frozen shelled edamame, thawed

1

small head romaine or green leaf lettuce, washed, trimmed, and chopped

1

medium carrot, peeled and then shaved into ribbons using a vegetable peeler

1

red bell pepper, cored, seeded, and julienned

1

small beet, peeled and cut into matchsticks

1

small jicama root, peeled and cubed (optional)

½

cup

shredded red cabbage

Handful fresh cilantro, roughly chopped

Handful roasted cashews or sunflower seeds
Nutty Ginger Dressing
¼

cup

creamy peanut butter, almond butter, tahini, or sunflower butter

2 ½

tablespoons

reduced-sodium tamari or soy sauce or to taste

1

tablespoon

toasted sesame oil

1 ½

tablespoons

fresh lime juice

1

tablespoons

pure maple syrup

1

teaspoon

peeled and minced fresh ginger root
Instructions
For the Quinoa Bowl
Thoroughly rinse the quinoa in a fine-mesh sieve or colander. Then, bring the water to a boil in a medium saucepan. Add the quinoa, return to a boil, and cook over medium heat for 10 to 12 minutes, uncovered, or until the quinoa has absorbed most of the water, stirring occasionally. Remove from the heat, fluff with a fork, cover, and let stand for 5 minutes.

Steam the broccoli in a steamer or steamer basket for 4 to 8 minutes, or until firm-tender. Strain off any excess water. Set aside.

Prepare the tofu, if using.

Chop and prepare the remaining bowl ingredients.
For the Dressing
Add the peanut butter, tamari, sesame oil, lime juice, maple syrup, and ginger to a medium bowl. Whisk together for 30-45 seconds. Please keep in mind that the dressing should be on the salty side—since we're not seasoning the quinoa or veggies, we need a little kick of sodium here to make all the flavors pop. Cover and refrigerate until ready to use.
To Assemble
Divide the quinoa between bowls. Top with the romaine, broccoli, tofu (if using), carrot, pepper, beet, jicama, cabbage, cilantro, and cashews. Drizzle with the dressing and serve immediately.