These vegan lentil-mushroom meatball sliders are a simple, bun-nestled twist on the Italian-Style Lentil + Mushroom (Not) Meatballs from Heather Crosby's latest cookbook Pantry to Plate: Improvise Meals You Love—from What You Have! These (not) meatballs are hearty, brimming with herbaceous (fennel-kissed) flavor, and versatile to boot.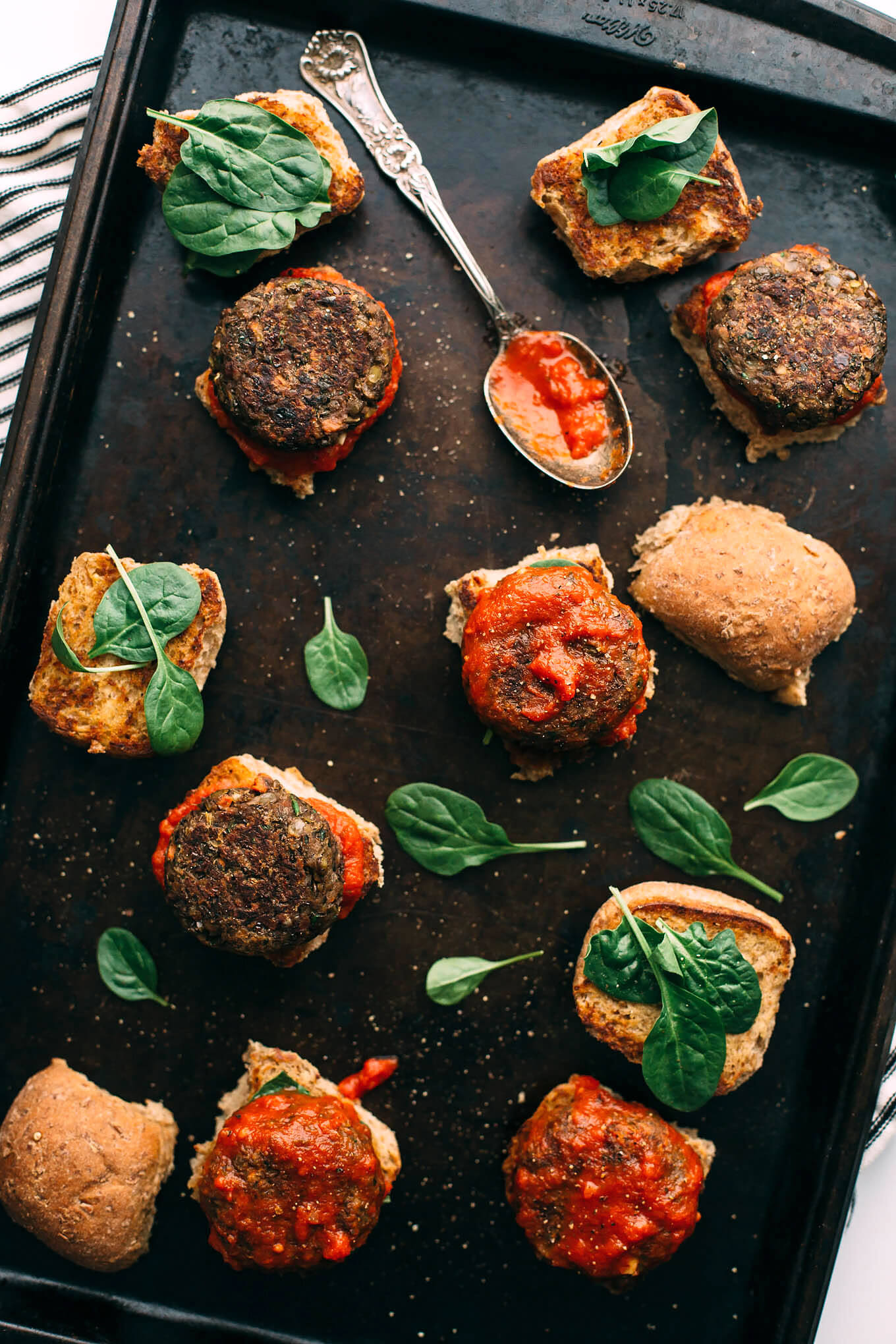 It's hard to believe it's been 2 ½ years since I shared a review of Heather's first YumUniverse cookbook (along with the recipe for that dreamy hot fudge sauce of hers). As I wrote my review, I remember being completely enamored by the creativity, heart, and palpable passion that emanated from those perfectly designed pages, and I felt all those same feelings as I flipped through her second book.
If you aren't already privy to the sheer talent and plant-powered force that is Heather Crosby, it's time to get yourself acquainted. Heather's gifts aren't limited to the kitchen, nor are they limited to the charismatic way she strings together words on a page. No, no.
Heather is also a graphic designer, and she's designed both of her cookbooks—front to back. But "designed" hardly feels like enough credit, because in addition to the fresh text and modern, easy-to-follow layout, Heather's books are downright artful, captivating even.
Hand painted fruits, veggies, nuts, seeds, and legumes dance across the pages, inviting the reader to play in the kitchen. Heather even designed her own tea towels in honor of the Pantry to Plate launch. I mean, come. on.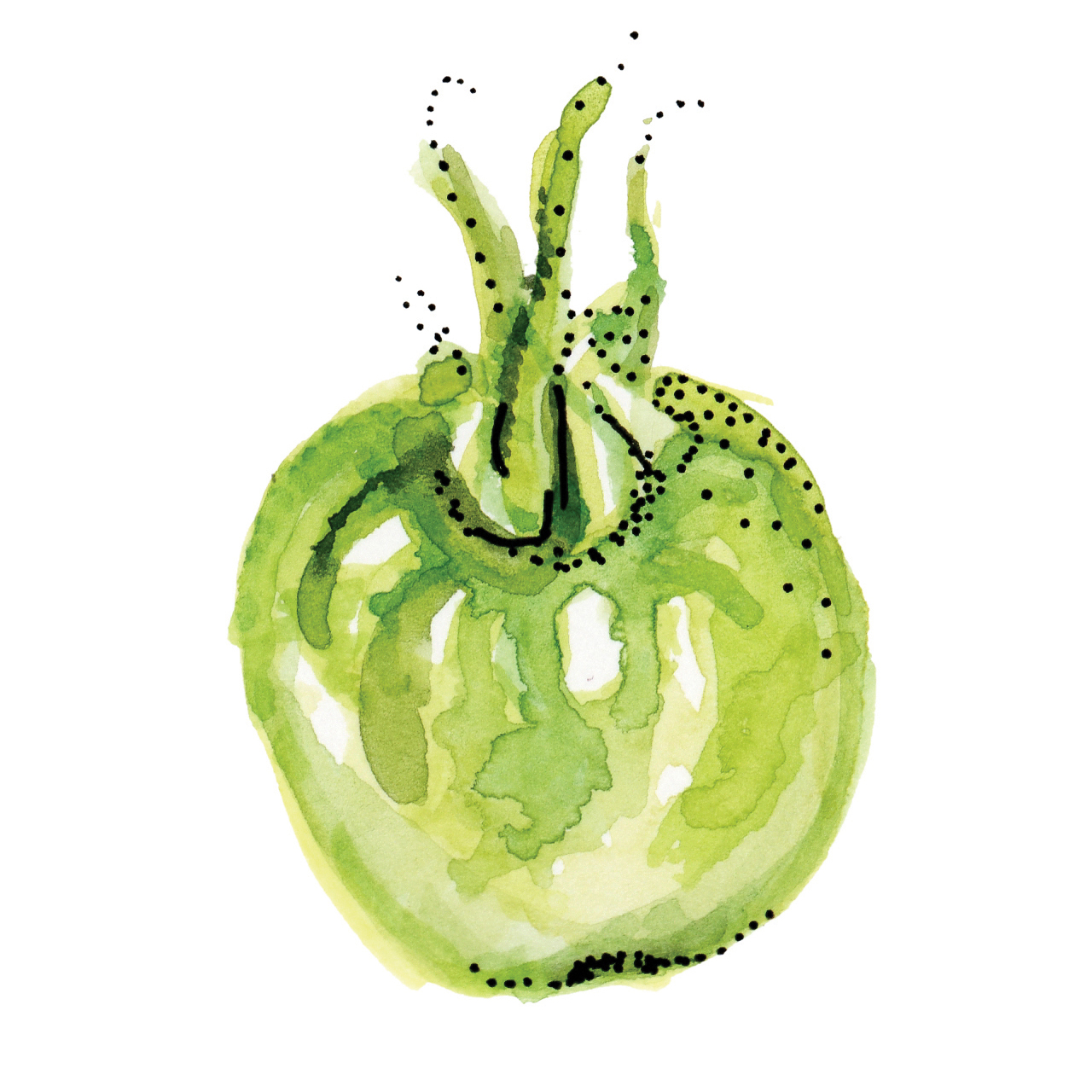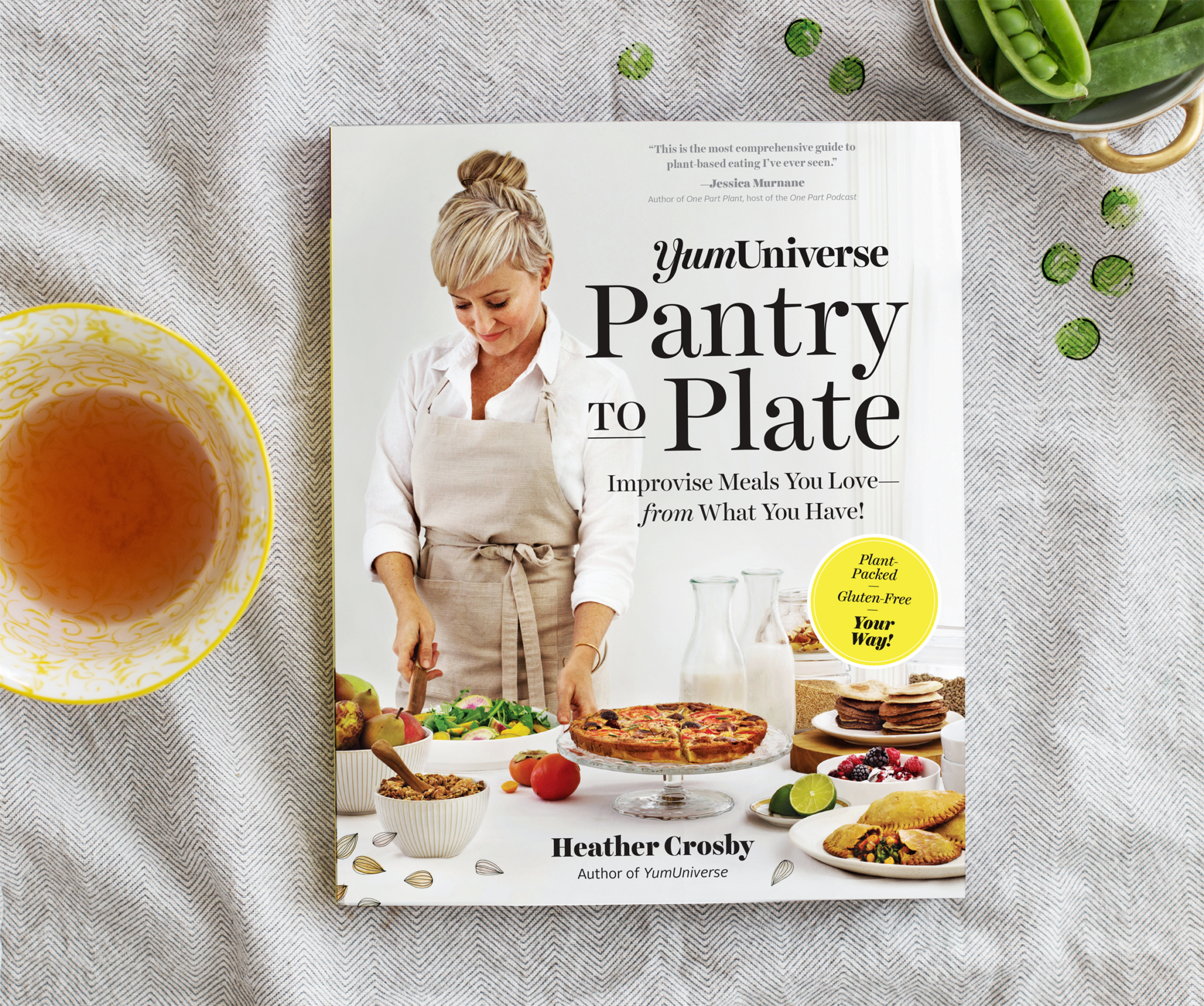 What's more, is that the recipes in YumUniverse Pantry to Plate are approachable, delicious, and PACKED with real, whole, feel-good foods.
This cookbook takes a one-of-a-kind approach to plant-based, gluten-free cooking. Heather provides 30 templates readers can use to mix and match flavors, and based on those templates, she provides sample recipes to show what's possible using the simple guidelines. Then, she encourages users to explore and adventure beyond the foundational elements of each recipe.
To give you an idea, here are a few (okay, a generous handful—couldn't resist) of the template titles:
Scrambles
Granola
Pancakes + Waffles
Breakfast Cookies
Crackers
Amazeballs
Dips & Spreads
Crunchies
Bites & Tots
Soups
Cheesy Comfort Food
Mmmaki
Tacos & Wraps
'Banzo Bakes
Hand Pies
Nice Crispy Bars
Sneaky Brownies
Crisps & Crumbles
After skimming through the book my first thought was, "This is genius." My second thought was, "Why didn't I think of this?" 
There are so many ways to mix and match flavors, add-ins, and ways to serve that the options are truly endless.
The extra great part is that these recipes are accessible enough for the novice plant-based cook yet creatively stimulating enough to keep the seasoned plant-powered chef coming back for more. I own a lot of vegan cookbooks, and there are very few, if any, that have the mass-appeal and versatility of this one.
This cookbook is heart- and craving-based, real-foods cooking at its most convenient, and it proves that "healthy" doesn't have to be synonymous with complicated.

Photo credit: Heather Crosby
YumUniverse Pantry to Plate officially launched TODAY (5/16). If you need more convincing to hop over here and grab a copy for yourself (and all your plant-curious loved ones), then be sure to make these vegan lentil-mushroom meatball sliders and get back to me.
You can serve them up classic (not) meatball style with pasta, go the noodle-free route and pile them high on a bed of spaghetti squash (like above), or turn them into sliders/burgers like I have here.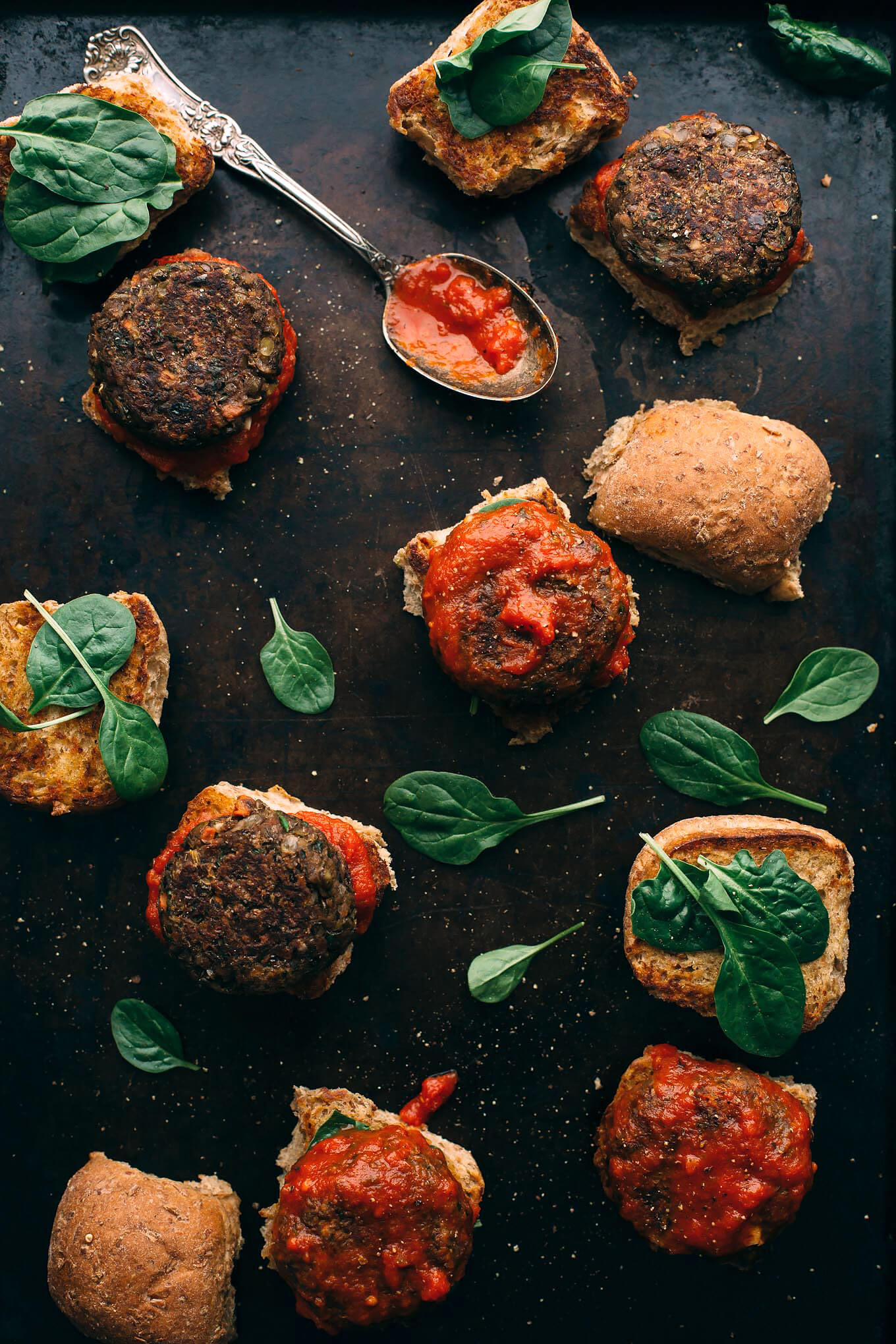 I followed Heather's recipe to a T. Then, toasted up a few split slider buns, warmed up a bit of marinara, and created handheld sandwich minis.
These (not) meatballs are meaty and satisfying. You'd never know they were brimming with carrots, mushrooms, and lentils.
Scroll down for the recipe and enter for a chance to win a copy of YumUniverse Pantry to Plate (details below)!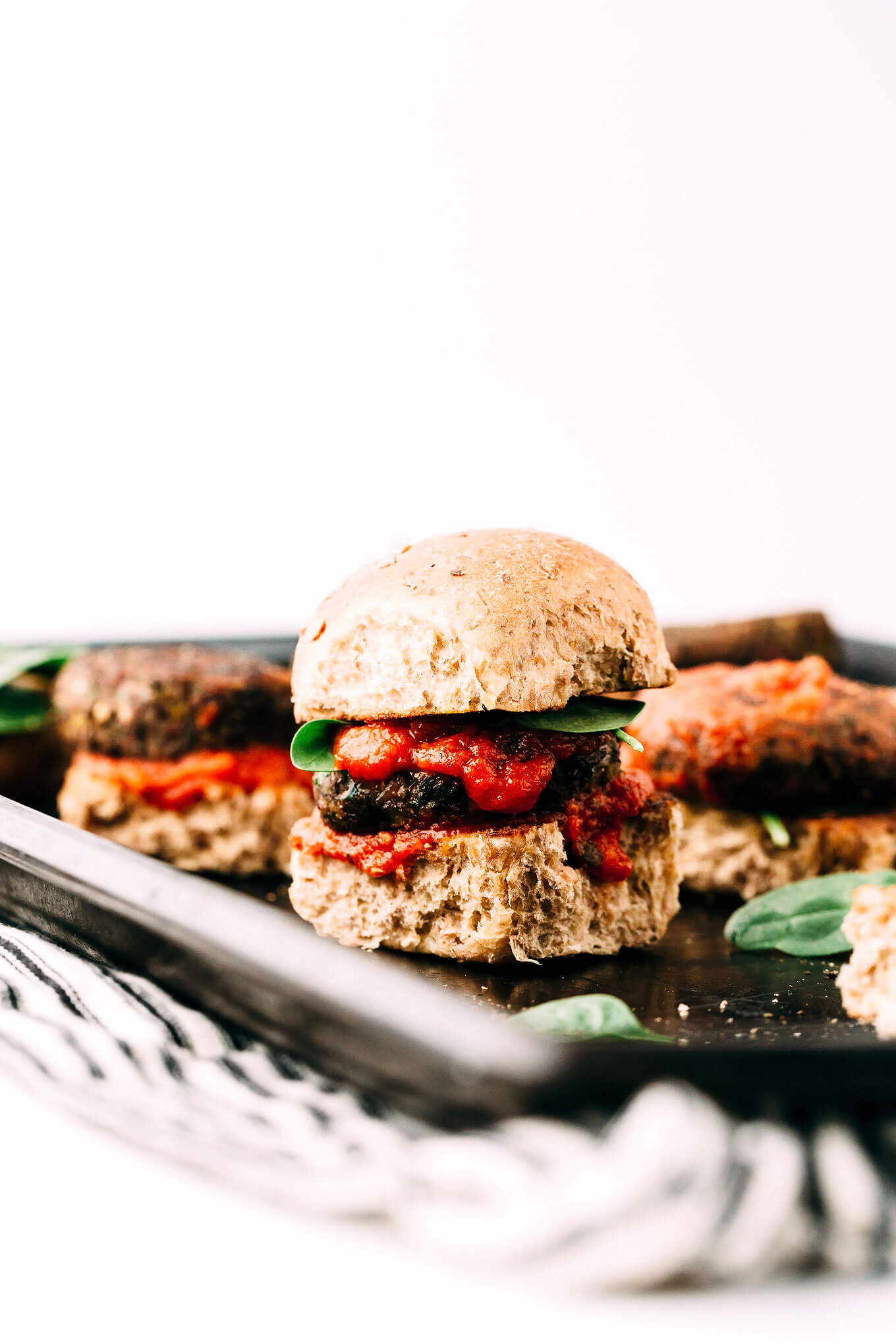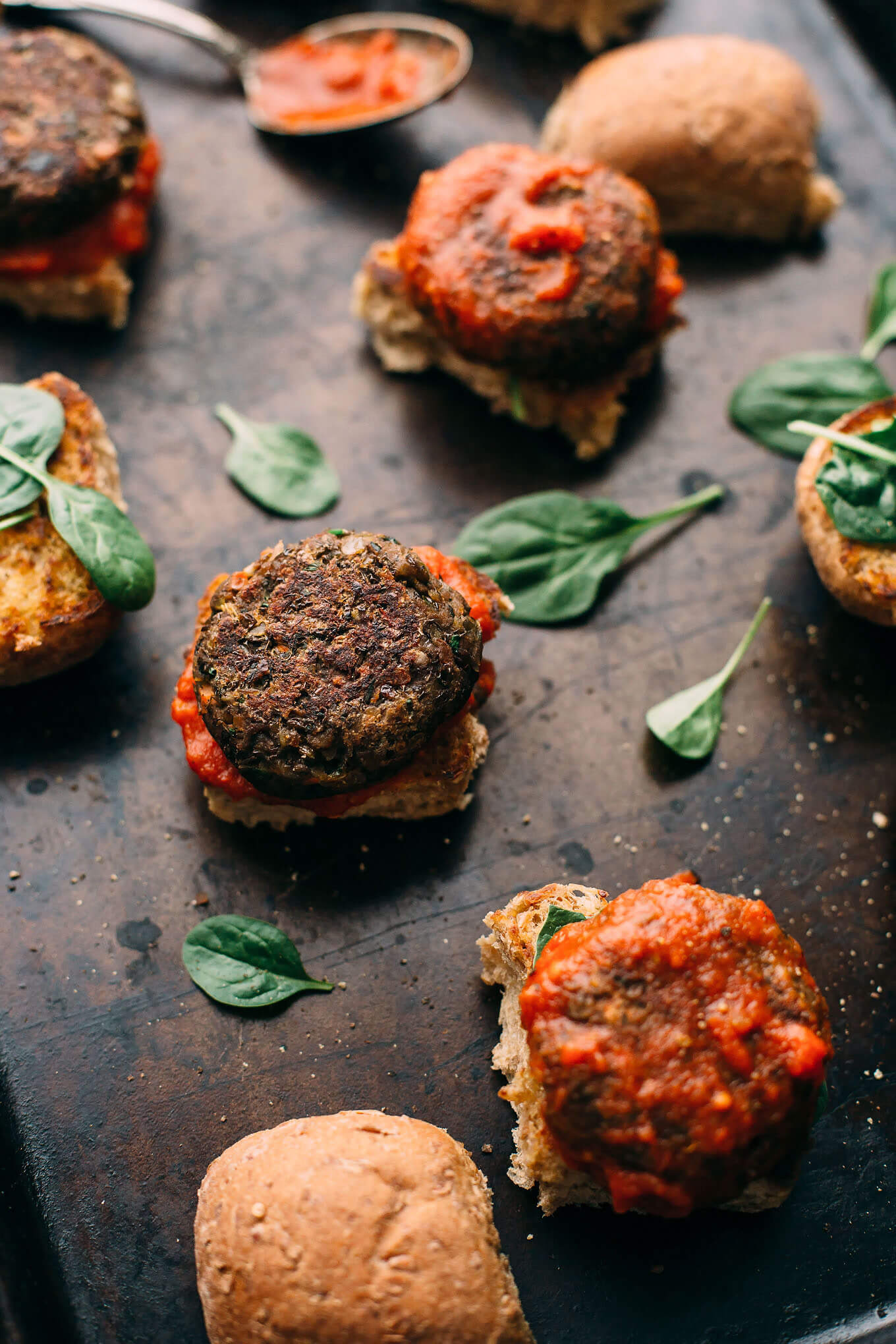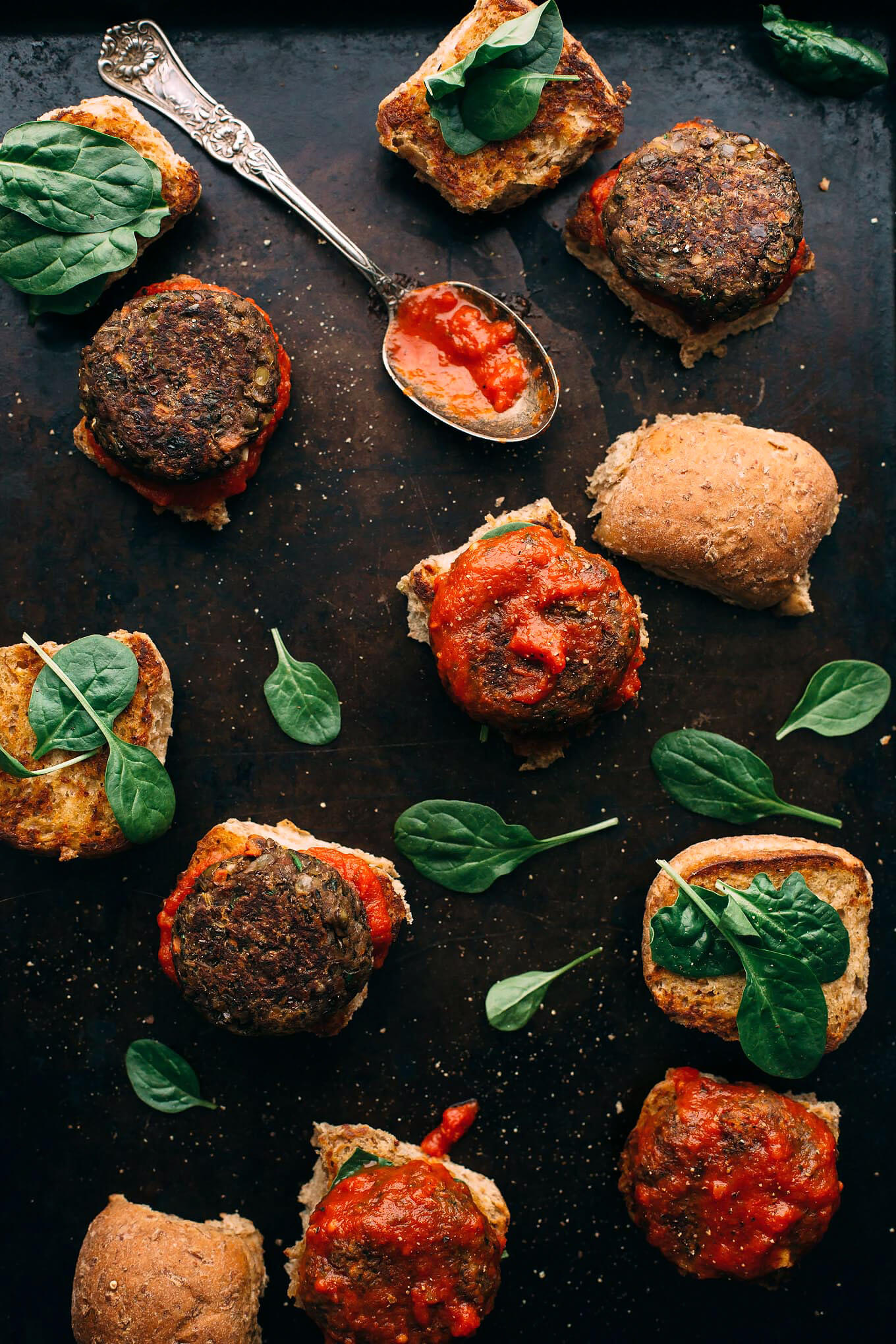 📖 Recipe
Italian-Style Lentil + Mushroom (Not) Meatballs
"Try thees (not) meatballs nestled in a sub roll, served as an appetizer with a delicious dipping sauce, or with roasted spaghetti squash and Maudie's Tomato Sauce (page 32) for a pasta-free spaghetti and (not) meatballs that's sooo good. You can shape them into burgers or sliders, too!" —Heather Crosby YumUniverse Pantry to Plate
Ingredients
2

tablespoons

unrefined coconut oil, grapeseed oil, or avocado oil

2

cups

diced carrots

1

cup

chopped portobello mushrooms

1

cup

diced yellow onion

2

cups

cooked green, brown, or French green lentils (roughly ¾ cup dry)

2

tablespoons

filtered water

1

tablespoon

chopped fresh parsley

1

tablespoon

chopped fresh oregano

1

tablespoon

chopped fresh thyme

3

cloves

garlic, minced

2

teaspoons

ground psyllium husk

2

teaspoons

rough-chopped fennel seeds

1

teaspoon

fresh-cracked black pepper

1

teaspoon

sea salt, plus more to taste

½

teaspoon

red pepper flakes

½

teaspoon

smoked paprika

Marinara sauce, warmed

(optional)

Slider buns, split and toasted

(optional)
Instructions
In a skillet heated to medium, add 1 tablespoon of the oil and sauté the carrots for 20 minutes, until easily pierced with a fork but firm, not mushy.

Add the mushrooms and onion and sauté over medium heat for 5 to 10 minutes, until softened and browning a bit. Transfer to a food processor with the remaining ingredients. Pulse together 30 to 35 times, until just broken up and sticky with texture and bits of color intact. Taste—if needed, season with more salt or seasonings. Pulse or stir to incorporate.

Form 1 ½-inch (4 cm) meatballs (or 2-inch patties if you're making sliders) with your hands. Heat a skillet to medium and add the remaining oil. Slow-cook the meatballs, rotating often, for 10 to 15 minutes, until browned on all sides. Serve warm.*
Notes
*To make sliders, slather each (not) meatball) in warm marinara sauce and place on a toasted bun. Serve immediately.
YumUniverse Pantry to Plate Giveaway
One winner will receive a copy of YumUniverse Pantry to Plate by Heather Crosby. For a chance to win, simply enter the giveaway using the Rafflecopter widget below and comment on this post between May 16th and May 30th. Please note: this giveaway is only open to residents of the US and Canada.