There's nothing quite like a plate full of pretty tacos in the summertime.
These rainbow-hued crunchy chickpea tacos are from The PlantPure Nation Cookbook, which is a companion to the upcoming documentary film, The PlantPure Nation. The film -- from the producers of Forks Over Knives and T. Colin Campbell's son, Nelson -- follows the efforts of three individuals in their quest to sidestep the silencing efforts of industry lobbyists and spread the message about the health benefits and healing effects of a plant-based diet.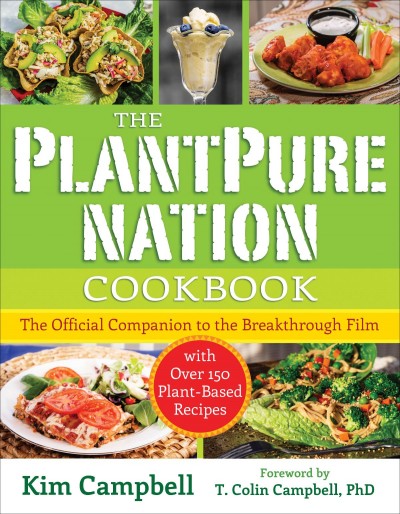 The PlantPure Nation Cookbook, written by Kim Campbell, boasts an impressive 150+ plant-based recipes. Kim has been cooking plant-based meals for more than 25 years, and her ability to create delicious, affordable, and balanced plant-based meals is impressive. The book begins with a forward written by T. Colin Campbell, PhD and bestselling author of The China Study, and unfolds into chapter after chapter of enticing plant-based recipes, including Breakfast and Brunch; Breads; Snacks and Appetizers; Dips and Spreads; Salads; Sauces, Marinades, and Dressings; Spices and Toppings; Sandwiches, Burgers, and Wraps; Entrées; Side Dishes, Soups and Stews; and Desserts and Sweets.
It's one of the most all-encompassing plant-based cookbooks in terms of the breadth of meal types, and it's packed with staple recipes from a variety of cuisines, including Jambalaya, Irish Potatoes with Cabbage, Chana Masala, Macaroni and No Cheese, and Black Bean Enchilada Bake. This book is a must-have for anyone who's looking to make the transition to a plant-based lifestyle. The recipes are approachable, quick, and incredibly satisfying. Seasoned plant-based eaters will also find a frequented spot on their cookbook shelf for this one, as Kim's recipes are well-crafted and reliable. Take these Crunchy Chickpea Tacos for example...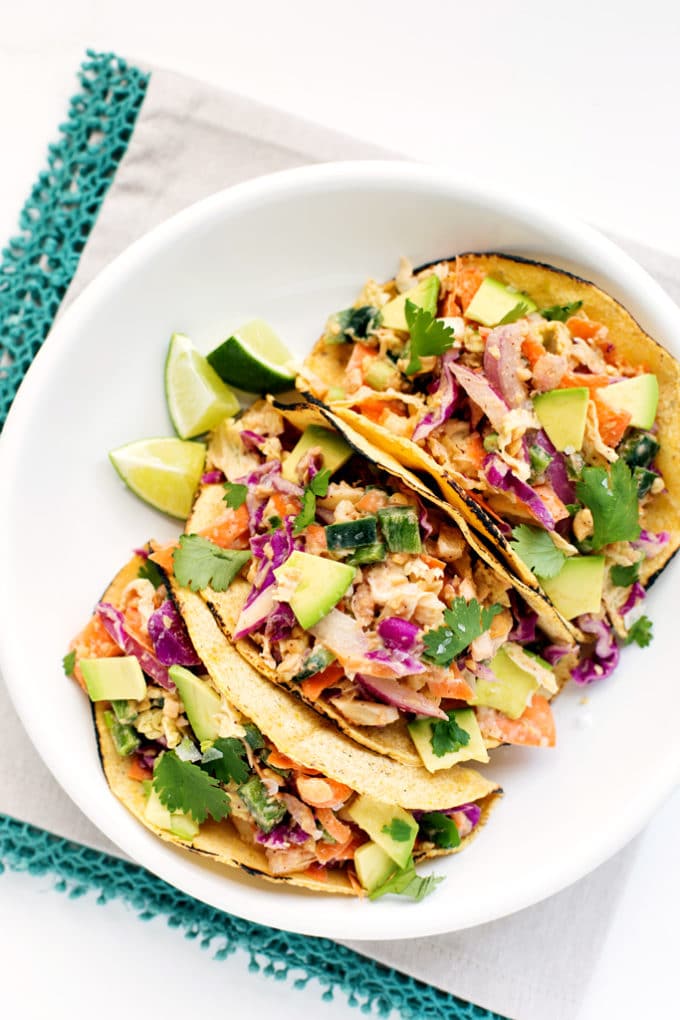 These came together in a quick 15 to 20 minutes and they are seriously amazing. Mashed chickpeas are tossed with carrots, cabbage, red onion, scallions, poblano, chili powder, lime juice, and a dollop of Kim's homemade vegan mayo before being nestled into crunchy taco shells and garnished with avocado and cilantro. These days, I rarely make recipes that aren't for the blog or book, but I've actually made these tacos twice in the last two weeks because they're packed with flavor and easy to toss together in a pinch.
The PlantPure Nation Cookbook is available now, and you can grab yourself a copy here.
And before you go, be sure to jot down the recipe for these Crunchy Chickpea Tacos AND enter to win a copy of The PlantPure Nation Cookbook (see below).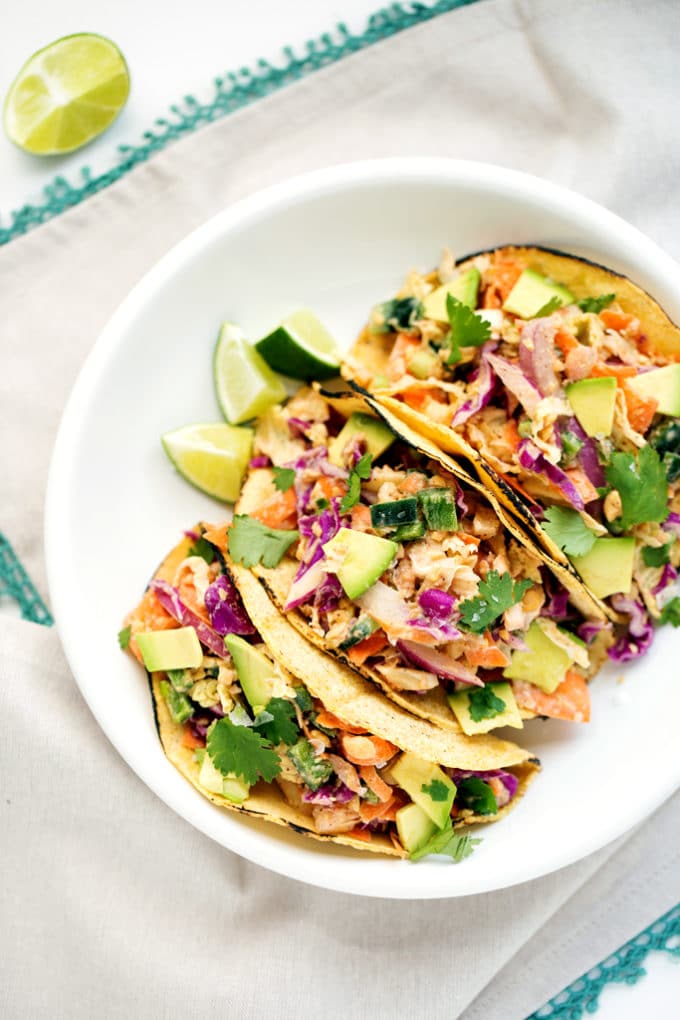 📖 Recipe
Crunchy Chickpea Tacos from PlantPure Nation
"These tacos have some of the seasonings used in a typical California fish taco—although I must admit that I have never had a real fish taco, only the vegan versions. This recipe uses a hint of lime with cabbage and, of course, chickpeas." Kim Campbell in PlantPure Nation
Ingredients
Crunchy Chickpea Tacos
6

corn or flour tortillas

One 15-ounce can chickpeas, rinsed and drained

½

teaspoon

ancho chili powder

3

cups

shredded green cabbage

1

cup

shredded carrot

½

cup

thinly sliced red onion

½

cup

seeded and small diced poblano pepper

½

cup

sliced green onion

¼

cup

chopped fresh cilantro

¼

cup

Tofu Cashew Mayonnaise (see recipe below)

2

tablespoons

lime juice

¼

teaspoon

sea salt

1

avocado, pitted and sliced

1

tablespoon

Sriracha

(optional)
Tofu Cashew Mayonnaise
¼

cup

raw cashews, soaked in water to cover for 2–3 hours, then drained

7

ounces

extra-firm tofu

½

teaspoon

sea salt

½

teaspoon

tahini

4

teaspoons

lemon juice

1½

teaspoons

white vinegar

1

tablespoon

Dijon mustard

2

tablespoons

apple cider vinegar

2½

teaspoons

agave nectar

2

tablespoons

water

¼

teaspoon

xanthan gum

(optional)*
Instructions
Preheat the oven to 375°F.

Shape the tortillas by placing them in a nonstick oven-safe bowl and baking them in the oven until crispy, 5–10 minutes.

In a large mixing bowl, smash the chickpeas with a fork and sprinkle with the chili powder. Add the cabbage, carrot, red onion, poblano pepper, green onion, cilantro, mayonnaise, and lime juice. Mix thoroughly, adding salt last.

Divide the salad mixture among the taco bowls and top with the sliced avocado. Add Sriracha if you like your tacos spicy.
Tofu Cashew Mayonnaise
Soaking the cashews in water for a few hours will reduce blending time. If you are not using a Vitamix, I highly recommend soaking the cashews so they blend into a smooth and creamy texture.

Place all the ingredients in a Vitamix or other high-powered blender. Blend until smooth and shiny.
Notes
*Kim's Hint: If you do not have xanthan gum available you can skip this ingredient but the mayonnaise might have a slightly thinner consistency.
I didn't add the xanthan gum and the mayonnaise was still the perfect consistency.
The PlantPure Nation Cookbook Giveaway
One winner will receive a copy of The PlantPure Nation Cookbook. For a chance to win, simply enter the giveaway using the Rafflecopter widget below and comment on this post between June 12th and June 26th. Please note: this giveaway is only open to residents of the US and Canada.