It's December 2nd and my cookbook will be out in just 19 days! Can someone please pinch me? It still feels incredibly surreal. But it's happening, and I have two very special things to share with you today: a sneak peek into the book and a BIG giveawaywith over $1000 in prizes, including my favorite plant-powered products, kitchen gadgets, and pantry staples (Note: the giveaway will run up through December 19th!)
Without further ado, let's get to it.
First order of business: that special sneak peek (plus some behind-the-scenes details).
Over the last two years, I've poured every bit of my heart, mind, and soul into this book. From the 200+ initial recipe concepts, over 150 recipes went on to be tested in our kitchen. Those that made the cut then went on to be tested by the generous hands of friends and family members who provided thoughtful insights and feedback over the course of 8 months. Of the 140 or so recipes that made it to the manuscript, over 115 made the final cut.
Nearly 15,000 photos were snapped with my own trigger-happy fingers from the comforts of our guest bedroom, living room, office—wherever the light was best at any given moment—over the course of ten months. Of those photos, too many were edited and over 100 were ultimately selected for the cookbook.
Countless hours were spent writing in an effort to tuck personal anecdotes, life stories, inspiration, and encouragement into every nook and cranny. The headnotes are filled with memories, stories, tips, and tricks, and there's an entire chapter dedicated to plant-powered pantry staples. I wrote and rewrote the introduction four times—scrapping versions 1, 2, and 3—until I finally found the courage to write the introduction I had hoped to write all along. I bared my heart and shared a story I've never before shared. I started writing this cookbook because it seemed like a fun adventure; I finished it because something in my heart had to. 
This cookbook isn't about deprivation, dieting, "clean" eating, or outward appearances; it's about eating in a way that allows us to thrive and honors our bodies, minds, and hearts while also maintaining an attitude of self-compassion and flexibility (as opposed to perfection). True healthfulness isn't about what we deprive ourselves of, it's about what we nourish ourselves with—sometimes it's kale, sometimes it's cookies.
All 100+ recipes in the cookbook are whole foods, plant-based, and they were designed to satiate and elate everyone's tastebuds—not only vegans'. I made it my mission to create plant-based recipes that nourish from the inside out without sacrificing an ounce of flavor, so every recipe in the book has been approved and praised by non-vegans—mostly meat-eaters, in fact.
Other Fun Facts
Brand new recipes + highly visual. 100+ recipes (118, to be exact), 100+ photos. About 100 recipes are brand-new, never seen before, and the select handful of blog favorites (many of them pantry staples) have been revamped, revised, remixed, and rephotographed. For instance, the book includes a triple remix of my favorite smoothie, almond butter maca madness smoothie, with three flavor variations—original, cacao crunch, and vanilla chai spice. Plus it counts as just one recipe, so you're getting a lot of bang for your plant-passionate buck.
Allergy-friendly. All recipes include allergy badges to indicate whether they're gluten-free, nut-free, grain-free, soy-free, refined-sugar-free, oil-free, and raw or have an option to become so (see the notes that follow each recipe for specific substitutions). All recipes are vegan and nearly all are also gluten-free and refined-sugar-free (can only think of two or so exceptions). Most are also nut-free and soy-free, and many are grain-free and oil-free.
Badges + tips to simplify. Recipes that require lengthy chilling, soaking, freezing, etc. are identified with a "prepare-ahead" badge. Whenever possible, recipes also include tips to simplify in the notes that follow the recipe!
10 Recipe Chapters. In addition to the Introduction and Blissful Kitchen chapters, there are 10 chapters packed with vibrant recipes, including Breakfast + Brunch (14 recipes), Smoothies + Juices (9 recipes), Snacks + Appetizers (15 recipes), Soups + Salads (11 recipes), Power Bowls (7 recipes), Sandwiches, Tacos + Pizza (10 recipes), Pasta + Noodles (7 recipes), Veggie-Centric Mains (7 recipes), Sophisticated Sweets + Simple Treats (16 recipes), Homemade Staples (22 recipes). The Veggie-Centric Mains chapter features plant-centered twists on traditionally meat- or cheese-heavy dishes and the Power Bowls, Sandwiches, Tacos + Pizza, and Pasta + Noodles chapters include entrée recipes by category. Thus, in total there are a whopping 31 entrée recipes in the book!
Sneak Peek Video
Here's a sneak peek video with a few of my favorite snapshots from each of the 10 recipe chapters plus video footage from my first look at the book in print!
Blissful Basil Virtual Cookbook Tour
Be sure to check back throughout the coming months for reviews of the book from some of my favorite bloggers! Many will be hosting giveaways for the book too!
Blissful Basil BIG Pre-Order Giveaway
Time to celebrate! I reached out to several of my top-notch favorite brands to see if they'd like to contribute, and they brought their A game. And because not one part of this cookbook would have been possible without you, I've decided to pitch in too! There will be three randomly-selected winners (one grand-prize winner and two runners-up).
Grand prize | One lucky person will win nearly $1000 worth of swag, including a $490 juicer gift pack from Tribest, Cuisinart food processor (this is my favorite, most-used, must-have kitchen gadget), a 1-Year subscription to RawSpiceBar, an array of my favorite hemp seed goodies from Manitoba Harvest, $85 worth of plant-based protein and swag from Sprout Living, my favorite glass straws from GlassDharma, and a $50 gift package with a hand-selected combination of my favorite baking products!
Runners-up | Two people will win a $50 gift package with a hand-selected combination of my favorite baking products!
See below for entry details and prize specifics. (Note: you must have a U.S. mailing address to enter.)
How to Enter
There are three ways to enter! Just be sure to enter to win between December 2nd and December 19th, 2016. The three winners (one grand prize and two runners-up) will be randomly selected on December 20th! I'll reach out to winners via email or social media (depending on the entry mode) and will also announce them right here in this post, so be sure to check back for the announcement! UPDATE (12/28): Thanks to everyone who participated!! Congratulations to Joanne S. (grand prize winner), Jermisha T. (gift basket winner), and Amelia T. (gift basket winner)!
1. Pre-order a copy of Blissful Basil via your favorite retailer—Amazon, Barnes & Noble, Indigo, Books-A-Million, or IndieBound. Forward your order confirmation or receipt to [email protected] and include your name and mailing address. Each purchase equals one entry, so stock up and spread the plant-powered cheer this holiday season! Also, be sure to claim the an exclusive eCookbook with 15 additional recipes once you've pre-ordered.
2. Share the above sneak peek video on either Instagram (see note* for how to share) or Facebook (link to share) with a brief caption that notes what you're most looking forward to about the book and include the hashtags #blissfulbasilcookbook and #blissfulbasilgiveaway. Be sure to include both hashtags so that we're able to find your entry! *To share on Instagram, download this square-cropped version to your phone and upload it through Instagram.
3. Comment on this post with why you'd like to win or what you're most looking forward to about the Blissful Basil cookbook and email your name and mailing address to [email protected].
No purchase necessary, so any of these three modes of entry is awesome! That said, I couldn't be more proud of this cookbook, I'm confident you will LOVE cooking and baking from it, and your pre-order is a nod of support that would mean the world to me. Whether you're looking to incorporate a few more veggie-based meals into your week, striving to go fully plant-based, have been living the vegan life for years, or are looking for a practical approach to plant-empower yourself to thrive physically, mentally, and emotionally, I've got your back. Gratitude, hugs + high fives.
Tribest Solostar 4 Juicer Gift Pack
Solostar 4 Juicer (in Chrome), Juicing for the Health of It by Siegfried Gursche + the Zstar Manual Conversion Kit (for manual juicing—e.g., wheatgrass shots).
Tribest's Solostar 4 is my absolute favorite juicer. It's a masticating juicer, which yields more juice and less oxidation than a centrifugal juicer. I've been using this juicer for over a year (after using a centrifugal juicer for two years) and love it. Here are a few of the perks I've noticed with the Solostar 4:
It yields 1 ½ to 2 times the juice with about ¼ of the waste that I typically had when running a similar amount of produce through my centrifugal juicer.
The color of the juice is more vibrant in color and flavor. Plus, there's less oxidation than with my centrifugal juicer, which means the juice lasts longer.
It juices hard-to-juice produce like a pro. Think kale, ginger, turmeric, cilantro, and parsley.
MSRP $489.95 | See here for more | tribestlife.com
Cuisinart Custom 14—14 Cup Food Processor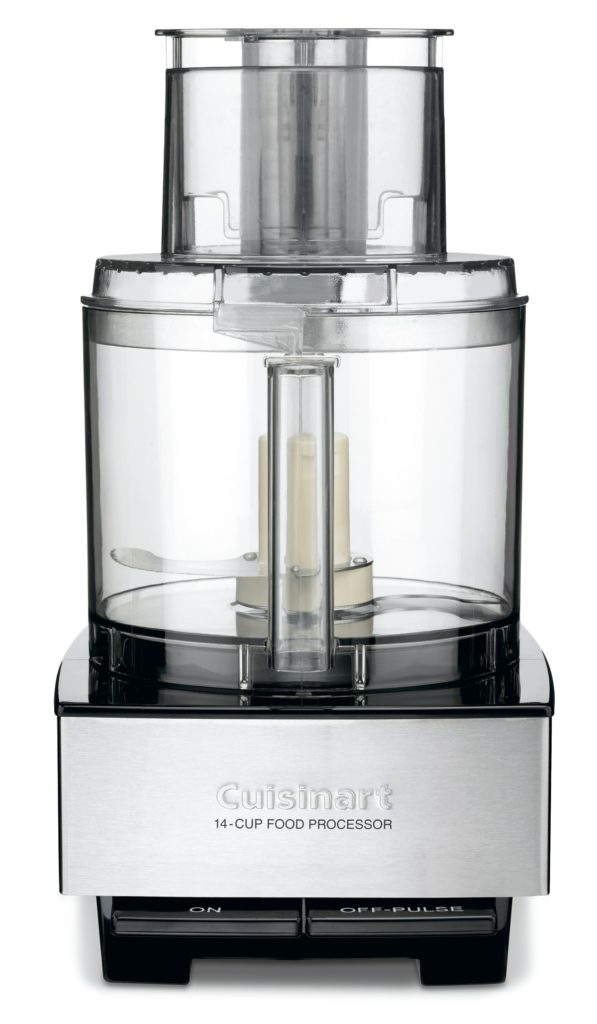 As a vegan, a quality food processor is an essential kitchen tool to make and create a satisfying range of meals. Over the years, I've had the opportunity to use several brands of food processors, but Cuisinart's 14-Cup Food Processor reigns supreme in my kitchen. So much so that it was the sole food processor I used to create and test the 100+ recipes in my cookbook, and it's the only one I recommend. It has the power to process tricky-to-process ingredients and the endurance to whirl for the long-haul, which is a major perk if you're wanting to make homemade nut butters, coconut butter, etc. There isn't a week, rarely a day even, that goes by when I don't use it!
MSRP $199 | See here for more | cuisinart.com
One-Year Subscription to RawSpiceBar
You'll receive three freshly ground spice kits direct to your door each month. Plus, you can personalize your recipes with RawSpiceBar's Flavor Profile Quiz!
MSRP $72 | rawspicebar.com
Manitoba Harvest Hemp Hearts, Hemp Heart Toppers + More
2 bags of Manitoba Harvest's Hemp Hearts + 4 bags of Hemp Heart Toppers + 3 single-serve bags of Hemp Heart Bites. Manitoba Harvest is one of my absolute favorite brands, and you'll be able to put these Hemp Hearts to good use when cooking from the book!
MSRP $65 | See here for more | manitobaharvest.com
Sprout Living Plant-Based Protein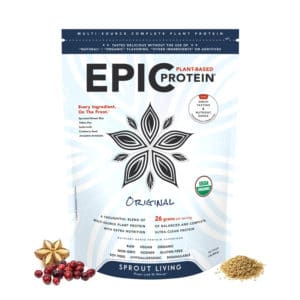 1 bag of Sprout Living's Epic Protein + 1 bag Pumpkin Seed Protein + 1 Sample Kit of all four Epic Protein flavors + 1 branded shaker. Sprout Living is my go-to plant-based protein—see this post for more details!
MSRP $85 | sproutliving.com
Glass Straws from Glass Dharma
4 eco-friendly straws from GlassDharma. There are the only straws I use, and you'll find them sprinkled throughout the cookbook in smoothie and shake photos!
MSRP $25 | glassdharma.com
$50 Gift Package of My Favorite Baking Goodies
1.5-pound bag Terrasoul Raw Cacao Butter, 1-pound bag Terrasoul Raw Cacao Powder, 22-ounce bag Bob's Red Mill Gluten-Free Oat Flour, 3 (16-ounce) bags Madhava Organic Coconut Sugar, and 2 (10-ounce) bags Enjoylife Semi-Sweet Chocolate Mega Chunks. (Included in grand prize and as stand-alone prize for two runners-up.)
MSRP approximately $50