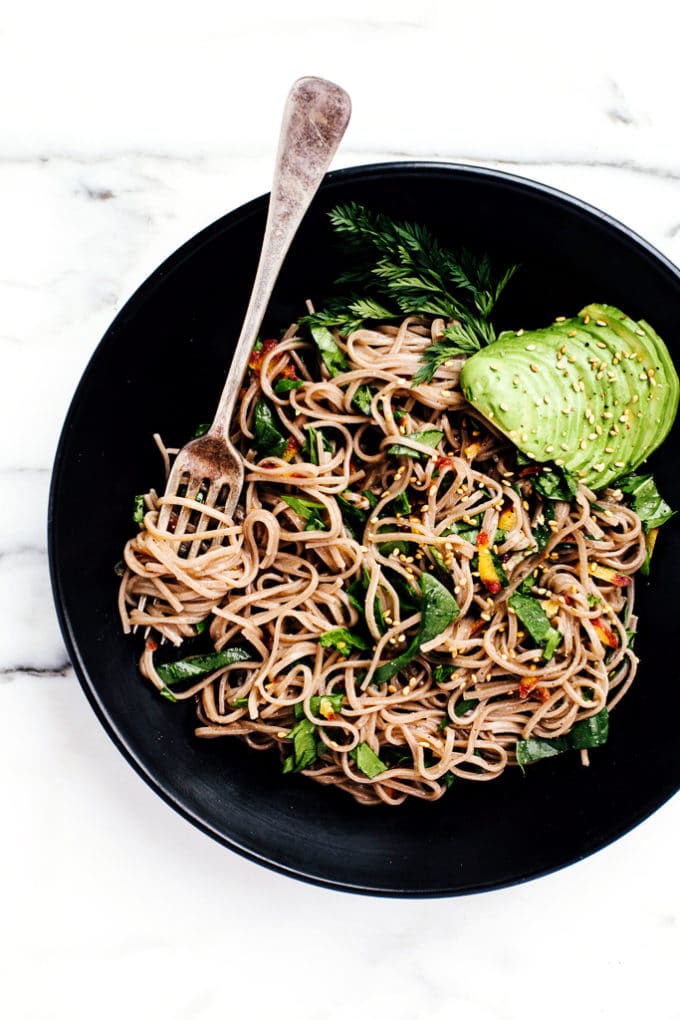 This delightful entanglement of soba noodles was made possible thanks to Emily von Euw.
I first stumbled across Emily's blog, This Rawsome Vegan Life, in March of 2013 (almost three years ago to the day). It was a photo of her Raw Carrot Cake with Cashew Cream that lured me over to her site, as I was completely struck by the beauty of that cake (and still am today). As I found myself lingering in Emily's recipe archives and then her "About Me" page, her spirited attention to detail and empowered voice struck a chord. I sensed a sort of raw authenticity (no pun intended) within her words, and they inspired me.
Between her thoughtful, empathic words and her truly (r)awesome blog recipes, I could get carried away sharing my thoughts. But I won't, because I have other, equally enthusiastic praises to share about her latest cookbook, The Rawsome Vegan Cookbook.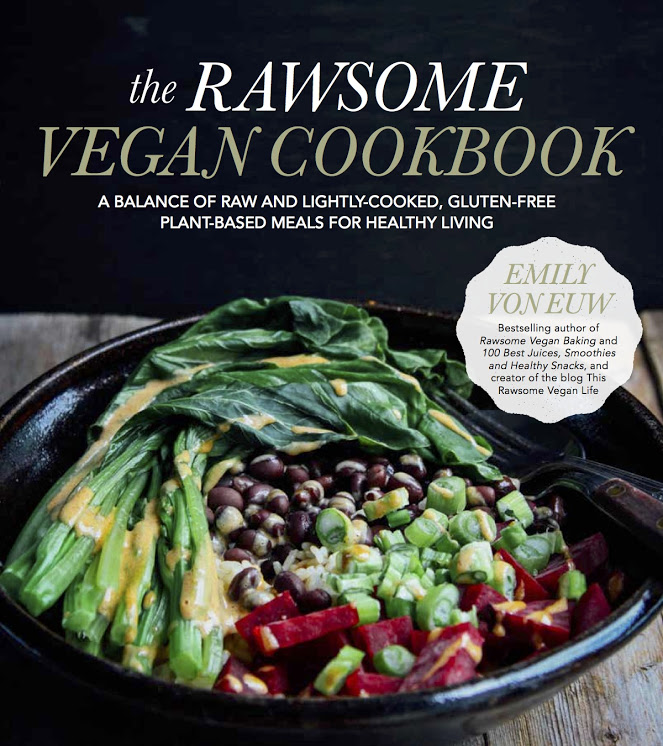 The book is divided into two sections of vibrant, plant-based meals: Raw and Cooked. Each section is brimming with meals that are simple and straightforward yet artful and creative. Emily has an uncanny knack for writing recipes that balance approachability with imagination, which is no easy feat.
I have flags running up and down the pages to notate recipes I'm planning to make. So many flags, in fact, that it probably didn't make sense to bookmark anything at all. A few that immediately caught my eye in each section are...
Raw
Raw Tacos with Sweet Corn, Kiwi, Cumin-Marinated Tomatoes + Pea Shoots | Green Coconut Curry with Marinated 'Shrooms, Broccoli + Tomato | Garden Burritos with Spicy Mushroom Nut Meat | Rawsome Pizza | Onion Corn Bread Sandwich with Avocado + Spinach Filling
Cooked
Creamy Butternut Squash with Sage, Cranberry Jam + Micro Greens | Yam Fries Forever | Freedom Falafel with Lemon Pepper Spinach Salad | Eggplant Oregano Steaks with Lemony Broccolini + Spicy Chickpeas
And of course, this fresh recipe for Soba Noodles with Carrot Ribbons and Miso Glaze...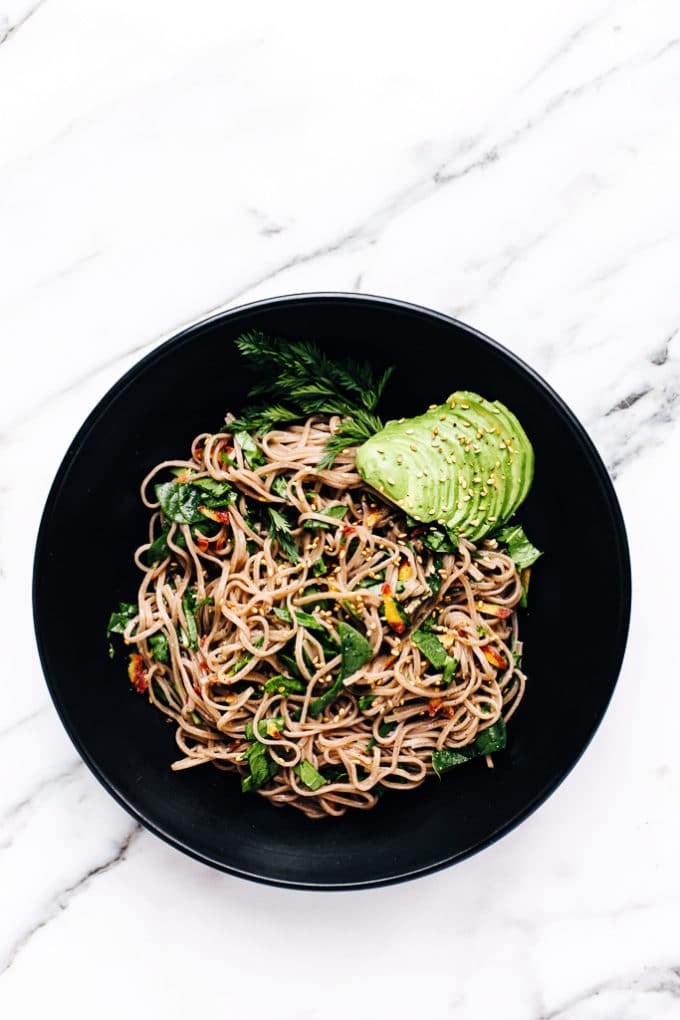 This meal comes together in a speedy 20 minutes (maybe even less depending on your chopping skills). The ingredient list is short and the preparation is fuss-free, so the flavors of each element shine through and are brightened by one another. I found these noodles to be equally delicious whether served warm or chilled, and I love how light and refreshing the flavors are.
Be sure to scroll down to the bottom of this post for...
1| This recipe!
2| A chance to win a copy of The Rawsome Vegan Cookbook (or you can get your very own copy here).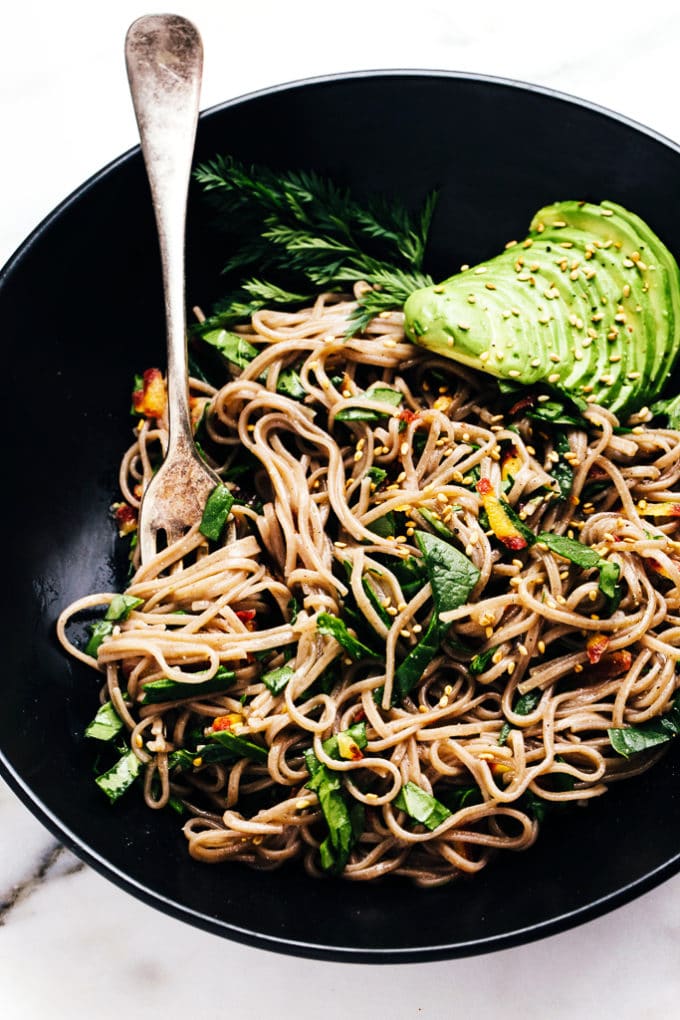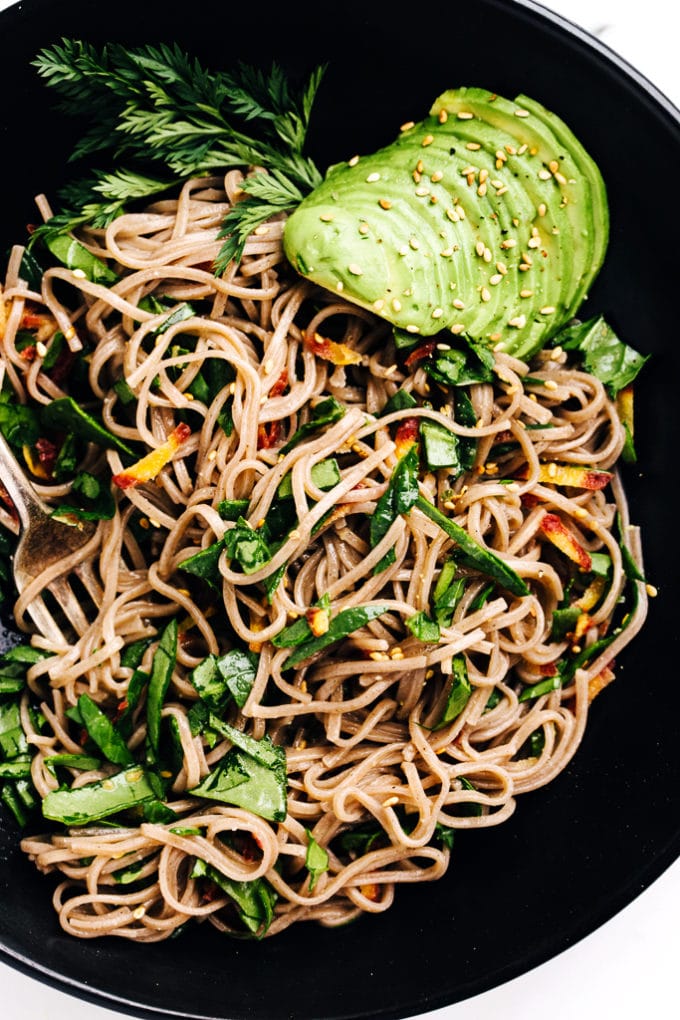 📖 Recipe
Soba Noodles from The Rawsome Vegan Cookbook by Emily von Euw + A Giveaway!
"So fresh and simple!" I love soba noodles; their texture, flavor and health benefits make me moan, "UGH YES." Soba noodles are made from gluten-free, protein-rich buckwheat. Buckwheat also has a nice amount of B vitamins for brain maintenance. The sauce in this recipe is delicate and light, but adds an undertone of sweet tanginess that pairs perfectly with the savory noodles and crunchy, juicy veggies." -- Emily von Euw in The Rawsome Vegan Cookbook
Ingredients
Glaze
2

teaspoons

miso paste

2

teaspoons

pure maple syrup

1

tablespoon

fresh lemon juice

3

to 4 tablespoons vegetable broth

1

peeled garlic clove

½

teaspoon

chunk of peeled ginger
Noodles
2

cups

(180 grams) uncooked gluten-free soba noodles
Veggies
1

medium carrot, peeled

½

avocado

1

cup

shredded spinach

1

tablespoon

black sesame seeds

(optional)*
Instructions
Glaze
Blend all the ingredients together until smooth; it should be the consistency of cream. If it's too watery, add 1 tablespoon of miso paste. If it's too thick, add 1 tablespoon of water.
Noodles
Cook according to the package directions.
Veggies
Using a mandolin slicer, spiral slicer, or simply a cheese grater, shred the carrot into thin slices. Slice the avocado meat thinly lengthwise.
To Assemble
Toss the noodles with the spinach, carrot shreds, and the glaze, then garnish with the avocado slices and sesame seeds (if using).**
Notes
*I used white sesame seeds.
**I drizzled the finished soba noodles with a bit of tamari for a salty punch of flavor.
Excerpted from The Rawsome Vegan Cookbook by Emily von Euw (Page Street Publishing). Copyright © 2015.
The Rawsome Vegan Cookbook Giveaway
One winner will receive a copy of The Rawsome Vegan Cookbook. For a chance to win, simply enter the giveaway using the Rafflecopter widget below and comment on this post between March 9th and March 30th. Please note: this giveaway is only open to residents of the US and Canada.