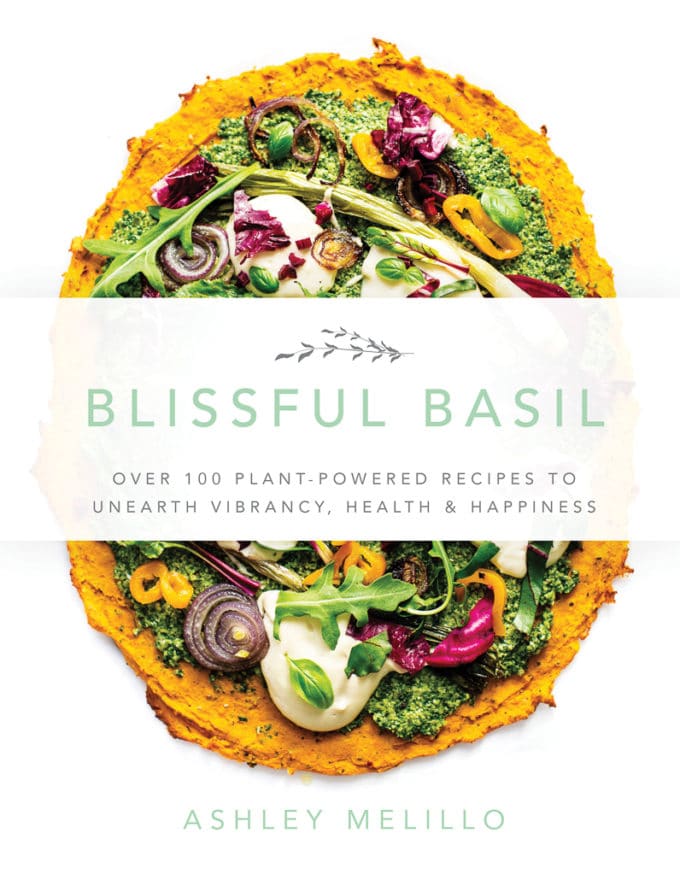 After way too many months of keeping the cover of the Blissful Basil cookbook under wraps, I'm so excited to finally be sharing it with you today! Technically, it was revealed by Amazon well over a month ago when the pre-order link went live and some of you saw it then, but it feels awesome to officially be sharing it with you.
The cover image itself is new but you might recognize the recipe, because it's one of the very few (10 or so) blog recipes that made it into the book: Sweet Potato Pizza Crust! And because I can't seem to leave well enough alone, I tested, retested, and perfected that darn crust, so you'll be getting a new and improved version in the book.
As a newbie to the cookbook process and a self-taught photo-snapper, the process of shooting a cover image proved to be a real challenge. From the start, I was set on having a single cover image (as opposed to a collage), and I (naively) wasn't all that worried about making it happen. As it turns out, capturing an image that is strong enough to stand out on a cover while also being representative of a book as a whole is tough. My publisher emphasized the importance of it being 1| vibrant and eye-catching (that rules out dishes with too many earth tones), 2| fresh but cooked (that rules out salads), 3| a recipe that was complex enough to intrigue but not overly fussy (that rules out smoothies + juices), and 4| preferably a main course (that rules out breakfast + brunch, snacks + appetizers, and desserts). Gulp.
But just when I was about ready to throw in the kitchen towel, I remembered that I still needed to re-photograph that new (and improved) sweet potato crust. Even without toppings, the crust offers a vibrant orange hue, so I figured that with a little creativity and a rainbow of veggies on top, it might just turn out to be the one. And it did.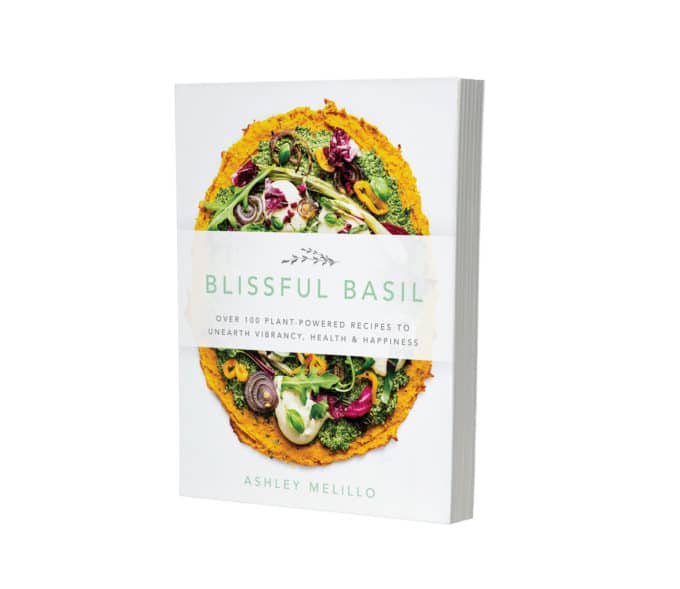 Of course as I was shooting it, that lingering self-doubt turned me into a trigger-happy photo hoarder, and I spent over three hours taking nearly 200 photos of this one. single. pizza. before spending several more hours editing every last image. And out of those 200 photos, can you guess which one was the winner? Photo #3. Mmhmm, the third photo I snapped. Moral of the story: three's a charm (and photo-hoarding is exhausting).
Pre-Orders
In other exciting news, the book is now officially available for pre-order from the following online vendors:
The book will be released on December 20, 2016! It's packed with over 130 plant-powered recipes and nearly 130 full-page photos, and you can read more about it here.
This cookbook has been a complete labor of love. There have been lots of nervous laughs, several lessons learned, too many tears, countless womp-womps on the kitchen floor, and about a dozen cookies stomped. And it was so worth it, because it's been one of the most fulfilling life adventures I've ever had. Thank you for making it possible—I am forever (and ever) grateful.