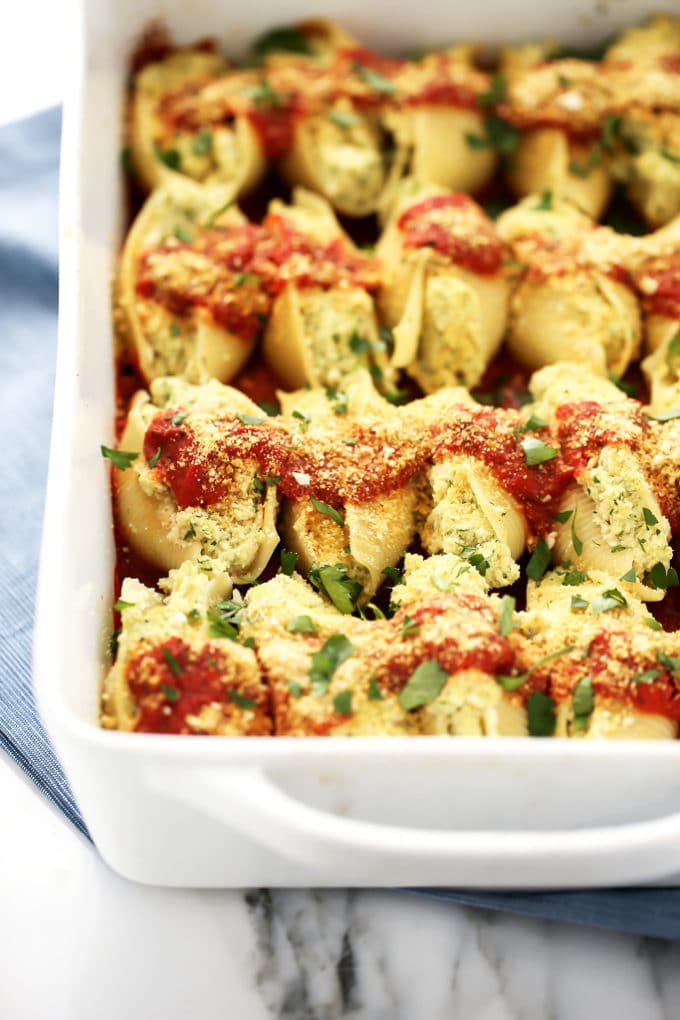 Have your detoxifying cruciferous veggies and eat (vegan) stuffed pasta too.
The unthinkable becomes a delicious reality when you've got a baking dish full of jumbo stuffed shells filled with cauliflower "ricotta" getting toasty in the oven. And we've got the brilliant, creative, and downright refreshing Mary Mattern to thank for this game-changer.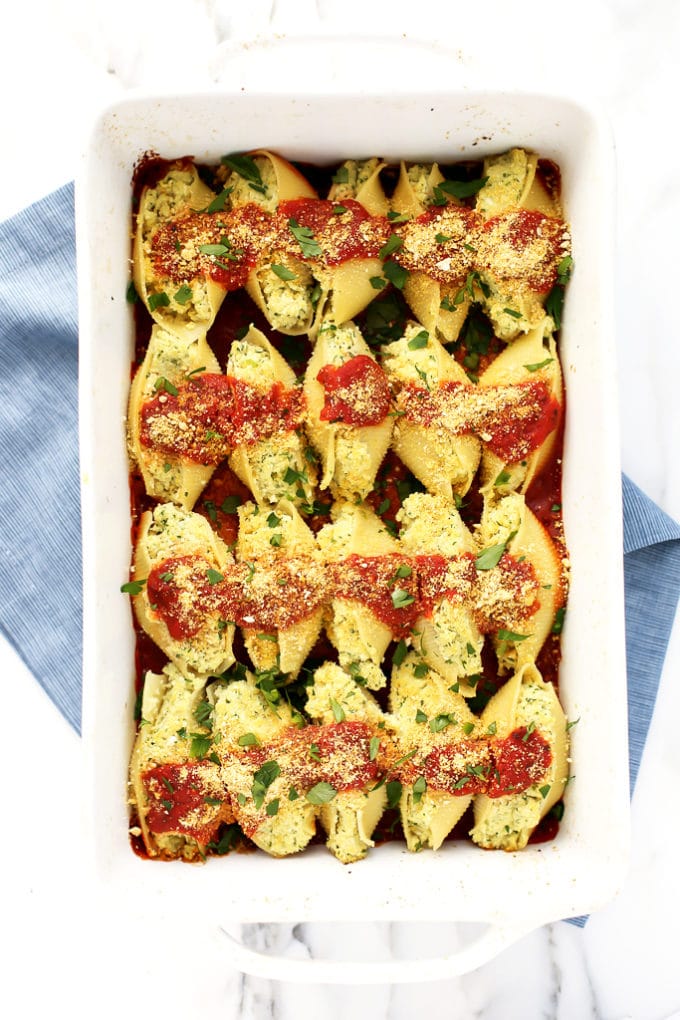 That's a dish of the good stuff.
This veggie-laden twist on a comforting classic is from Mary's cookbook Nom Yourself: Simple Vegan Cooking. With mouth-watering, vegan recipes like this one and many others, (e.g., Gingerbread French Toast, Snickerdoodle Banana Bites, Buffalo Cauliflower Kale Salad, Shiitake Mushroom Po'Boy with Remoulade, and Deep Fried Guacamole --> what?!!) it's no wonder that Mary has garnered the attention and praise of celebrities and plant-based all-stars.
Beyond an alarmingly high number of  recipes that I want to make (all at once/right this second), Nom Yourself also contains a treasure trove of Mary's personal anecdotes. They're nestled into the headings of each and every recipe, and you'd be remiss to pass over all that goodness in hasty pursuit of those drool-worthy recipes. Savor it all. She's brave, witty, and hip; and her stories reliably evoke a head nod and/or giggle.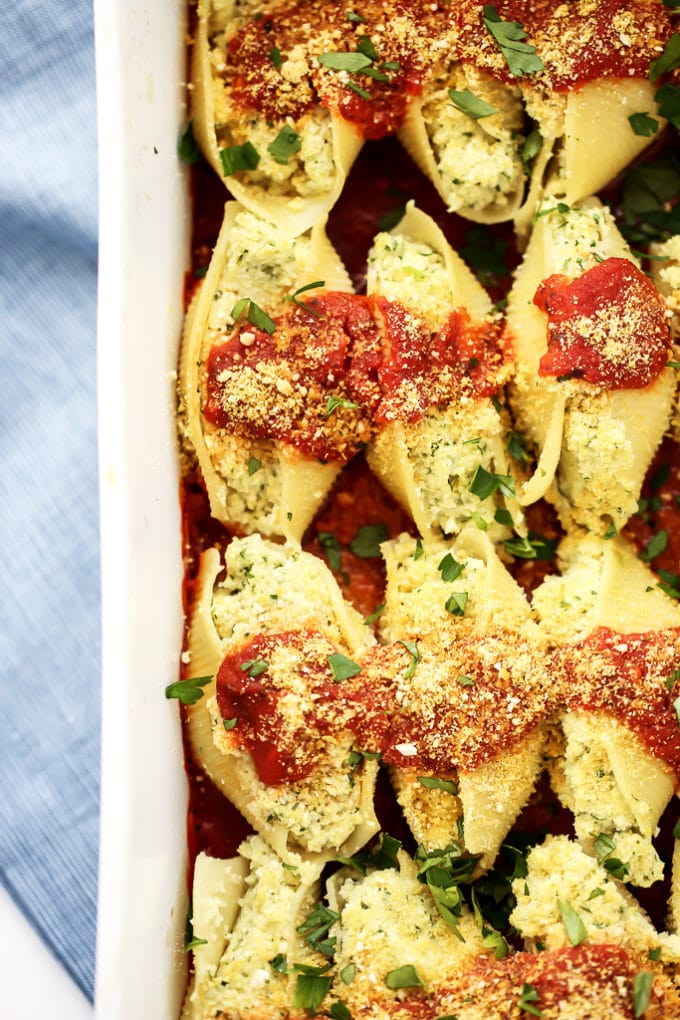 You can grab your very own copy of Nom Yourself here and be sure to checkout Mary's awesome Instagram account for oodles of plant-powered inspiration.
Also, scroll down to...
1| Grab the recipe for these delectable Cauliflower Ricotta Stuffed Shells.
2| Enter to win a copy of Nom Yourself: Simple Vegan Cooking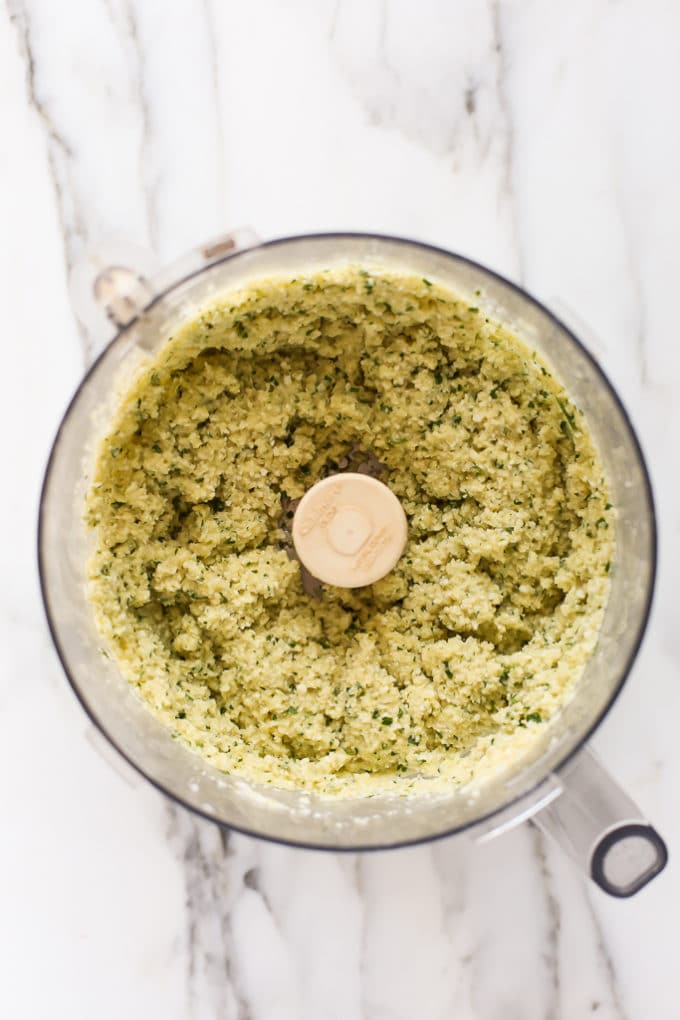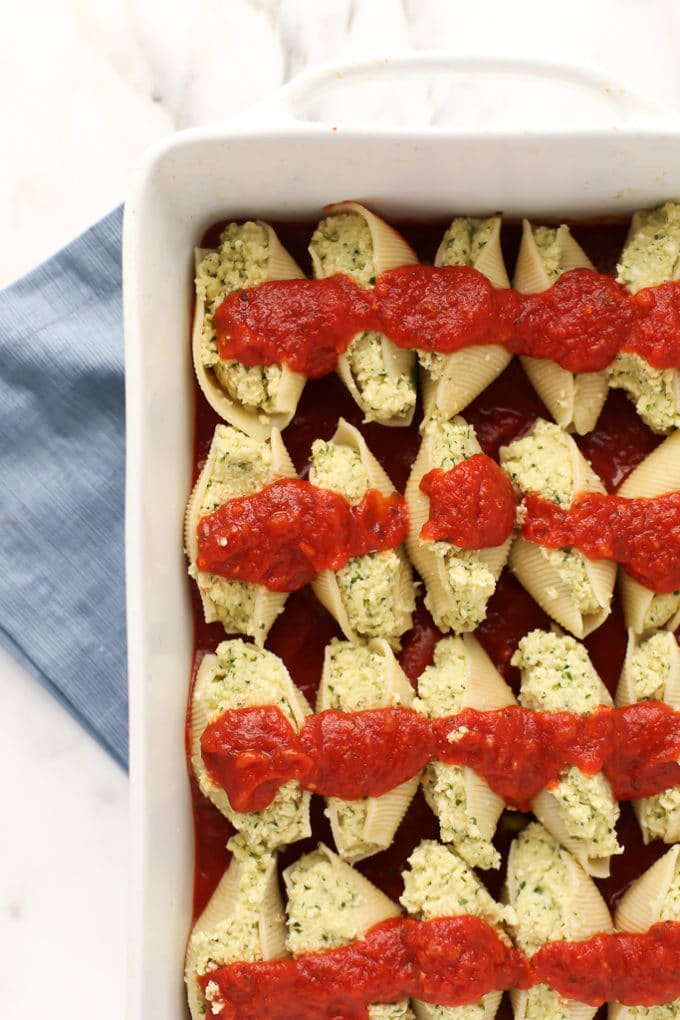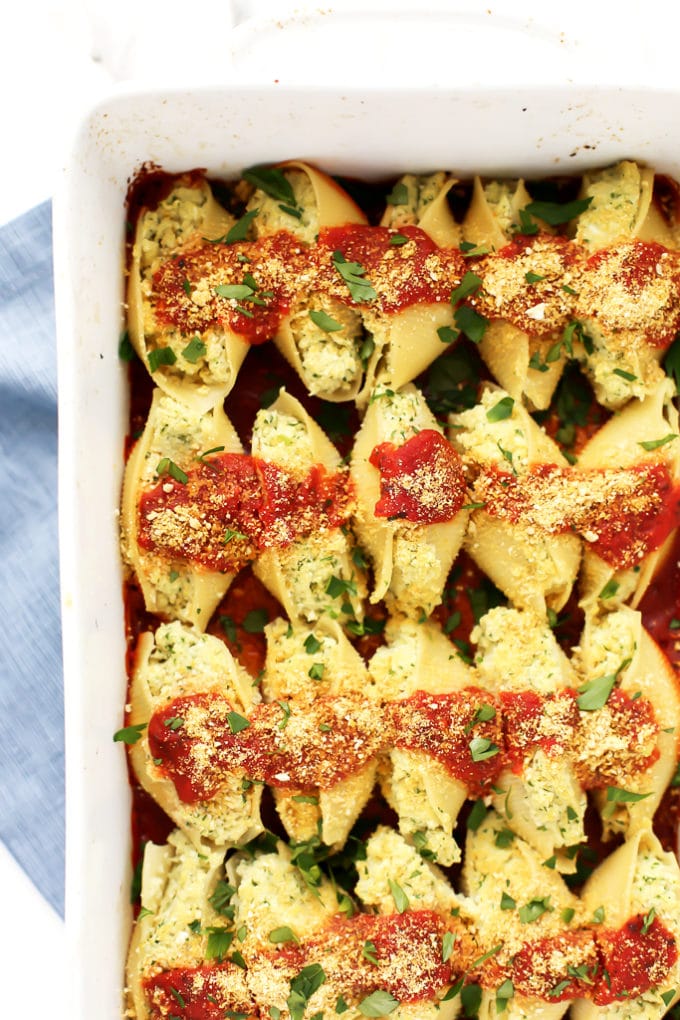 📖 Recipe
Cauliflower Ricotta Stuffed Shells from Nom Yourself: Simple Vegan Cooking + A Cookbook Giveaway!
Cauliflower has to be one of the most versatile vegetables out there. You can fry it, blend it, bake it, sauté it, boil it (if you want your whole house to smell like cauliflower), and I'm sure there are some preparations I'm leaving out. Cauliflower also makes one hell of a ricotta-like filling for baked stuffed pasta shells. If you're not a huge stuffed-shells fan, just replace this pasta with some ziti and make some baked ziti instead. Remember, this is your kitchen. I'm just living on the shelf in it.
Ingredients
1

large head of cauliflower, chopped

2

tablespoons

extra-virgin olive oil

¼

cup

nutritional yeast

½

cup

unsweetened almond milk

2

teaspoons

garlic powder

1

teaspoon

onion powder

1

bunch of fresh flat-leaf parsley, chopped (I used a ½ bunch of parsley)

2

pinches

of sea salt (I used several)

1

(12-ounce) jar tomato sauce, or 1½ cups homemade tomato sauce

1

(12-ounce) package jumbo shells, cooked to al dente and drained
Instructions
Preheat the oven to 400 degrees F.

In the bowl of a blender**, blend the cauliflower, olive oil, nutritional yeast, almond milk, garlic powder, onion powder, parsley, and sea salt. Don't overblend. You want to eliminate big chunks of cauliflower, but you still want a coarse consistency.

Spread the tomato sauce on the bottom of an 8 x 8-inch glass baking dish.

Stuff the shells with the cauliflower mixture, arrange them in the baking dish, and pour the remaining sauce on top of the shells.

Bake for 15 minutes. Add some fresh basil and vegan Parmesan cheese on top if you have it! If you don't have shells, you can also use manicotti, or use the cauliflower ricotta for lasagna.
Notes
*I find cauliflower to have a pungent, overpowering taste unless it's cooked for quite some time, so I sautéed the cauliflower ricotta mixture in a large skillet for 10 to 12 minutes prior to stuffing and baking the shells. This helped soften the cauliflower flavor and meld the seasonings.
**I find that a food processor works better than a blender, so I recommend you use the same unless you have a high-powered blender.
Reprinted from Nom Yourself by arrangement with Avery Books, a member of Penguin Group (USA) LLC, A Penguin Random House Company. Copyright © 2015, Mary Mattern
Nom Yourself CookbookGiveaway
One winner will receive a copy of Mary Mattern's Nom Yourself: Simple Vegan Cooking. For a chance to win, simply enter the giveaway using the Rafflecopter widget below and comment on this post between September 18th and October 2nd. Please note: this giveaway is only open to residents of the United States.