Sometimes, there is nothing better than a slice of pie. To be exact: there is nothing better than a crumbly, cinnamon-spiced, sweet, layered, streusel-sprinkled piece of apple pie. Why? Because it tastes like heaven and looks like this…
And who doesn't want to sink their fork into that slab of deliciousness?
I've mentioned it before, but sometimes recipe ideas pop into my mind at the strangest of times. Sometimes while in yoga poses, other times while drying my hair in the morning, but most of these random "idea zaps" rouse me from a sleepy slumber in the middle of the night. This raw apple pie idea was no exception to that trend, and I was awake enough to jot down a groggy note on my phone before falling back asleep. The note read: apple pie, raw cubes, saucy, crumble dates/mulberries. My sleepy note-taker self is concise, albeit a bit nonsensical. If you were to look through my other mid-slumber recipe notes, you might suspect I was writing cryptic messages. It's like a less-sophisticated, inadvertent Da Vinci Code up in there.
Okay, back to PIE.
Although this pie is raw and vegan, it's not only for the health-food seekers. This dessert will impress any apple pie lover because it is so incredibly flavorful and full of amazing texture. And the cinnamon-pecan streusel? There are no words for that goodness. The part about it being packed superfoods and other vitamin-rich goodies? Well, that will be our little secret.
The crust in this pie is made by pulsing together dried mulberries, medjool dates, raw walnuts, fresh vanilla bean, and cinnamon until you have a crumbly, sticky mixture. Then, you'll add the mixture to a tart pan and form it into a crust.
The apple layer is created in two steps. For the first step, you'll add two peeled and cored honeycrisp (or other firm, sweet apple) to your food processor along with dates + cinnamon and process the combination into a smooth mixture. Then, you'll stir in chia seeds, which will help thicken and lend a texture that is more comparable to cooked apple pie filling. For the second step, you'll cube three more apples and toss them with the apple-date mixture to create your apple pie filling.
The last layer is ridiculously tasty. A sweet streusel is created by pulsing together raw pecans, coconut sugar, a dab of coconut oil, and cinnamon. To assemble your pie, you'll fill your crust with the apple mixture and sprinkle the streusel on top. After an hour of set-time in your freezer, it's time to sink your fork into the most delicious raw apple pie ever.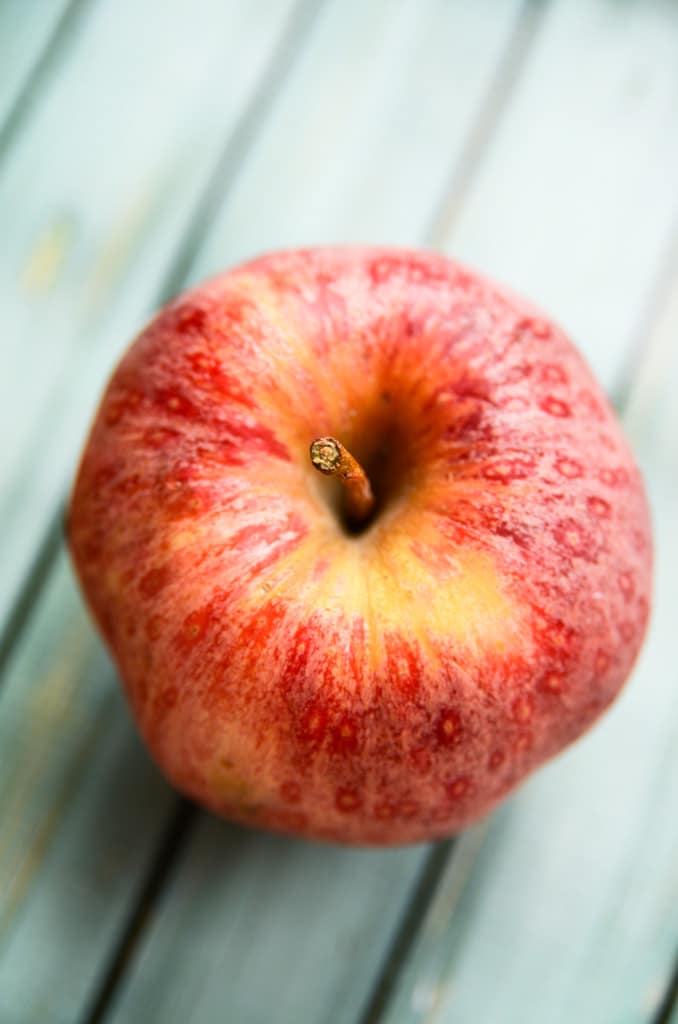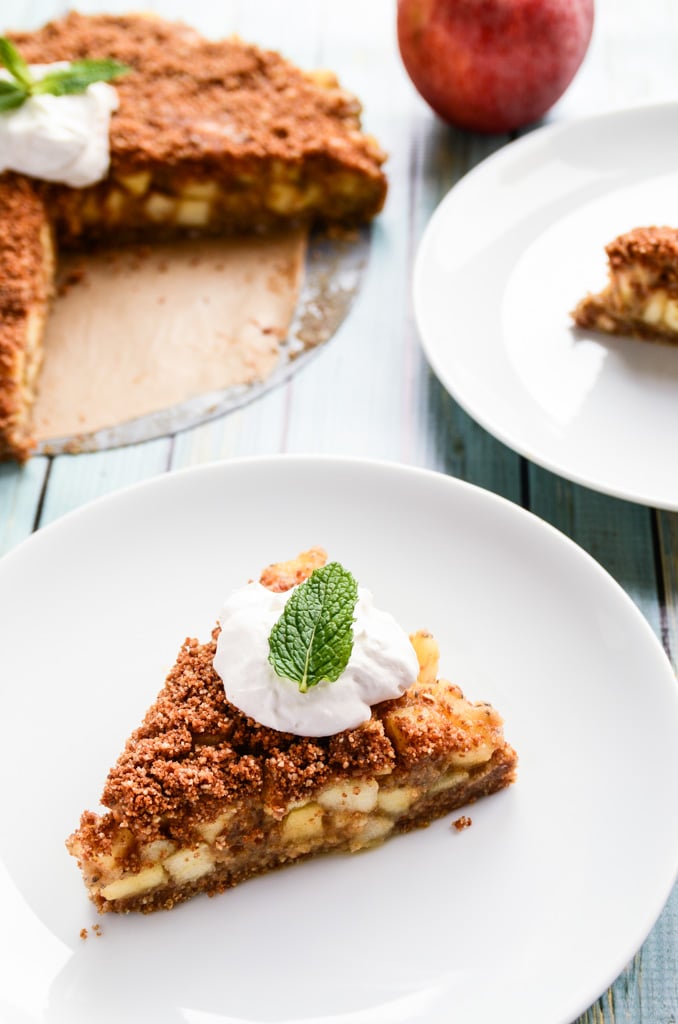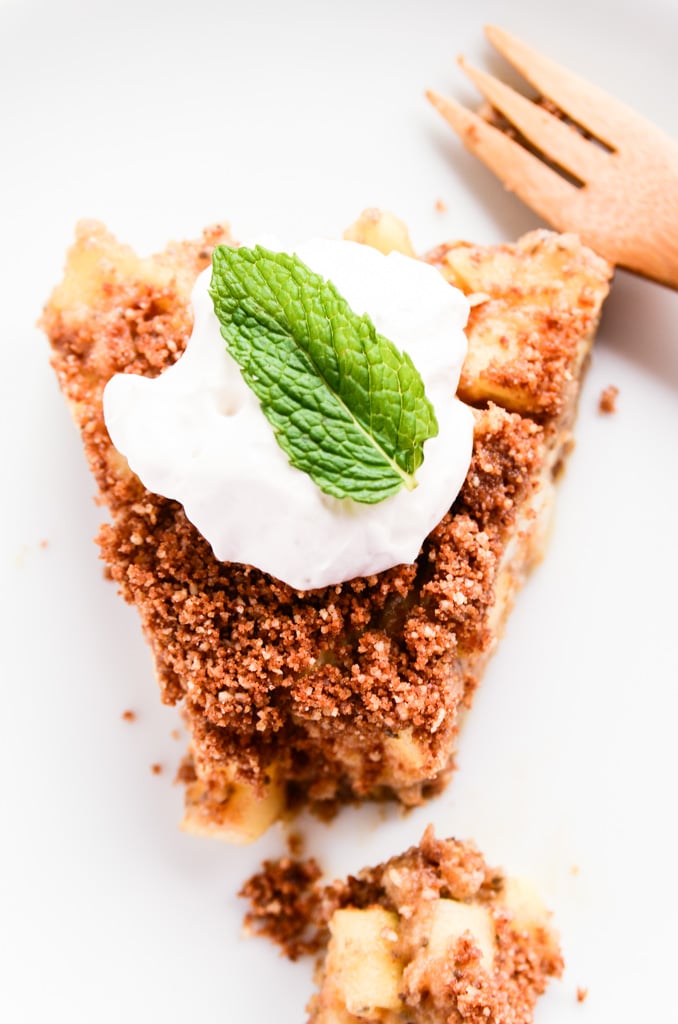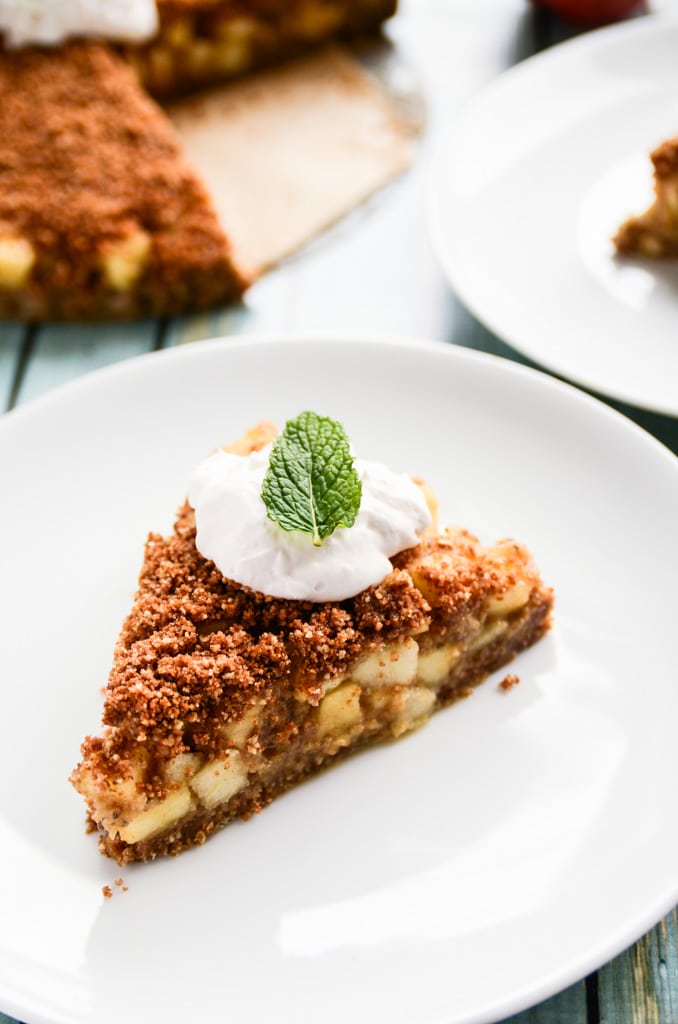 Raw Vegan Apple Pie with Cinnamon-Pecan Streusel
Author:
Ashley Melillo | Blissful Basil
Recipe type:
Dessert, Pie, Tart
Ingredients
For the Crust
2 cups dried mulberries
1 cup packed medjool dates, pitted
3/4 cup raw walnuts
1 vanilla bean, seeds scraped
1 teaspoon ground cinnamon
For the Apple Filling
5 large honey crisp apples, peeled and cored, divided
1/2 cup packed medjool dates, pitted
1 teaspoon ground cinnamon
pinch of nutmeg
2 tablespoons white or black chia seeds
For the Cinnamon-Pecan Streusel
1/4 cup raw pecans
1/4 cup raw coconut sugar
1 teaspoon virgin coconut oil
1/2 teaspoon ground cinnamon
Instructions
To Make the Crust
Add the mulberries, dates, walnuts, vanilla bean seeds, and cinnamon to a food processor. Pulse the mixture a few times and then process until you have a crumbly, sticky mixture (about 1-2 minutes).
Line the bottom of a 10" round tart pan with parchment paper and grease the sides with coconut oil.
Pour the crust mixture into the tart pan, and use your hands to press the mixture into the bottom and up the sides to form a crust (tip: if the mixture is sticking to your hands, dampen them with water).
Transfer the tart pan to the freezer for at least 30 minutes to set.
To Make the Apple Filling
After you've peeled and cored the apples, roughly chop two of them. Add them to a food processor along with the medjool dates, cinnamon, and pinch of nutmeg. Pulse the mixture a few times and then process for 3-4 minutes or until a smooth apple-sauce-like texture is reached. You'll need to stop frequently to scrape the mixture down the sides of your food processor.
Pour the mixture into a large bowl and stir in the chia seeds.
Dice your other three peeled and cored apples into small cubes, and add the cubes to the bowl with the apple-date mixture. Toss to coat.
To Make the Cinnamon-Pecan Streusel
Add the pecans, coconut sugar, coconut oil, and cinnamon to a food processor. Pulse 20-25 times or until you have a coarse crumble.
To Assemble the Pie
Remove your crust from the freezer. Pour in the apple mixture, and use a spatula to spread it evenly into the crust. Sprinkle the cinnamon-pecan streusel over the apple layer and return the pie to the freezer for one hour to set.
Remove from freezer, slice, and serve.
Store leftovers in your refrigerator.