The best desserts are free no-bake and packed full of cherries. These vegan and gluten-free no-bake cherry-chia crumble bars meet both requirements. Plus, they're made with less than 10 ingredients and come together rather effortlessly.
A hearty mulberry-oat crust that's similar to this one serves as the base for these no-bake bars. Mulberries, raw almonds, oats, coconut sugar, and a few medjool dates are processed into a crumbly mixture and pressed into an 8×8-inch pan. Then, the crust is chilled in the freezer to set while the filling and topping are made.
Whereas date-heavy, no-bake crusts tend to be dense and gooey, mulberries + chilling give this crust a crisp texture that's reminiscent of a baked version. It's also sturdy, which is an important quality since it's carrying the weight of all that precious cherry-chia filling.
Speaking of that filling, it's packed with fresh summer cherries (although you can absolutely use thawed frozen to avoid pitting the cherries). To make it, you'll add cherries, a bit of water, and pure maple syrup to a sauce pan, bring it to a boil, and simmer until the cherries begin to break down into a sauce. Then, whisk in a couple tablespoons of chia seeds and let it cool. As it cools, the chia seeds work their magic to thicken the filling.
If you want to make these bars raw, you can use this raw cherry chia jam instead. Make the recipe as is (note: use medjool dates to sweeten if you want to keep it raw) and then stir in 1 additional cup of chopped cherries to give it a heartier texture.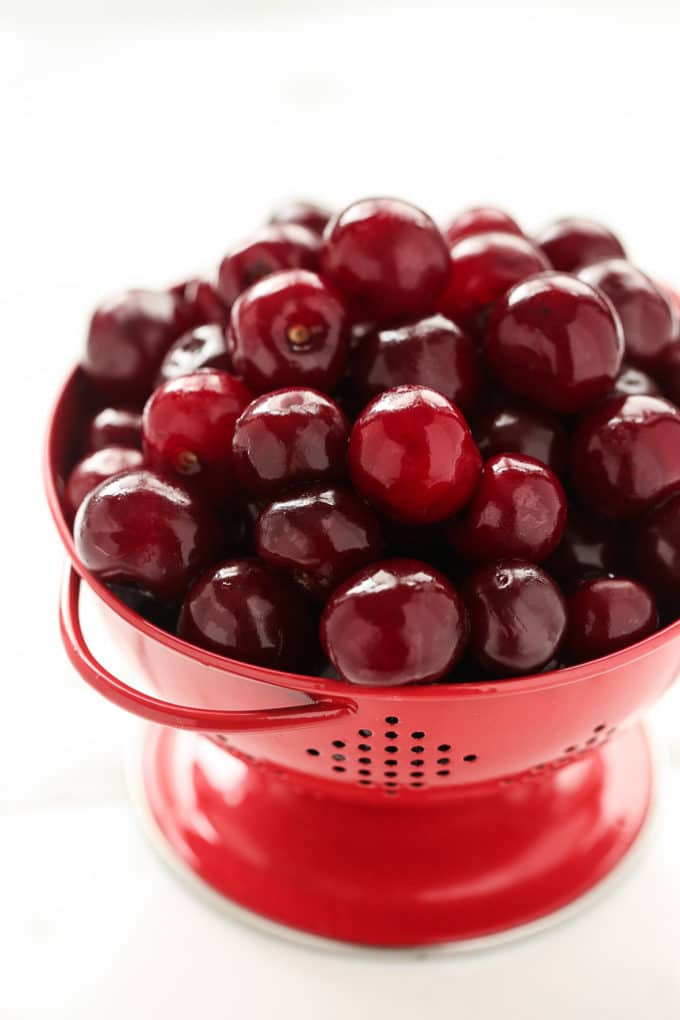 While the cherries are cooking, you'll whip up the crumble topping. Start by processing raw almonds in a food processor for 1 minute or until you have a fine meal. Then, transfer the almond meal to a bowl and stir in rolled oats, coconut sugar, melted coconut oil, and a tiny pinch of sea salt. As the coconut oil cools, it pulls the topping together into irresistible little crumbles.
To review, you'll make the crust, press the crust into a pan, chill the crust to set, make the cherry chia filling and crumble topping, spread the filling over the crust, and sprinkle on the oat topping.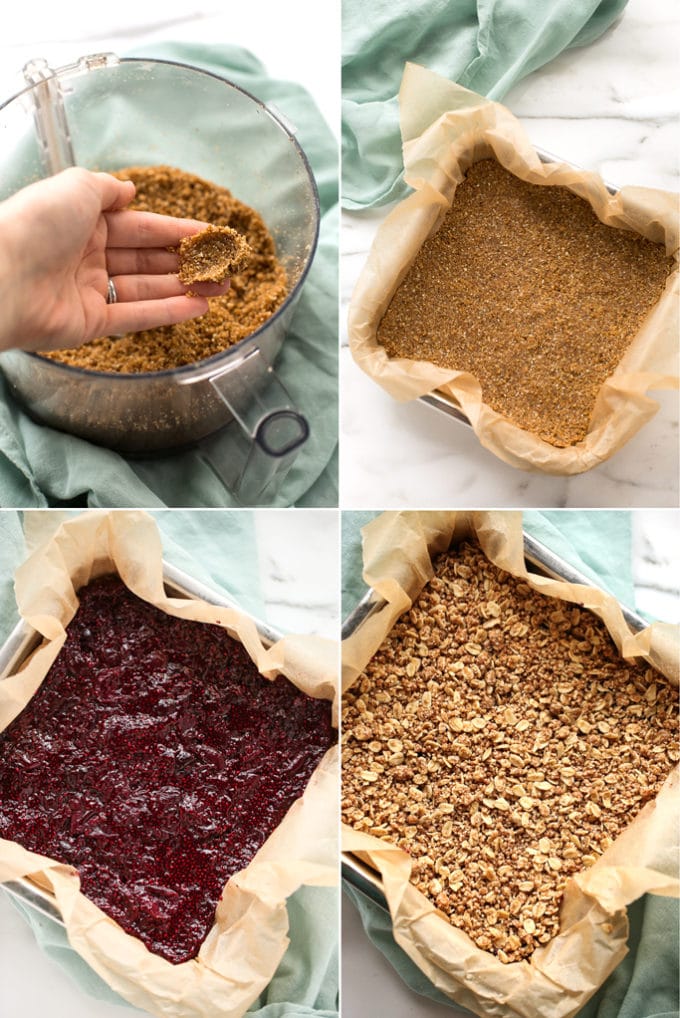 After a brief 15 minute chill, slice into bars and have yourself a little piece of cherry heaven.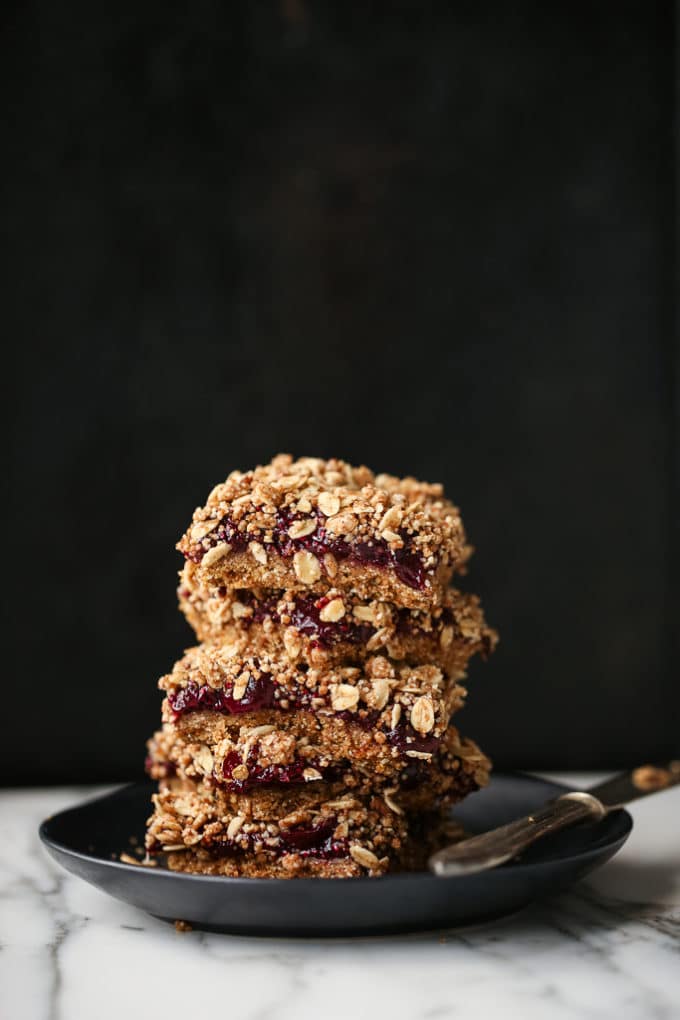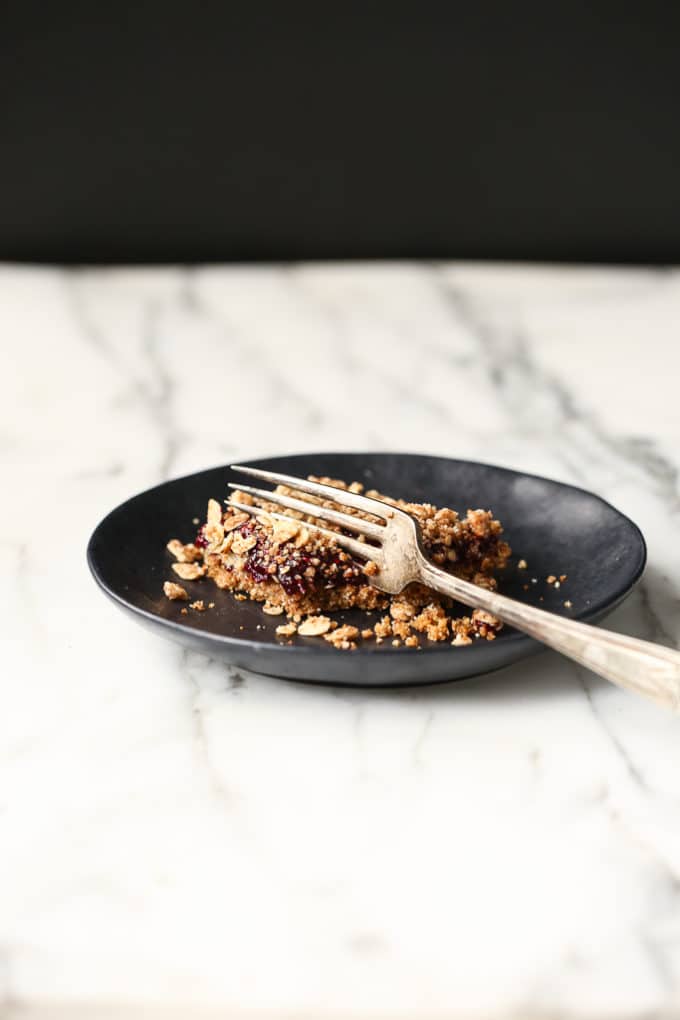 No-Bake Cherry Chia Crumble Bars
These no-bake cherry chia crumble bars are made with all whole, pure, plant-powered ingredients. No funny business. A sturdy no-bake crust is topped with a sweet cherry-chia filling, which gets topped with a sweet and delectable crumble topping. The result is a dessert that's just as delightful as it is nourishing.
Ingredients
Mulberry-Oat Crust
1 1/2

cups

dried mulberries

1/2

cup

raw almonds

1/4

cup

pitted and packed medjool dates (about 3 large dates)

1/4

cup

rolled oats

1/4

cup

coconut sugar
Cherry Chia Filling
3

cups

fresh or frozen cherries, pitted

2

tablespoons

filtered water

2

tablespoons

pure maple syrup or to taste

2

to 3 tablespoons chia seeds
Crumble Topping
1/3

cup

raw almonds

1/3

cup

rolled oats

3

tablespoons

coconut sugar

2

tablespoons

coconut oil, melted

1/8

teaspoon

fine sea salt
Instructions
Mulberry-Oat Crust
Line an 8x8-inch square pan with parchment paper.

In a food processor, combine the mulberries, almonds, dates, oats, and coconut sugar and process for 2 to 4 minutes or until the mixture begins to clump together. You want it to be crumbly yet sticky so that when pressed between your fingers it sticks together but is able to crumble back to its original form. If your crust mixture isn't sticking together when pressed, add in more dried mulberries, 1/4 cup at a time, until it holds together.

Scoop the mulberry mixture into the lined pan and use your hands to press the mixture evenly into the bottom. Then, use the back of a tablespoon to press the crust firmly into the pan. Freeze for 30 minutes to set.
Cherry Chia Filling
Meanwhile, make the filling. In a medium saucepan, stir together the cherries, water, and maple syrup over medium heat. Bring to a boil, reduce heat, and simmer, uncovered, for 25 minutes or until the cherries are beginning to break down into a sauce, stirring occasionally. Then, add the chia seeds and continue to cook another 5 minutes or until thickened, stirring continuously.

Cool completely (I like to place the pan in an ice bath to encourage quick cooling). If the filling is too thick after cooling, add more filtered water, 1 tablespoon at a time, until desired texture is reached. If the filling is too thin after cooling, add in more chia seeds, 1 teaspoon at a time, until desired texture is reached.
Crumble Topping
While the cherry filling is cooking, make the crumble topping. Add the almonds to a food processor and process for 1 minute or until broken down into a fine meal.

Transfer to a medium mixing bowl and add the rolled oats, coconut sugar, melted coconut oil, and sea salt. Stir to coat.
To Assemble
Scoop the filling over the crust and use a spatula to gently smooth out. Then, sprinkle the crumble topping evenly over the surface and use a spatula to gently press the topping down to compact it a bit. Refrigerate for 15 minutes to set.

Grasp the sides of the parchment paper and carefully lift the entire bar out of the pan. Place on a cutting board and slice into bars.

Store in refrigerator.