Raw graham cracker crust + rich, creamy, and decadent cheesecake filling + jammy berry swirls = this no-bake vegan strawberry & blueberry swirl cheesecake.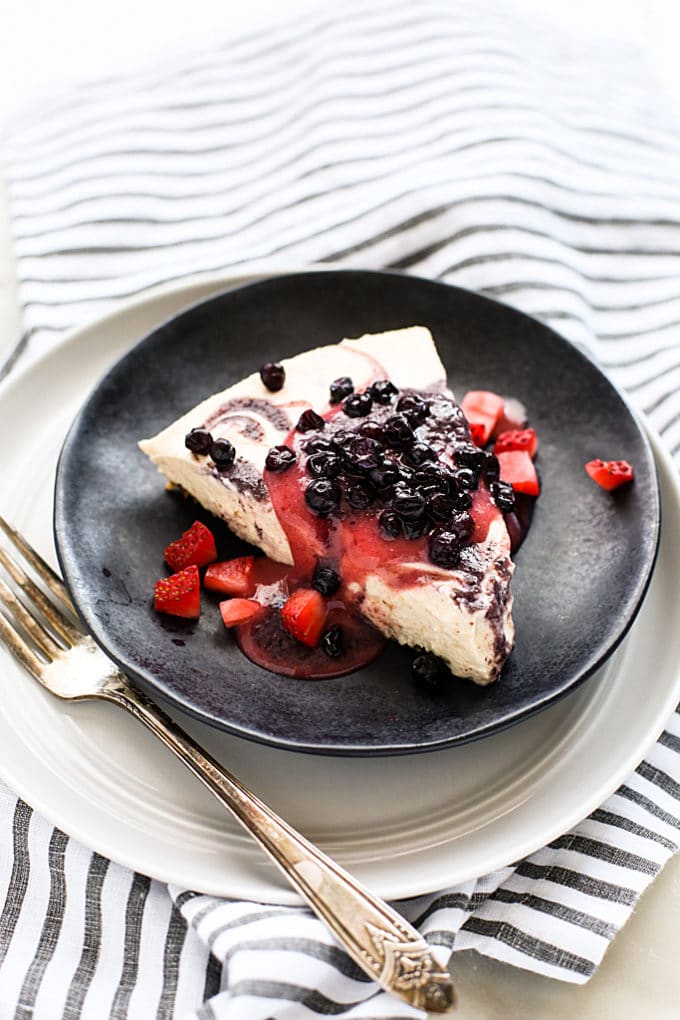 With just 10 days separating us from the 4th of July, I wanted to whip up a festive red, white, and blue treat to share with you. After a Sunday evening recipe planning session, I landed on the idea of a no-bake cheesecake with a crisp pecan crust + blueberry and strawberry swirls. Sounded absolutely perfect on paper and in my mind.
Only problem?
Blueberries take on a purple hue when blended, and strawberries take on a pink hue when blended.
For a hot June minute, I considered reworking this dessert concept into something entirely different, but then a bit of magic came out of my food processor...
...the cheesecake filling.
It's creamy, rich, and has the perfect cheese-like tang from the addition of fresh lemon juice and tahini. The tahini offers that extra something special in this no-bake, raw (if you use raw tahini), and vegan dessert; it takes it from cheesecake-like to knock-your-socks-off, I-can't-believe-there's-no-cheese-in-there cheesecake. What a mouthful.
So, rather than working against nature, I rolled with the pastel punches. I did greet a thought or two about Care Bears while gently folding in those pinkish and purplish swirls, but that just made it all the more fun. I think Tenderheart Bear and maybe even Grumpy Bear would approve of this cheesecake.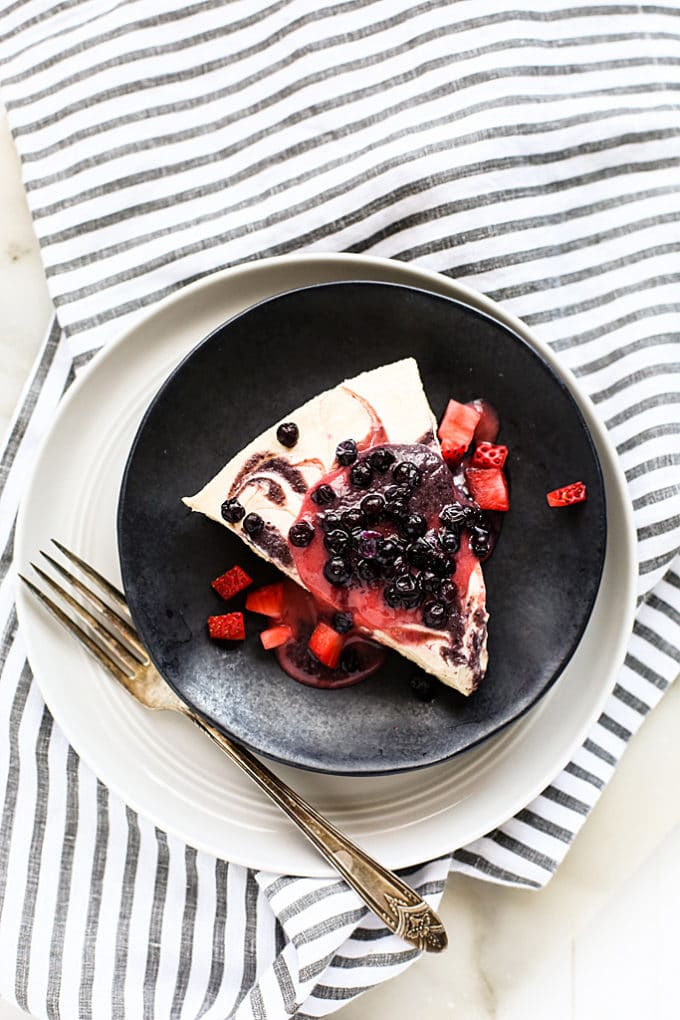 The crust is made with just four raw ingredients: dried mulberries, pecans, coconut sugar, and buckwheat groats. After processing them into a crumbly, stick-together mixture in a food processor, you'll press the crust into a springform pan before chilling it to set. As the crust sets, it takes on a crisp texture that resembles a baked graham cracker crust in look, taste, and feel. It's absolutely delicious and something I wouldn't mind eating all on its own.
While the crust is setting, you'll make the blueberry and strawberry sauce by blending both berries (separately) with dates, water, and chia seeds. The chia seeds help thicken and stabilize the sauce so that it can be swirled into the filling. Speaking of that filling...
The cheesecake filling is made by blending or processing coconut cream, soaked cashews, dates, lemon juice, tahini, and sea salt until super smooth and creamy. I know I already mentioned it, but this filling is just like the "real" thing. The tahini adds a rich, cheese-like tang and the fresh lemon juice brightens everything up. The coconut cream and cashews offer a decadent texture and flavor, while the medjool dates lend sweetness and a fluffy quality to the filling. Once your filling is made, you'll pour it over the crust. Then, you'll dot the top of it with teaspoons of the strawberry and blueberry sauce before taking a toothpick and swirling to your heart's content.
After two hours of chill time in the freezer, you'll have a richly-decadent cheesecake with bright pops of (pastel) red, white, and blue. Once it's set, store it in the refrigerator to maintain a perfect cheesecake texture. I recommend serving each slice with an extra drizzle or two of the blueberry and strawberry sauces + fresh or thawed frozen berries.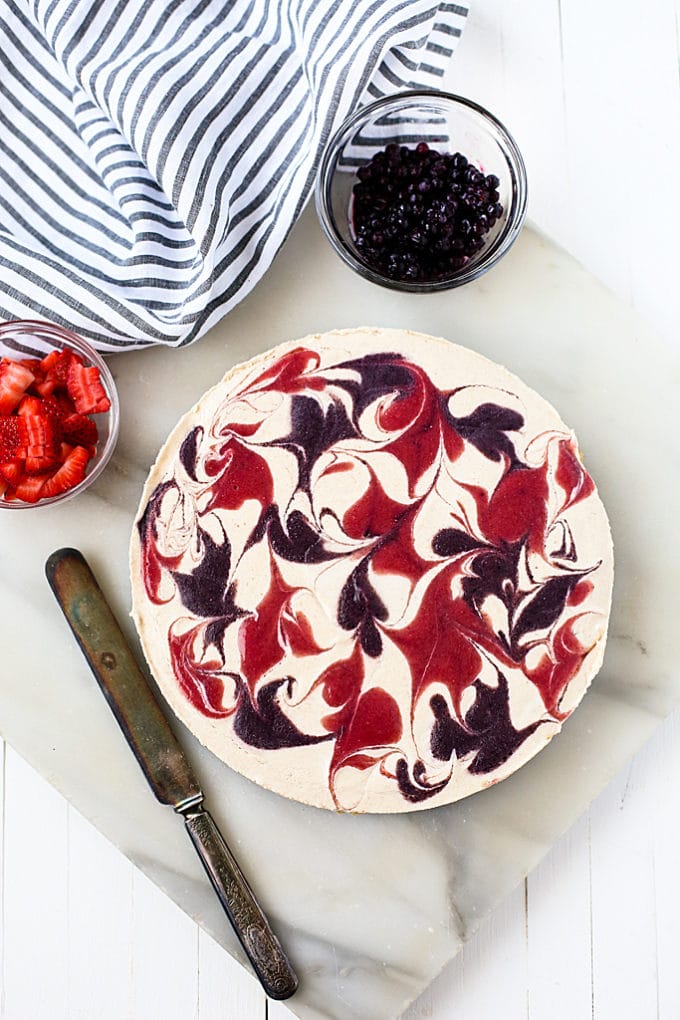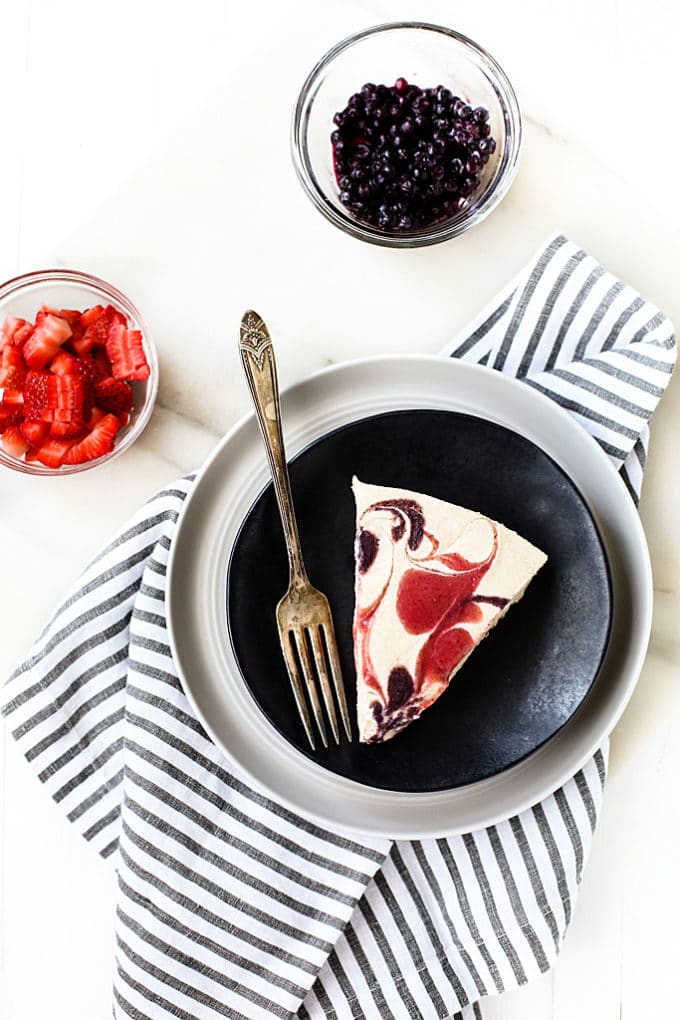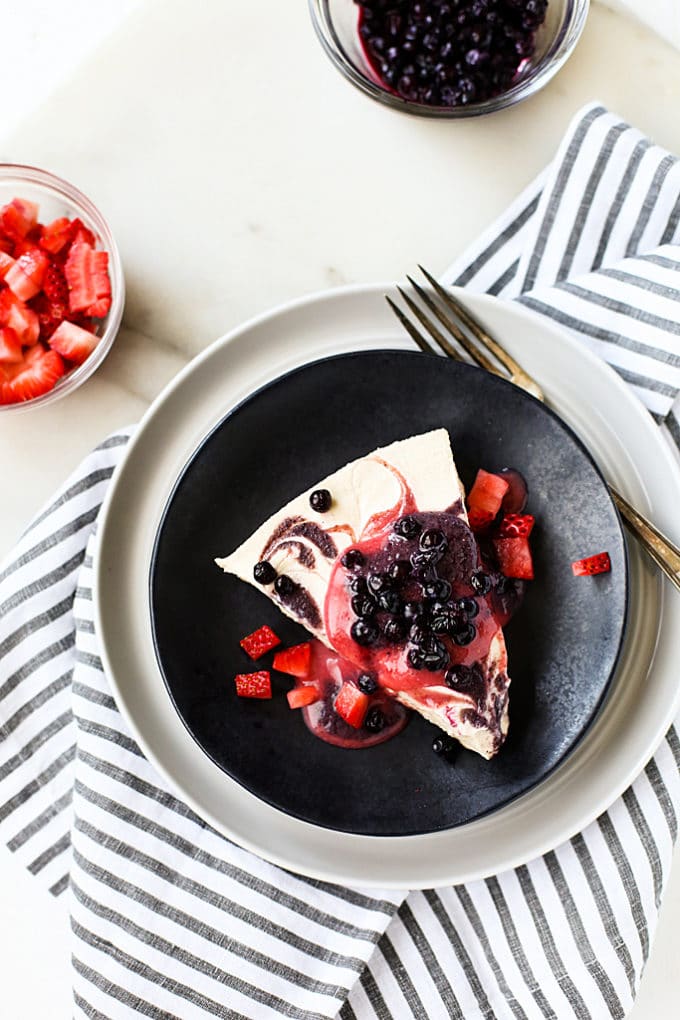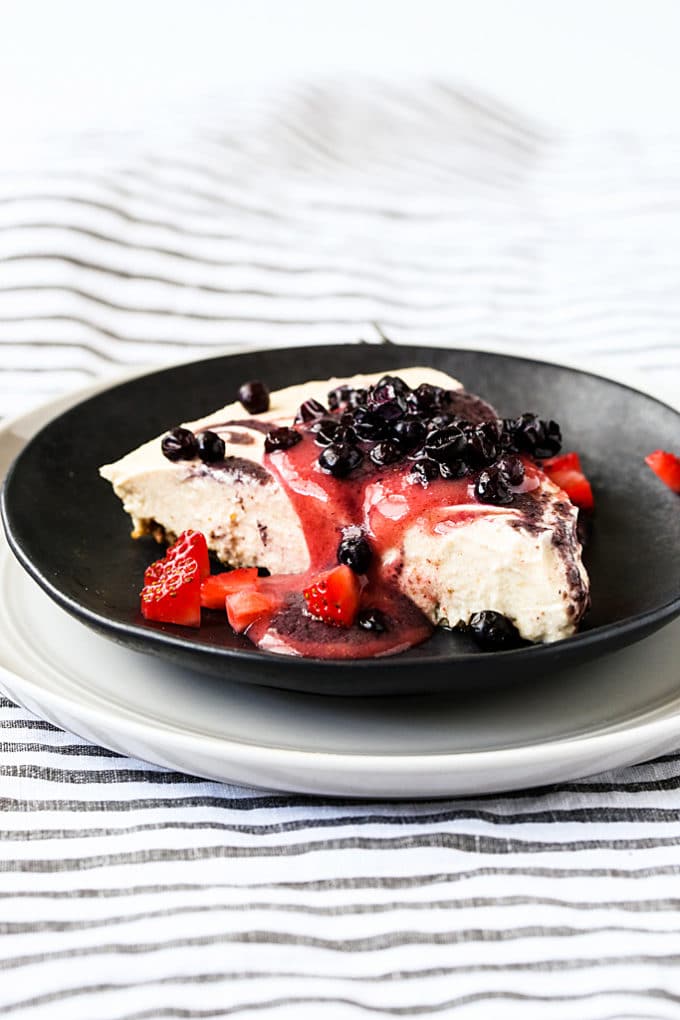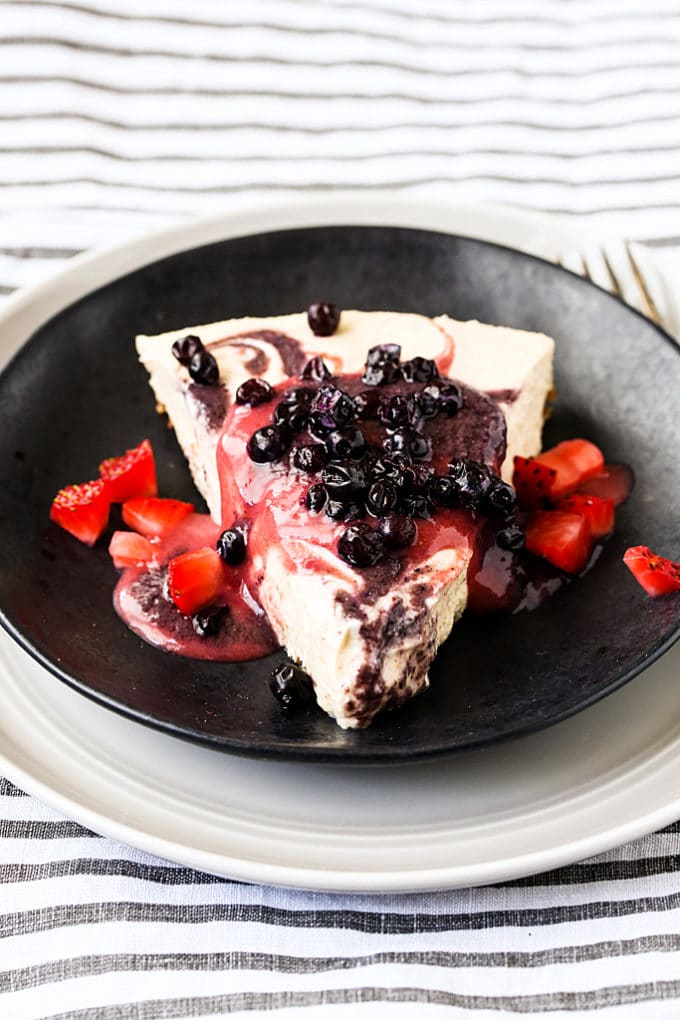 📖 Recipe
No-Bake Vegan Strawberry & Blueberry Swirl Cheesecake with Crisp Pecan Crust
A rich vegan cheesecake filling is hugged by a crisp, buttery pecan crust and swirls of strawberry and blueberry sauce. The filling garners its cheesecake-like tang from fresh lemon juice and tahini, while its creaminess comes from blended cashews and coconut cream. The crust resembles a baked graham cracker crust in look, texture, and flavor; however, it's made with just four raw ingredients: dried mulberries, pecans, coconut sugar, and buckwheat groats. If you use raw tahini, this cheesecake is raw vegan; however, either way it's no bake and easy to make! The prep time only includes active prep time, but there are 8 hours of soaking (or overnight) and 2 hours, 20 minutes of chill time, so make sure you take this into account when making this festive treat!
Ingredients
Crisp Pecan Crust
1 ¼

cups

dried mulberries

¾

cup

raw pecans

¼

cup

coconut sugar

¼

cup

raw buckwheat groats
Blueberry Swirl
1

cup

fresh blueberries or thawed frozen bluberries

3

medjool dates, pitted and soaked for at least 8 hours

½

cup

filtered water

2

teaspoons

chia seeds
Strawberry Swirl
1

cup

fresh strawberries, pitted or thawed frozen cherries

2

medjool dates, pitted and soaked for at least 8 hours

¼

cup

filtered water

1

teaspoon

chia seeds
Cheesecake Filling
1 ¼

cups

full-fat coconut milk, chilled (see notes)*

1

cup

raw cashews, soaked in water for at least 8 hours

¾

cup

pitted and packed medjool dates, soaked in water for at least 8 hours

¼

cup

fresh lemon juice

2

tablespoons

tahini**

¼

teaspoon

sea salt
Instructions
Crisp Pecan Crust
Line the bottom of a 9-inch springform pan with parchment paper. I like to pop out the bottom of the pan, place a piece of parchment paper over it, and use kitchen shears to cut out a circle. Then, lightly grease the sides of the pan with coconut oil.

In a food processor, combine the mulberries, pecans, and coconut sugar and process until the mixture begins to clump together. Add in the buckwheat groats and process another minute or until the groats are coarsely chopped and the mixture begins to clump together again. You want it to be crumbly yet sticky so that when pressed together between your fingers it clumps but is able to crumble back to its original form. If your crust mixture isn't sticking together, add in more dried mulberries, ¼ cup at a time, until it holds together. Scoop the mixture into the springform pan and use your hands to press the mixture evenly into the bottom. To smooth out the edges, you can use the back of a tablespoon to press the crust firmly into the pan. Freeze for 20 minutes to set.
Blueberry and Strawberry Swirl
Meanwhile, make the blueberry swirl by adding all ingredients to a high-speed blender and blending until smooth. Pour the blueberry swirl into a small bowl and refrigerate for 10 minutes to thicken. Repeat with the strawberries. (note: you'll notice that the blueberry swirl requires more dates, water, and chia seeds than the strawberry swirl. This is necessary to achieve the correct texture).
Cheesecake Filling
Meanwhile, make the filling by combining all ingredients in a food processor and processing until completely smooth, stopping to scrape down sides as needed. This takes about 4 to 5 minutes, so be patient as it processes.

Once the crust has set, pour the filling into it and gently drop the pan on a firm surface several times to smooth out the surface of the filling.

To make the swirl, use a teaspoon to dot the the blueberry and strawberry on top of the cheesecake (note: you'll only need to use a few tablespoons of each, and you'll reserve the remainder for serving). Use the pointy end of a chopstick or a toothpick to swirl the sauce into the cheesecake. If you want bold swirls like pictured, go easy on your swirling; however, if you want fine, thread-like swirls, swirl to your heart's content. Clear out a flat space in your freezer and place the pan on a baking sheet to make for easy transport. Freeze for 2 hours or until the cheesecake layer has set.

Store in refrigerator until ready to serve.

When serving, top with the strawberry and blueberry sauce and fresh strawberries and blueberries, if desired.
Notes
*You'll want to chill a can of full-fat coconut milk or coconut cream overnight. Then, open the can and scoop off the thick cream at the top of the can and measure only that, excluding the watery liquid.
**To make this cheesecake raw, use raw tahini.
***To simplify the soaking, I like combine the cashews and dates for the filling in one airtight container, cover with water, and soak for 8 hours or overnight. You can also add 5 additional dates into the container for the blueberry and strawberry swirl and remove them to blend with each fruit.