Just 6 ingredients and ultra simple methods stand between you and these vegan, gluten-free, and grain-free 6-ingredient mini raw key lime pies.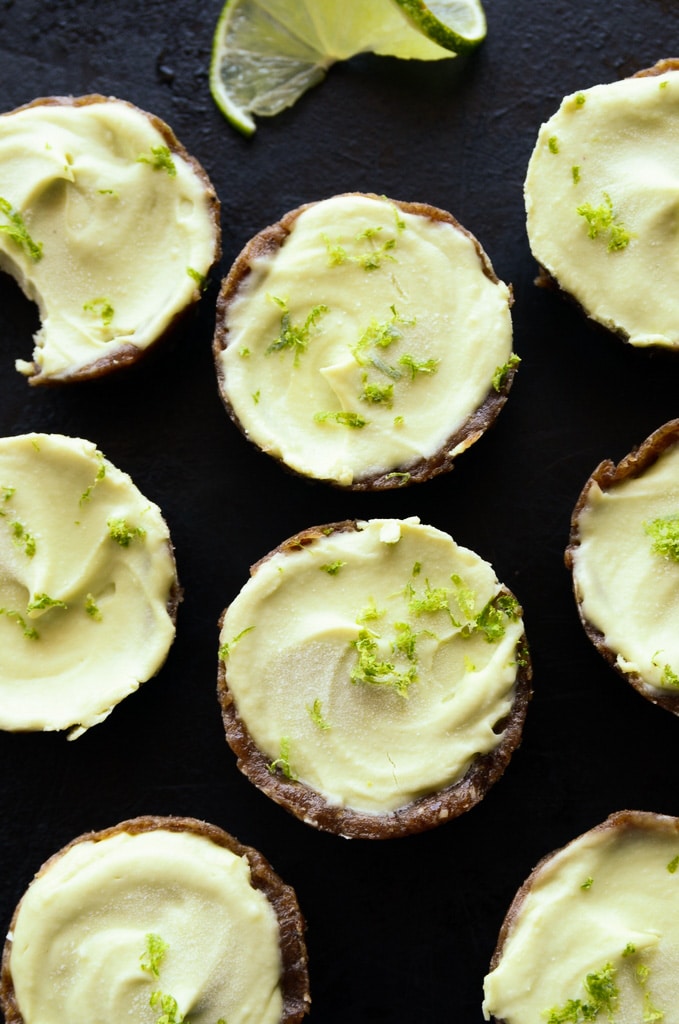 Otherwise known as "little rounds of citrus-zested joy."
Historically speaking, if I were given a choice of 100 vegan desserts, key lime pie would probably rank in the lower quartile of my pickings. It's tasty but trumped by the flavors of chocolate, peanut butter, pumpkin, caramel, butterscotch, etc.
That being said, I think my dessert-ranking game might have just been given a shake.
This key lime pie? Well, let's just say I'd consider rank-ordering it above the majority of my other favorite desserts. The smooth, dense, and creamy texture; the bright citrus notes; and the decadent, caramel-like pecan and date crust make it altogether addictive. Each element of these cutesy little key lime pies creates a dessert that leaves nothing to be desired. Nothing. Nada. Zilch.
Except for maybe a little more room in your belly. You know, to eat more mini pies like this one...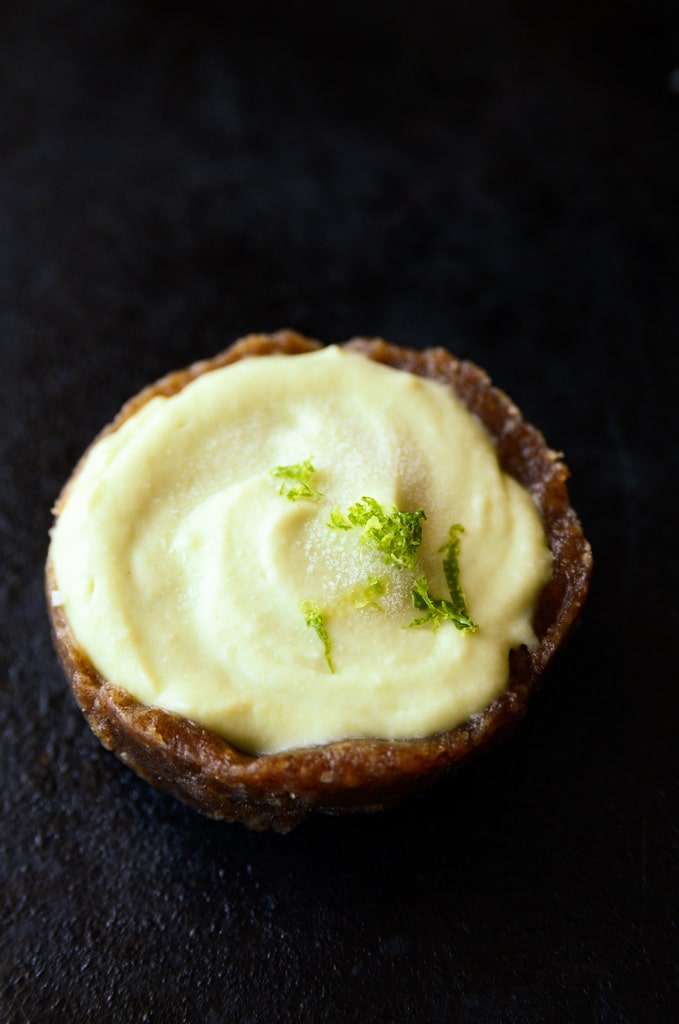 With just six ingredients (not including a sassy pinch of salt), you can whip up these sink-your-teeth-in-tasty desserts. Did I mention they're raw, gluten-free, and vegan? And probably a few other lifestyle-friendly words. When I said we can have our health and eat cake too, I meant it. I don't joke around, except for when I do.
The base of these circular beauties is made with two ingredients: raw pecans and medjool dates.
Somehow, this is my first time combining raw pecans with dates for a crust base. All I can say is Oh. My. Goodness. If I could rewind a few years, I would have combined those two lovers a long time ago. There is something so amazingly rich, sweet, and delectable about that particular combination.
To make the crust, you'll process the pecans and dates in a food processor, grease and line a muffin tin with little strips of parchment paper to form handles, and press the mixture into the tin to create mini crusts.
While the crusts set in the freezer for a quick 15 minutes, you'll make the filling by adding coconut butter, avocado, fresh lime or key lime juice (either works great), and agave nectar to a food processor and give it a steady 4-5 minute whirl. Once you have a smooth, creamy, and luscious light green filling, you'll pour it into your crusts, smooth it out, and return the muffin tin to the freezer for 45 minutes to set the pies.
Then, pop the little pies out and indulge.
Although small, these pies are mighty.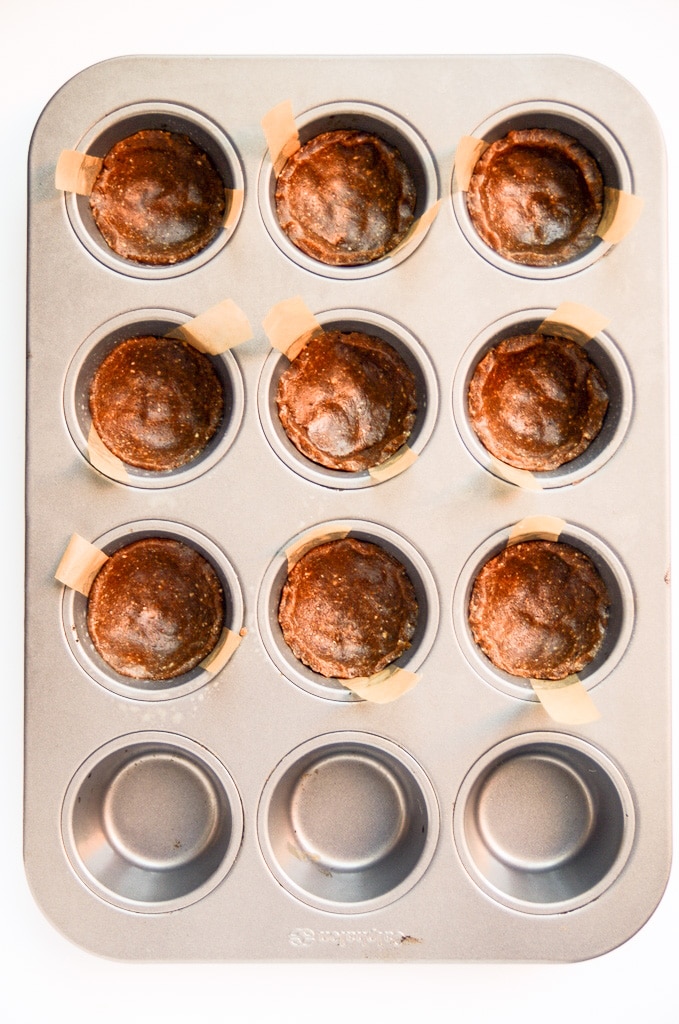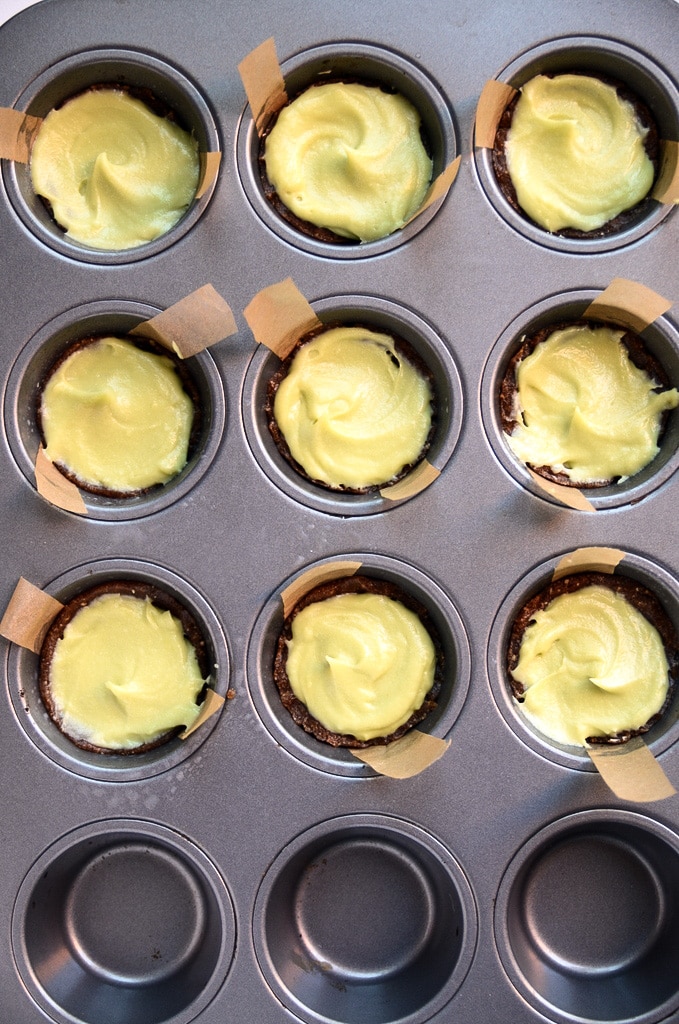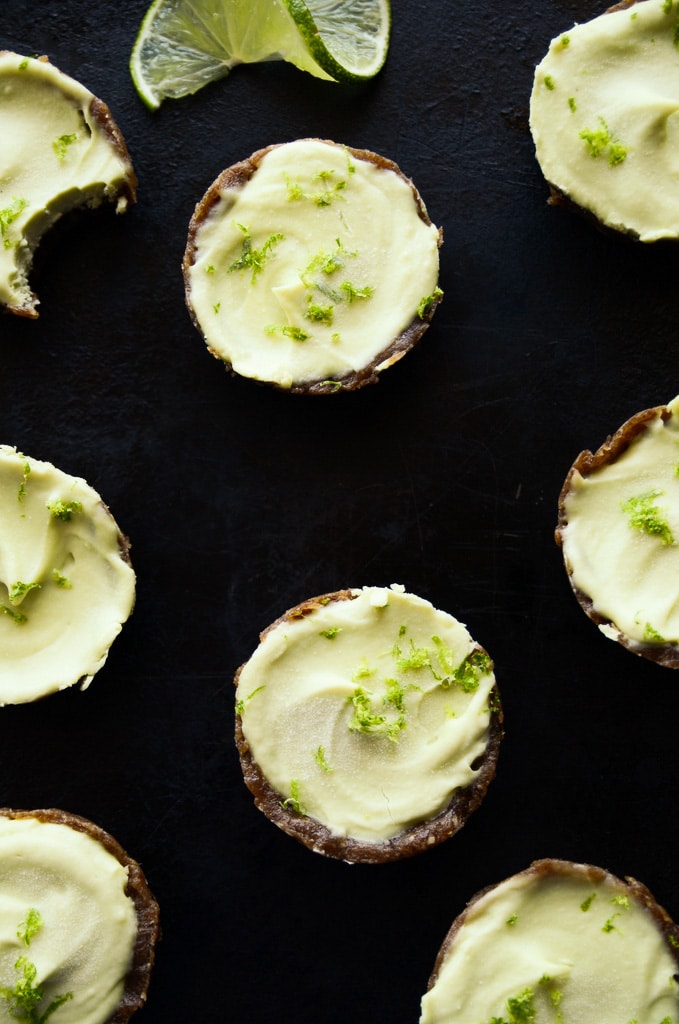 📖 Recipe
6-Ingredient Mini Raw Key Lime Pies
Just 6 ingredients and ultra simple methods stand between you and these vegan, gluten-free, and grain-free 6-ingredient mini raw key lime pies.
Ingredients
For the Crust
1

cup

raw pecans

¾

cup

Medjool dates, pitted
For the Filling
½

cup

raw coconut butter

½

an avocado

¼

cup

fresh lime or key lime juice

3

tablespoons

raw agave nectar or pure maple syrup

Pinch sea salt
Instructions
To Make the Crust
Add the pecans and dates to a food processor. Pulse a few times and then process for 1-2 minutes or until the mixture rolls into a ball in your processor.

Grease 9 spaces in a muffin tin (I use coconut oil). Cut ½-inch wide and 6-inch long pieces of parchment paper. Place each in a muffin tin space with the edges sticking up on either side to create handles to remove the pies later.

Divide the crust mixture into nine pieces and drop each into the muffin tin. Use your fingers to form the mixture into crusts by smoothing out the bottom and pushing the crust edges up the sides. Transfer the tin to the freezer for 15 minutes to set the crust.
To Make the Filling
Add the coconut butter, flesh of ½ an avocado, lime juice, agave nectar, and a pinch of sea salt to a food processor. Process until the mixture is smooth (approximately 4-5 minutes).
To Assemble
Spoon the filling into the crusts and smooth out with the back of a spoon. Optional: zest a lime over the top of the pies.

Return the muffin tin to the freezer for at least 45 minutes to set.

To remove the pies, carefully run a knife around the edge of each crust and use the parchment handles to gently lift the pies out of the tin.

Store the pies in the refrigerator.

If you prefer to store them in the freezer, I recommend letting them stand at room temperature for 15 minutes before enjoying.
Notes
*If you don't care about keeping this recipe raw and would rather have added minerals and other goodness, opt for pure Grade B maple syrup in place of the agave nectar.