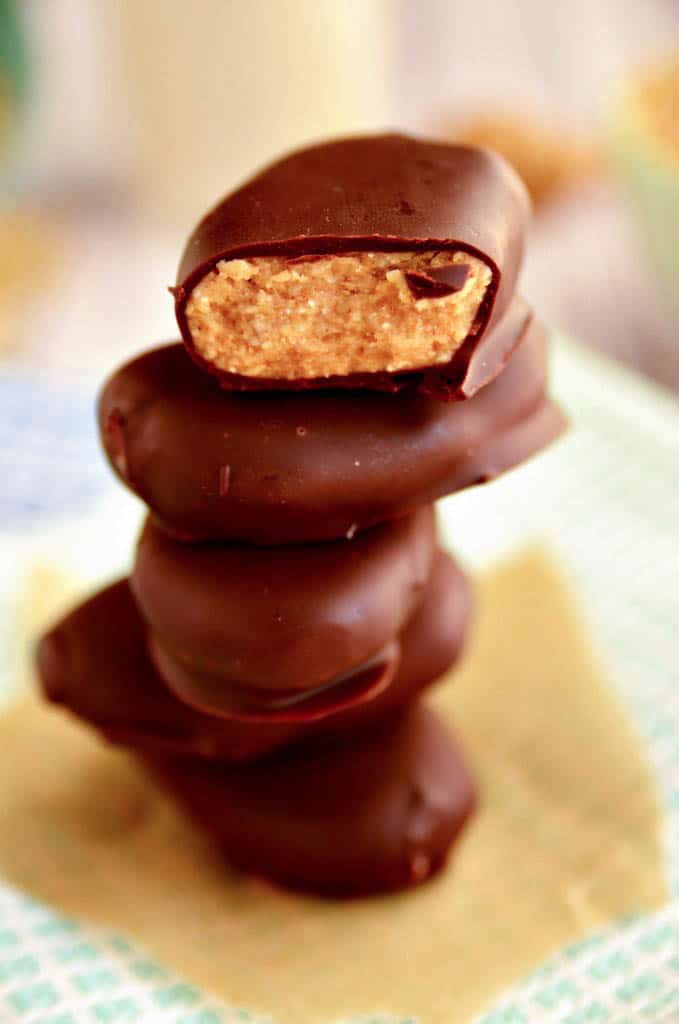 Peanut butter eggs don't really need an introduction at this stage in the game; chocolate + peanut butter = delicious + addictive.
If you google "peanut butter eggs," you'll find hundreds, if not thousands, of awesome and creative recipes with interesting twists and turns. I can't promise anything groundbreaking here, but I couldn't resist adding my own chocolate-covered, peanut-butter-filled two cents into the mix. These peanut butter eggs are different than others simply because of their added superfoodness (totally not a word, but I'm okay with it if you are).
Instead of using powdered sugar to sweeten the peanut butter filling, these eggs garner their sweetness from pure maple syrup. Of course, if the filling was just peanut butter + maple syrup, we would all have a runny, messy, peanut-buttery disaster on our hands. This is where our superfood ingredient comes in hand: ground buckwheat groats are added to the peanut butter mixture to 1) create the perfect texture and 2) provide a health-boosting kick.
If you'd like a refresher on the benefits of buckwheat groats, be sure to check out this recipe.
If you want to really take the superfood powers through the roof, you can also add a tablespoon of maca powder, a nutty, energizing ground root that is packed to the brim with goodness (note: the eggs in the photos do not have maca, so the inside will look slightly different if you add it).
The pb eggs are then coated in melted dark chocolate + coconut oil to create a super smooth shell that lets out a tiny crackle when you take a bite. Love it. These eggs are the perfect healthy addition to any festivities you might be partaking in next weekend.
Superfood Peanut Butter Eggs | Vegan + Gluten-Free
Ingredients
1/2

cup

raw buckwheat groats

1/2

cup

creamy peanut butter

2

tablespoons

pure maple syrup

1/8

teaspoon

fine grain sea salt

1/2

cup

dark chocolate chips

1

teaspoon

virgin coconut oil
Instructions
Add buckwheat groats to a food processor. Process for 3-4 minutes or until ground into a fine flour.

Add ground buckwheat, peanut butter, maple syrup, and salt to a bowl. Stir together until incorporated.

Take 1 1/2-2 tablespoons of the mixture and shape into an "egg" in your palms. Place on a lined baking sheet. Repeat with remaining mixture (you should have about 10 eggs). Place the eggs in the freezer for 25 minutes to set.

While the eggs are in the freezer, add the chocolate and coconut oil to a medium, heat-safe bowl and melt over a double-boiler or in the microwave.

Remove the eggs from the freezer, and dip them, one at a time, into the chocolate mixture and return each to the baking pan.

Pop the pan back in the freezer for 20 minutes or until the chocolate coating is set.

Enjoy!

Store eggs in the freezer.
Notes
To up the superfood power of these eggs even more, add a tablespoon of maca powder to the peanut butter mixture.
To make them paleo, use sunflower seed butter instead of peanut butter.