I have to be honest; I had no intentions whatsoever of creating a caramel recipe over the weekend. While working on a blueberry granola recipe this past Saturday, I noticed that the mixture of ingredients I planned to coat the granola in was wafting this amazingly sweet, rich, and buttery smell as it warmed on the stove. As soon as I caught its scent, I abandoned the oats and buckwheat I had been measuring out and rushed over to check on it. I tasted it, did a happy dance in our kitchen, and then ran down the hall to wake Dan up in hopes that he might confirm the same thoughts I had about this delightful mixture: it tasted exactly like caramel! He confirmed my caramel hopes and then requested another few tastes. Nothing like some sweet spoonfuls of caramel to start your Saturday morning off right.
I still ended up using the mixture to coat the granola in, and it worked perfectly for its originally-intended purpose. However, quickly after finishing the granola recipe, I remade the mixture so that I could double-check the measurements and confirm that the first time wasn't some sort of caramel-coated anomaly. It wasn't. It really is amazing!
This caramel is made with five simple ingredients and comes together in no more than five minutes. Pure maple syrup, creamy raw almond butter, coconut oil, vanilla extract, and a pinch of salt are poured into a sauce pan and whisked together as they warm. The ingredients combine effortlessly to become everything it is that we love about caramel: drizzle-worthy, sticky, sweet, and buttery. As it cools to room temperature, it thickens up even more (the photos were taken after letting the mixture sit at room temperature for about 15 minutes), and after refrigerating it you'll have a super-thick, scoopable caramel that can be enjoyed as is or warmed back to a drizzly state.
I have all sorts of ideas for ways to incorporate this caramel into a variety of dessert recipes, but it was just too good not to share with you now! And, really, caramel doesn't need much dressing up or fancy layering to be enjoyed. We drizzled it over apples and scooped it directly from the jar, and it was the perfect sweet snack. I hope you find this simple caramel to be as spot-on as we did. This recipe has already earned a place close to my heart!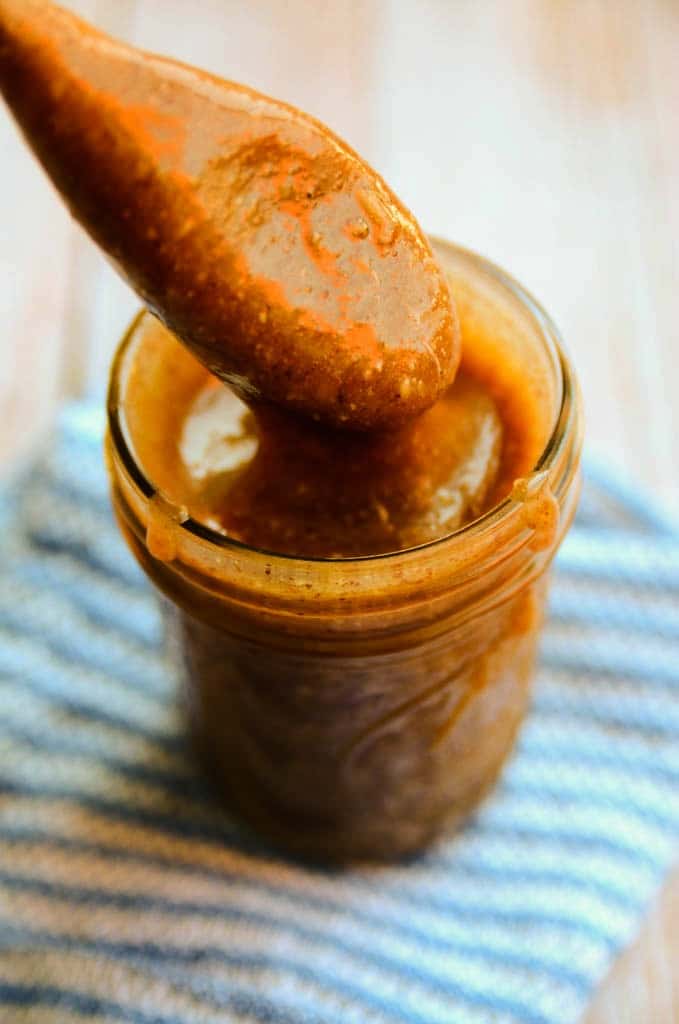 Five Minute Vegan Caramel
With just five ingredients and five minutes, you can have the most flavorful, decadent, and delicious vegan caramel ever.
Ingredients
1/2 cup pure maple syrup
1/2 cup creamy unsalted raw almond butter
1/3 cup coconut oil
2 teaspoons pure vanilla extract
1/4 teaspoon fine grain sea salt
Instructions
Add all ingredients to a small saucepan. Whisk together over medium low heat until all ingredients are melted together (approximately 3 minutes). Remove from heat and let cool to room temperature.
Enjoy over ice cream, apples, or all on its own.
Refrigerate leftovers. As the caramel cools, it becomes even thicker. Reheat in a sauce pan or enjoy as is!
Notes
If you want a super creamy and smooth caramel, you can transfer the warm caramel sauce to a blender and blend on high. The caramel in the photos was left as is and not blended, so it's already quite smooth as is!