From a festive detox salad to these vegan 6-ingredient chocolate caramel slices in three days flat. A quick change of pace and taste buds can only mean one thing: the holiday season is upon us.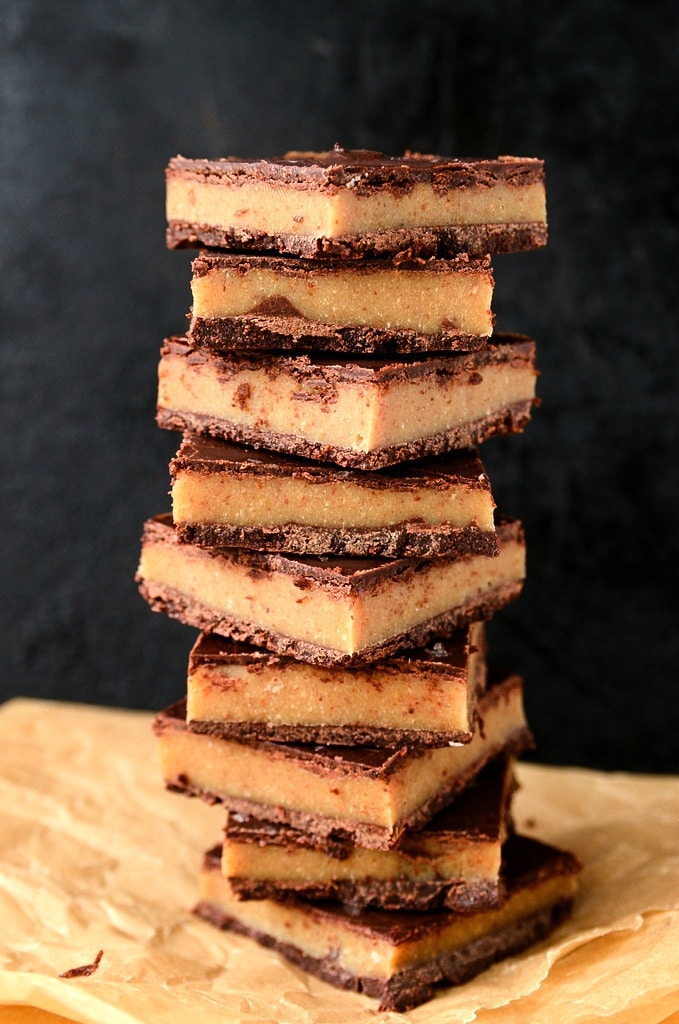 These vegan chocolate + sea salt caramel slices might look a bit familiar if you happened to run into this recipe for twix bars a few weeks back. After those turned out to be such a hit in our home and on the blog, I figured I could rework another recipe out of them. So, these chocolaty, caramely squares are essentially the top two layers of the twix bars + an extra layer of chocolate and a dash of sea salt.
These little squares of heaven are refined-sugar-free and so darn delicious. Dan bit into one and immediately declared this to be his new favorite recipe. When I brought some out to share with a few family members over the holiday weekend, they lasted all of a few hours and elicited more mmmmm's and ahhhhhh's than I could count. With all that wordless praise, I'm confident when I say that these are sure to be a hit in your home too. Plus, they require just 15 minutes of active time in your kitchen and a painful but manageable 1-hour chill time in the freezer to set each layer.
To make them, you'll simply melt together cacao powder, coconut oil, and pure maple syrup, pour ⅔'s of it into an 8x8 pan, and pop it in the freezer to set. Then, you'll make this 5-minute caramel, pour it over top of the chilled chocolate layer, and return the pan to the freezer to set a bit more. Lastly, you'll top the caramel layer with the remaining chocolate and a sprinkle of sea salt before returning it to the freezer a third time.
After an impatience-inducing 30 minutes, you'll pop the large square out of the pan, slice into small squares, and sink your teeth into these little bites of chocolate-caramel wonder. You can store these squares in either the freezer or refrigerator depending on how dense you prefer the texture. I tend to love them most when they're freezer dwellers.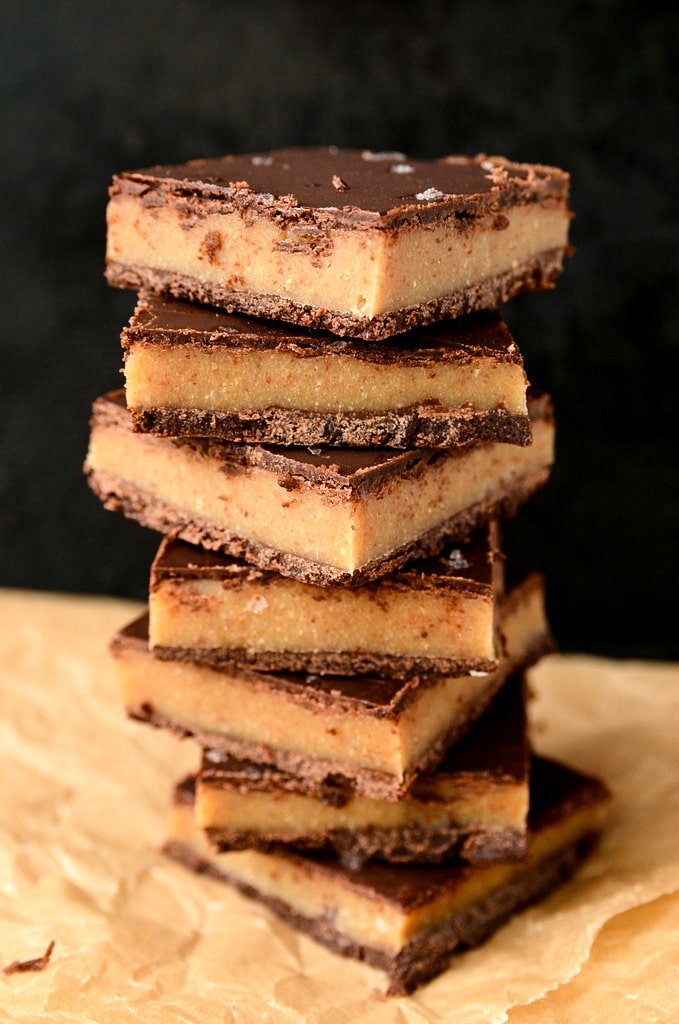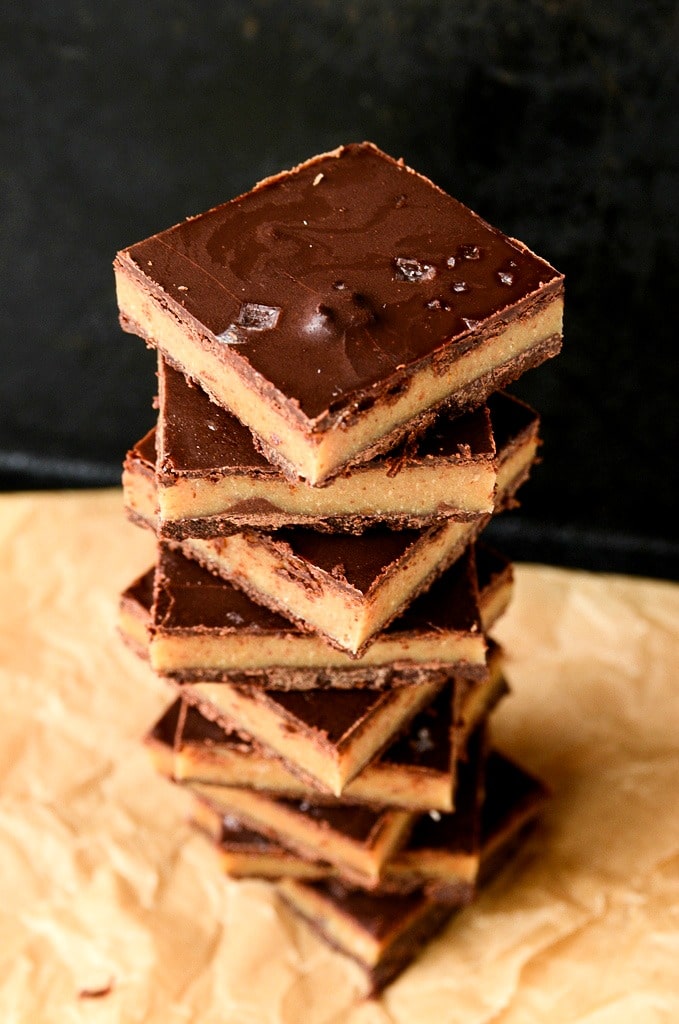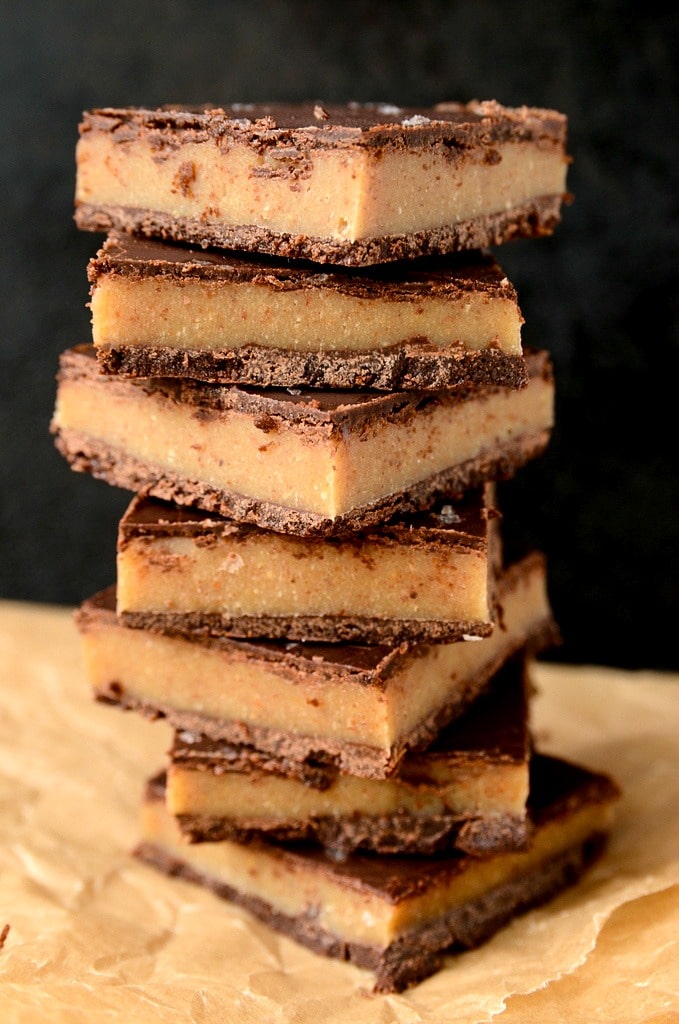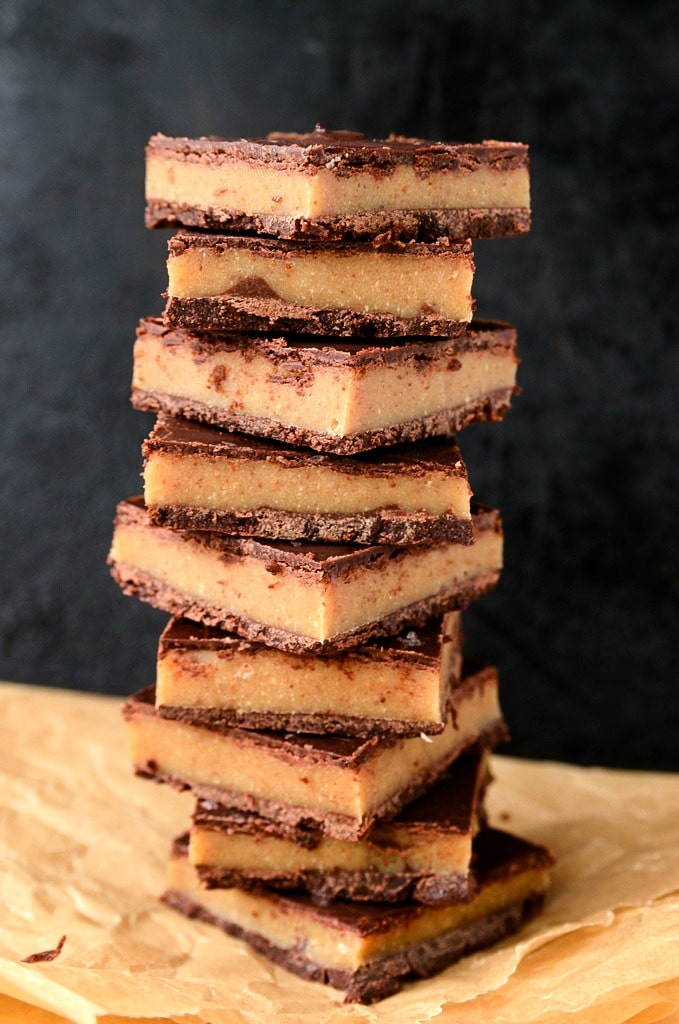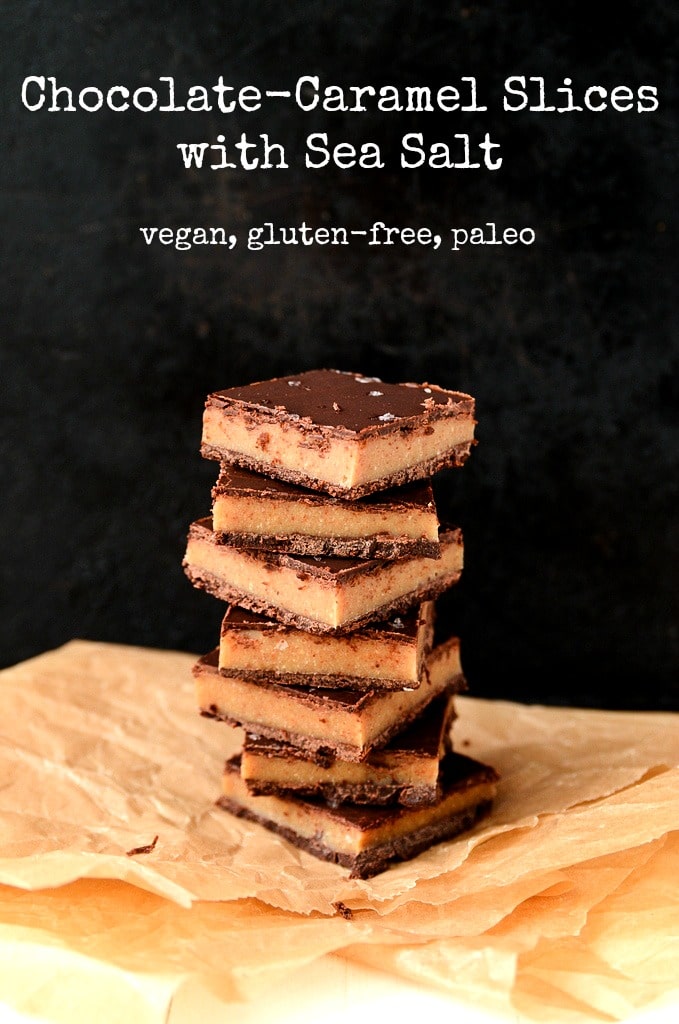 📖 Recipe
6-Ingredient Chocolate & Caramel Slices | Vegan, GF, Paleo
Sweet and gooey vegan caramel is nestled between crisp layers of rich dark chocolate in these delightful 6-ingredient chocolate caramel slices.
Ingredients
For the Chocolate Layers
½

cup

+ 2 tablespoons raw cacao powder

½

cup

virgin coconut oil

4

tablespoons

pure maple syrup
For the Caramel Layer
½

cup

almond butter

½

cup

pure maple syrup

⅓

cup

virgin coconut oil

2

teaspoons

pure vanilla extract

¼

teaspoon

sea salt
Instructions
Grease an 8x8 square pan with coconut oil.

To make the chocolate layers, add the cacao, coconut oil, and maple syrup to a small pan over low heat. If possible, it's best to use a double boiler to avoid burning the chocolate. Stir constantly until the mixture is completely melted and smooth.

Pour approximately ⅔'s of the chocolate mixture into the bottom of the greased pan and reserve the other ⅓. Pop the pan into the freezer for 15 minutes to set.

While the first layer of chocolate is setting, make the caramel by adding the almond butter, maple syrup, coconut oil, vanilla extract, and sea salt to a small sauce pan over medium-low heat. Whisk together constantly for 3-5 minutes or until melted. Let the mixture cool slightly.

Pour about ⅔'s of the caramel over the chocolate and carefully spread across (ensure the caramel isn't hot when you pour it over or it will melt the chocolate). You can pour the entire batch of caramel over the chocolate if you want thicker squares, but I usually opt to refrigerate the leftover caramel for later.

Return the pan to the freezer to set the caramel layer for 15-20 minutes.

Pour the remaining chocolate mixture over top, carefully smooth out, and sprinkle with large-flake sea salt (optional).

Return the pan to the freezer to set for 30 minutes.

Carefully turn the pan over to release the chocolate-caramel bar onto a cutting board. Slice into squares and store in refrigerator or freezer.