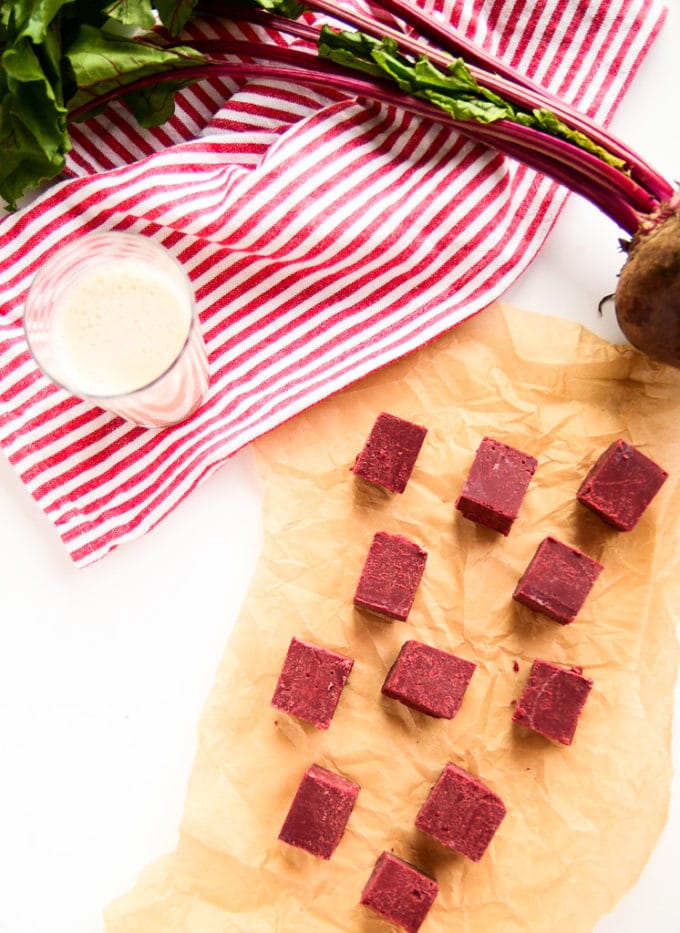 If there's one thing I've learned throughout my time writing this blog, it's that everyone loves a trusty, simple, and time-efficient recipe with a minimal number of ingredients. I've also learned that a whole lotta people love fudge.
Over the past few months, I've posted this 3-Ingredient Peanut Butter Fudge recipe and this 5-Ingredient Pumpkin Pie Fudge recipe, and both have quickly become reader favorites. It works out well, because they're also two of my favorite recipes. Great taste buds think alike. Since those two were hits, I figured I'd offer up another simple fudge recipe utilizing all whole foods, plant-based ingredients.
I knew I wanted this fudge to have chocolaty notes and a splash of holiday sparkle, so red velvet fudge seemed like the perfect route to take. However, I didn't want to douse a bunch of goodness-filled ingredients with food coloring, so I got creative. Beets offer an intense ruby-hued color to anything they come in contact with, including hands, cutting boards, and clothes. Although I've had my fair share of beet-stained hands and white shirts since I began juicing earlier this year, I had yet to use beet juice to lend color to food. So, I figured it was time to use those potent staining effects in a more productive manner.
To make this fudge, you'll begin by juicing one beet. If you don't have a juicer, you can blend or purée the beet, place the pulp in a nut milk bag or cheese cloth, and squeeze the juice into a bowl. You'll only need ¼ cup of juice, so it's not too daunting to tackle this step by hand.
Once you have your beet juice, you'll add it to a medium sauce pan along with coconut butter, pure maple syrup, raw cacao powder, and vanilla extract. You'll warm the mixture over low heat and stir continuously for about five minutes or until you have a glossy, smooth, and velvety mixture.
Then, pour the mixture into a small container that's been greased with coconut oil and pop it in the refrigerator to set for two hours. After the fudge has set, you'll pop it out of the container, slice it, and indulge in its chocolaty, red-velvety flavors. The beet juice is undetectable thanks to the richness of the raw cacao, so that secret is safe with you and me.
Alright, enough chit-chat; beet it... and make this fudge.
I'm sorry. I couldn't resist.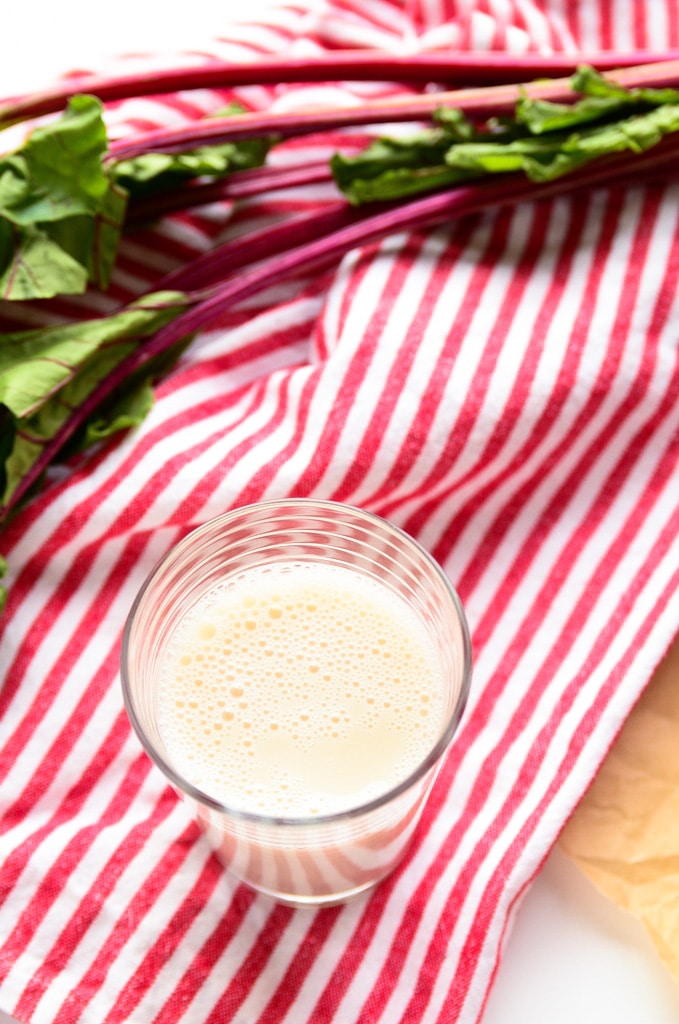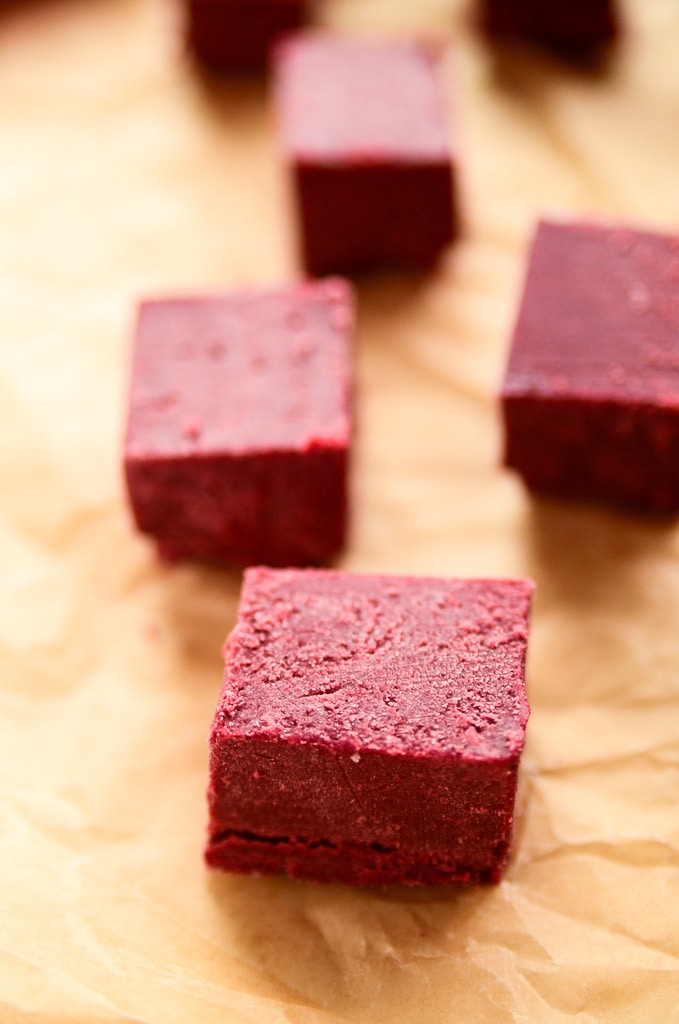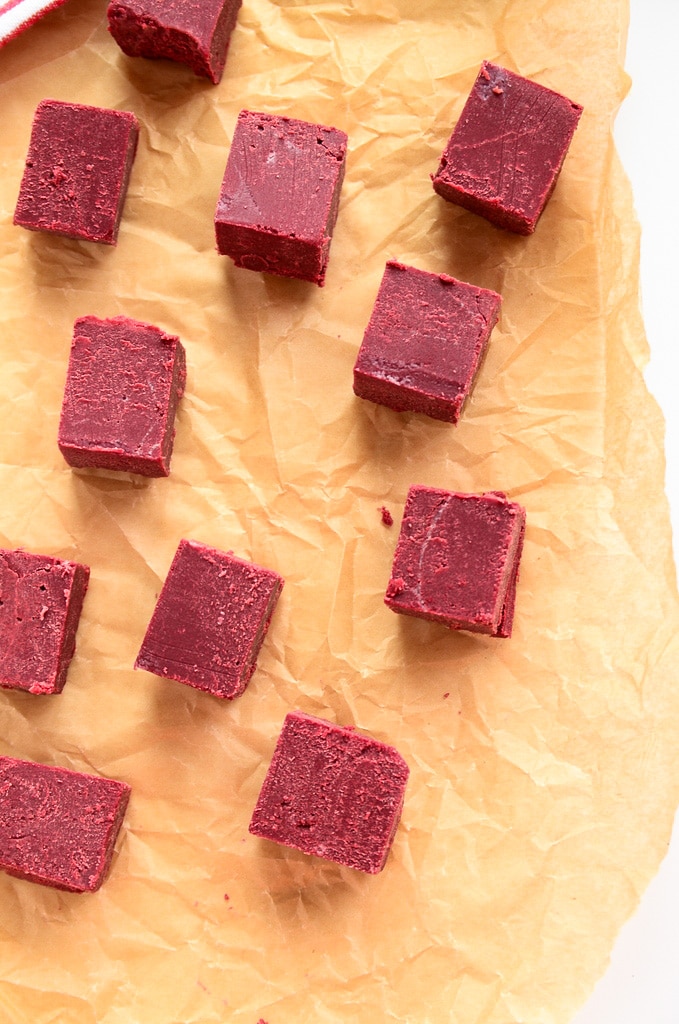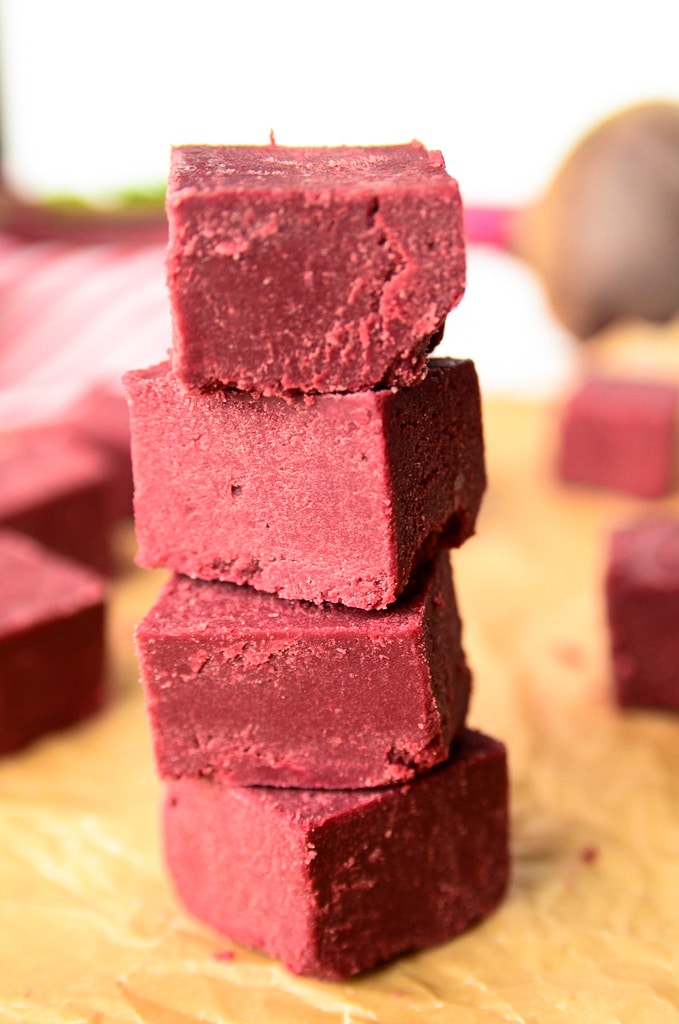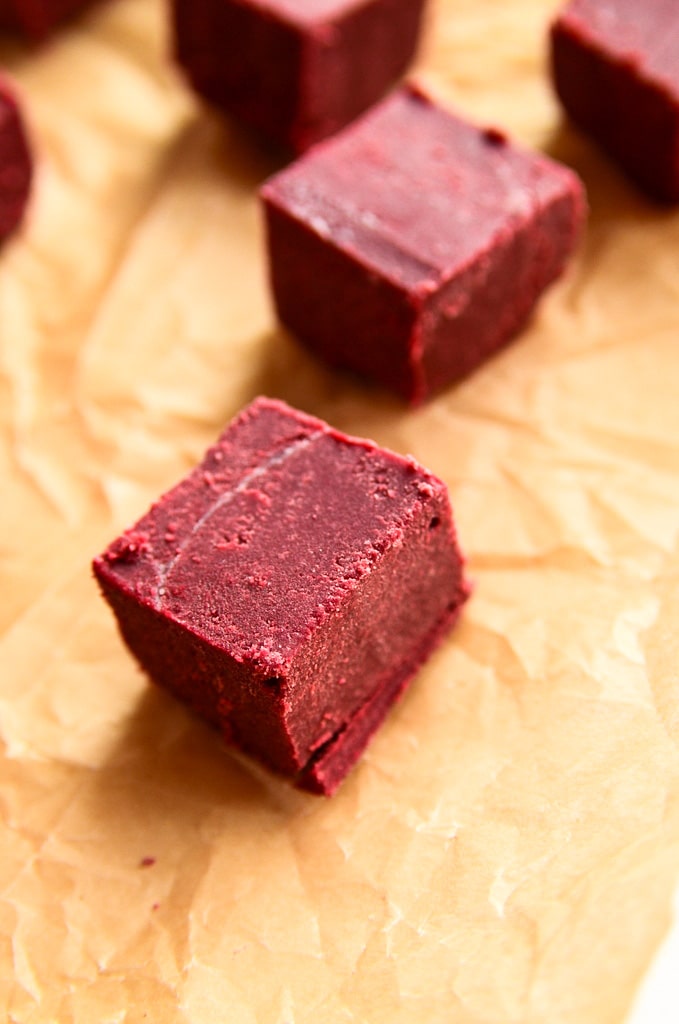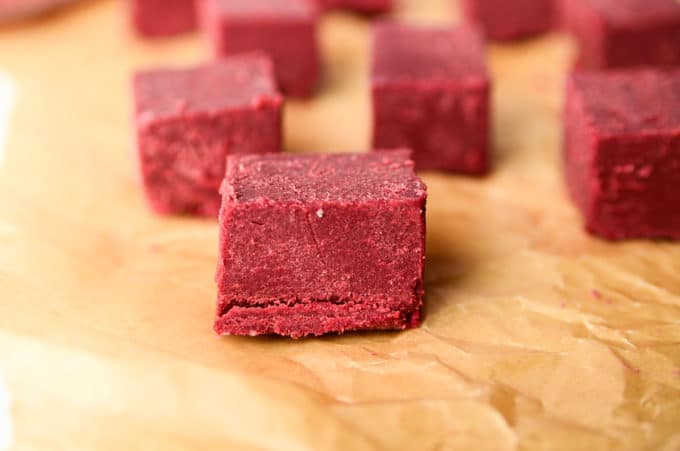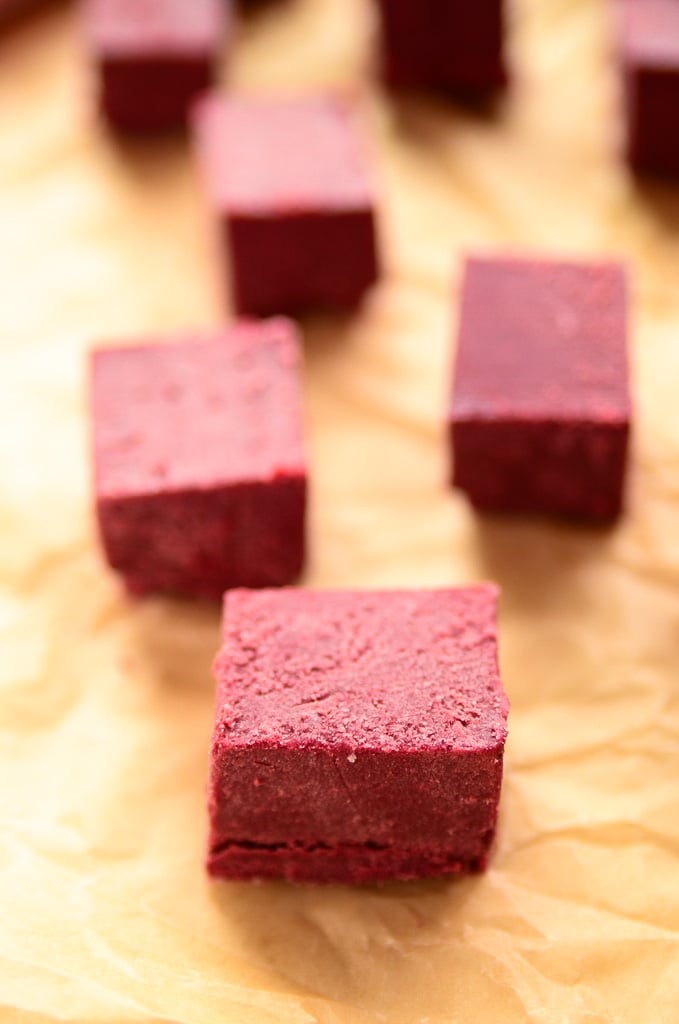 📖 Recipe
Just Beet It 5-Ingredient Red Velvet Fudge
This vegan red velvet fudge garners its deep red hue from beet juice! Fresh beet juice is warmed and whisked with coconut butter, pure maple syrup, cacao powder, and vanilla until smooth and creamy. Then, it's poured into a mold, chilled, and sliced into rich, delectable, and chocolaty red velvet squares.
Ingredients
1

medium beet, stem cut and thoroughly washed

1

cup

coconut butter

3 ½

tablespoons

pure maple syrup

2

tablespoons

raw cacao powder

1

teaspoon

pure vanilla extract
Instructions
Quarter the beet and run it through a juicer. If you don't have a juicer, you can blend it, place the pulp in cheese cloth or a nut milk bag, and squeeze out the juice. You need ¼ cup beet juice for the recipe.

Add the coconut butter, ¼ cup beet juice, pure maple syrup, raw cacao powder, and vanilla extract to a small sauce pan over low heat.

Stir continuously for 4-5 minutes or until the coconut butter has melted and the mixture is smooth and glossy.

Pour the mixture into a 3x5 container that has been greased with coconut oil.

Refrigerate for 2-3 hours or until completely set.

Pop the fudge out of the pan and slice it into squares.

Store fudge in refrigerator.