This vegan buffalo macaroni salad comes together in a speedy 30 minutes. Packed with a tangy, zesty kick, it's bound to liven up a BBQ, picnic, or sunshiny summer gathering.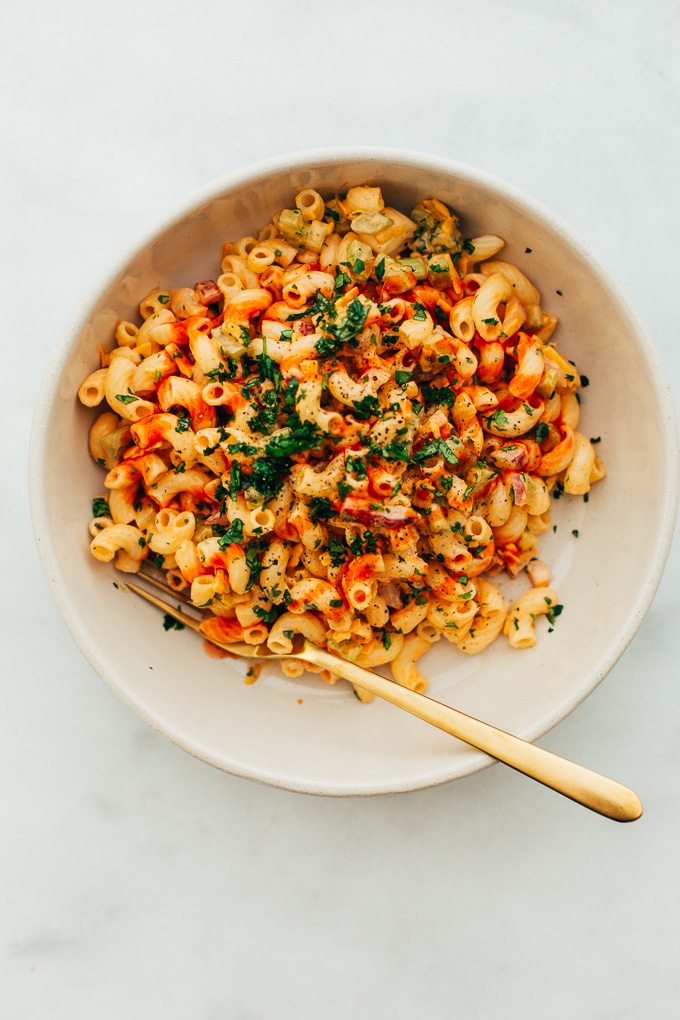 This pregnancy has brought forth a totally different set of cravings than my first pregnancy did.
When I was pregnant with Sloane (and beyond the first trimester nausea), I craved berries (namely strawberries), lots of rich sweet stuff (chocolate, caramel), and veggie-packed salads as big as my head and generously coated in cashew ranch dressing. I couldn't so much as look at an avocado for most of my pregnancy—perma-aversion.
With this little lady, I've craved spicy, tangy, and sour-sweet things along with oats, tree fruits (apples, nectarines, plums, oranges), almond butter, cooked veggies, and lots of fiber-rich beans. My aversions this time around have been varied, fleeting, and yet repetitive. Just when I think one is gone, it returns a few weeks later and the mere thought of the offender food sends my stomach unexpectedly twirling into an abyss of nausea.
In some cases, the things I've craved most have also become repeated aversions. I've essentially had a love-hate relationship with peanut butter since day one.
Just as each child is as unique as a snowflake, so is each pregnancy.
I've also continued to experience somewhat intense bouts of "morning" sickness even as recently as this past weekend (currently 24 weeks pregnant). Intense enough to wipe out my appetite and leave me curled up in bed for the afternoon. Very different than the first time around when the nausea abated sharply at 14 weeks and then disappeared altogether at 18 weeks.
I'm not sure why it's been so persistent, but I do wonder if it's connected to my hormone levels. I found out I was pregnant when I was just 3 weeks along with this one. I'm not talking a faint line, I'm talking digital PREGNANT at three weeks. I about fell over as I'd tested with the assumption that I was likely wasting a test at that point. But I just had a feeling.
My midwife was surprised too. Enough to insist I had an 8-week dating ultrasound (I'd been planning to forgo the first ultrasound and wait until the 20-week anatomy scan) because she said there was a chance I could be pregnant with multiples or further along than I thought. Neither turned out to be true. My hormones were just flowing strong from the get go.
At this point, I've accepted the idea that I'll probably have nausea on and off throughout this pregnancy. I've learned it's best to embrace this somewhat pessimistic long-haul nausea idea than it is to hold out hope that it'll be gone for good. Messes with my mind too much to think it's gone and then be knocked down with it again.
Generally speaking though, I have no room to complain. These are all mild, to-be-expected issues when your body takes on the admirable task of growing a human being. And I'm very grateful that mine has done so with ease thus far.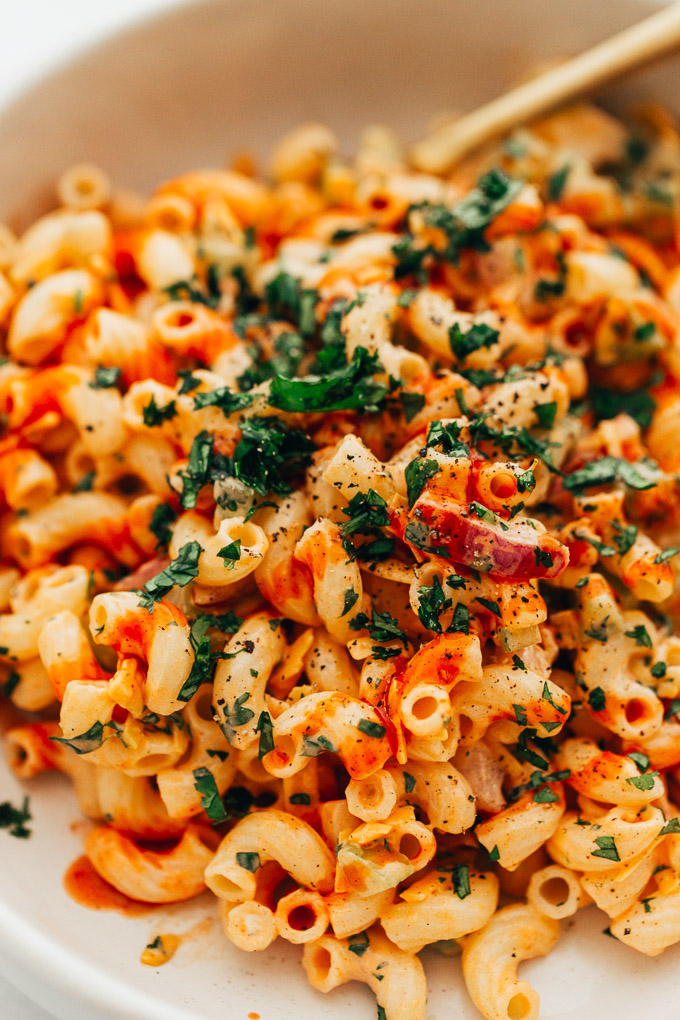 Just as I did the first time around, I've found myself perpetually amazed at the way the body changes and adapts to accommodate the growth of new life. It never stops being a miracle.
In fact, time only seems to make it more of one. As we've watched Sloane grow from happy baby to chatty toddler and so on, it's only become more amazing to remember that she once lived inside my belly. Kicking and rolling and hiccuping away within the confines of that cozy womb.
As usual, I've gone off on a tangent. 🙃
My whole point here is simply to declare that this vegan buffalo macaroni salad strikes a happy place in my current pregnancy cravings. Being both spicy and tangy, it's been a welcomed addition to my summer lineup of easy-to-make recipes.
Because that's the other thing. Time!
The first pregnancy was this sort of slow, graceful transition to motherhood (although let me be clear, my postpartum period with Sloane was anything but graceful—it was dark, shadowy, and filled with anxiety—more on that here). I leisurely cooked and nested and did all the pre-birth things in this sort of calm, methodical fashion.
This time around, it's been far more haphazard. And yet the chaos is beautiful in its own right. It's required me to be more deliberate and action-oriented with my time. Less contemplating what we'll have for dinner, more hopping to it and getting it done.
This macaroni salad fits right in with this hop-to-it mentality. It's ready in about 30 minutes flat and requires less than 10 ingredients.
To make it, you'll start by boiling 10 to 12 ounces of elbow pasta.
You can absolutely use gluten-free pasta here (in fact, the photos were taken with a GF batch). Just be sure to choose a gluten-free pasta that holds up well. For instance, I find brown rice pasta to be a bit too flimsy and mushy for pasta salads. Lentil pasta is a bit better, but corn-based gluten-free pastas seem to hold up the best.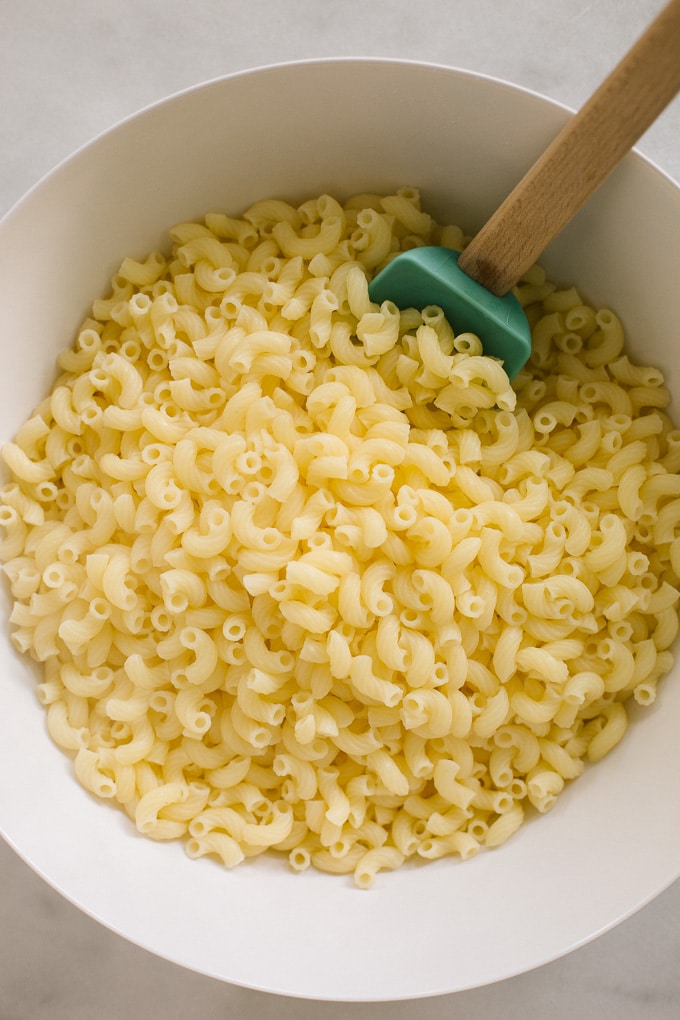 While the pasta is boiling, you'll prepare the other salad components and the dressing.
Finely dice several stalks of celery.
Shred a bit of block-style vegan cheddar cheese (optional but balances the tang of the dressing nicely). I don't recommend using pre-shredded vegan cheese because the texture can be a bit odd an off-putting. Leave the bagged cheese for melting. Shred something fresh for this salad.
Finely dice a bit of red onion or a few scallions.
To make the dressing, whisk together vegan mayonnaise, vegan buffalo sauce, finely chopped cilantro leaves, a splash of white vinegar, sea salt, and black pepper to taste.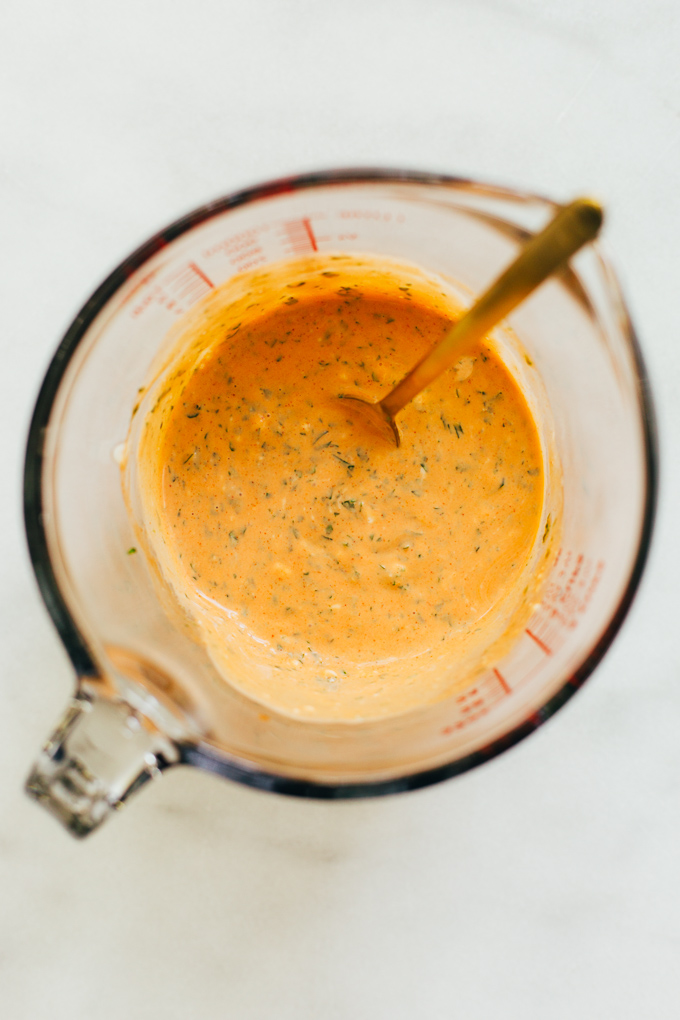 Add all the ingredients to a large serving bowl and toss to coat.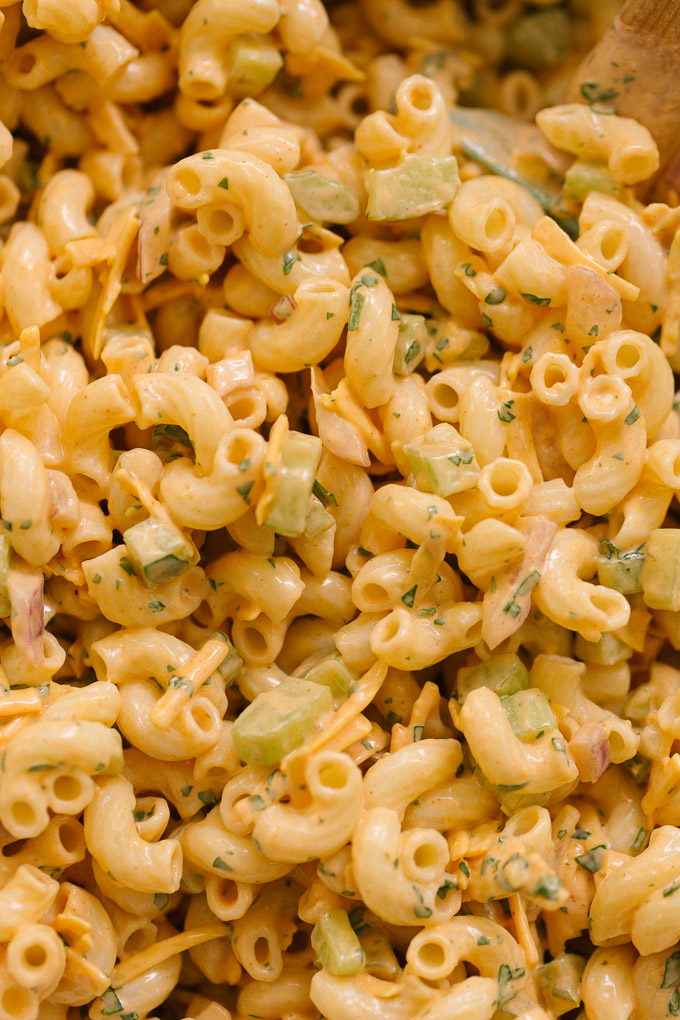 I like to serve this salad with a garnish of chopped cilantro and a light drizzle of buffalo sauce for an added kick of heat. Adds a bit of eye-popping freshness and color.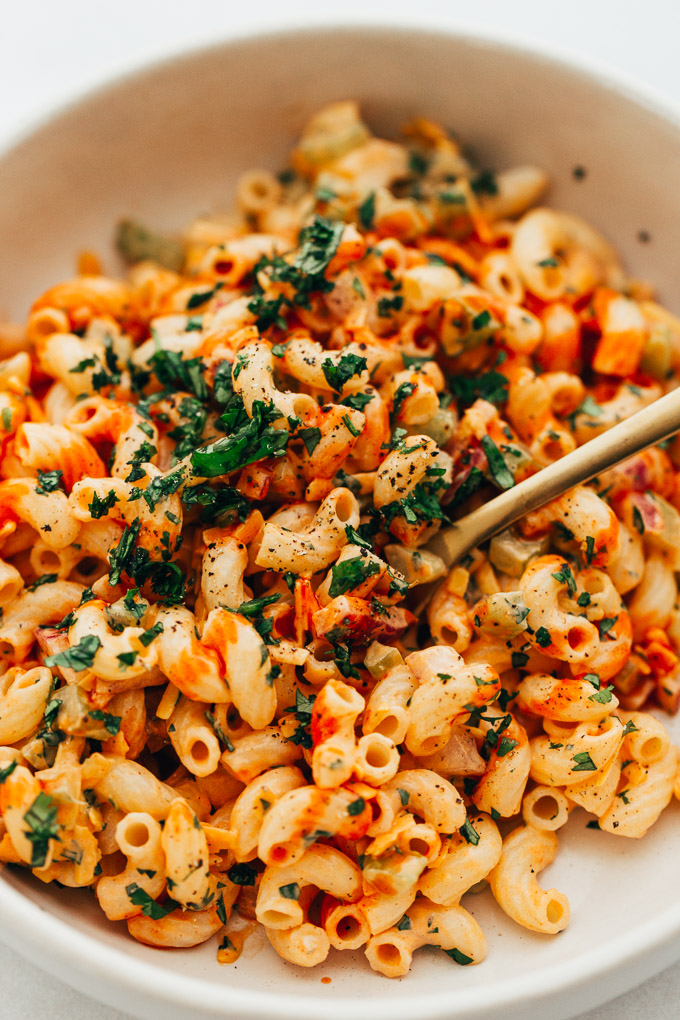 I hope you love this vegan buffalo macaroni salad as much as I do. 🧡
If you make it, let me know! Leave a comment, rate it, and don't forget to tag a photo #blissfulbasil on Instagram.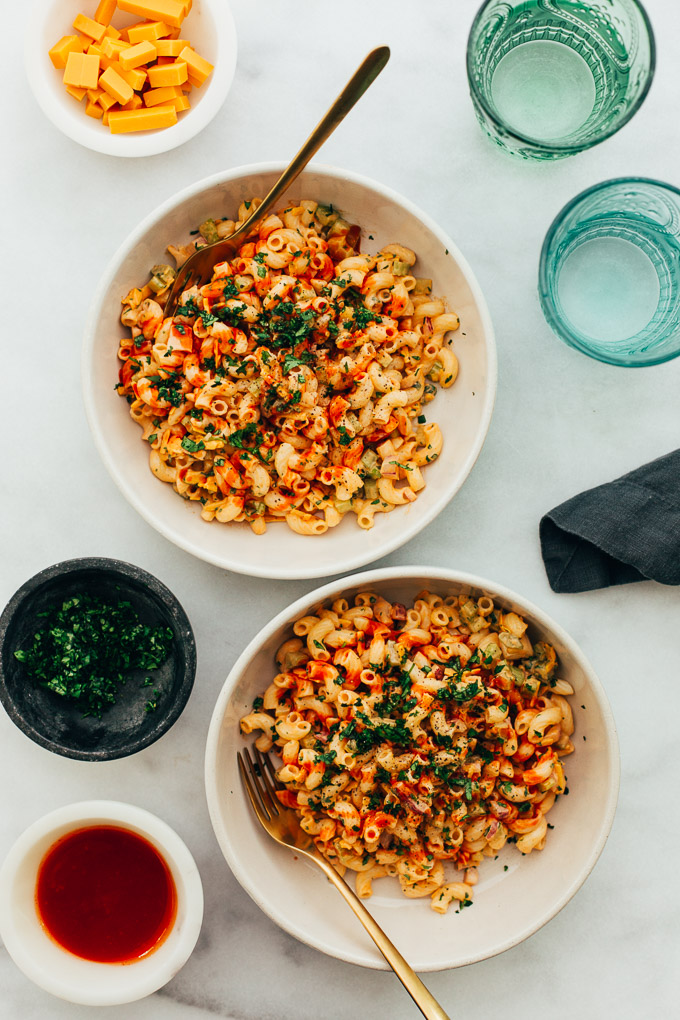 📖 Recipe
Vegan Buffalo Macaroni Salad
This vegan buffalo macaroni salad comes together in a speedy 30 minutes. Packed with a tangy, zesty kick, it's bound to liven up your BBQ, picnic, or sunshiny summer gathering.
Ingredients
10 to 12

ounces

uncooked elbow pasta (use gluten-free if needed)

5

stalks

celery, trimmed and finely diced

1

cup

shredded vegan block style cheddar cheese (optional but recommended)

½

cup

finely diced red onion or scallions

⅔

cup

vegan mayonnaise

⅓

cup

vegan buffalo sauce

¼

cup

finely chopped cilantro or to taste

1

tablespoon

white vinegar

Salt and black pepper to taste
Instructions
Bring a large pot of generously salted water to a boil. Add the pasta and cook until al dente, according to package instructions. Strain, rinse thoroughly with cold water to cool, shake off excess water, and transfer to a large serving bowl.

Meanwhile, prepare the celery, cheese (if using), and onion. Add to the serving bowl with the pasta.

In a medium bowl, whisk together the mayonnaise, buffalo sauce, cilantro, vinegar, salt, and pepper.

Pour the dressing over the salad and toss to coat. Taste and season with more buffalo sauce, salt, pepper, etc. if desired.

Refrigerate until ready to serve. This pasta salad tastes even better after it's been refrigerated for a day and the flavors have had a chance to meld, so feel free to prepare it in advance.

Leftovers will keep for up to 4 days in an airtight container in the refrigerator.