I've said it before, and I'll be damned darned (I'm too much of a weenie to outright put a swear word on here) if I don't say it again: I've decided I'm not a fan of New Year's resolutions. My friends, do not put off until January 1st what you are capable of doing and inspired to do this very moment. And for heaven's sake, if you did make a resolution or two, do not come down on yourself for resolutions that are forgotten or become obsolete throughout this new year. Let's just say if I did have a New Year's resolution it would be constant self-compassion and you should, too. Oh yes, and flossing more regularly. However, I've been working on those two beauts for a while now so, at this point, I consider them life goals (and so does my dentist).
Last year, I slapped New Year's resolutions in the face with a tasty dessert and this year I'm doing it with pizza. Of course, it's a nutrient-rich pizza that will balance your desire for something slightly naughty without throwing your healthy resolutions completely off-kilter. Unless, of course, you chose a carb-free and/or cheese-free diet. In that case, you should probably just "x" out of this post immediately to reduce any and all temptation to falter.
Without further ado, I give you a grilled, crunchy, veggie-rich, whole-wheat pizza with just enough fresh mozzarella and goat cheese to convince you to rest on your laurels of yesterday and dine blissfully today.
Grilled Goat Cheese and Mozzarella Pizzas with Caramelized Onions + Yellow Peppers (Makes 4 Individual Pizzas)
◊ 16 oz whole-wheat pizza dough, divided into 4 equal pieces
◊ 1 yellow pepper, thinly sliced
◊ 1 red onion, thinly sliced
◊ 2 tablespoon olive oil, divided
◊ 8 oz fresh mozzarella, thinly sliced
◊ 4 oz goat cheese, crumbled
◊ large handful fresh basil, chopped
◊ sea salt and freshly-ground black pepper, to taste
1. Heat 1 tablespoon olive oil in large nonstick skillet over medium-high heat. Add the onions and peppers and cook until slightly caramelized and tender. Set aside.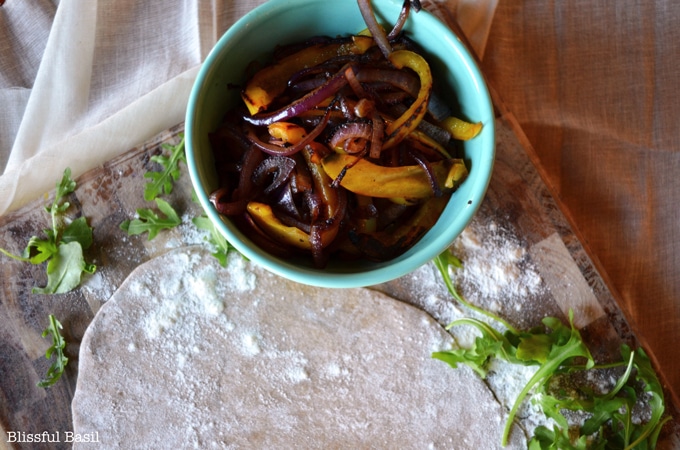 2. While veggies caramelize, roll out each hunk of dough on a lightly-floured work surface until each is only about ⅛-inch in thickness.
3. Heat a grill pan or grill over high heat. Once grill is hot, brush with olive oil. Transfer first pizza dough to grill pan and brush top with olive oil and sprinkle with sea salt (if desired -- not necessary). I made the transfer by gently rolling each piece of dough around a rolling-pin and then unrolling over the grill pan. Cook each pizza dough on first side for 3-4 minutes or until golden-brown grill marks are visible. Gently flip dough and add one-quarter of the mozzarella, goat cheese, and pepper-onion mixture to pizza. Continue to grill until bottom side has golden-brown grill marks and cheese has melted. Remove from heat and top with basil, a drizzle of olive oil, sea salt, and black pepper, to taste. Repeat for each pizza.